There are motorcycles, and then there's the Suzuki Hayabusa.
Pop culture is full of such references. If you stroll up to a stranger and yell "D'oh!", chances are he'll know you've watched The Simpsons once or twice. Or if you suddenly start walking backward like you've got grease on your feet, it'll be safe to assume you're a Michael Jackson fan. And if you happen to say the word "Hayabusa", as in Suzuki Hayabusa, accompanied by those saucer-like eyes that so often proceed a ride on the motorcycle named after the Japanese Peregrine Falcon hunting bird, people around you shall immediately know you're a lover of going fast. Real, recklessly fast.
The Suzuki Hayabusa is one of the very few motorcycles that has transcended its own genre. Moving from a beloved vessel delivering speedy sensations to a bunch of bike junkies to one the wider public knows, admires, and fears in equal measures.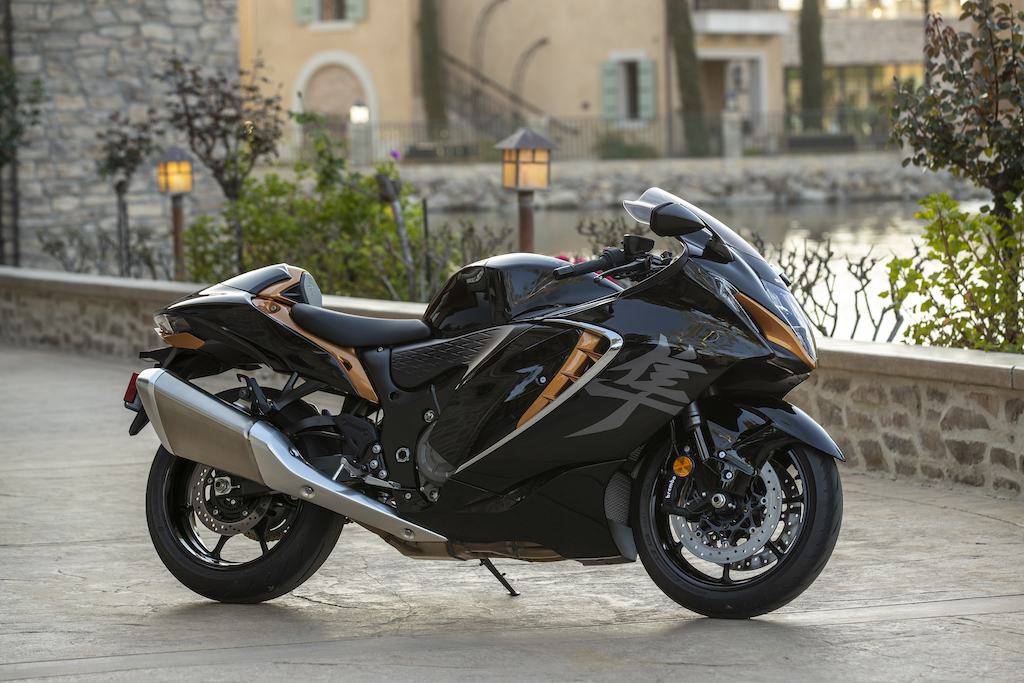 The Hayabusa is a hugely important machine to Suzuki, first appearing on the scene in 1999 and promptly snatching the title of World's Fastest Motorcycle away from the Honda CBR1100XX Super Blackbird. Since then, however, it's only received one model update. That was in 2008 when the 1298cc inline four-cylinder was enlarged to 1340cc. It was matched to a new chassis wrapped in slipperier, faster bodywork, and left at that for, wait for it… the next 14 years.
That's a tragically long time to leave such an icon untouched. And for a while, it looked as though the Hayabusa would be moved to pasture to join Suzuki's catalog of greatest hits. The list of which includes the GSX-R1100, GS750, and the RG500.
But that's not what the Big S had in store, for they, ladies and gentleman, have given new life to their own aging Peregrine Falcon. The $18,599 MSRP 2022 Suzuki Hayabusa is not a ground-up redesign. In much the same way the 2008 model was an evolution of the original, so too is the 2022 edition. Retained is the 1340cc inline-four engine, producing 187 hp at 9,750 rpm and a 110 lb-ft of torque at 7,000 rpm. That compares ill-favorably to the 2008's 194 hp and 114 ft lb-ft, but that bike didn't have to contend with the miles of strangling emissions laws this one does, in everything from electronics to exhaust design.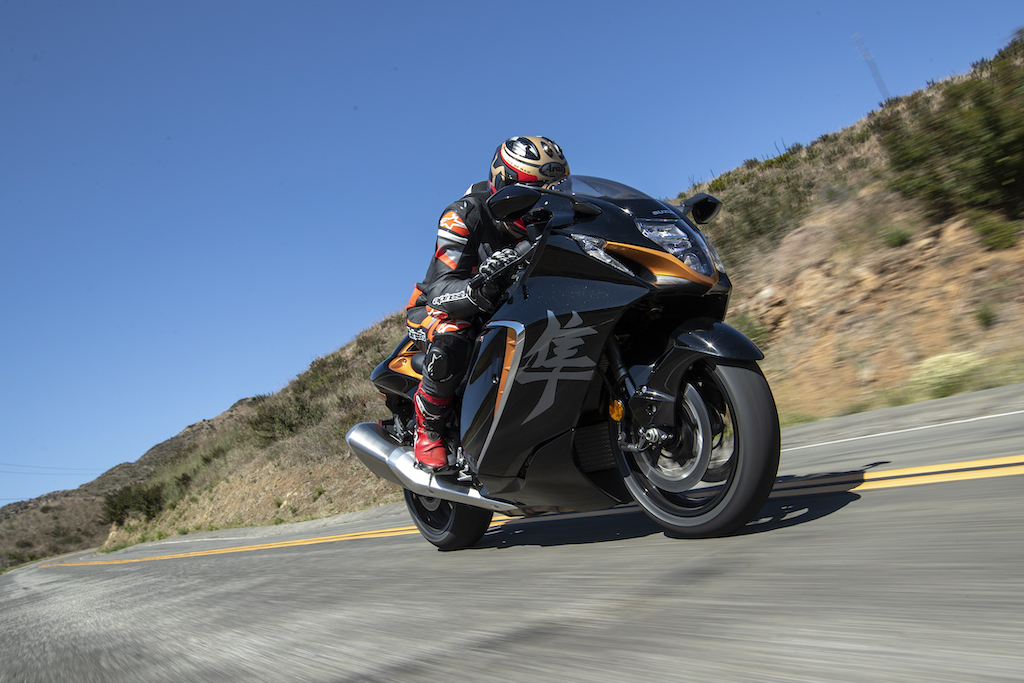 The majority of the engine has been thoroughly overhauled, with engineers going from top-to-bottom to make everything smaller, lighter, and more efficient. And besides, this is no longer a bike about pure top speed. Suzuki's beefed up the midrange torque substantially for 2022, ensuring the Hayabusa has more than enough go on tap for the majority of riding 'Busa owners will do on the street.
The chassis is similarly un-new, a revised version of the original twin-spar unit. It's slightly steeper in the steering at 23 degrees (down 0.4 degrees), and with a wheelbase of 58.3 inches, it's some 2.4 inches longer than a GSX-R1000R. This is coupled with a 582 pounds of ready-to-ride weight with a full 5.3 gallons of gas, a whopping 137 pounds more than a GSX-R.

Conventional, fully adjustable KYB suspension working with Bridgestone's brilliant S22 tire and Brembo Stylema four-piston calipers keep everything on the straight and narrow.
Suzuki has reshaped the bodywork to make it even more wind-cutty than before thanks to hours in its new wind tunnel, and you've got stunning touches like the flush-mounted indicators and the LED lighting that looks bad as a mofo under the night sky. Whereas the old 2008 model was like precious stones and metals in the electronics department, the 2022 edition of the Hayabusa legend is like bitcoin.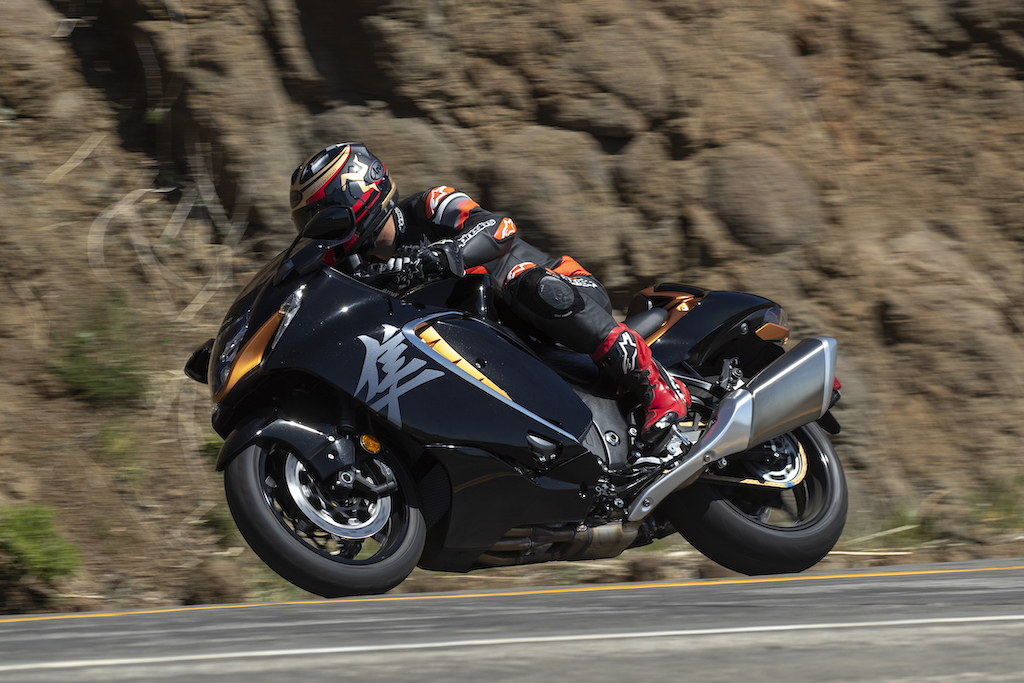 As part of the Suzuki Intelligent Ride System (S.I.R.S), there's a six-axis IMU, 10-stage traction control, 10-stage wheelie control, six different power modes (three preset and three customizable). There's a sublimely smooth two-stage up-and-down quick shifter, three-stage engine brake control, three-stage launch control, cornering ABS, cruise control, an active speed limiter, hill hold control, and even slope descent control, which prevents the rear wheel from lifting under heavy braking when descending.
But the question is, does it all work? Glad you asked.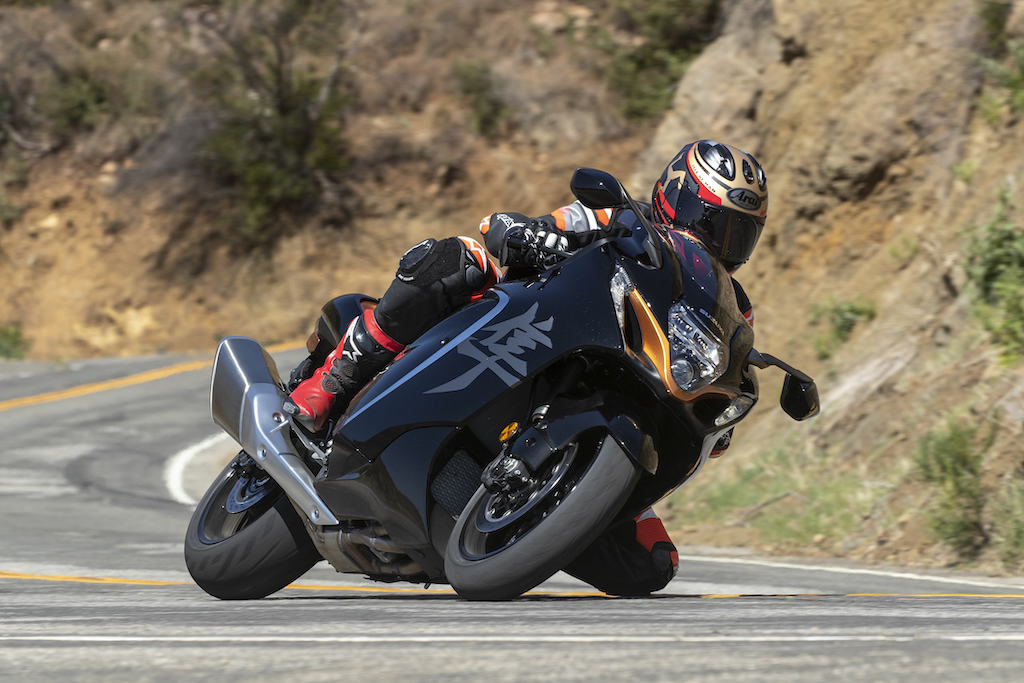 To ride a Suzuki Hayabusa is to experience motorcycling from another age. Sportbikes have changed dramatically since 1999, and even though the new edition has enough electronics to safely land you on the moon, it still feels very much like the old one.
Get the motor fired above 5000 rpm in second gear and the closest comparison must be like getting shot out of a canon. You are vaulted into your near future at an epic rate, the Hayabusa flying low and straight with a kind of mature intensity compared to something like a GSX-R1000R. Dialing in the power hard while exiting long corners is pure sex for motorcycle maniacs, as you allow the Busa's intoxicating induction roar to fill your ears like a symphony of sensual screams.
The Hayabusa glides through long, sweeping corners like its namesake. This is not an agile, canyon carving motorcycle in the current sense of the term. You've got nearly 600 pounds to play with here, so respect is very much the order of the day and you can't smack it around like a 600. You're saved from imminent doom by the massive army of electronics protecting your ass. The traction control is especially good. Its activation as unobtrusive as a stagehand on Broadway. You've such adjustment at your fingertips, you will easily be able to find the ideal ride settings that will have you munching miles for years.
It's a little hard to know exactly who will buy the new Hayabusa because times have indeed changed. The Hayabusa is a motorcycle for a very particular type of rider. And Suzuki is aiming this as their premium grand sports tourer, a bit like a Mercedes AMG GT 63 S.
To that end, it's disappointing not to see little things like the self-canceling indicators or steel brake lines, but Suzuki has managed to keep the price south of $20k, so that should be commended. Those faults aside, motorcycling as a whole is better for having a name as legendary as that of the Hayabusa back front row center. Like Marc Marquez missing from MotoGP, going fast just wasn't the same without the Hayabusa.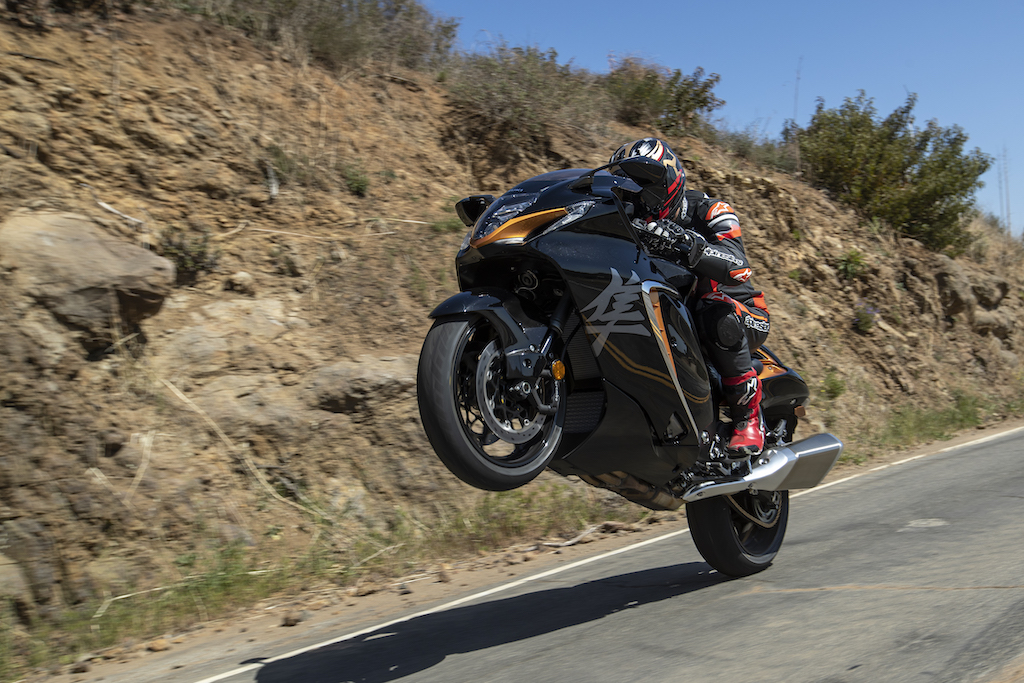 Photography by Kevin Wing
---