---

---
Consider this, the eight-time World Champion, Marc Marquez suffered a season-ending injury at the opening race of the season and MOTOGP concludes 2020 with Marquez practically never heard from again.
The 2020 Champion Joan Mir failed to finish two races. He was only victorious once this season. But, oh, that once was delivered at the right time. Kind of like a call from the governor just as they're plugging in "Ol' Sparky!" Mir wasn't dominant but he was consistent. Seven podiums in an 18 race season. Moto3 and Moto2 had nineteen races because they raced at Qatar and GP didn't.
Consistency wins championships.
Case in point… Championship runner-up, Franky Morbidelli won three races. But he was only on the podium four times. In laymen's terms, Morbidelli is the guy girls want… for a weekend. Mir is the kind of guy you marry!
---
---
Then, of course, Morbidelli has that mane of hair that resembles Slash from Guns N' Roses. It flutters in the wind as he races. For some reason, chicks dig that. Hell! I dig that. He's always calm. Never rattled. And one look at his complexion and you, well, women immediately think, "mysterious." Morbidelli is the kind of guy that when he drops a woman off at her house, she knows she'll never see him again. But she's okay with that because nothing could top that "perfect weekend."
Then, their is Mir. Mir is the guy that shows up at the exact time he told you he would. He listens to your problems. He never interrupts and is about as dependable as a Honda Civic! You know he's going to be a great husband and a great father to your kids, but… He will never wow you.
Sure, he had a damn near 2.5 second lead in Austria when Maverick Vinales decided to throw himself off a bike that had no brakes. That led to a red flag and ultimately delaying a race win. Without comparing him to GP Jesus Marquez, Mir simply did the job. And very well, I might add But I think my problem with GP this year was the lack of head-to-head battles.
But Mir was never challenged on the race he did win. He never had to make "that move." You know. "That move" that would either put you in the gravel trap or have younger riders mention your name with the greats.
Of course, there were some good races. LeMans. The second Valencia. And of course, the second Austria! It was Austria where Mir made his presence known. His fourth-place finish made people take a long look at the racer from Mallorca, Spain. Their attention slightly diverted away from teammate Alex Rins. Rins was a preseason favorite for the 2020 title. He got injured in the opening race of the season as well. He nursed his injury as best he could throughout the season.
What other factors contributed to Mir's championship run?
The Fall of Yamaha as MotoGP concludes 2020
In street terms, or as the kids say, "WTF?" Even though they started out like gangbusters, Yamaha's flame was soon fanned. Fabio Quartararo blitzing the opening races of Jerez. A podium sweep in Jerez #2. And then, "that's when the problem's start, fella!" Yamaha had a problem child on their hands. It seemed only one of the four bikes could ever figure the problem out on any given race weekend after Jerez. Yet, despite all of their inconsistencies, Yamaha still managed to win more races than any other manufacturer. Yamaha has the young guns to pull it off next year. However, that will be a gift and a curse.
The only veteran will be Valentino Rossi singing his swan song on a Petronas Team hand-me-down bike. Mir could take advantage of this in 2021 if the Yammies can't figure it out.
Sophomore Season
This is only the second time Mir has been on the same manufacturer for more than a year. He's only been in the MotoGP paddock for four years. The kid is still learning. A scary thought for the rest of the field.
The Marquez Situation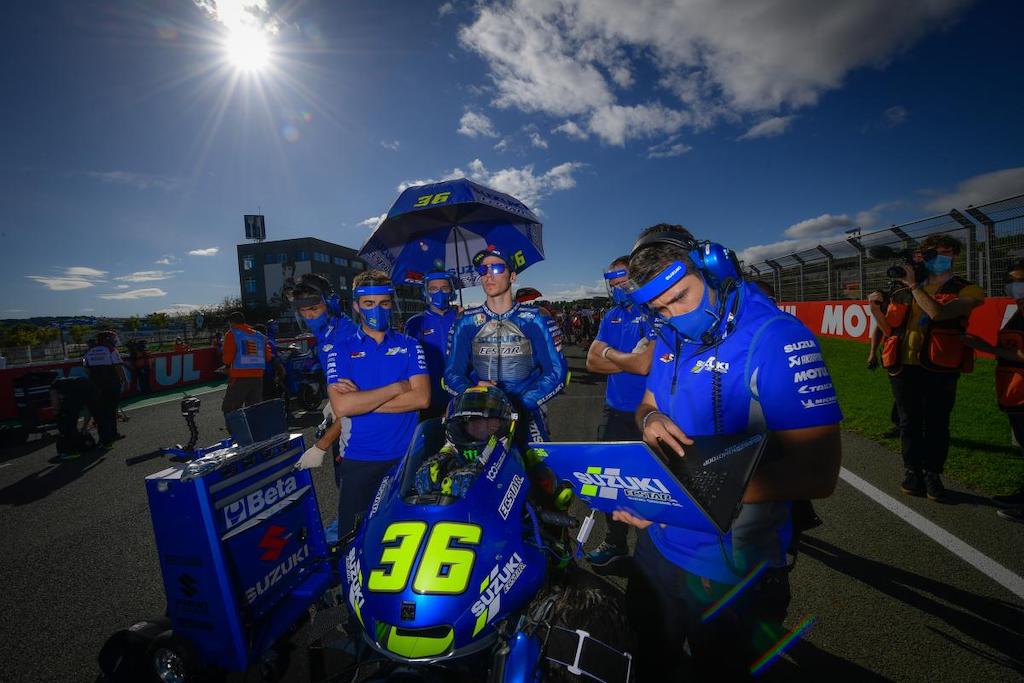 I hate ifs, ands or buts. But, I always said it's going to be interesting when daddy gets home! Well, daddy never came home and the kids seemed to be alright. New faces topped the podium. Nine different winners. Every week had you watching and wondering who was going to win. Instead of who was going to get second and third place. Which begs to question, "Is daddy coming home?"
The lack of any kind of statement from Repsol Honda has people whispering that maybe this injury is far worse than anyone imagined. Rumors of lawsuits against a misdiagnosis from doctors? Nerve damage?A possible third operation? All questions are prevalent among journalists and fans alike. But the truth is that nobody knows for sure. Not even, the Baby Face Assassin, himself.
As MotoGP concludes 2020, it is experiencing the "Youth Gone Wild." Absent from the 2021 paddock will be Andrea Dovizioso, Tito Rabat and fan-favorite Cal Crutchlow. Valentino Rossi is left alone to babysit these young whippersnappers.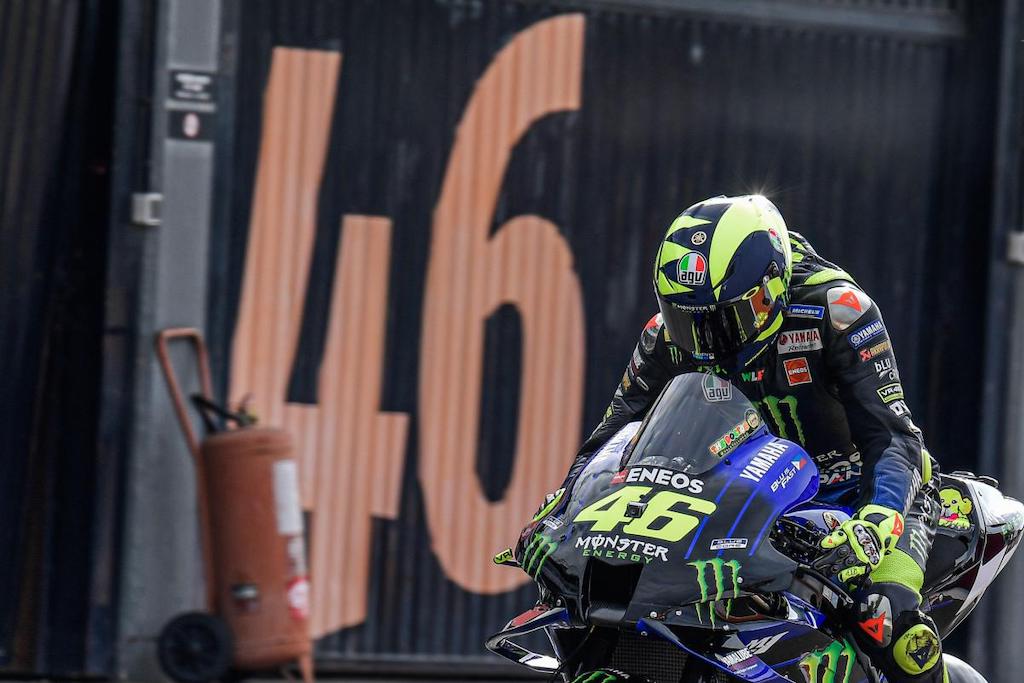 It's a good thing watching the youth. Alex Marquez chasing Danilo Petrucci was like a kid playing in the rain with his dad. Brad Binder winning his first-ever MotoGP race his rookie year in only his third race was like a freshman taking a senior to prom.
GP is in good hands for the future. If it is absent a certain Big Marc, then we will continue to see more seasons like 2020. COVID aside, this season would've gone exactly the way it did. It may have halted a couple of races for Rossi but truth be told he wasn't in the running for a championship. I predict no rider will dominate the way Marquez did in 2019. That was an exception, a Champagne Supernova, to be exact. The field is good but no one dominates. That will be good for ratings. Wondering who is going to win this race will be the same as asking, "Who shot J.R.?"
---
---
Yes, GP is in good hands. Those hands belong to Mir this year. Seven podiums and one victory. Timing is everything in life and Mir had it this season. No doubt, saving his best for almost last. He recorded a DNF his last race of the season. But this was after he was crowned champion the week before… The kid was probably still hungover.
Yes, GP or "if you didn't know this is called the show…" is in good hands. Young, "hungry like the wolf" riders make it the greatest motorsports event to watch. Even more than Formula One racing. The unpredictability of who the winners will be, make it as such.
Whereas in years before, only four or five riders had a realistic chance of winning and these were all from factory teams. Now, you have satellite riders or independent team riders challenging for wins weekly. Quartararo and Morbidelli outshined their factory teammates regularly. Almost anyone can win in GP now and that makes it must-see TV!
This is all happening without the one major x-factor, Marc Marquez.
All that you have just read and agreed with goes out tha' door if Marquez returns. Until then, let us celebrate how MOTOGP concludes 2020… a season that some thought might not even happen because of COVID. But thanks to DORNA and IRTA, it did. As MotoGP concludes 2020, kudos to them for their hard work.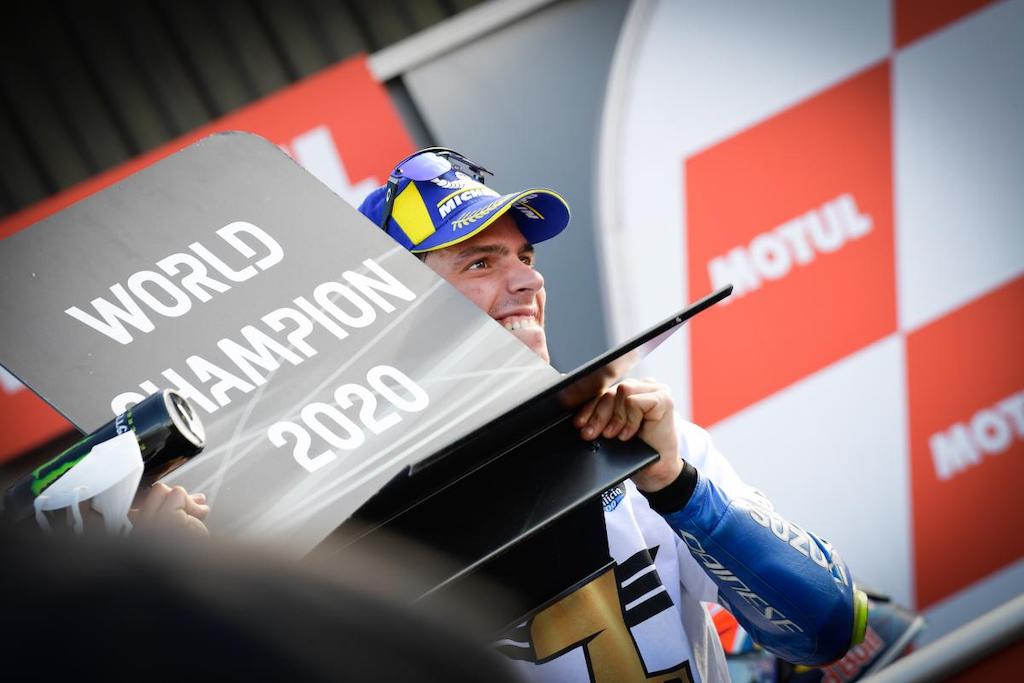 And a big congratulations to Joan Mir for not giving up, plain and simple. It would've been easy concede with two DNFs in the first three races of the season. But he didn't. Mir is a worthy champion and will defend his title with an even better 2021. He will be more mature. Also, he will benefit from being on the same bike for two years in a row. Mir will definitely be the man to beat in 2021. That is, until daddy comes home!
---