The Kawasaki Ninja 650 returns for 2023 with a selection of features that include twin LED headlights, a 4.3-inch TFT color dash, and an advanced two-mode traction control system.
For the 2023 model year, the Kawasaki Ninja 650 is updated with an advanced two-mode Kawasaki TRaction Control (KTRC) system that not only improves sport riding performance, but also boosts feel and confidence when negotiating low-traction surfaces. Mode 1 is the least intrusive option and helps to manage traction during cornering. It is designed specifically for sport riding, and makes it easier to accelerate out of corners by maximizing forward drive from the rear wheel. In Mode 2, intervention happens sooner. Engine output is decreased when excessive wheel spin is detected, allowing riders to negotiate both short, difficult sections of the road with confidence.
The 649cc twin-cylinder, DOHC engine of the Ninja 650 is configured to deliver responsive power that's great for everyday riding, while still being spirited enough to satisfy performance riders. This provides confidence to newer riders while inspiring older ones. The camshaft profiles are designed for quick response and performance. The intake port shape is slim, allowing for quicker engine response and performance. Airbox construction with a single large inlet assist in the boost of performance. The exhaust system has a short header, as well as the slim muffler's internal structure, which enhances power delivery even more. To assist reduce the center of gravity and aid weight centralization, the muffler is placed below the engine.
The throttle bodies are equipped with sub-throttle valves, which improve performance and rideability. The ECU controls the sub throttles, which are located behind the main throttle valves and function similarly to a constant-velocity carburetor. Emissions are significantly reduced by precise fuel injection and exhaust catalyzer. Starting and warming up become much easier thanks to the automatic fast idle feature.
The 2023 Ninja 650 also benefits from Kawasaki's assist and slipper clutch setup. During acceleration, the clutch is compressed (assist function) as a result of the rotational forces of the clutch hub and pressure plate. To provide a lighter feel at the lever, fewer and lighter clutch springs are needed when aided by this function. The slipper function allows for some slippage in the clutch to assist avoid engine lock-up and stalling, as well as rear-wheel hop, during high back-torque situations such as when insufficient gear has been selected.
For positive shift feel and touch, the Ninja 650 features a linkage-type gear shift assembly. The transmission shafts and the shift drum are placed in a small arrangement with the cassette-style transmission. The Positive Neutral Finder is a Kawasaki exclusive feature that makes it easier for users to avoid false neutrals.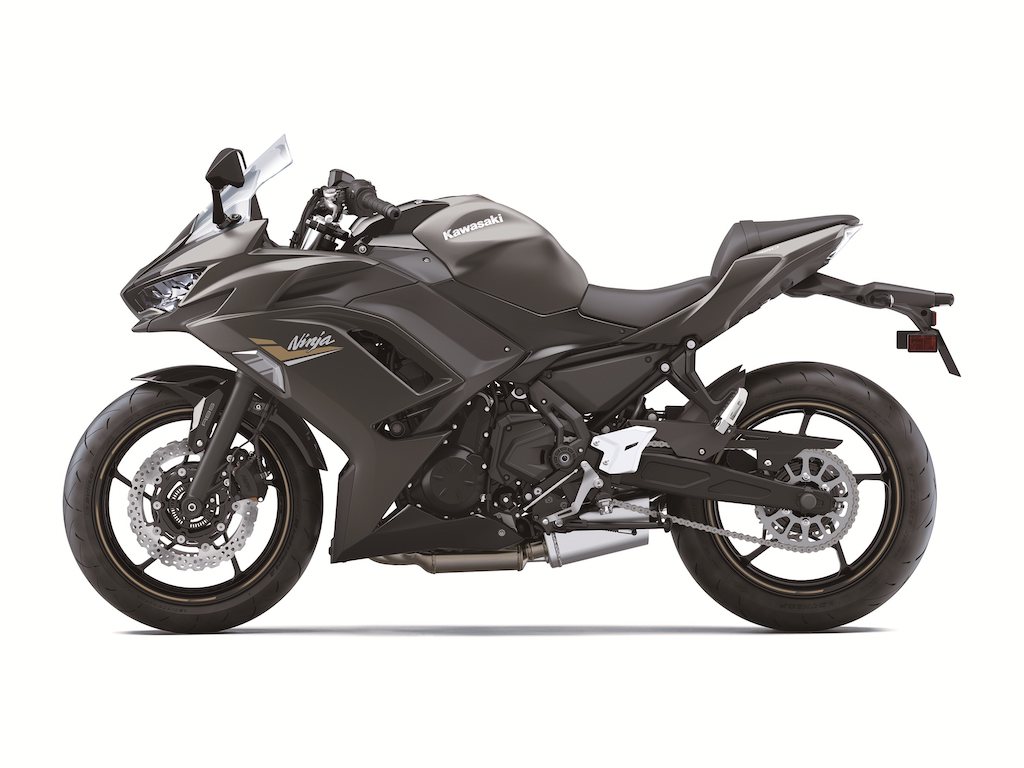 The 2023 Kawasaki Ninja 650 features a high-tensile steel trellis frame with optimized dimensions and wall thicknesses to significantly reduce frame weight and contribute to extremely light handling. Frame components follow the ideal pipeline so that the lines of the frame are as straight as possible. When bends were necessary their angles were as small as possible, resulting in a design that disperses stress extremely well.
The horizontal back-link rear shock is positioned farther away from the exhaust for better balance, sport riding potential, and ride comfort. The setup is located atop the lightweight Gull-wing swingarm and allows for greater mass centralization.
Nissin brake calipers compose the front-end brake operation and offer good brake feel and control, as well as a sporty appearance. For better braking feel, the Ninja 650 employs dual 300mm petal discs with big 27mm pistons. The petal design allows for excellent cooling and warp resistance. The ABS (anti-lock brake system) can help reduce stopping distances in specific situations and is managed by a small and precise 9.1M Bosch control unit
The wheels of the Ninja 650 have a sporty five-spoke wheel design looks light and nimble while the Dunlop Sportmax Roadsport 2 tires help with easy handling and premium grip.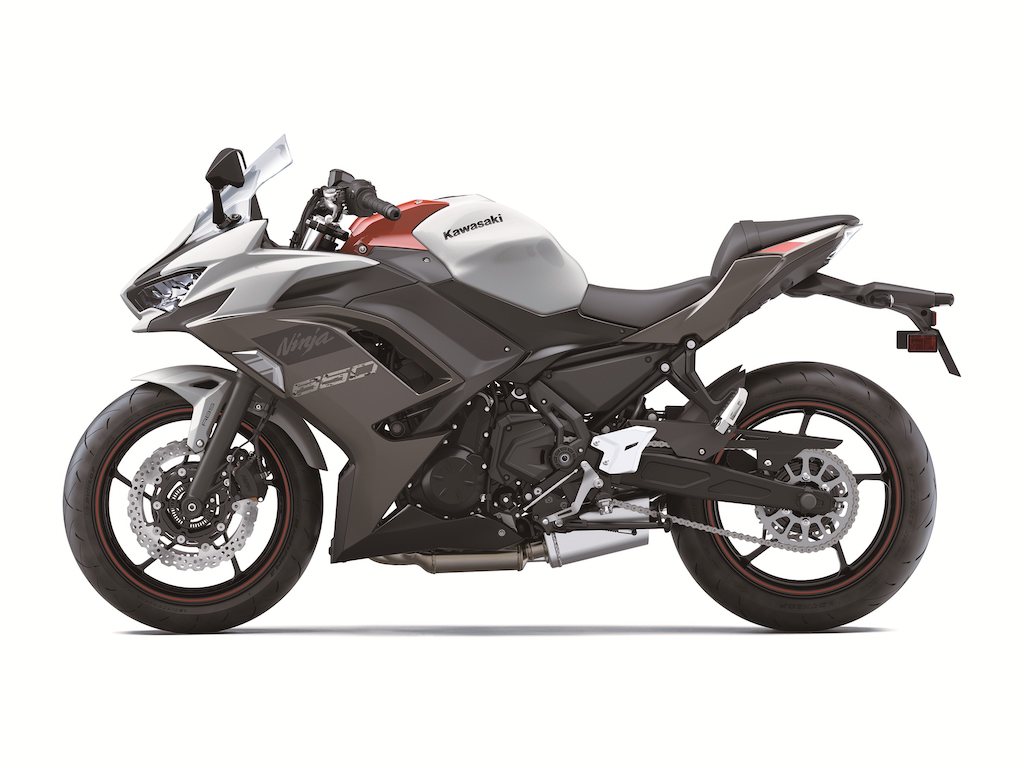 The ergonomics are designed to be rider-friendly and rider-focused. The upper triple clamp is narrower near the engine and features two separate, clip-on handlebar mounts positioned slightly ahead for an aggressive sport riding position. The 5-way adjustable brake and clutch levers make it possible to find a comfortable grip for increased control. The footpegs are lowered and forward to make it easier for the rider to stand both feet on the ground at a stop. The small front seat makes it simpler for the driver to put both feet on the ground when stopping. The fuel tank, featuring a resin gasoline cap with no mounting bolts for a more attractive appearance, is positioned low on the chassis, with a slim look to make reaching down even easier.
At the dash, you'll find the all-digital 4.3-inch TFT color instrumentation panel with selectable background colors of black or white and the automatic adjusting screen brightness. The digital display features a speedometer, tachometer, gear position indicator, shift lamp, fuel gauge, odometer, dual trip meters and more. You'll also have access to information like current and average fuel consumption rates as well as your remaining range.
The 2023 Kawasaki Ninja 650 is available in Metallic Matte Graphenesteel Gray/Ebony or Pearl Robotic White/Metallic Matte Flat Raw Graystone/Ebony, with an MSRP of $7,999. The Ninja 650 KRT Edition is available in Lime Green/Ebony, with an MSRP of $8,199, and is also available with ABS with an MSRP of $8,599.
---