The Honda CB1000R Black Edition… Back in black has never looked so good.
Oh, joyous black. The color of sophistication and formality, and also the color of evil. Sometimes these two traits are intertwined, and for those occasions, you need a ride that reflects this. The Honda CB1000R Black Edition might just be the steed. The Black Edition is no different from your regular CB1000R in terms of spec and performance, but, damn, does it look better…
Flat black on the motor with machined alloy features on the clutch and cylinder head, gloss black on the paint, and beautiful wheels with machined highlights on the spokes, the Black Edition is nothing if not a head turner.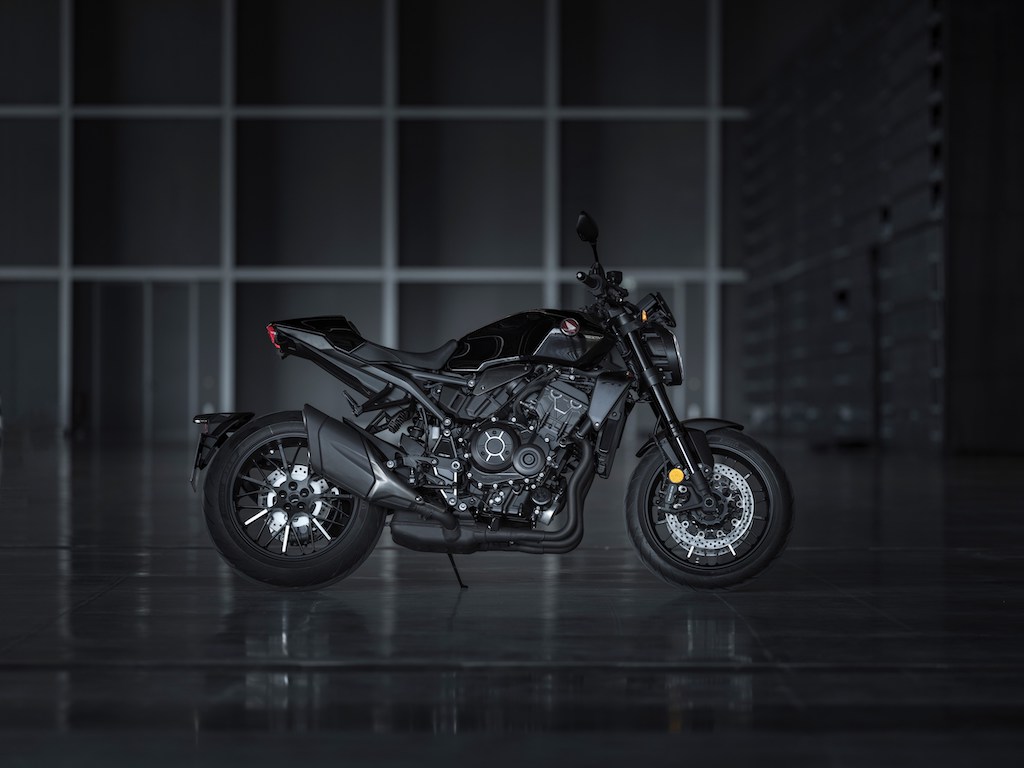 You've got a claimed 143 horsepower to play with from an inline four-cylinder motor than can trace its heritage back to the first underseat-pipe CBR1000RR of 2004, Honda's first full-size 1000cc superbike. That short-stroke motor, coupled with short gearing in the first four ratios, makes for a lively, snappy demeanor when you crack open the throttle.
You're dancing up and down on the sublime quick-shifter-equipped gearbox as the famous CBR intake growl translates with hardly an audible loss to the CB. Open the throttle. Leap from the lights. Feel like a badass. Job done.
You're not going to trouble your friends on Streetfighter V4 S's with the CB. And that's fine. The CB is not designed to be a straight-up naked superbike. If it was, Honda would have given the CB the CBR1000RR-R SP motor. They haven't, so you don't need to worry about playing the power arms race because it's like bringing a knife to a gun fight.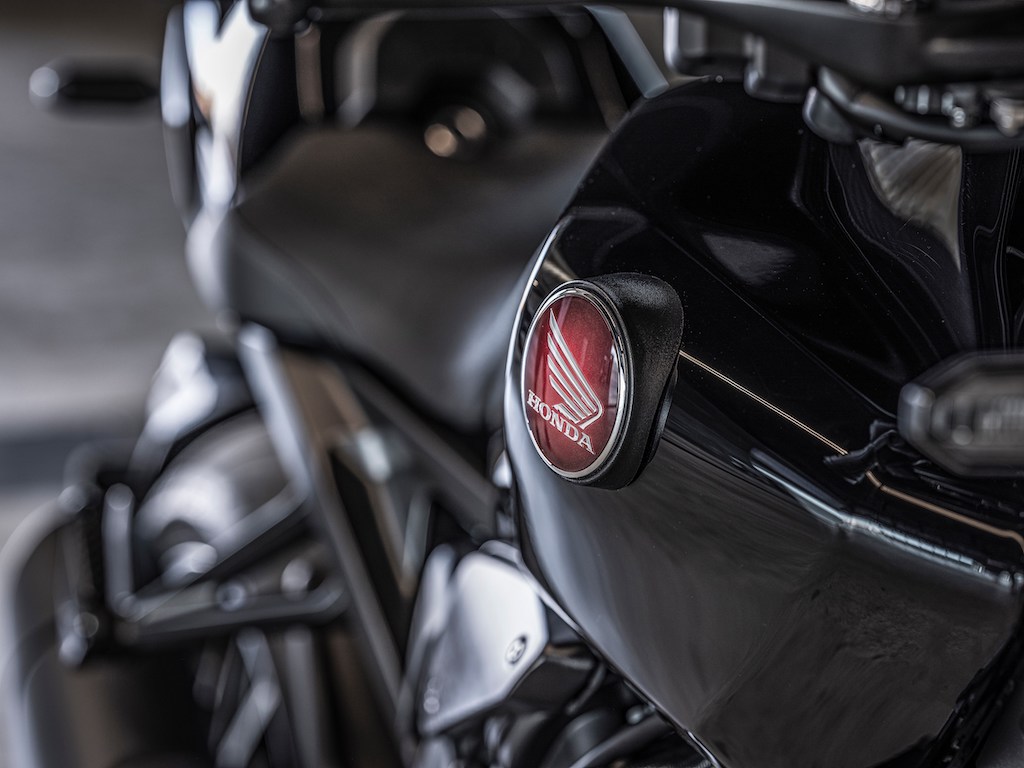 But knives can still hurt people, so even though the CB isn't going to win any quarter mile drag races against the Aprilia Tuono V4, doesn't mean it's not a sharp tool.
Mid-range grunt is excellent on the CB. It lacks a little in top-end performance, but by then you're going miles faster than any speed limit in this wide, brown land that it doesn't really matter.
Slim and slender, the CB's chassis is graced with Showa's fully-adjustable Single Function Fork Big Piston (SFF-BP) and a Showa shock that gets rebound and preload adjustment, not compression. It's true that the shock's performance is the Achilles heel of the CB's performance parameter, offering not the initial bump resistance nor the composure on rebound I'd have hoped for a 1000cc naked bike when the pace really increases.
Around town performance is fine enough, but if you want to really start strapping your CB up your local backroads, the shock is the first thing I would look at working on.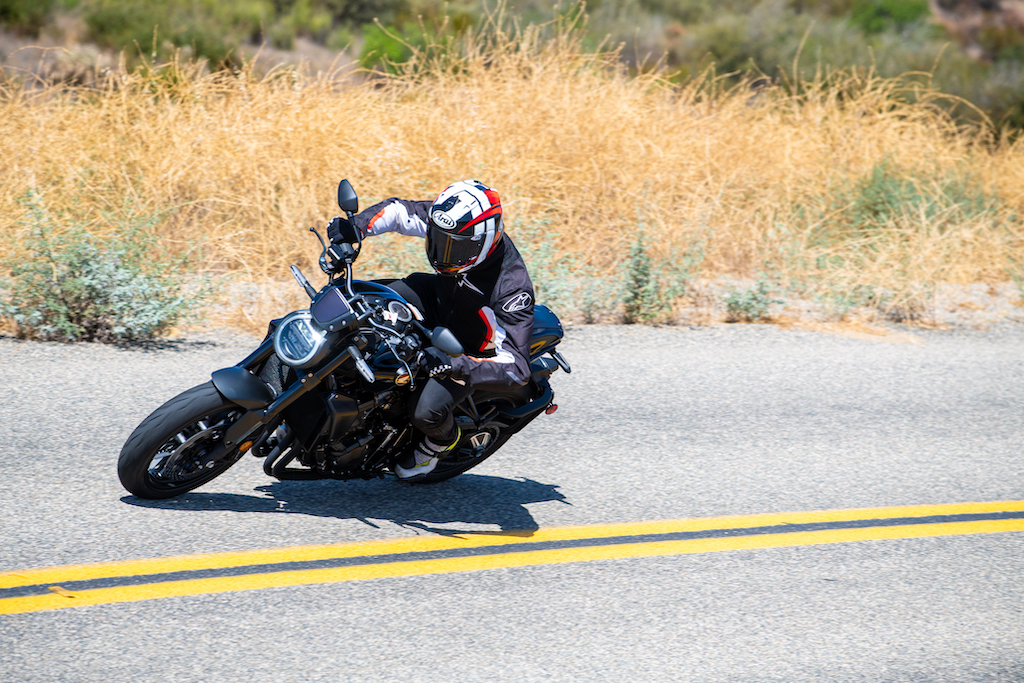 The chassis runs a 48.5/51.5 front to rear weight distribution, which means although the chassis will slice through mountain roads easy enough, it won't do it with the speed you'd expect by looking at it at standstill. This, coupled with the soft shock performance, does tend to hurt the CB but if you take things easier, slower, and rush less, the CB begins to make more sense.
Your electronics are pretty stock standard for the 1000cc naked bike class these days. The CB doesn't run an IMU, so no Cornering ABS or lean angle sensitive TC, but you'll get three-stage traction control, engine brake control, and power modes in four ECU modes in the five-inch TFT screen with the CB: Rain, Standard, Sport, and User. User allows you to choose the various parameters you want from the other three modes and combine them into one. That means the power you want, traction control, and engine brake control, all of which have three available settings. Sadly, there's no cruise control or heated grips on the CB.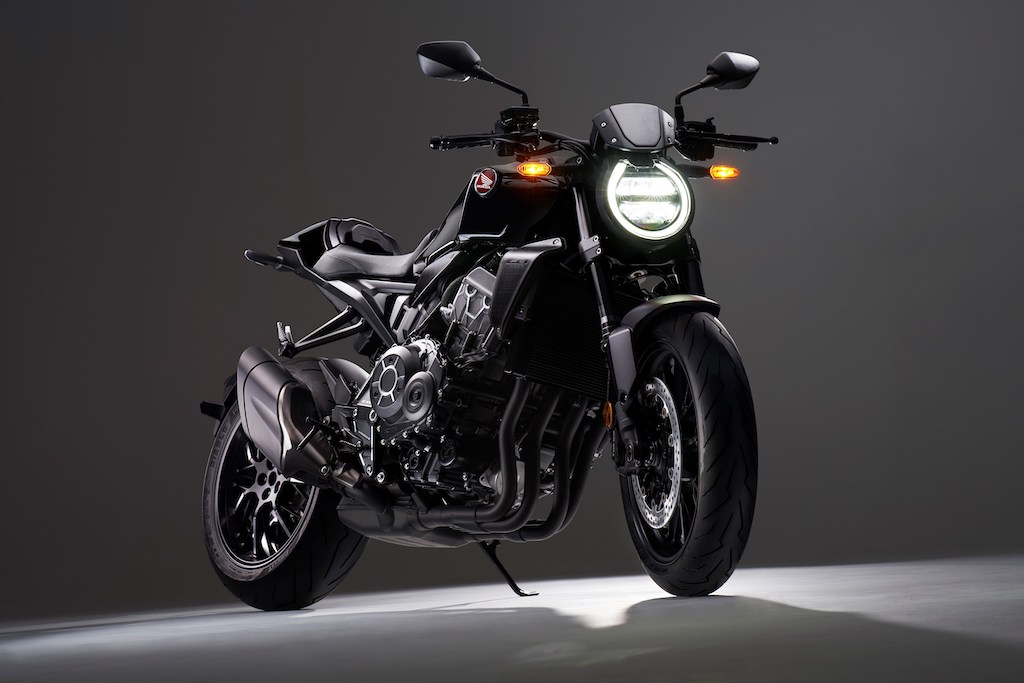 Although it has some flaws, especially with the shock's performance, the Honda CB1000R Black Edition is a good value at $12,999 MSRP. Plus, it looks absolutely smacking in all-black. I wonder if Black Moses (SBI Publisher and Editor In Chief, Allan Lane) has put his order in yet?
---