Cameron Smith is staged and ready to carve his name in the soil of American Flat Track, with his eyes and heart set on winning a National Championship.
The sport of flat track racing is as American as it gets. It's where many professional racers made their bones before moving on to road racing. Champions like Colin Edwards, James Rispoli, the late great legend Nicky Hayden, and so many others started out on the oval dirt track. Many racers from MotoGP and WorldSBK still go back to flat track racing as a means of training and recreation. Flat track racing is your favorite racer's favorite racing. While flat track racing has its roots in American soil, its impression is felt across the moto-globe. And 21-year-old Cameron Smith from Pennsylvania is ready to make his impact known in the sport.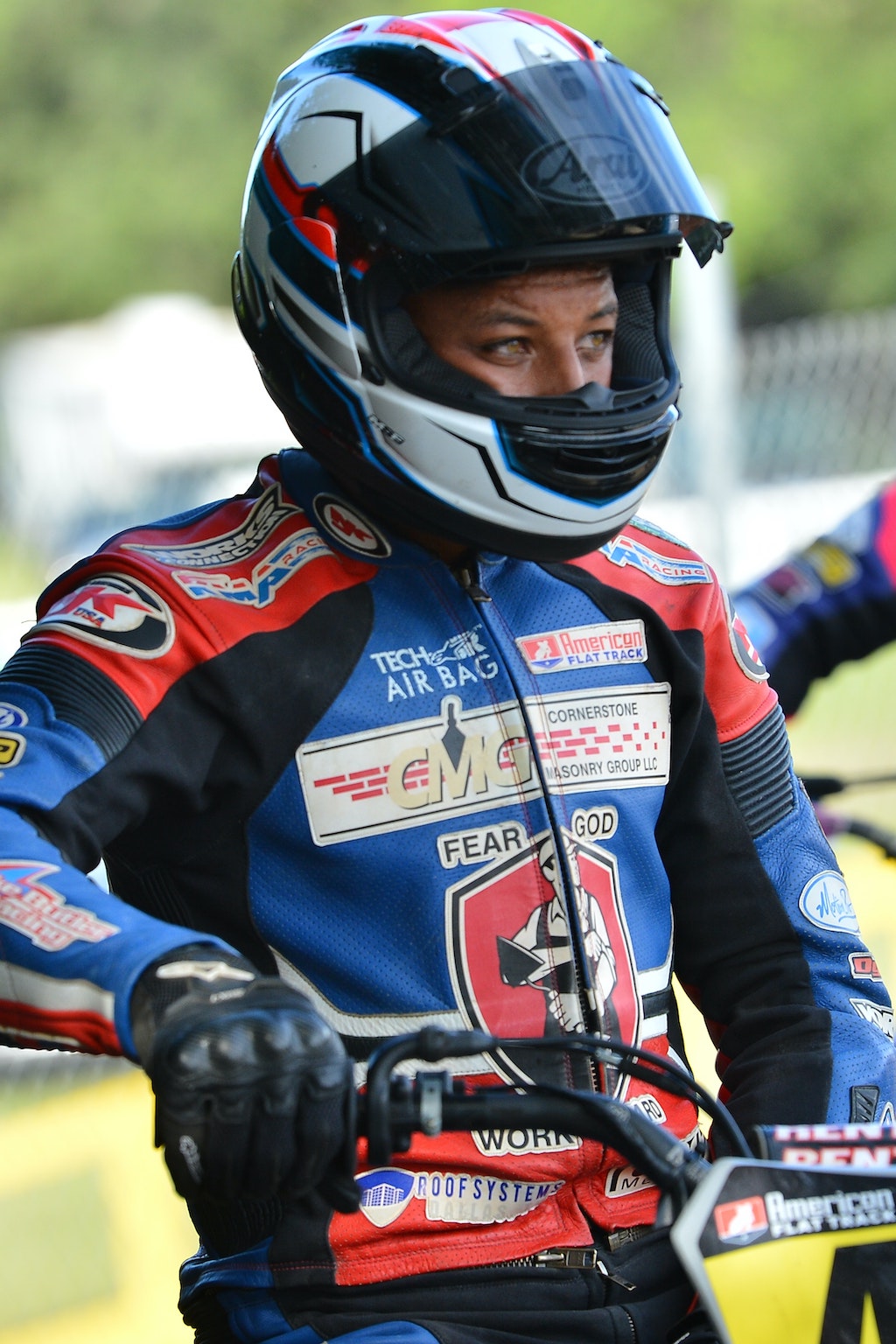 Cameron Smith made his first national event, as a professional racer at the Delaware Half-Mile in 2015, at the last race of the season. Every season since, Smith has focused his efforts on making his name a household brand in the sport. For the 2021 season, he is competing in the Progressive American Flat Track (AFT) Production Twins class with his pit crew of Daniel Nelson and Joel Brown, alongside him. As a privateer, Smith has been able to secure modest support for his 2021 racing efforts, piloting his Andrew Butler built Yamaha FZ-07. The list of companies that sponsor the team includes Fredericktown Yamaha, Ritchie Reynolds Racing, Mike Butler Racing and Hamilton Motorsports.
Support for any racer, factory or privateer, is always an issue. In addition to Kings Kustoms, CMG, Bruce Demske, Jim Stump, Motion Pro, R-Nyne Designs, Arai and Works Connection, Smith is seeking to work with, "more sponsors that offer financial backing and publicity. We'd like to have people to stick with us. And hopefully, bring us to the SuperTwins class in the future. Myself and my team would love to promote anyone who is willing to be in our corner and help me make this racing dream come true."
Racing isn't cheap. You can tally up a hefty tab before the season even begins. Obtaining the financial support to make it through an entire season is a serious and stressful task. Securing corporate, small business and personal sponsorship funds is just as much part of the job for Smith, as racing is. Could the AFT assist in enriching the return on investments for potential sponsors? Of course, they can.
"Maybe see if they could make it more cost-efficient for the privateers without hurting AFT (financially)," suggests Smith. "Such as offering more social media exposure and advertising for all of the riders." The idea makes a lot of sense when you consider who gets the most exposure in the sport. The factory riders get the headlines. It's not necessarily because their team's sponsorship money (most often a manufacturer like Indian or Harley-Davidson) is footing the bill. The truth is that the factory riders get the big push because they win. They win because of a combination of talent meeting opportunity, with access to competitive equipment. It's that circle of momentum that keeps the top guys at the top. Where does that leave the privateer? Where does that leave racers like Cameron Smith?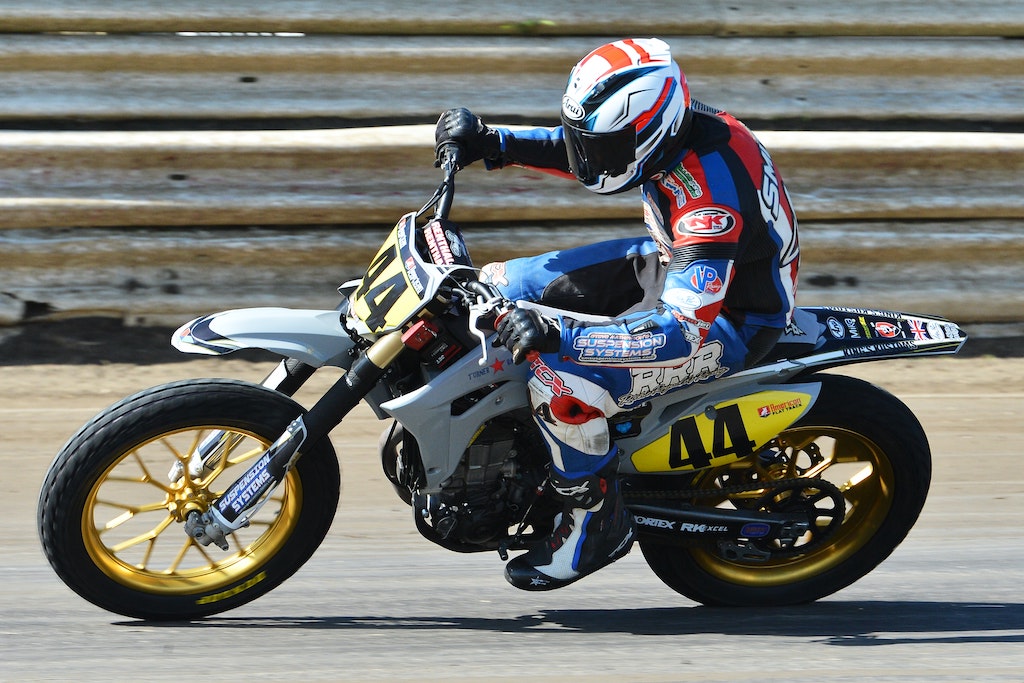 Not entirely on their own. Thanks to modern technology and free social media such as Instagram and Facebook, riders can take a more hands-on approach when it comes to marketing and promoting their race program. Smith is making the most of his opportunity to self promote.
There is also the element that Cameron Smith is one of only a couple of Black flat track racers in the AFT paddock. And when I say a couple, I mean just that… two. "I'm usually the only one at the race track. Other than Aidan Brown, an up-and-coming amateur." Smith continues, "Occasionally there are a few others at local races. It doesn't affect me too much. Everyone is usually nice and wants to help. I try not to think of my skin color. I just go to the race track with the mind set to race and win."
But Smith realizes that the lack of diversity in the paddock is a talking point. "If someone brings up or acknowledges my skin color then I would gladly discuss it because I am a minority and a role model in the sport. Just like Shayna (Texter)."
The question of diversity or lack thereof in flat track racing has not gone unnoticed. It's something that AFT, as an organization, is aware of and they are looking for solutions to bring real diversity to the paddock and the race events. "I think publicity is the key. If people see that there is diversity in the sport, they will come and support the riders that remind them of themselves." Smith is absolutely right. The visuals of seeing others that look like you, create the sentiment of inclusion. A sense of belonging. Smith continued, "I've spoken to aspiring African American riders who are excited to see people who look like them in the sport. When I get the chance, I mentor other young riders on how to ride and ride safely. I'm able to promote the sport and the inclusion of everyone in the sport."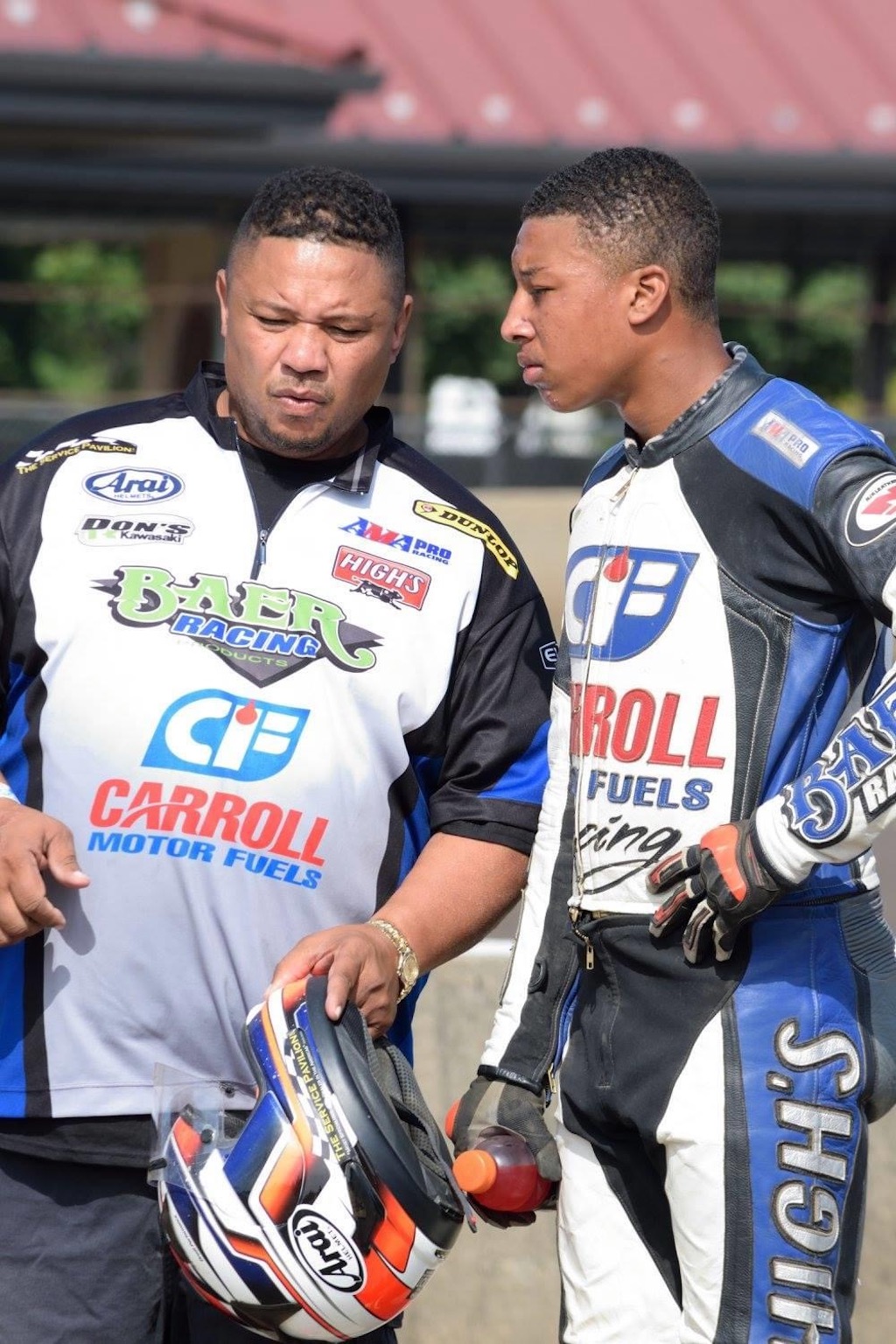 Smith, himself is inspired by the camaraderie of the privateers he's found in the sport of flat track racing. "It's inspiring to see the other riders who work 9 to 5 jobs and make their way to the race track on the weekends. We don't have the money behind us that we'd like, but we still show up and race hard." And, of course, he is inspired by his parents., "They got me into the sport. They put their lifestyle on hold and worked hard to get me to where I wanted to be. I hope to do that for my own kids' passions when I get there."
Over the years, Smith's racing career has offered him some great memories. He lists the Sacramento Mile as his favorite track. "Once everyone is all lined up, my mind goes into racing mode. I'm watching for the green light, I'm revving the throttle, and I'm focusing on getting a good start. Once the clutch is dropped, I'm focused on staying consistent and making my way to the front. You don't have time to focus on who is where. So you have to focus on getting around the person in front of you. That's all I can think about until I see the white, and then the checkered flag." Smith's best season to date was in 2017, racing in the AFT Singles class finishing 159 points, in 6th place.
Several mishaps have occurred as well. We'll call them learning experiences. Smith recalls a time when his dad dropped the rear axle in the exhaust pipe before going out for the main race. Another time, the bolt of his oil filter on his 450 stripped out so they couldn't line up at the very first AFT Daytona TT. "But, my worst memory of all was my big crash at Dixie in 2018. You crash all the time in this sport. But that was my scariest one."
After the 2019 season with Richie Morris Racing, Smith's 2020 privateer season was abbreviated, with only two race starts. "In places like Springfield, where only the Super Twins class and the Production Twins class run, you are able to ride the production class for those two races. Which allowed me to make my focus on the Twin class for those days. It takes a lot mentally and physically to run the Singles class and Production Twins class all in one day. So we focused mainly on the Singles class as it was my last year in that class."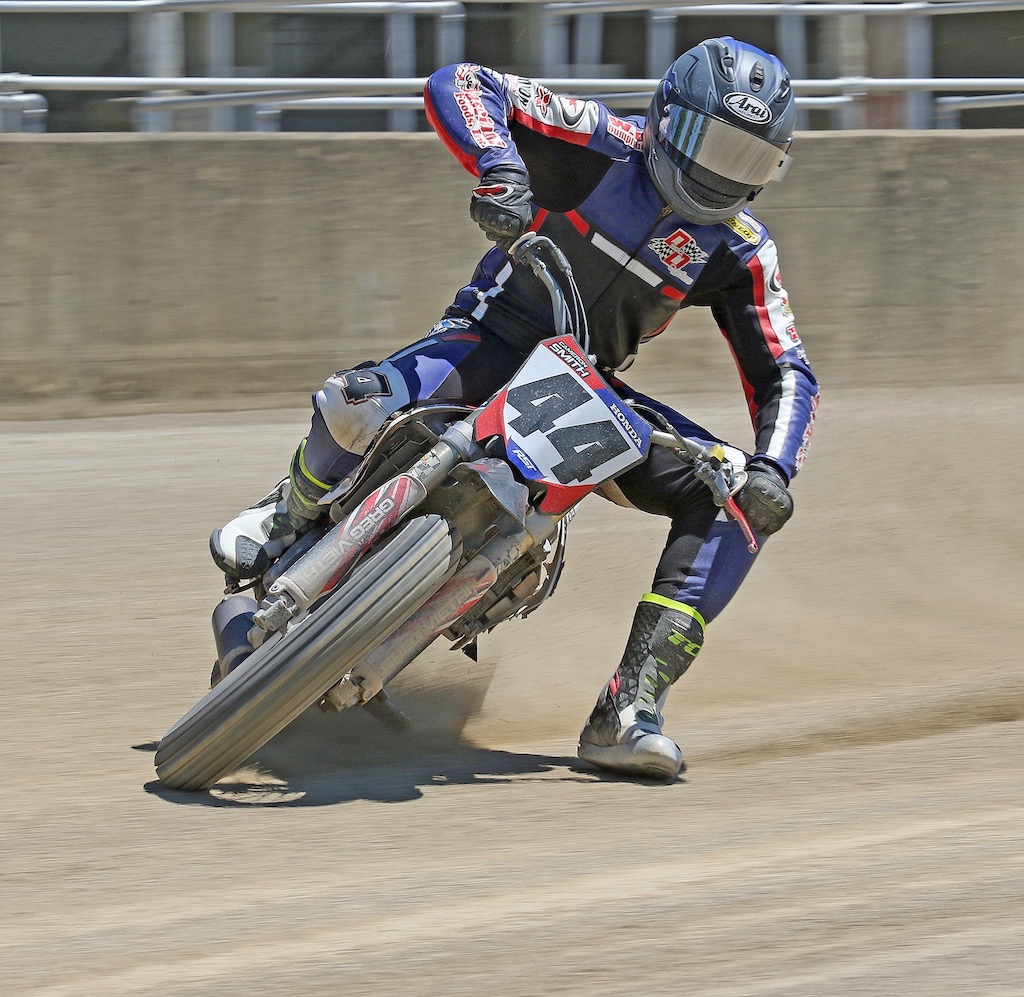 Since that time, Smith has been training for this upcoming season. His regimen includes cycling, running, cardio, etc. "Fast is when someone can maintain their peak speed for the whole duration of the race. Quick is when someone can get out front and only be fast for half or even maybe just a few laps. You can be one or the other when it comes to being fast or quick. Everyone has their days on the track. With my cardio plan, I've been working on the endurance to stick to being fast and out front, consistently."
On the verge of the 2021 AFT season opener, the Daytona TT, Smith is going all-in with the throttle pinned and his elbow high. His interests are rooted deeper than just making his name a household brand. His goal is to broaden the horizon and exposure to flat track racing. And, in turn, how the sport is perceived and received by the masses.
In moments of adversity, Smith processes, "I often think it could be easier to just quit. But then I remember how close I am to achieving my goals." He concludes, "I'm so close to being the first African American to win an AFT National Event. Why would I stop now when I'm so close?"
Diversity works both ways. Cameron Smith, American Flat Tracker #44, is qualified and striving to bridge the gap.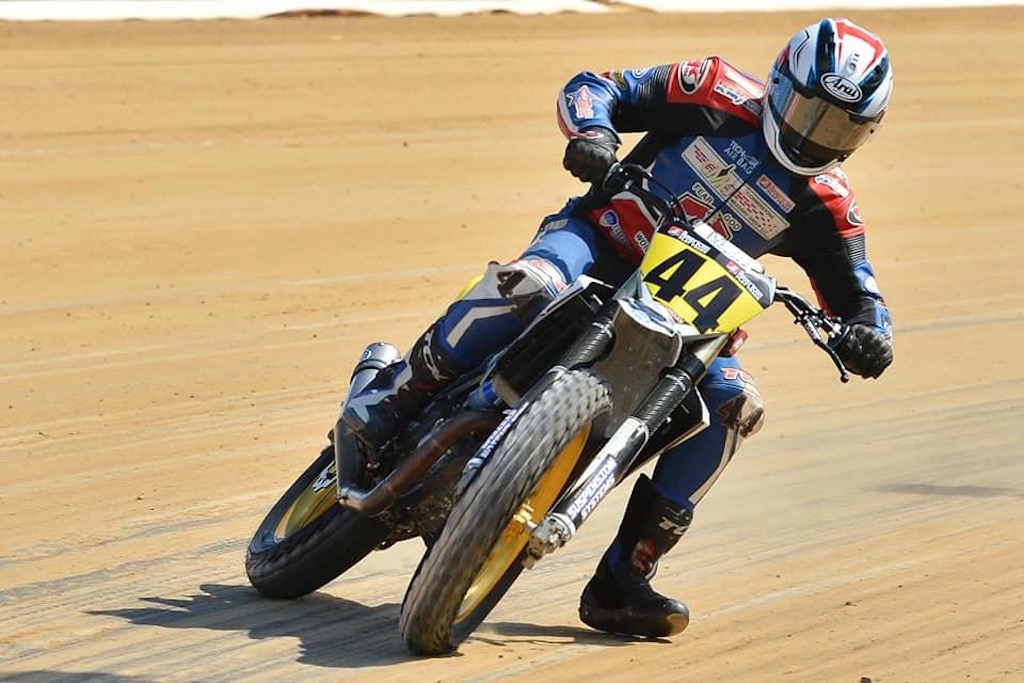 ---