The B.O.S.S. is back! The Boulevard M109R B.O.S.S. returns to the Suzuki lineup for the 2023 model year in Blacked Out Suzuki Styling.
The 2023 Suzuki Boulevard M109R B.O.S.S. (Blacked Out Suzuki Styling) makes its return to the lineup in two color options, plenty of power, and an abundance of style.
The powerplant of the 2023 M109R is the eight-valve, 54-degree v-twin 109 cubic inch engine that benefits from Suzuki's engineering prowess. The 4.4 inches pistons are made from a forged aluminum alloy, Suzuki's Composite Electrochemical Material. The cylinders have been sculpted to match the rest of the bike and feature blacked-out engine covers with symmetrical cooling fins that are highlighted for contrast.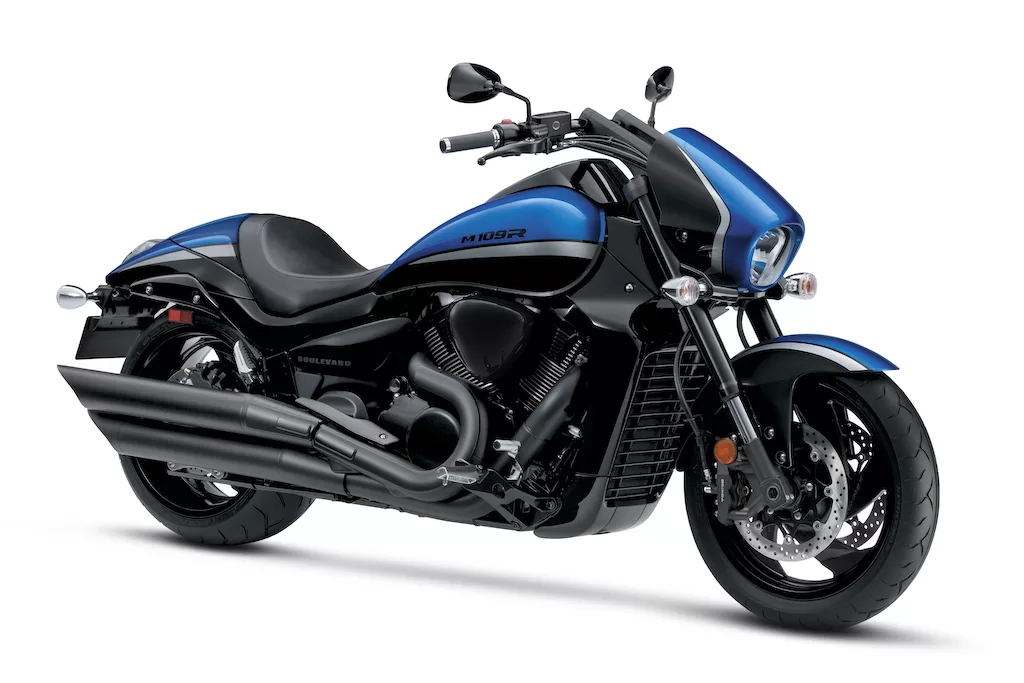 Suzuki's Advanced Sump System (SASS) is a compact dry sump lubrication system that provides significant engine height reduction, lower crankshaft position, and center of gravity. The B.O.S.S. employs Suzuki's electronic fuel-injection system with the Suzuki Dual Throttle Valve system (SDTV) throttle bodies resulting in impressive smooth low to mid range torque performance while the wide-ratio, constant-mesh five-speed transmission with a high fifth gear ratio performs well for relaxed highway cruising. The low maintenance shaft drive minimizes torque reaction as it efficiently transmits power to the 240mm wide rear tire.
The engine is housed inside a double-cradle frame composed of high-tensile steel that is paired with a cast aluminum alloy swingarm equipped with progressive linkage.
Taking notes from GSX-R 1000R, the M109R's radial-mounted, dual front brakes provide outstanding stopping power while the rear setup features a single disc brake mated with a dual-piston caliper.
Suspension features include a pair of 47mm inverted front forks that offer 5.1 inches of travel. The rear shock is neatly hidden, preserving the M109R's clean visual lines.
The $15,599 2023 Suzuki Boulevard M109R B.O.S.S. is available in two color options: Candy Daring Red with Glass Sparkle Black and Metallic Triton Blue with Glass Sparkle Black with contrasting graphics.
Who said that the muscle cruiser market was dead?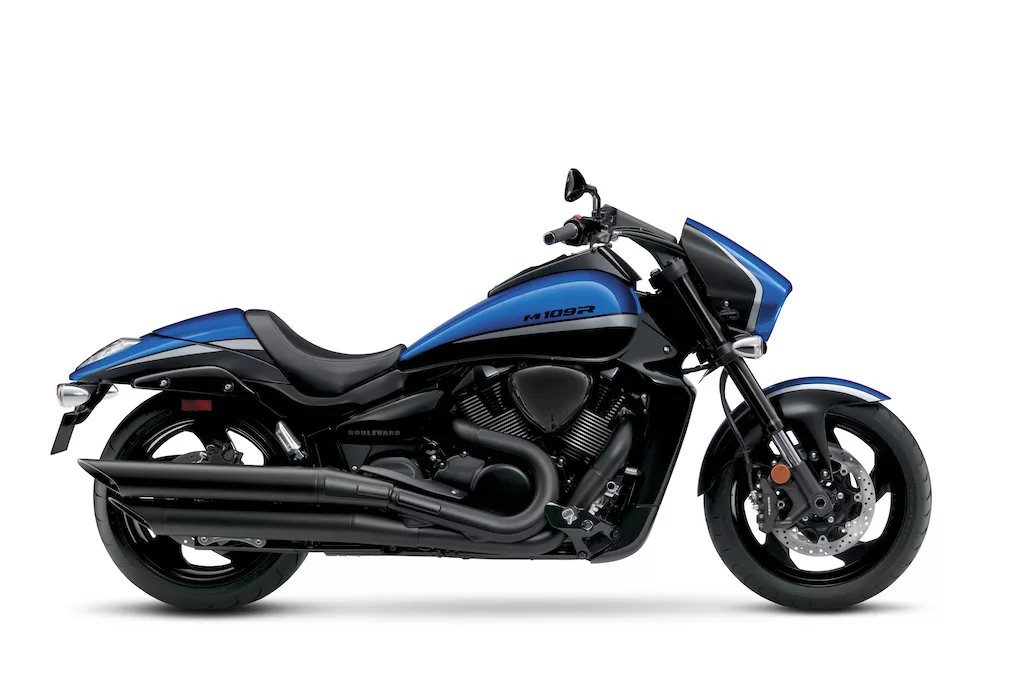 ---