Armed with a new 776cc parallel twin engine, the all-new 2023 Suzuki GSX-8S is introduced as a formidable middleweight streetfighter.
The GSX-8S is the latest addition to Suzuki's line of trendsetting naked sportbikes, developed with refinement and balance in mind.
Inside the GSX-8S is Suzuki's new 776cc DOHC parallel-twin engine. Its 270-degree crankshaft configuration provides a more powerful experience similar to the 90-degree V-twin engine used in the SV650 models. Because of the spaced power pulses from the engine, it enhances traction with plentiful power output at low speeds. Suzuki uses Cross Balancer technology in conjunction with FEM analysis to produce light, compact designs that operate smoothly. The process of SCEM plating Suzuki's cylinders creates 83mm bores from aluminum die-casts providing better heat dissipation and reducing friction while providing a lasting wear-resistant seal for the piston rings.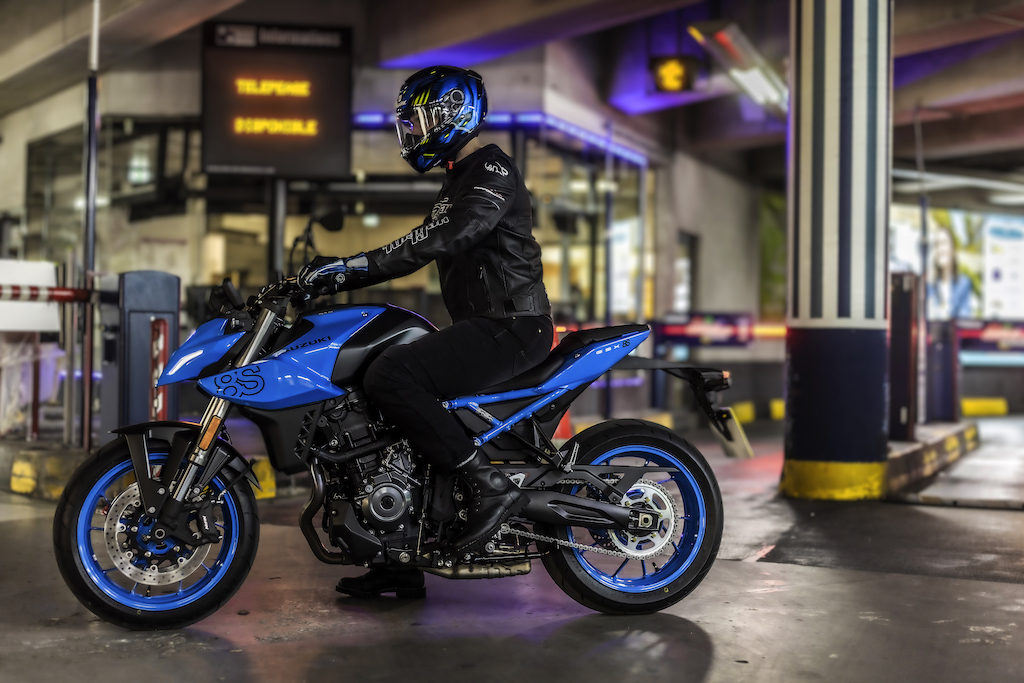 The large-capacity radiator prevents the engine from overheating, and a cooling fan regulates coolant temperature. The innovative cooling system inlet control thermostat valve helps keep engine temperature consistent. The engine is also cooled by a lightweight and compact liquid-cooled oil cooler like those used on some GSX-R models.
Digital ignition increases the strength of iridium-type spark plugs for improved combustion efficiency, power, throttle response, engine start-up, and idle stability. The GSX-S8's dual, linked 42mm electronic throttle bodies use a newly configured Accelerator Position Sensor (APS) to provide an authentic response and feel to the rider's throttle operation. There are two ten-hole, long-nose, 49 PSI high-pressure-feed fuel injectors that maximize fuel atomization for better combustion efficiency and lower fuel consumption.
The GSX-8S has a new, distinctive short muffler design that produces a distinct exhaust note. Most of the exhaust system is located under the chassis in an optimal, centralized location that benefits handling. The stainless-steel 2-into-1 high-flow exhaust system uses a dual-stage catalytic converter inside the mid-pipe.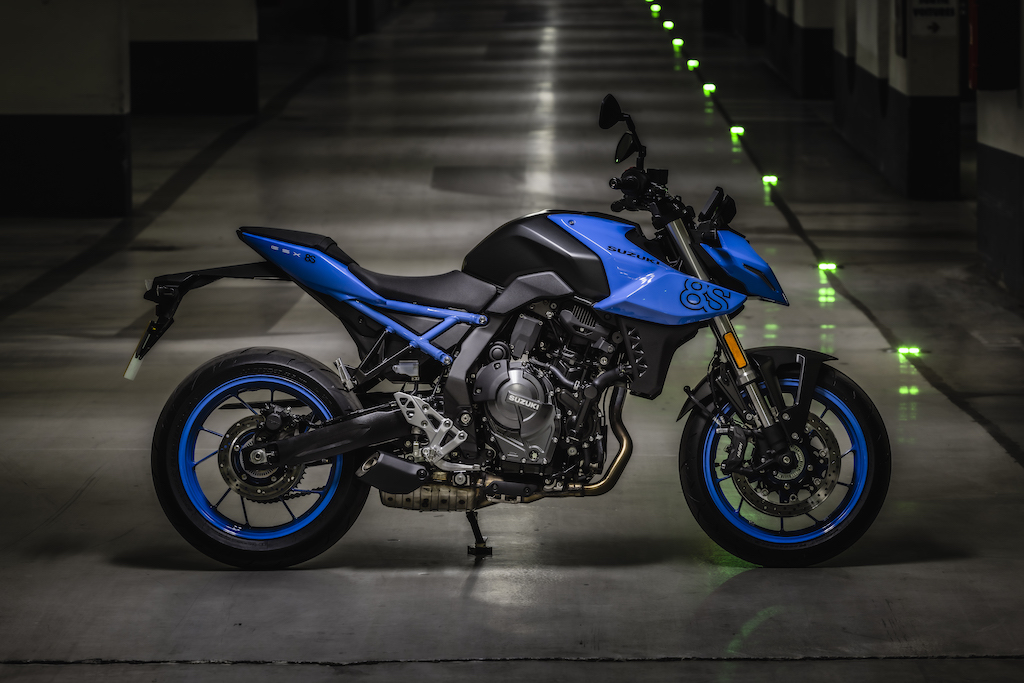 You'll find in the suspension department that the KYB inverted front forks and dedicated link-type mono-shock KYB rear suspension make the GSX-8S suitable for action-packed blasts and longer rides, even with a passenger. The GSX-8S's aluminum swingarm is uniquely shaped and lightweight, offering increased torsional rigidity.
Braking components consist of NISSIN radial-mounted 4-piston brake calipers with dual floating brake rotors. Using radial-mounted front brake calipers with 310mm outer diameter floating-mount dual discs provides sure stopping power and controllable braking performance. The rear brake has a 240mm outer diameter disc and uses a single-piston pin-slide caliper.
The cast-aluminum wheels on the GSX-8S are sleek and lightweight, allowing for nimble handling and sporty performance. The new generation of Dunlop RoadSport 2 radial tires (120/70ZR17 at the front and 180/55ZR17 at the rear) were designed to provide optimal performance and grip in a variety of street riding conditions.
Ergonomically, the tapered aluminum handlebars give you a sporty yet comfortable upright riding position while also being wide enough to provide positive control. The seat is built for comfort delivering solid support for the rider toward its rear edge. It's also covered in durable materials that provide grip without sacrificing comfortability.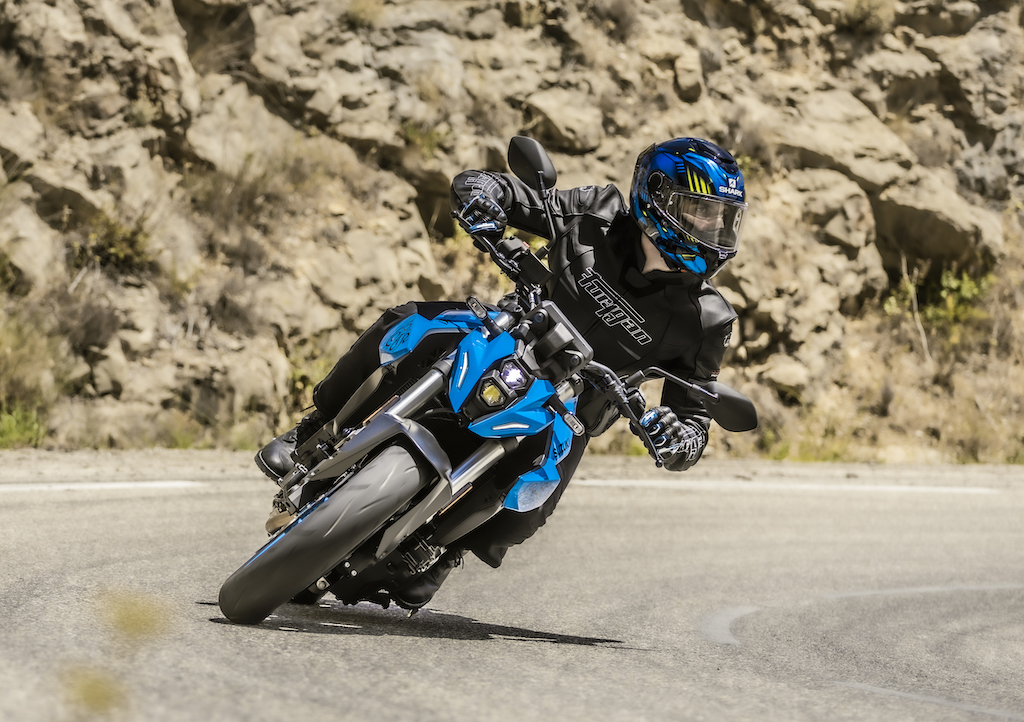 The Suzuki GSX-8S is outfitted with the Suzuki Intelligent Ride System (S.I.R.S.) including a three-mode Suzuki Drive Mode Selector and four-mode Advanced Traction Control System. Also included are Suzuki's popular Easy Start and Low RPM Assist systems. With the Suzuki Easy Start System, you can quickly start your engine with just one press of the starter button. For an even smoother ride, our Low RPM Assist function helps maintain engine idle speed during starts.
The Suzuki Drive Mode Selector (S-DMS) allows you to change performance settings to best match the riding conditions or their preferred riding style. The GSX-8S comes with three standard mode settings in the Suzuki Traction Control System (STCS).
Suzuki's ride-by-wire electronic throttle control system is responsive to the rider's every input. Suzuki's legendary bi-directional Quick Shift System (with ON/OFF settings) provides quicker, smoother, more assured shifting without using the clutch while in motion. The ABS helps prevent the wheels from locking up during hard braking for more stable braking overall. All pertinent data is displayed on A 5-inch color TFT LCD instrument panel.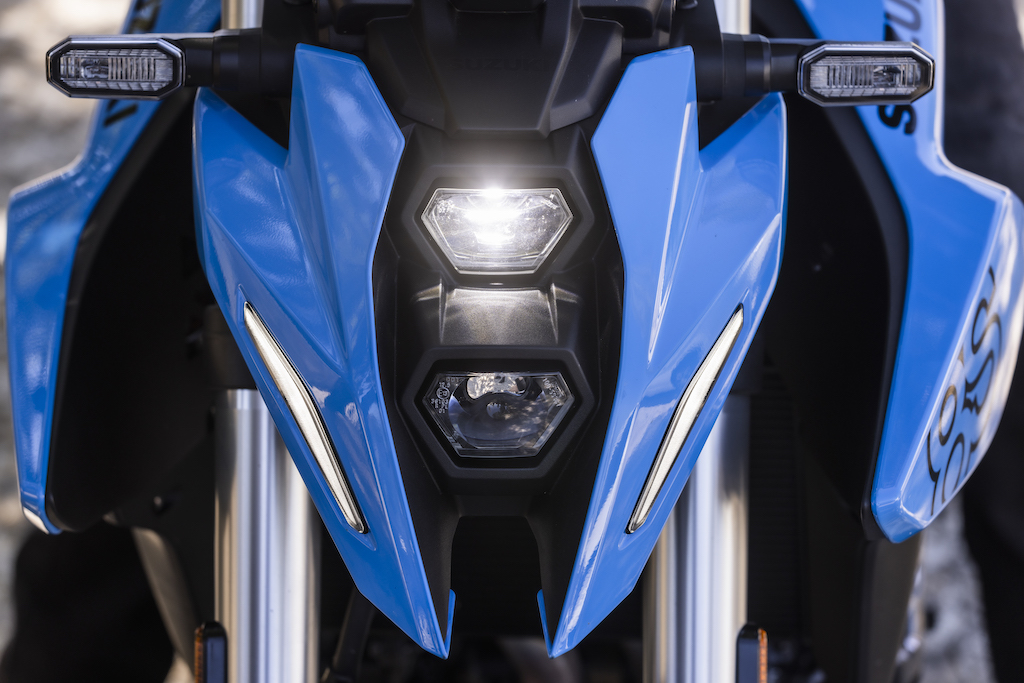 The hexagonal LED headlights DRLs give you an unobstructed view of what's ahead. On both sides of the headlights are compact LED position lights that follow the slope of the front cowl. These narrow, angled slits give the front face a striking mask-like appearance. Practical durability and clear visibility are ensured with additional compact LED position lights, turn signals, and a LED taillight.
The GSX-8S comes in three striking colors that include two new unique colors: Pearl Cosmic Blue and Pearl Tech White and Metallic Matte Black No.2 with Glass Sparkle Black.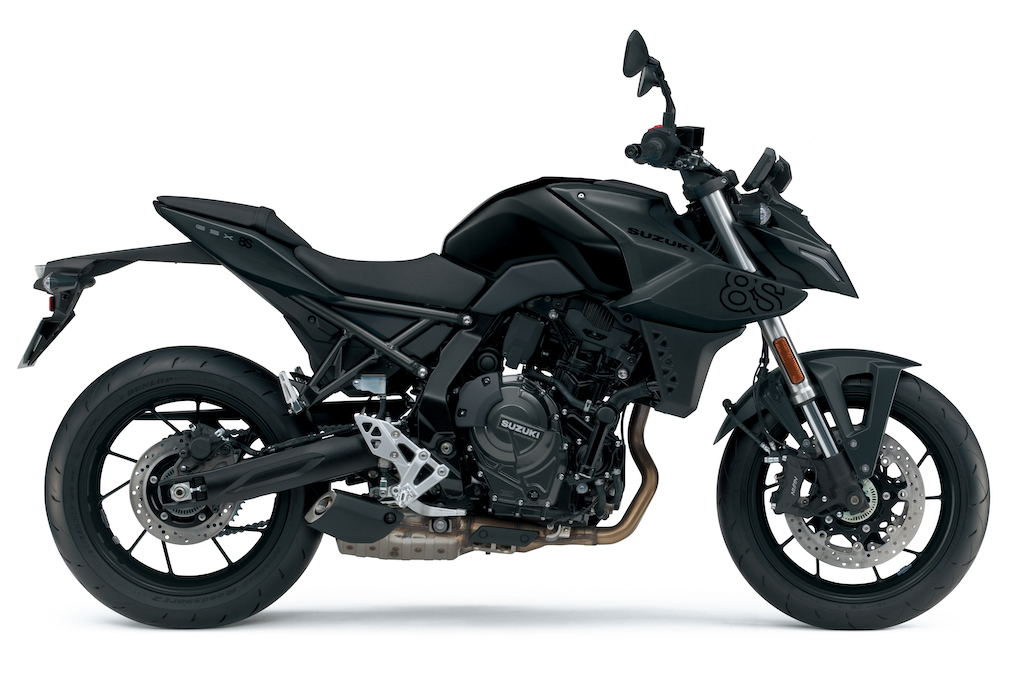 ---