The eight-time MotoGP Champion, Marc Marquez makes his return to race action at the Portimao round of the 2021 season.
As I've made my predictions on the 2021 MotoGP season, I always ended every piece with, "…that is, until Daddy gets home!" Well, Daddy is Marc Marquez. And he is back. Albeit not 100% but back nonetheless. And let's face it, an even 50% Marquez is must-see TV. April 18, 2021, was the date MotoGP fans had circled on their calendar as the date that Marquez returns to MotoGP racing. Portimao! That word has probably never been mentioned as much as during the week of April 18th and boy did Marquez not disappoint! It started at the pre-event presser when the 2020 World Champion, Joan Mir said innocently enough, "Let's see how competitive he will be!" Sounds like nothing, right? Well, Marquez extended a look in Mir's direction that smoldered like a campfire. Mind games activated!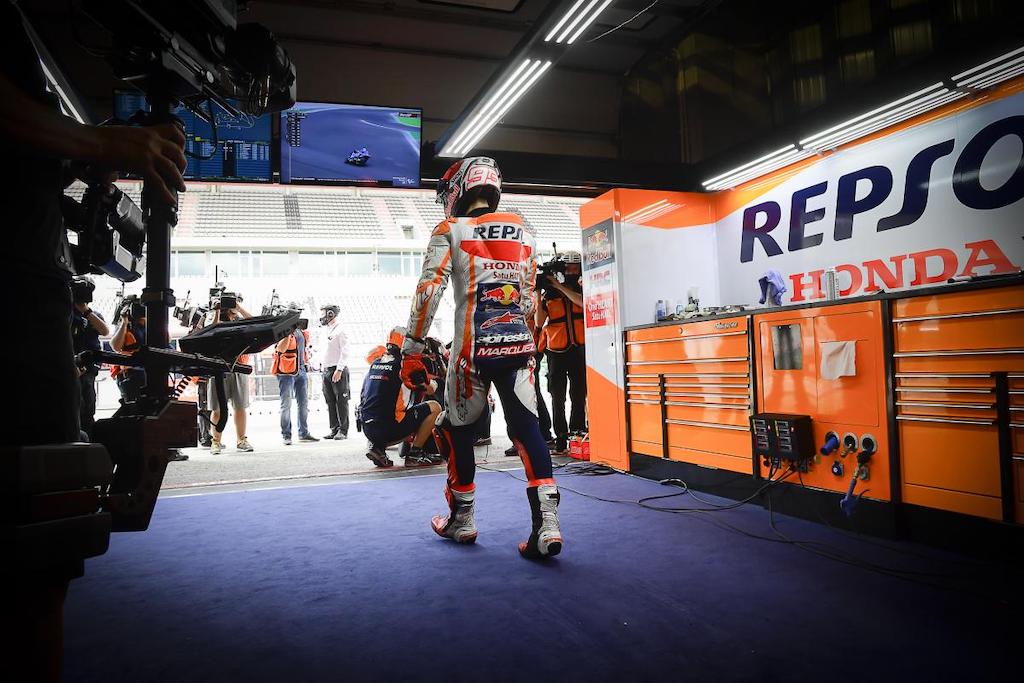 It was obvious Marquez wasn't quite the same but he was still pretty damn good, qualifying 6th. Not too shabby for a guy who took a year's sabbatical as if he were a Mormon on a mission Except his mission this time was to just see how he would do. No expectations. Yeah, right! For mere mortals such as myself and you that reads my articles, maybe… But for Marc Marquez, his "no expectations" exceeded all expectations.
Testing his surgically repaired arm on one of the most grueling circuits on the calendar was as good a litmus test as you could ask for. And Marquez passed through with pure grit and determination. His arm obviously was bothering him after trying to manhandle a 280 hp beast all weekend. Eventually, it started to take its toll.
Rumors started to circulate if he would finish the race. 25 laps on a circuit dubbed "The Rollercoaster" because of its resemblance to an amusement park favorite would certainly test the strength of his arm. But like I said, when talking about Marquez you're talking to the closest thing to Michael Jordan on two wheels.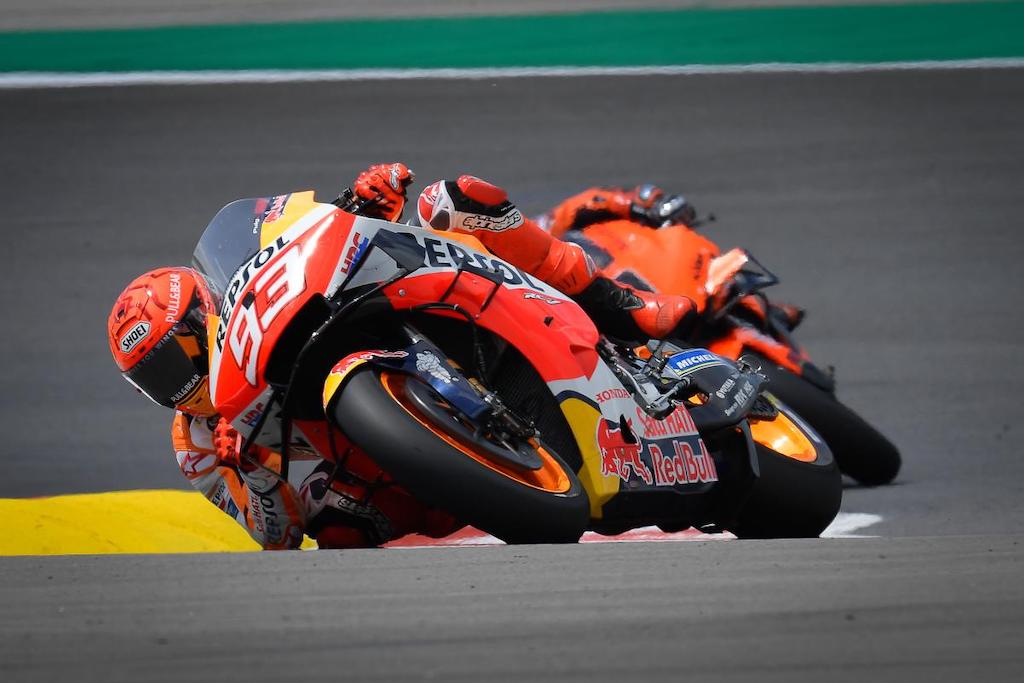 Marquez wills his bike and body to do things his rivals can't and won't. He got off to a fantastic start and was as high as third place before eventually settling for seventh. Upon which he sat in his chair after the race and succumbed to the emotion of the weekend and wept like a child who didn't get ice cream for dessert.
It was the first time since 2018 that Marquez didn't finish on the podium. Barring a major setback, Marquez should be back to his 'old self of wreaking havoc on the MotoGP field. And although I believe he will do just that, I think this year's crop of MotoGP riders will give Marquez his stiffest test to date.
The Ducatis, particularly Johan Zarco and Pecco Bagnaia will give him nightmares on circuits where horsepower is king. The two rivals that will provide the stiffest of the stiff, will be Portimao and Qatar winner Fabio Quartararo and 2020 Champ Joan Mir. Marquez has already started the mind games with Mir by stalking him in qualifying like DeShaun Watson looking for massage therapists. Mir got the better of him in the race but in laymen's terms, it's on! This rivalry should be a good one.
It's Quartararo that poses the biggest threat. Fabio has never beaten Marquez in a showdown and this 2021 Quartararo looks more focused, relaxed and hungry than I've ever seen him. Fabio is the man to beat in GP.
Make no mistake, Marc will be up for the challenge. I can see it in his eyes. He's got that look. That look that broods, "I will see you on the track. And then we shall see what you got. May the best man win."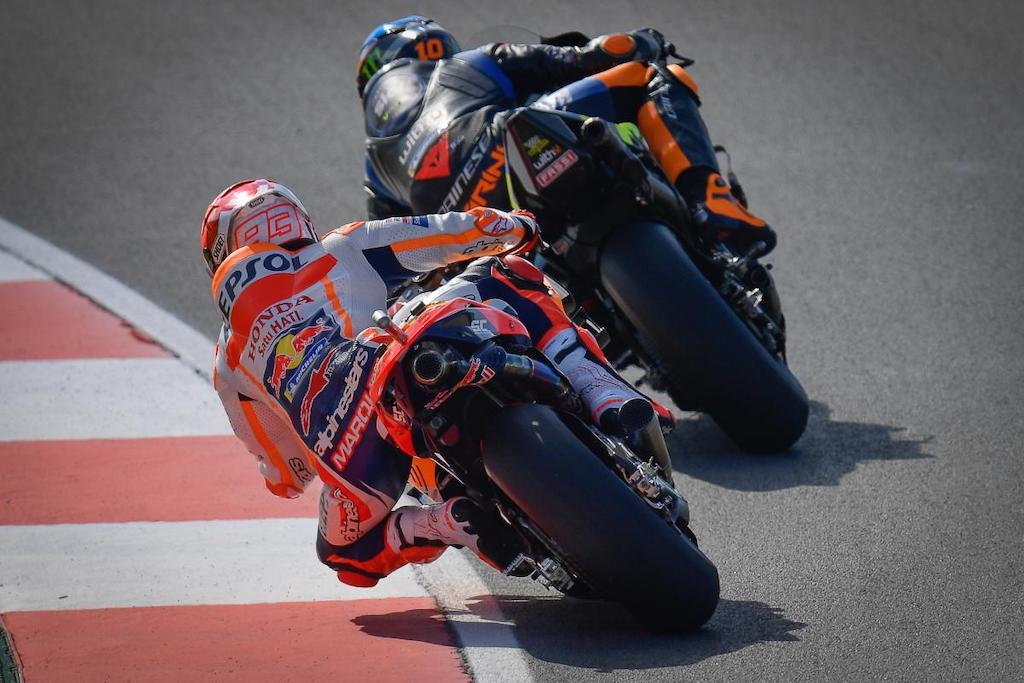 Raul Fernandez and Pedro Acosta share that brooding look and they both won on Sunday in Moto3 and Moto2. They will be Marc's future rivals. Marc will be slowly on the downside of his career and these young lions will show him no mercy. Nor will Marquez, but it will be Marquez who stirs the drink that is MotoGP. He brings out the best in his rivals. And we, the spectators are the beneficiaries.
Sunday in Portugal was a good race. It saw three costly mistakes by championship contenders and it showed the bright future that GP has in Pecco Bagnaia and French Superstar Fabio Quartararo But most importantly it showed that, although two races down, to win the 2021 MotoGP title, you have to deal with an eight-time MotoGP Champion who isn't quite ready to give it up that easy.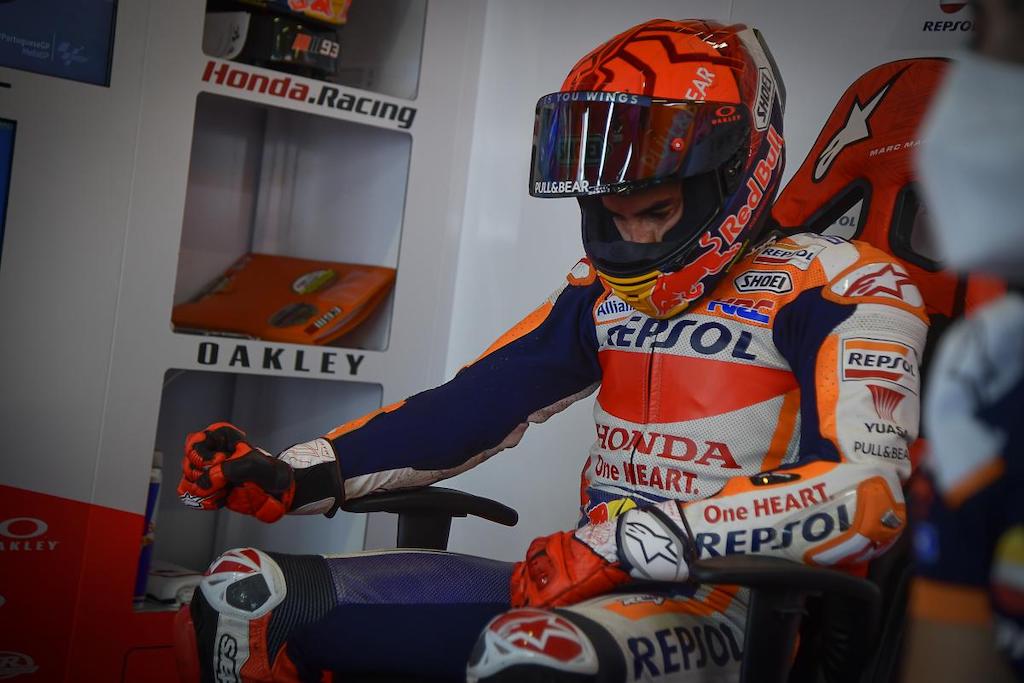 Daddy's home! Now what? We will find out in two weeks, in Jerez, Spain. Stay tuned. GP just got even better. And it was already pretty damn good!
---