How did you get that shot? Here are a few mounting ideas for your Insta360 motorcycle action camera to help you get exciting and impressive action footage of your ride.
Since I began posting my Insta360 motorcycle videos on social media, the most asked questions are "How do you get that shot? Who is controlling the drone to capture the footage? Is someone riding on a bike next to me? How many cameras are you using?"
But the number one inquiry is… "Where is the camera mounted?"
Using the Insta360 One R cam has really allowed my social media and editorial content value to increase exponentially. It is just more fun and more entertaining to view 360 footage, especially when it's done right. "Doing it right" includes a number of factors: the quality of the ride that your filming, tracking, perspectives, lighting, editing, etc… All of the normal factors that are accounted for in top-notch video content are equally important here. But when you are filming with a 360 camera, your mounting points require a bit more attention.
I learned where the most effective methods of mounting my Insta360 One R on my bike mostly through trial and error. But even before I received my own setup, I reached out to my good friend, Anna Rigby AKA Red Spade and asked the very same aforementioned questions.
It was Anna's footage that really motivated me to get a 360 set up for myself. And once it arrived, it was an immediate addiction. I gave my GoPro cams to my sons as I no longer needed them… I'm 360 with it, now! Whooo!
And the more I posted 360 footage, the more questions came in. So I reached out to Anna and she put together this fun and informative pictorial on Insta360 Action Camera mounting ideas.
Insta360 Motorcycle Action Camera Mounting Ideas
1. Front Mounted – Front and center mounting give a wide-angled view of bar and control inputs.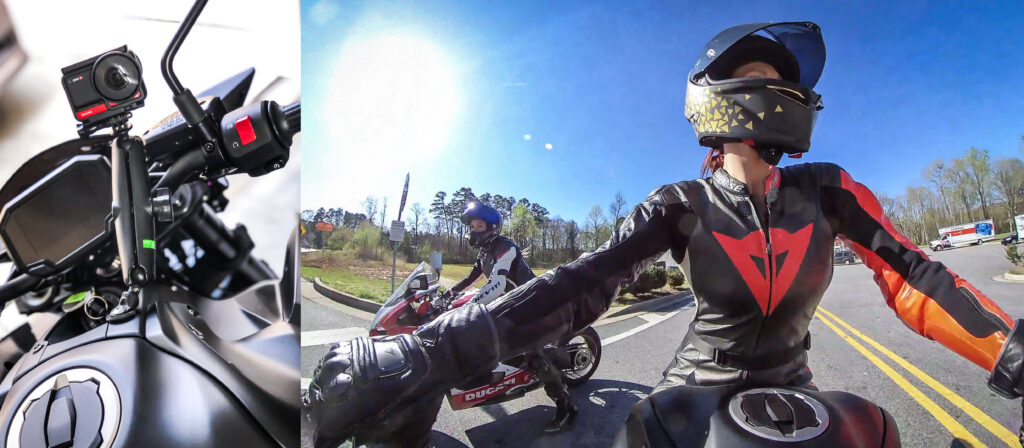 2. Mirror Mounted – Attached to the mirror mounting brackets provide an extremely sturdy location to show off extreme front and side views.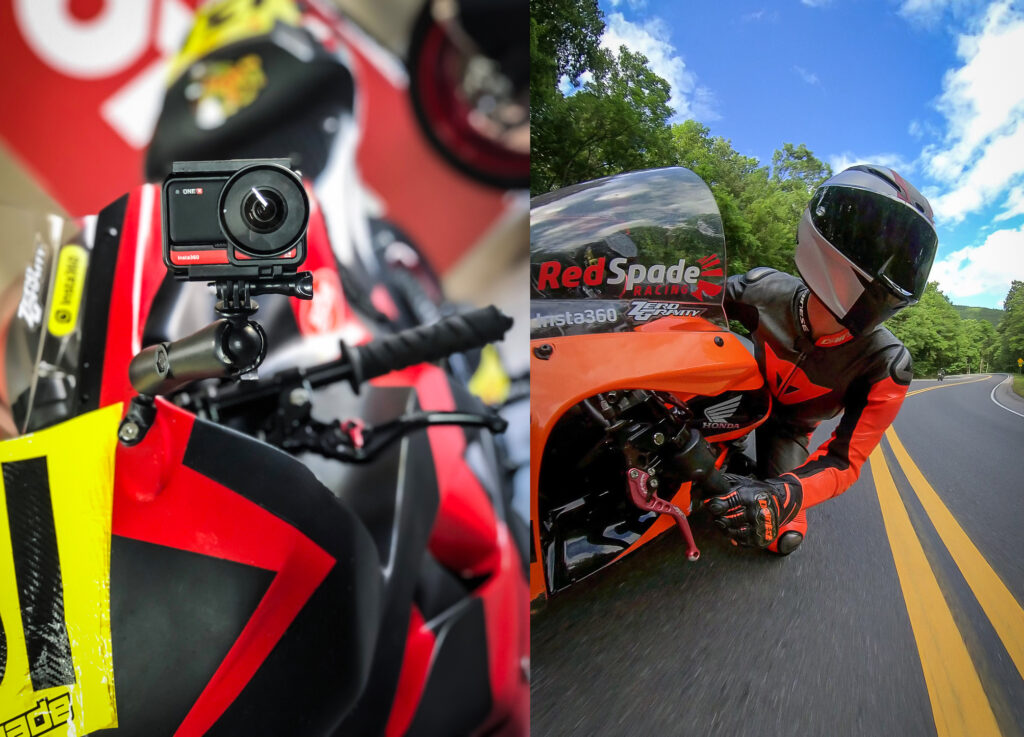 3. Swingarm Mounted – Offer extreme low-angle views of the knee-down action or the rear wheel.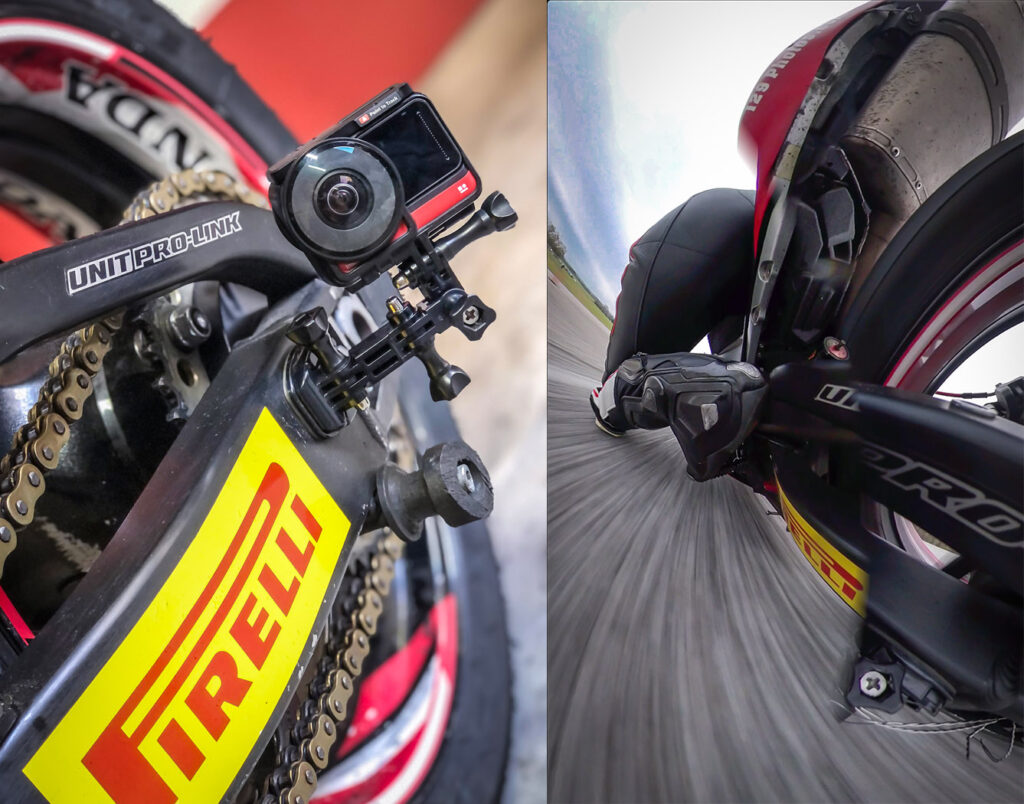 4. Below Tail Mounted – This is great for showing off leg work.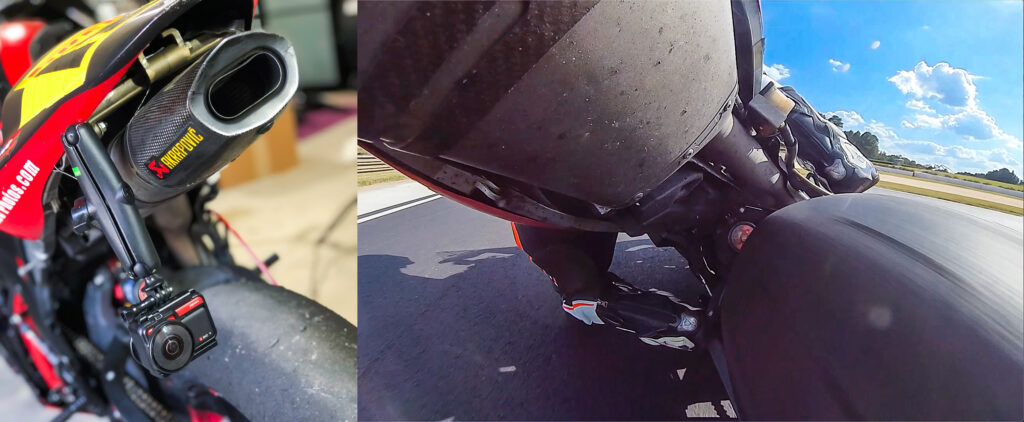 5. Above Tail Mounted – Offers a wide-angle view for showing off body positioning, action shots, and rear camera follow.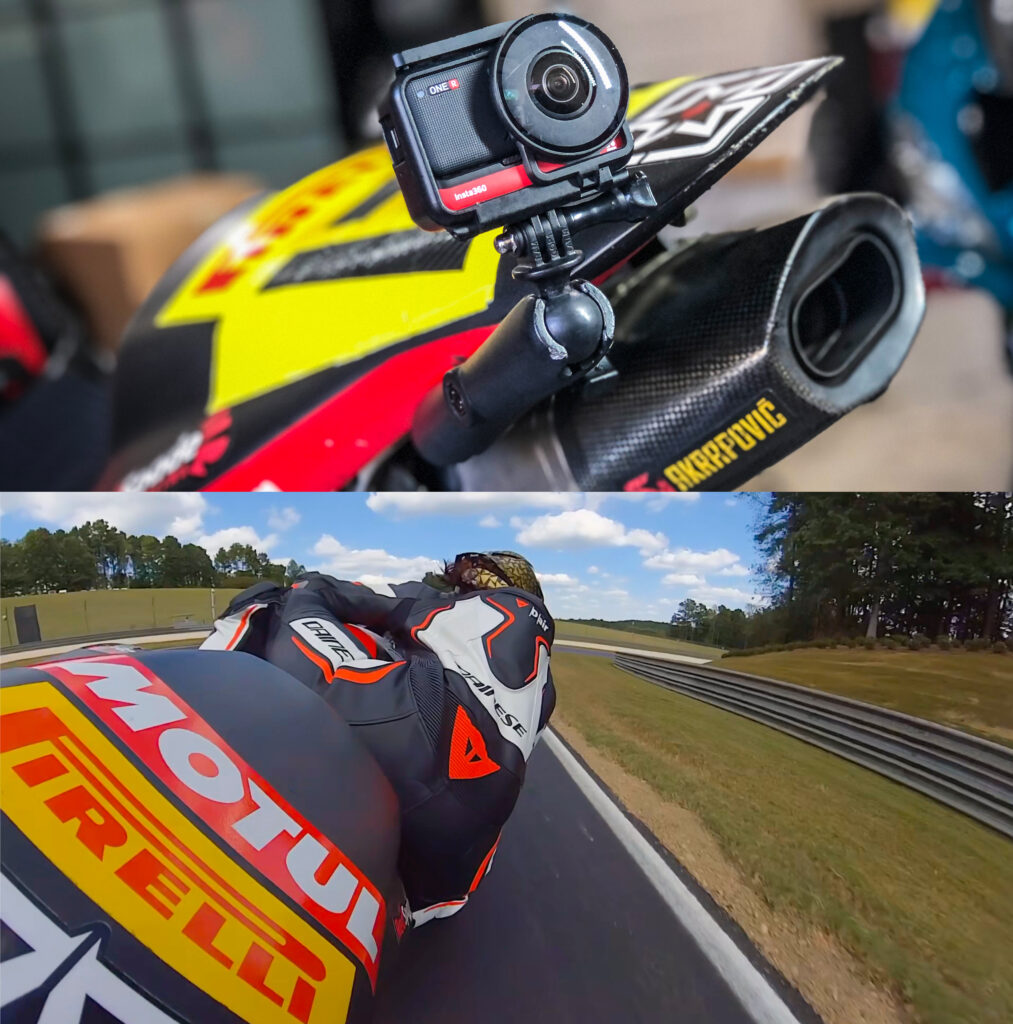 These are just a few examples of where you can mount your camera on your motorcycle. Start with these but be sure to experiment and come up with some entertaining and exciting views and angles. No matter what fashion you select to mount your 360 camera, make certain that you secure it properly. Develop your own style and have fun.
Images and Descriptions: Anna Rigby
---