This is the middleweight Duke we never knew we wanted: a review of KTM's punched-out and R-spec 890 Duke.
KTM cranks up the heat on the competition in the middleweight sport naked bike segment with this new hot rod: meet the 890 Duke R ($11,699). The R-spec Duke builds on the capability of the original 790 Duke with a punchier engine and more robust suspension and braking components. This nets a vastly more capable package, that is, if melting Michelin rubber is the name of your game.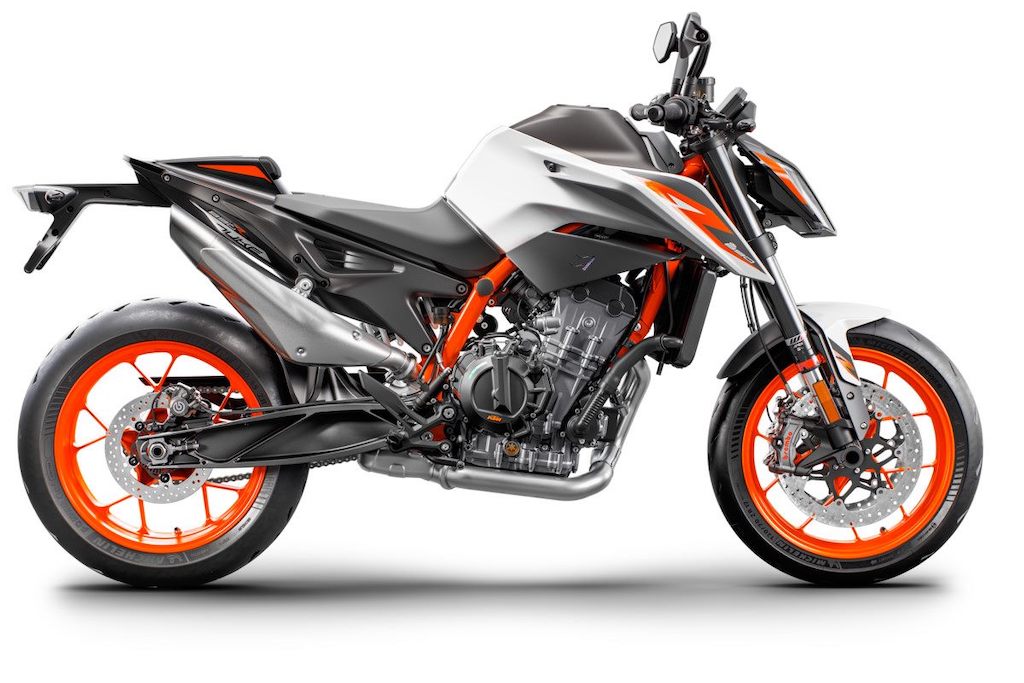 As the nomenclature insinuates, accurately this time, the 890 is powered by a larger capacity 890cc LC8c parallel twin. The engine benefits from a number of technical improvements all revolving on increased power, smoothness, and overall rideability.
Yank the twist grip and the engine's increased power is readily apparent. If you've ridden the 790 version, it feels like the new version is a hopped-up and kitted race bike. The motor hits hard, remanence to the 1290 Super Duke R, yet it is more manageable than the aforementioned beast. This makes the 890 Duke the tool of choice for canyon carving missions.
Our test bike was fitted with KTM's optional electronic quickshifter ($399.99) which enables clutchless up and downshifts. This boosts acceleration when rowing through the slick-shifting six-speed gearbox. It also elevates chassis stability by allowing downshifts at lean. Much of the handling credit also goes to the improved WP suspension components and excellent Michelin Power Cup tires which provide borderline absurd levels of grip.
In typical KTM fashion, the fork has independent and tool-less compression and rebound damping adjustment. Handy red wipers allow you to monitor suspension travel. Although we didn't necessarily miss it, it would be nice if engineers added spring preload adjustment so riders can tweak ride height and suspension stroke during braking. On a side note, KTM added this feature to its 1290 Super Duke R for 2020.
The gas-charged shock, on the other hand, offers full adjustment, including preload and high/ low-speed damping circuits. It mounts directly between frame and swingarm, sans linkage. The setup works well for spirited rides, but ride quality and comfort over bumpy surfaces are compromised. Though because of the 890 R's extreme sport handling prowess, we're perfectly content giving up comfort for more balls-out fun at speed.
Electronics-wise, the 890 Duke R can benefit from the same robust Motorcycle Traction Control package as the 1290 Super Duke R. For a $339.99 upcharge riders can access the "Track Pack" kit which unlocks a track-specific riding mode and nine-level traction control slip control. Level 4 proved the sweet spot with its reigning acceleration just enough to afford a comfortable level of control. A higher setting restricted acceleration more than we'd like and a lower number permitted the tire to spool up more than we felt comfortable with at an elevated street pace.
This lies the beauty of the electronics – you can tailor it to your preference or riding style. Cruise control can be added for another $249.99 and $139.99 adds Motor Slip Regulator, which is KTM terminology for engine brake control. This complements the function of the mechanical slipper clutch which helps to reduce rear-wheel instability during deceleration. Speaking of which, the function of the slipper clutch was one of the only weak links we had with the 890. Specifically, it requires the rider to feather the clutch lever, as opposed to letting it out completely during slides.
An auto brightening color TFT display keeps tabs on settings and has a neat "dark mode" (white fonts over a black background for night riding). A super bright LED headlamp does a marvelous job of illuminating dark stretches of roadway.
Ergonomically, the 890 offers a more focused riding position. We're especially fond of its wide handlebar and generous ergonomic proportions. Taller riders will be especially pleased with their ability to attack corners comfortably. Although the seat appears thinly padded, it proved reasonably comfortable for a sport-oriented motorcycle.
Larger diameter front brake rotors are pinched by a pair of jewelry-like Stylema radial-mount calipers from Brembo. The setup is powered through Brembo's MCS adjustable-ratio radial-master cylinder so riders can tweak the feel of the front brakes for more or less response based on lever position. Cornering ABS, with the ability to manually disable rear ABS is yet another feature for riders that like to leave skids.
Simply put, the 890 Duke R is the middleweight sport entry that KTM should have sold from the get-go. With a riding dynamic reminiscent of 2020 Super Duke R, but in a more manageable everyday riding package, the R-spec 890 is heir to the middleweight throne and a capable sport naked that will make you think twice about riding KTM.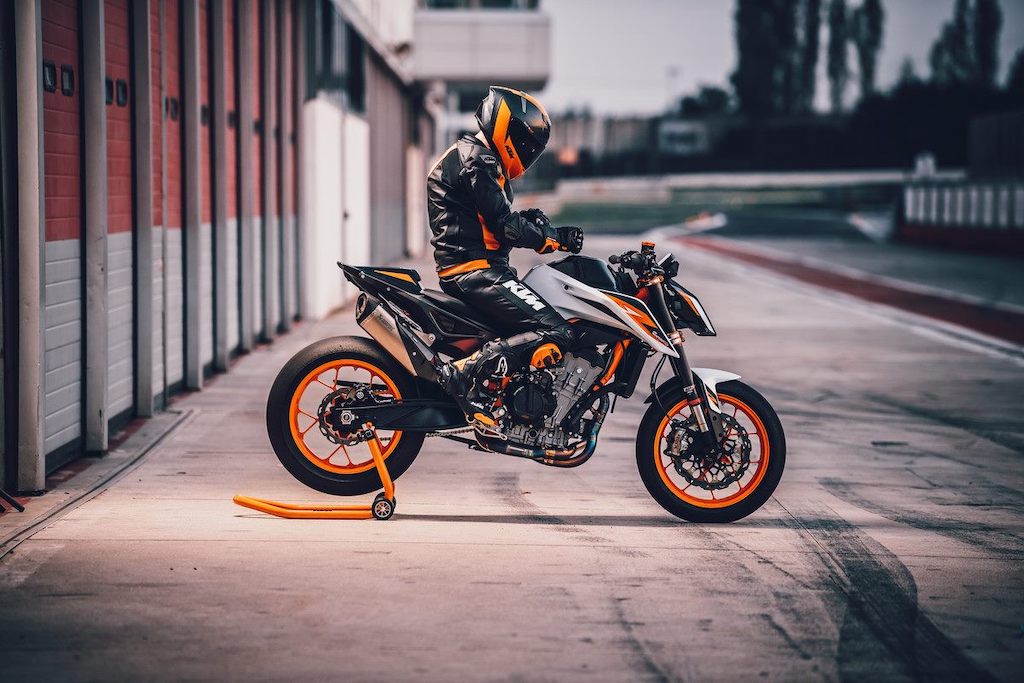 ---