The KTM RC 390 simply brutalizes corner apexes thanks to its dramatically reduced unsprung mass and a chassis that talks to the rider, urging them to push harder, faster. Apexes were never this tasty.
What are your feelings on lunch? I personally enjoy a good burger, a barrel of fries and a beer if in the right company. No one does burgers like America. If, however, you asked a KTM RC 390 this question (and it could talk back to you), I've little doubt it would say corner apexes were its sustenance of choice.
I'll grant you, dear reader, the previous question was asked in jest, yet it doesn't dilute the KTM's ability to munch on fast or slow racetrack apexes any less so. This is a racetrack machine that can box with bikes twice its size, like a Featherweight who's more than up for the Welterweight division.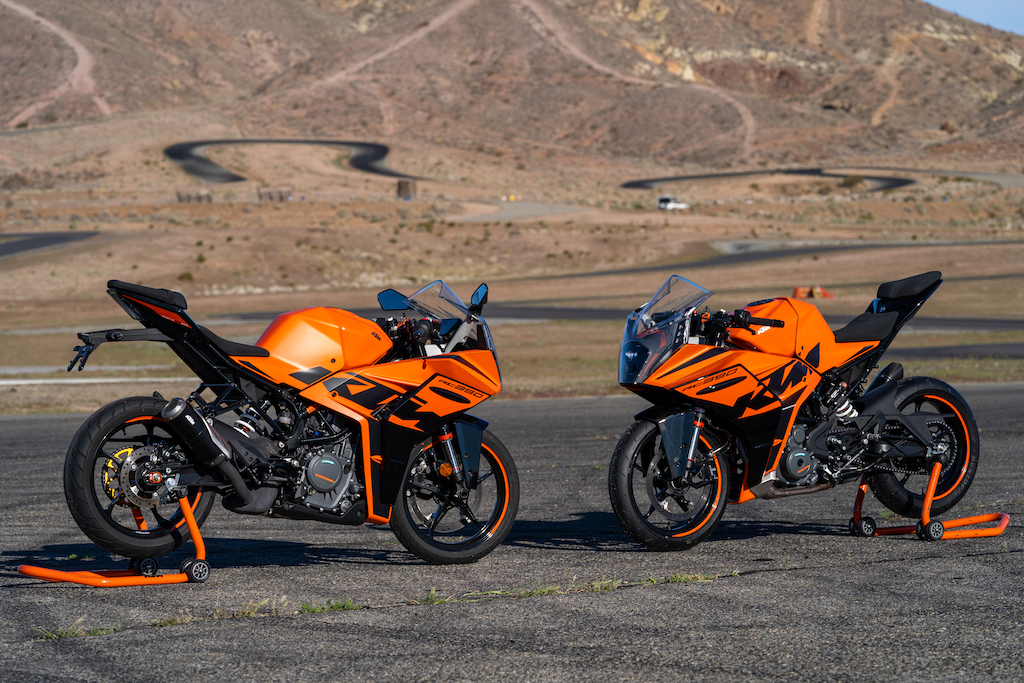 Charging around the recently repaved Streets of Willow track in the Californian high desert on the new KTM RC 390 is an exercise in self-control. The RC simply brutalizes corner apexes thanks to its dramatically reduced unsprung mass and a chassis that talks to the rider, urging them to push harder, faster.
Never mind the top speed is lower than a 25-year-old 600. Anyone can twist the throttle, it's the corners where you learn to ride, and the new RC is a fine teacher indeed.
It's hard to believe but since KTM ditched the underperforming and equally underrated RC 8R in 2010 and until the RC 8C came out last year, the RC 390 was the number one sportbike in KTM's lineup.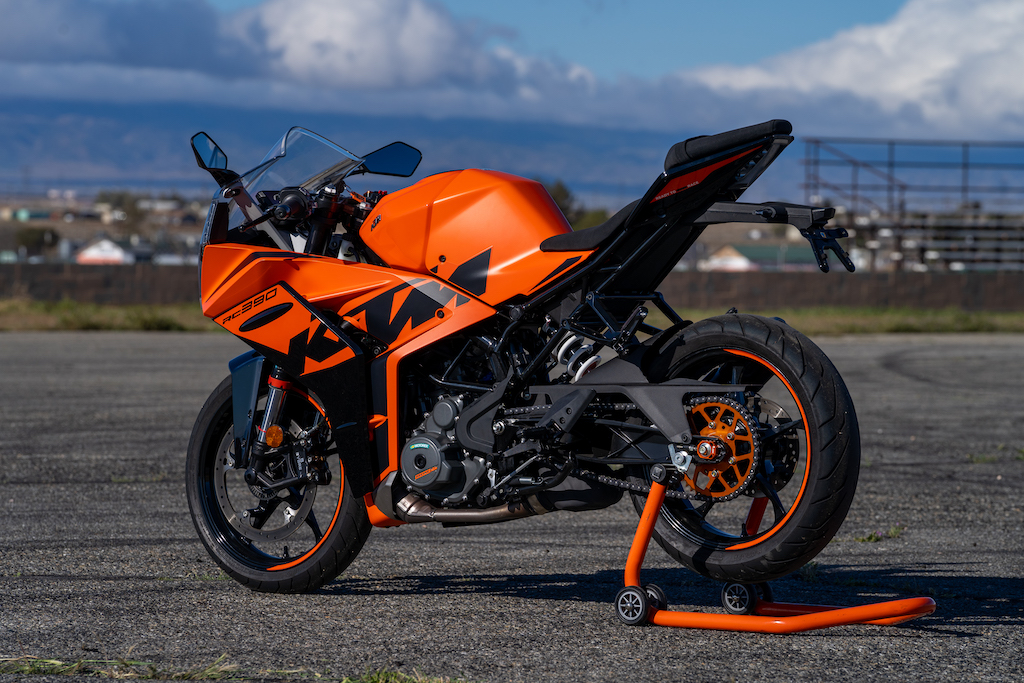 Those intervening years saw KTM focus its sporting intentions on the naked bike category, producing bikes like the stonking 1290 Super Duke R and the bike they coined 'the scalpel' in the 890 Duke R.
However, for 2022, it's the KTM RC 390's turn to get a facelift, and the changes wrought are more than skin deep. There are measured changes that have brought a swift uptake in performance, and a few features not found on bikes twice its size and twice its $5799 MSRP price tag.
Under the hood sits the same 373 cc single-cylinder four-stroke pumping out around 40 hp and 27 lb-ft of torque, putting it smack in the middle of the class against arch-nemesis Kawasaki and their Ninja 400 and Yamaha's YZF-R3.
KTM's given the only single-cylinder motor in the category new mapping to smooth out the initial throttle touch, fitted a 40 percent larger airbox and allowed the spent gasses to escape via an exhaust muffler modeled on Brad Binder's RC 16 MotoGP monster.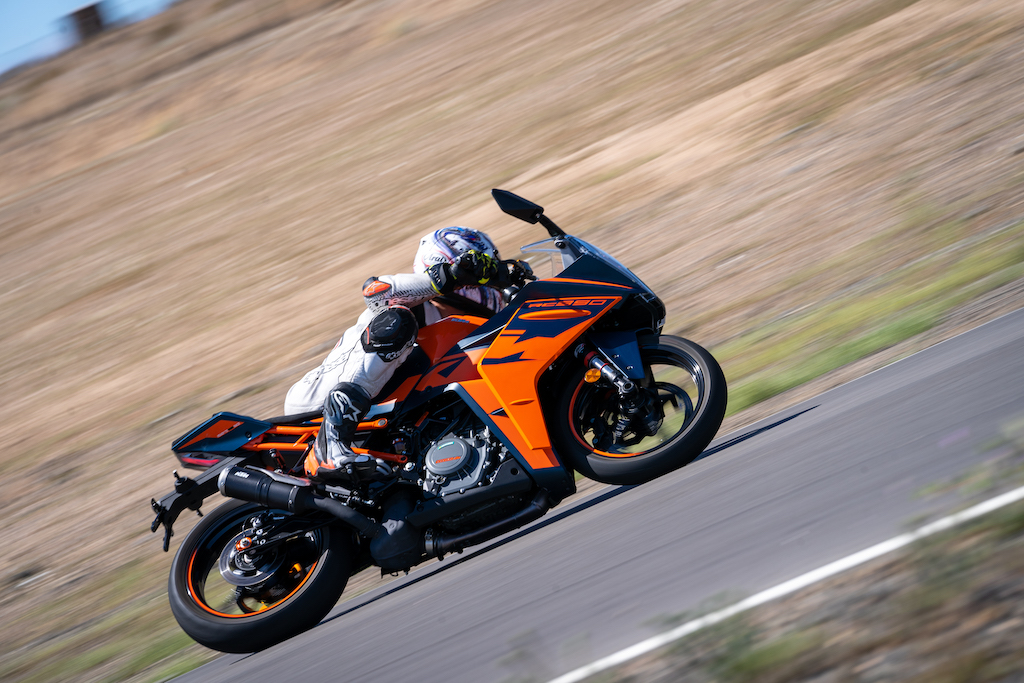 The electronics are extremely impressive for a machine of this category. An IMU mitigates an on/off traction control system. There's Cornering ABS with Supermoto Mode that allows you to disengage the rear ABS and drift like Remy Gardner under brakes. And you get a full-color, five-inch TFT display. Without pointing the finger, I can think of three sporty bikes twice the price and size that don't have any of these features, so KTM should be congratulated for bringing this level of tech to the junior category.
While these features are indeed impressive, it's the chassis that's rightly received the most attention. Little bike performance is killed primarily by one factory… Weight. Or, more specifically, unsprung weight (wheels, brakes, swingarm, etc).
To that end, a lofty 7.5 pounds have been chopped out of the wheels and 2.1 pounds gone from the four-piston, 320mm disc ByBre brakes. That unsprung mass allows for a far more nimble KTM RC 390, with fast direction changes met with a sound stability in the fast corners around Streets of Willow.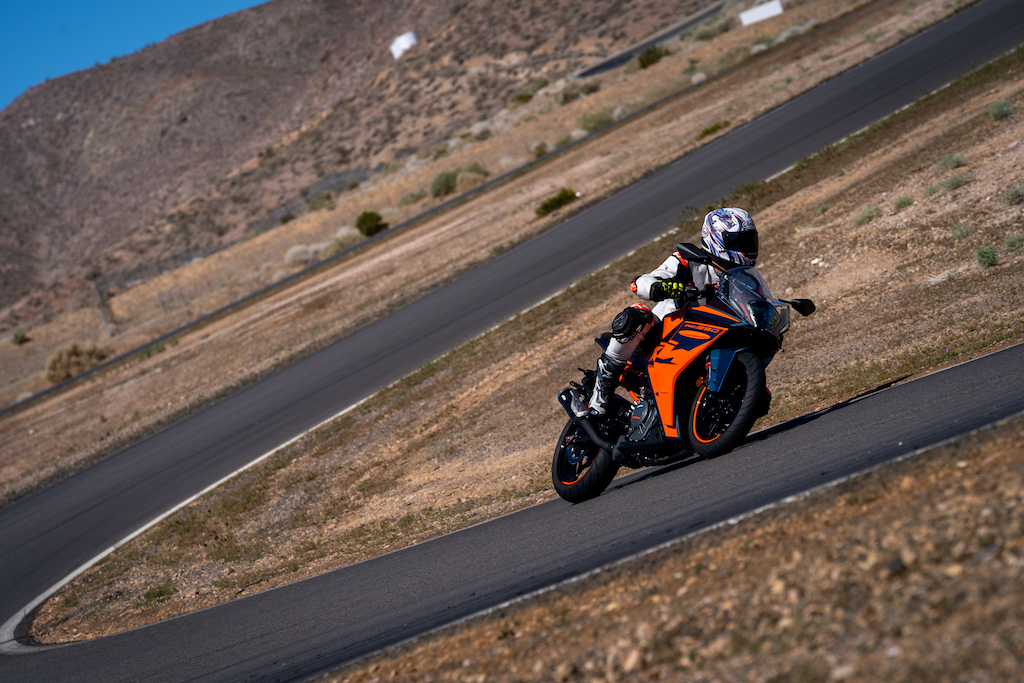 The tubular steel chassis has also jumped on the Weight Watchers diet, with 3.3 pounds gone. The suspension comes in the form of 30 clicks of compression and rebound damping adjustment for the 43 mm WP Apex fork and preload and rebound adjustment on the shock. So even though many a top-flight racer will likely ditch the stock suspension for a more racetrack-focused set-up, most riders won't have to as there's more than enough adjustment for your next track day.
If, however, your main focus is street riding, the 2022 KTM RC 390 has not forgotten you. The designers have drastically changed the bodywork to give a more neutral riding position with the handlebars now almost at a flat, naked bike-style angle, allowing for more long-range riding comfort. And the reshaped gas tank has grown a full gallon to 3.6 gallons, so there are more miles between stops.
KTM's also given the RC 390 the option of having the quickshifter fitted as an aftermarket extra as part of the PowerParts catalog, and while it is a nice addition, its application is somewhat lacking. I encountered many a miss shift on the RC at the Streets, and wasn't alone with most journalists on the launch encountering the same problem. Disengaging the quickshifter somewhat alleviated the problem, but it didn't go away entirely.
In a way, the gearbox action reminded me of the early years of the RC8R, a bike that had a terrible habit of jumping out of gear when you really didn't want it to. The KTM RC 390 isn't quite as bad as that, but if the bike had one discernable weak point, I'm looking at the gearbox.
However, if you're very deliberate and careful with your shifts, 95 percent of the time you get what you want and the little RC and you will become firm friends as you go on your lunch date of high and low-speed corner apexes.
The power produced by the single-cylinder motor is not going to scare away any guard dogs, but it's easily approachable for any skill level and directs the rider's attention to making each corner entry, middle and exit an ace.
Aside from the gearbox, the RC 390 is very difficult to fault. From beginner riders to experts, this is a bike you'll have such fun on that you'll wonder why more of us don't enjoy the pleasure of little bike sportbiking.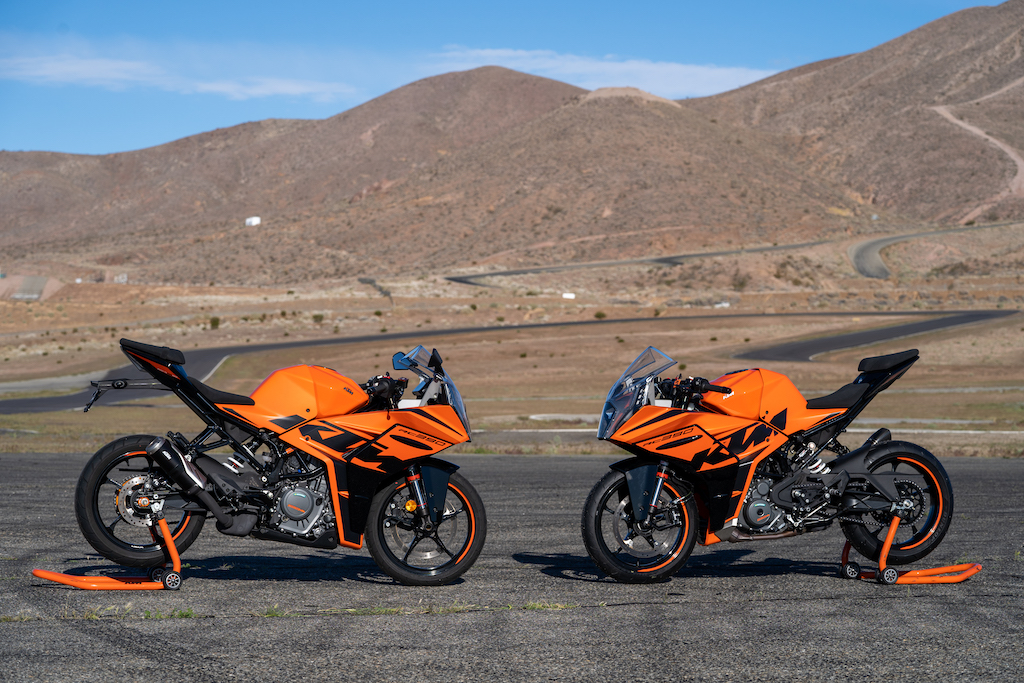 Images by Casey Davis.
---