---

---
"It's like you're running from the cops," half jokes Brian Murray, owner/operator of Southern California's aptly named SoCal Supermoto School. But the way his arms feverishly move, it's obvious there's some truth to that statement, and we're about to find out why.
Although it's called SoCal Supermoto School, what it should really be called is "ride all day with your buddies and learn a few tricks while smiling ear-to-ear". At least that's what it feels like. For less than three Benjamin Franklin's you get: a track, motorcycle, gas, pizza, and so much seat time you'll probably have a hard time sitting at your desk for the next couple days.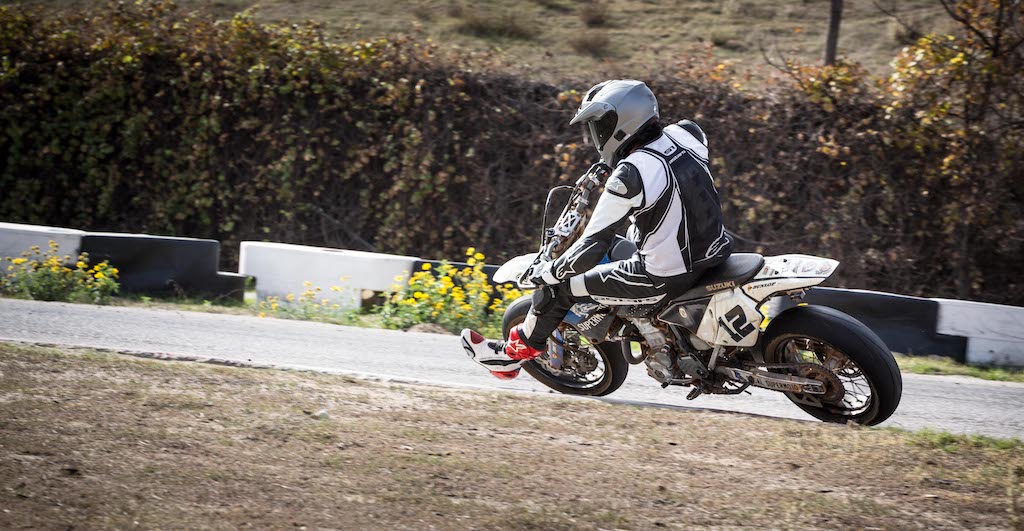 The fun goes down at Adams Kart Track in Riverside, California. It's a no-frills 14-turn paved go-kart track in the industrial, and homeless-person friendly, area of the Inland Empire. If you see tan, leather-skinned folks toting garbage bags full of crushed Monster cans, you'll know you're in the right place.
The morning sun gleams off their fleet of Suzuki DR-Z400SMs — a stone axe reliable single-cylinder supermoto that Suzuki has been building before some of the students in this class were born. They certainly look pretty from afar, but up close they look as beat as the 3/4-mile asphalt. What did we get ourselves into? After a quick meet-and-greet and a couple of fist pounds, we suit up.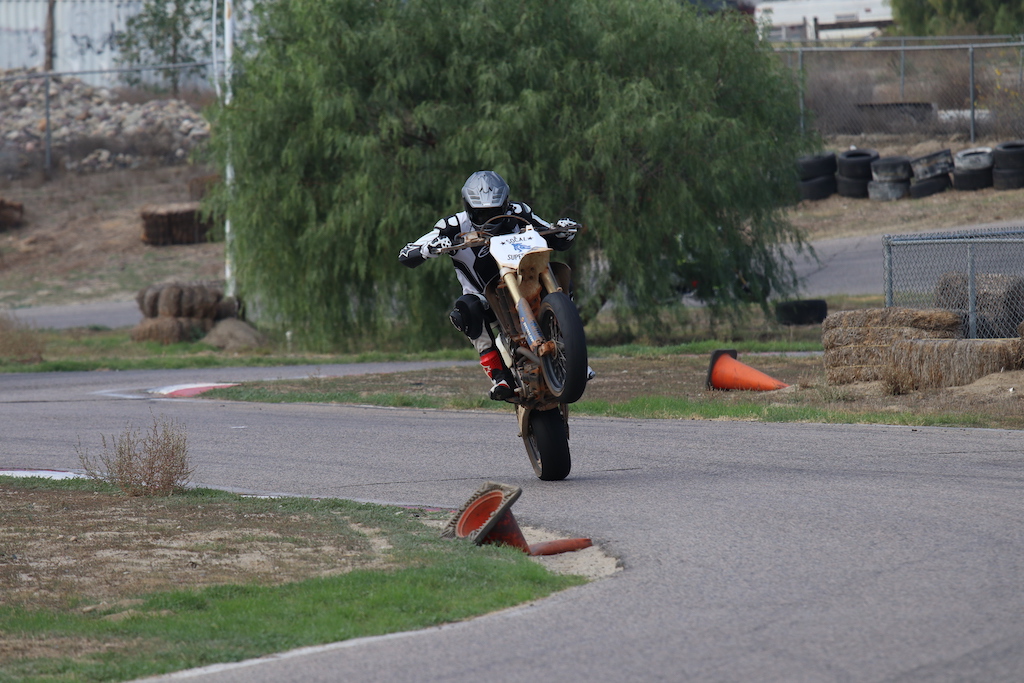 Forget your leather riding suit, boots, or gloves at home? If you're an average-sized human, Brian likely has something you can borrow for the day. As with any pavement motorcycle sport, wearing the right gear is key; and a basic road race kit is what you should wear. A two-piece suit is good, but a one-piece Alpinestars Motegi is better.
Same goes for the boots; Redwings are nice in the shop, but not for on the track. Most motocross boots are overkill; they deaden the feel of the DR-Z's rear disc brake, and you're going to want that feeling for sliding maneuvers.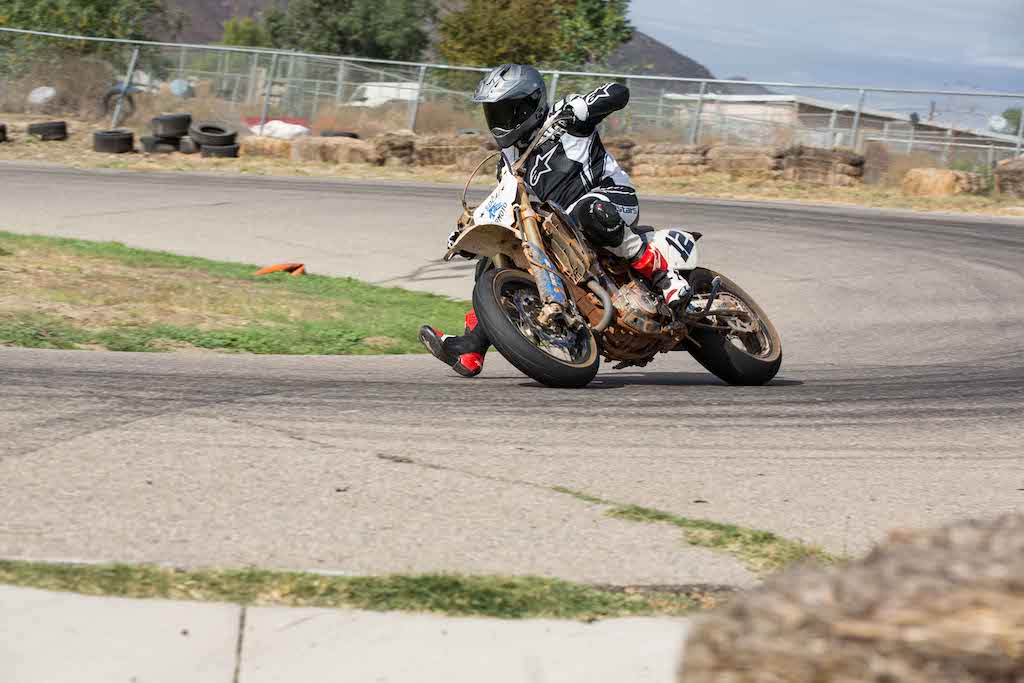 Everyone picks a bike. You can usually spot the good ones by how bent the handguards are, or not. A couple of Honda Groms are also available if you've tricked the missus into tagging along. Let's ride!
Before cutting you loose, Brian does a quick lead-follow warm-up so you can learn the direction and flow of Adams' 14 twists and turns. Contrary to a long road race track, it's relatively easy to learn. Yet, the circuit remains challenging, and there's enough going on that your focus won't wane.
In spite of the used and abused condition of the Suzukis, they ride well. Engine power is enough to get the blood moving, but not so much to startle or catch you off guard. Plus, the lack of outright horsepower is a fair limiter when racing wheel-to-wheel with buddies. It's the supermoto equivalent of a Moto2 bike.
The Dunlop Sportmax Q3 street tires give plenty of firm grip, even when their tread life is getting low; they have a decent feel and give you some feedback if you start pushing them too hard. They generate heat quickly too, so using tire warmers only contributes toward global warming.
Murray understands that everyone learns in different ways, so he's not cramming information down your ear canal. But if you have an open mind, and come to learn, he'll certainly help you develop the proper skill set with his "BR.A.P." or Brake-Ass-Push.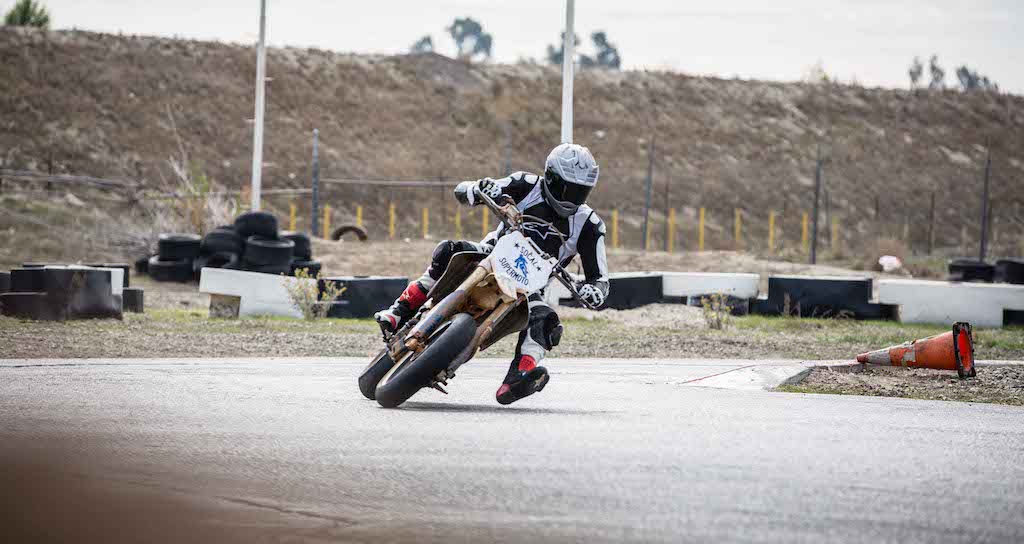 It's a riding technique based in the off-road realm, where you brake when straight up and down — when the tire's contact patch is the meatiest. Now move your ass, push the bike down, and let it do the work. Hanging off like Marc Marquez is certainly the way to go on a street bike, but not on a supermoto.
Twenty-minute sessions, followed by an equal length break, let you practice techniques or race around with your buddies, the choice is yours. SoCal Supermoto School knows that fun is the name of the game.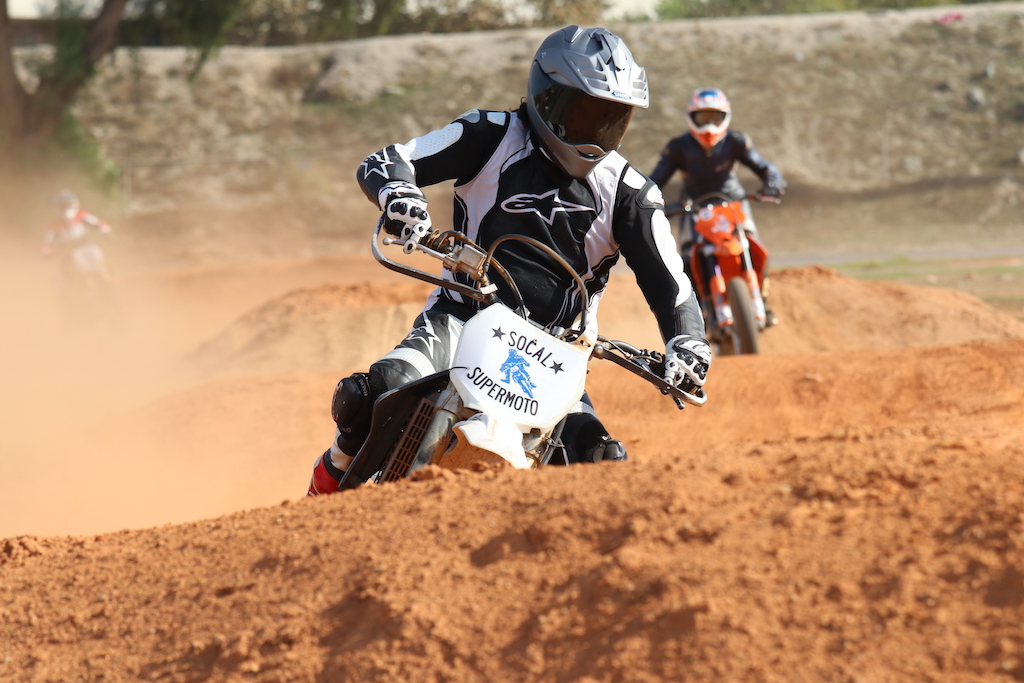 Things get more interesting after our bellies are full of greasy pizza, but it's not for the reason you think; we're running the dirt section. Riding a 315-pound dirt bike with gummy tires is easy on the pavement, but on dirt, that's another story. The delicate dance between traction, control, and careless slides is what makes supermoto entertaining. It also teaches you bike control in the rawest sense. So if you have to make a quick getaway from the fuzz, you'll be better prepared.
The dirt section is nothing too crazy though: a flat corner, a berm, a small double and tabletop jump. Again, fun is the name of the game, but we all gotta go to work on Monday, so safety is paramount.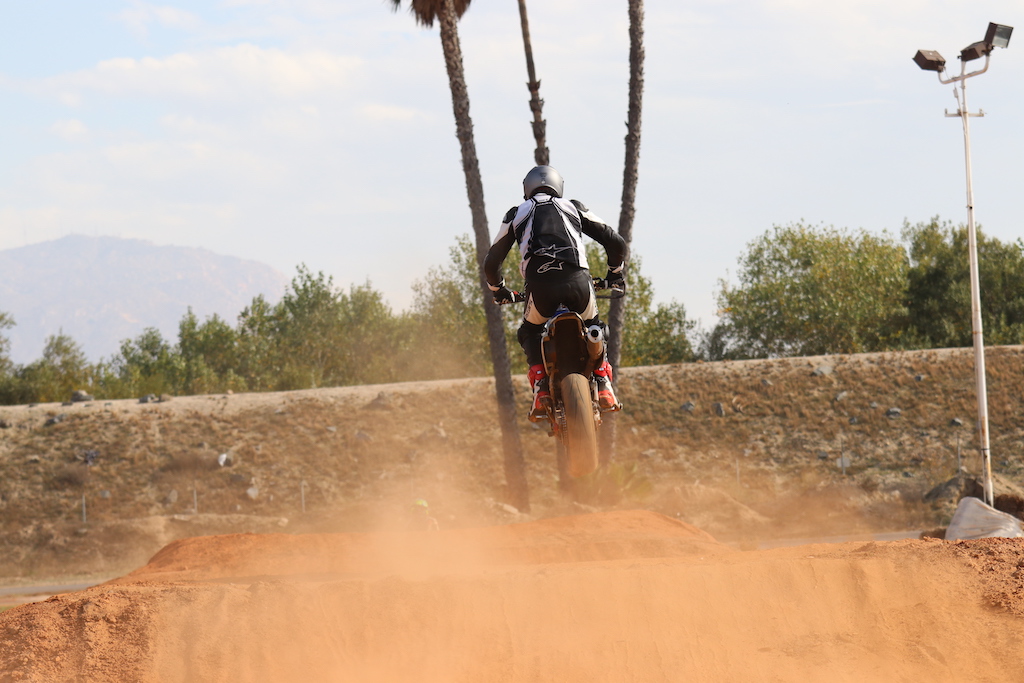 If you're visiting Southern California, and a full-day of two-wheeled entertainment is on the weekend menu, a visit to Adams Kart Track with the SoCal Supermoto School is both money and time well spent. Between the sheer amount of seat time, camaraderie, and of course mastering the ability to maneuver over whatever terrain life throws at you, you'll be a better rider for it.
Images: Heath Cofran
---