RK Excel has introduced its new sealed BL420MRU U Ring Chain that features a maximum tensile strength of 4,540 foot-pounds, a weight of 1.74 pounds per 100 links and is rated up to 150cc and 25hp.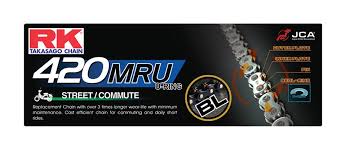 The ultra-thin U ring sealed MRU 420 pitch chain offers a life expectancy four times longer than non-sealed chains. The U ring keeps the chain weight low, side by side with common O rings, as the thickness of the seal is less than 50% in comparison. The low weight of the MRU reduces the overall rotational mass of a standard sealed chain and requires less adjustments than non-sealed chains.
The new RK BL420MRU U Ring chain is available in black with gold pins and rollers and is priced at $109.28 for 120 links.
---