---

---
The Yamaha 2017 YZF-R6 is one if not, the most iconic 600cc Supersports ever made. Since its original release in the spring of 1999, Yamaha has produced over 153,000 R6s. While most live on the street, a fair number pull track day duty or are converted for road racing. Yamaha carefully appeased its existing audience, as well as attracting riders seeking added excitement with the Yamaha 2017 YZF-R6.
You don't become an icon without swagger, and from nose to tail, the R6 drips it. This time Yamaha tapped their US design team for its exterior appearance. The result? The most radical-looking sportbike Yamaha has ever made. When the YZF-R1 was released two years ago, it was obvious where it took its YZR-M1 styling cues from. However, this 600 pushes the design envelope further by matching Valentino Rossi's two-of-a-kind prototype almost identically.
An externally reshaped and still massive central air intake feeds the compact and deep sump-equipped water-cooled Inline Four engine. Yamaha makes no qualms about leaving the mechanics of the engine unchanged. Keep in mind, despite its age, this is the highest revving production motorcycle engine made, with a maximum running speed of nearly 16,000 rpm! Yet it can run for 24,000 miles until scheduled valve clearance check — impressive.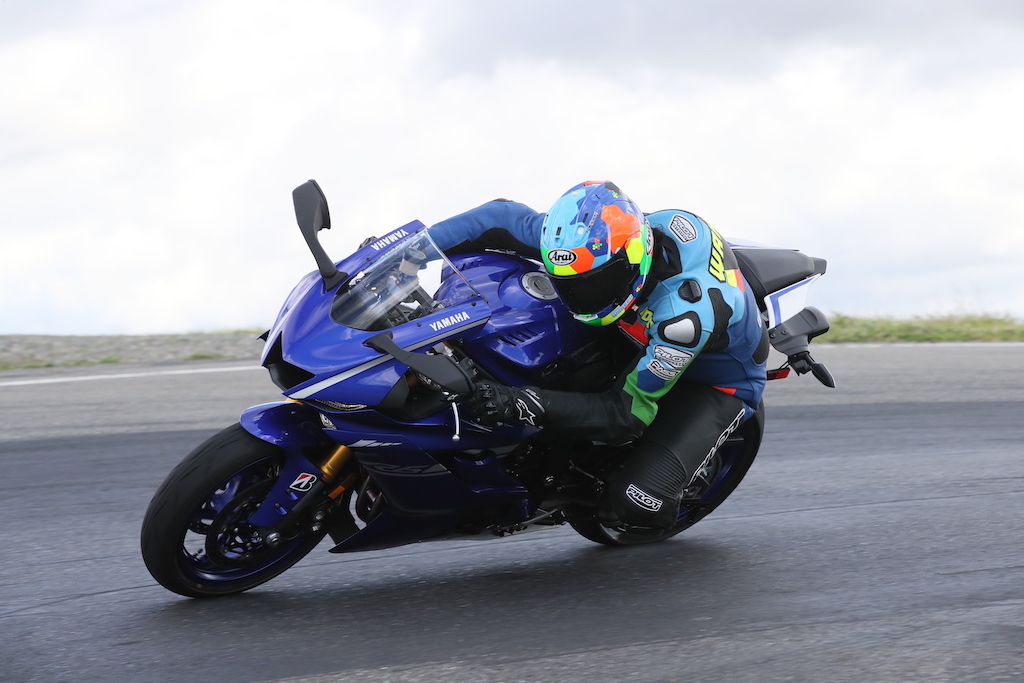 The intake is flanked by two svelte LED running or "position" lights. Tucked in below are a pair of ultra-bright LED head beams. We didn't have an opportunity to ride the R6 at night, but based on our experience with the 2015-2017 YZF-R1/S, you're going to be impressed by the deep swath of bright light produced by this setup. A set of LED mirrors with foldable stalks complement the modern lighting. Above, a nearly two-inch taller windscreen does a superior job of channeling dirty air over the rider's helmet reducing unwanted turbulence.
The side fairings are sleeker as well, as is the 4.6-gallon fuel tank, that's now stamped from aluminum instead of steel, shaving 2.6-pounds. It also features similar vent slits atop the tank just like the R, and M1. The rear end slimmed via a narrower subframe that continues to be cast from magnesium like the 2008-2016 machine. The tail section has an aerodynamic appearance courtesy hollow cutouts just like the new R1. It also shares its skinny LED tailight. Lastly, the rear fender/license plate bracket can be easily removed for track days.
All told, Yamaha says that the 2017 R6 is the most aerodynamic motorcycle that's ever rolled off the factory floor with an 8% decrease in wind resistance compared to the old bike. On the scale, however, it weighs two pounds more due in part to the addition of ABS. You'd be hard-pressed to think it felt any heavier though while riding.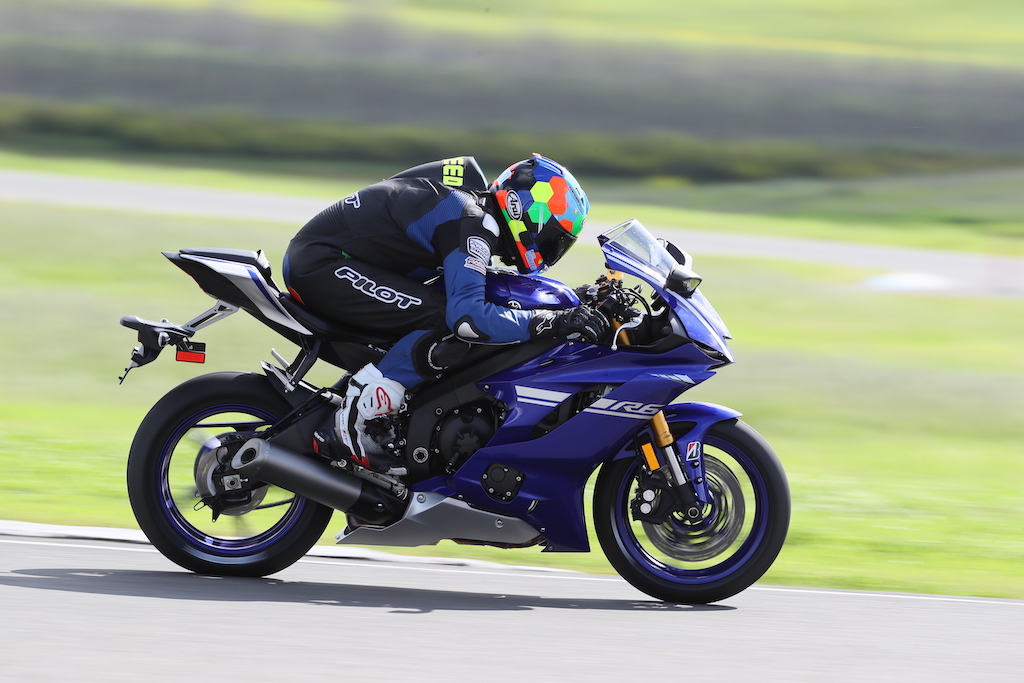 The ergonomics were tweaked with a flatter and more narrow rider seat. The position is less slanted where the fuel tank and seat meet. The gas tank has deeper knee cutouts for a better squeeze. This all equates to a riding position that allows for more control during negative g braking and full-throttle acceleration.
Because it's a 600, low-end power is nothing to write home about. It is enough to outpace most cars off the line, but if you want to experience the real fun, get the engine spinning north of 10,000 rpm.
Here, the screaming wail of the Yamaha 2017 YZF-R6 is music to a sport riders ears. The sound of four tiny alloy pistons and 16 titanium valves moving in harmony is as magical-sounding as it gets. Yamaha's variable-length intake stacks (YCC-I) boost mid-range performance which helps the R6 drive off turns. Above 13,700 rpm the stacks lower, acting like a small shot of boost, providing draft-passing top-end power.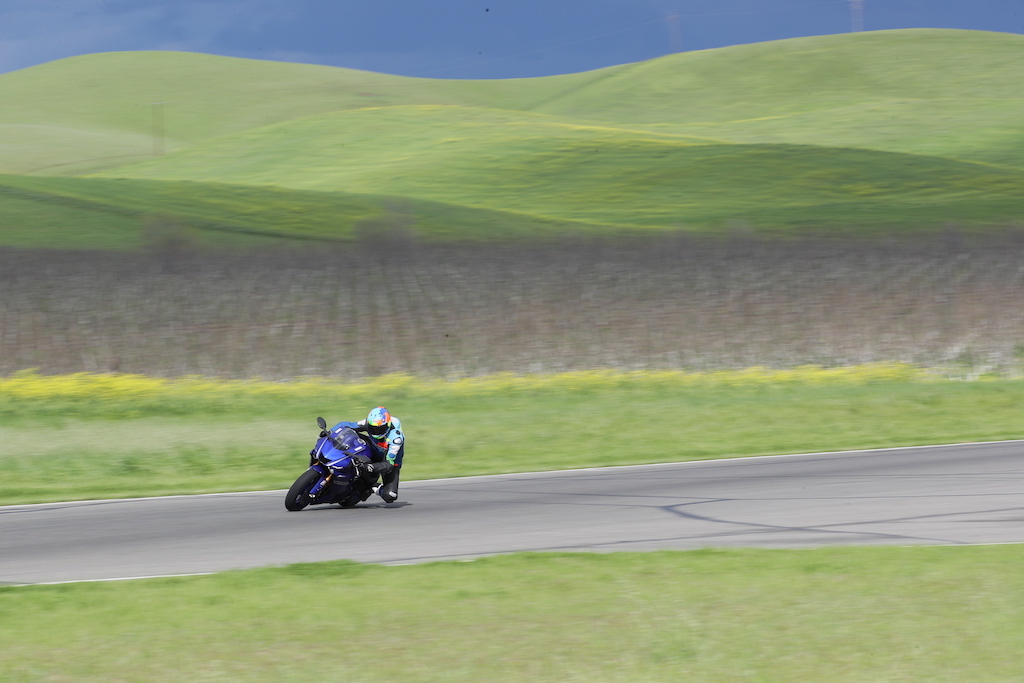 The six-speed gearbox close gear ratios make the most of the R6's peaky powerband and it comes pre-wired for the R6's accessory electronic quickshifter. Our test machine was outfitted with the $199 add-on and it performed flawlessly. It would be nice however if offered auto-blip downshift functionality as downshifts have to be made the old-fashioned way with a choreographed combination of the hands and left foot.
Mixed digital/analog instrumentation borrowed from the 2009-2014 generation YZF-R1 keeps tabs on the vitals of the Yamaha 2017 YZF-R6. Like before it includes a bright and programmable upshift light and is the interface to manipulate traction control and D-Mode adjustable throttle mode settings.
Mixed digital/analog instrumentation borrowed from the 2009-2014 generation YZF-R1 keeps tabs on the Yamaha 2017 YZF-R6's vitals. Like before it includes a bright and programmable upshift light and is the interface to manipulate traction control and D-Mode adjustable throttle mode settings.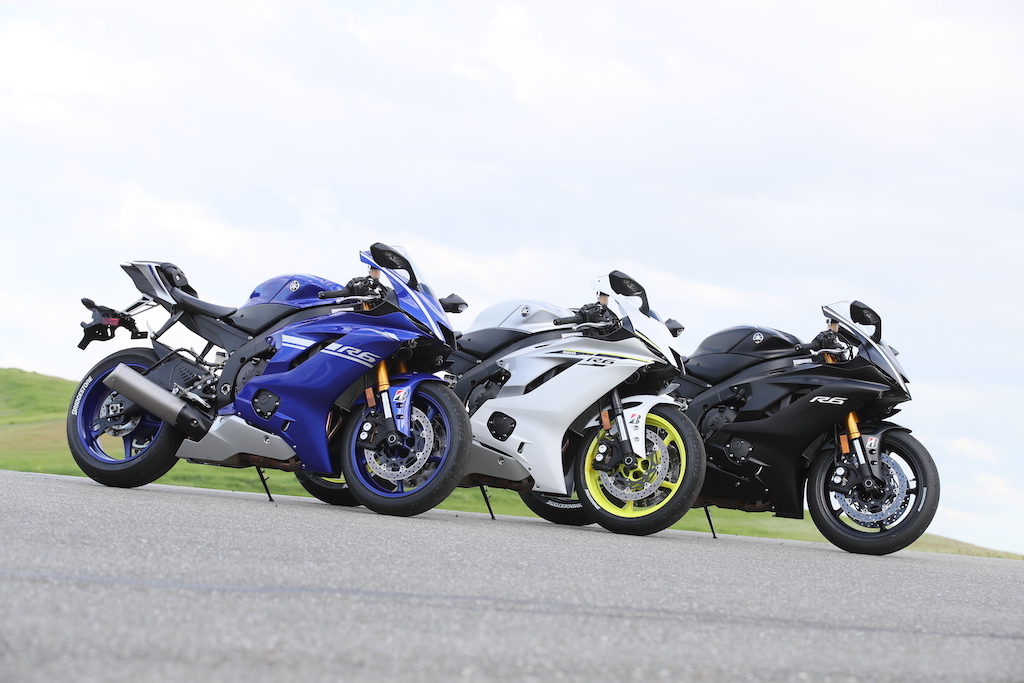 Opposed to the IMU (internal measurement unit, think gyro and accelerometer) equipped system on the current R1, Yamaha's new 600 employs a system based on the 2012 R1. It reads wheel speed data, engine rpm, throttle, and gear position to detect wheel spin. If the threshold exceeds allowed parameters, it applies correction via ignition timing, cylinder fueling and/or manipulating the throttle butterfly valve opening. This ensures immediate, but natural response.
Six settings are available, with Level 6 offering the most intervention and Level 1 the least. Adjustments can be made on the fly while riding via simple and easy-to-use switchgear on the clip-on. However to disable TC the motorcycle has to be stopped.
Yamaha's D-Mode variable throttle mapping is also now included. The electronics offer three settings (B/STD/A) permitting the rider to tweak the response of the throttle. 'STD' is the standard-setting with 'A' offering sharper response and 'B' slightly muted. We're normally not fans of 'A' mode on other Yamaha street bikes, but with the R6 it works perfectly.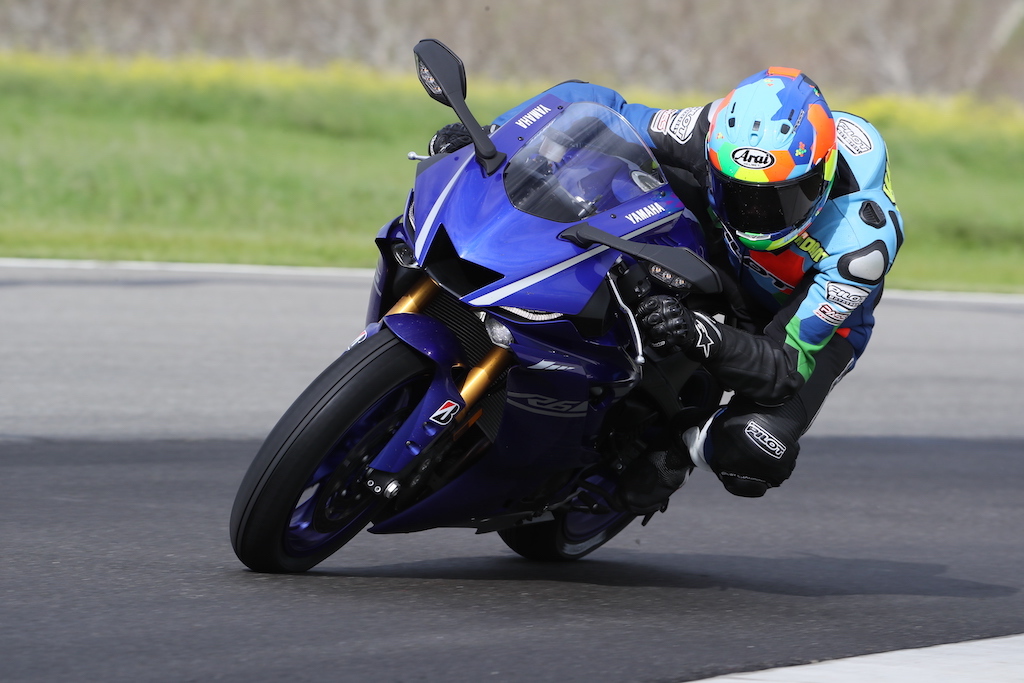 Considering the Yamaha 2017 YZF-R6's modest engine displacement, you want each and every torque lb-ft at instantly when the right hand is twisted, especially on track. Conversely, if you're a new rider, or are moving up from a smaller machine, 'B' mode will help you get acclimated to the R6's powerband in a less intimidating way.
While we love its new styling and added electronics, handling is what's always made the R6, well… an R6.
A new front end was fitted, complete with 2mm larger diameter KYB inverted fork (as used on the current R1). A thinner bottom triple clamp was installed to offset the extra rigidity of the front suspension. A thicker front axle complements the set-up, further allowing Yamaha engineers to tweak front end feel.
Spring preload and damping adjustment move atop each fork leg. Out back, the old ramp-style preload-adjustable shock was ditched for a more modern version with a threaded collar (for finer adjustment), yet still includes four-way adjustment, including high/low-speed compression damping.
On the braking side, new radial-mount Advic monoblock calipers pinch oversized and 10mm larger rotors. The hardware is powered by a Nissin radial-pump master cylinder further boosting precious front brake feel. Fixed, always-on ABS is now standard helping allow the rider to use the brakes to their full potential without having to worry about skidding to a stop. The external size of the rear brake caliper was also reduced.
In application, the updated suspension and front brakes work wonders transforming an already excellent handling sportbike into an experience reserved for the latest Playstation road race games.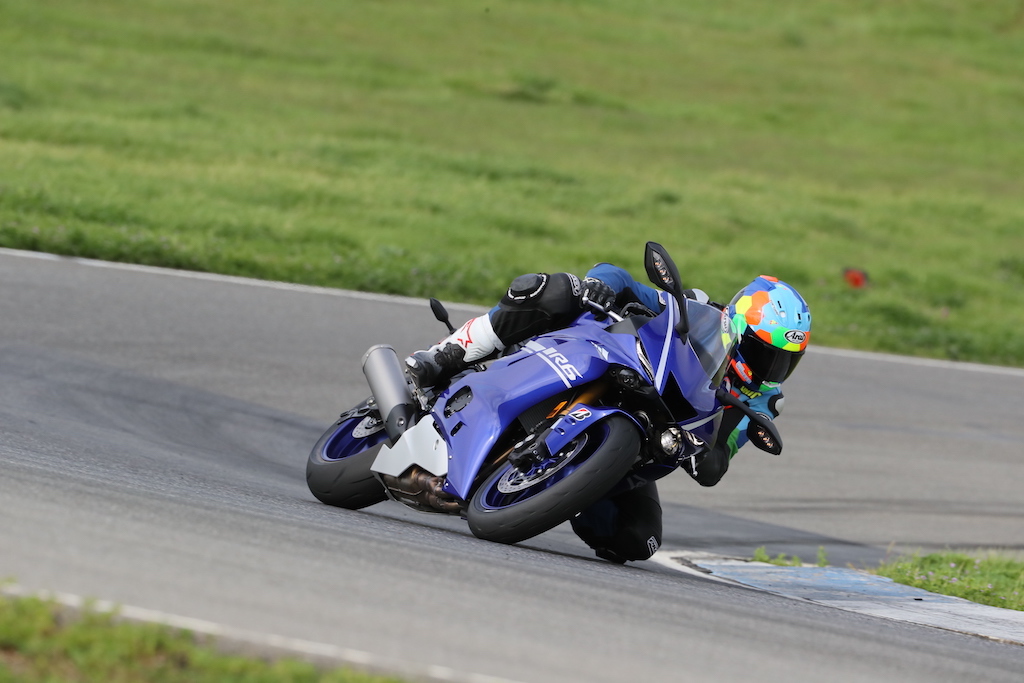 Like before, the R6 still turns on a dime, but it offers vastly more feedback when doing so. With the fitment of racing-spec Bridgestone Battlax R10 rubber (S21s or Dunlop Sportmax D214s are standard) the level of feedback that the chassis gives at lean is exemplary.
The front suspension is rigid enough to feel what's happening at the business end of the tire, yet has enough flex to absorb bumps. The more powerful brake hardware along with the feel-rich master cylinder and ABS allow you to extort more of handling and grip potential than ever before. The chassis, however, can be prone to headshake during all-out fast laps so it wouldn't be a bad idea to fit a steering damper if track days or racing is on the menu.
Folks might bemoan Yamaha for not making enough mechanical changes to the Yamaha 2017 YZF-R6. But we challenge you to rip a couple of laps around your favorite circuit. Then tell us how you feel. The fact of the matter is, the new R6 is the finest handling motorcycle Yamaha's ever made, and if you're seeking the utmost in pure-sport riding thrills you won't be disappointed. We dare you.
Images: Brian J. Nelson
---