Wrong Turns, Roundabouts and the Ron Haslam Race School – My British Holiday!
I love to travel. More specifically, I love traveling to watch my favorite sport which is MotoGP! I love MotoGP so much I think I'm going to name my first kid GP! Seriously! In all my travels, my routine is as such: I fly from Indianapolis to whatever city, with usually amounts to a layover at London-Heathrow or Madrid. I've enjoyed myself in Spain many a time over, Germany, Italy, even the Middle East at Qatar. But it dawned on me that I have never spent time in England! Great Britain! America's Father before we threw their tea in the Harbor, and well you know how that turned out. This year I said, "I'm going! Silverstone GP! Here I come!" But instead of just flying in on a Thursday, watching GP and going home, I was going to experience England as only a Motorcycle Freak like me does. I was going to watch a British Superbike Race, enroll in the Ron Haslam Race School, then finish with the Silverstone GP! A week in Great Britain! That should be enough time for everyone in that country to be fed up with my shenanigans!
Sunday, August 18: I land at 7 am, get my car and whoops! I forgot that they drive on the "wrong side of the road" if you're American. Not to mention, England is full of roundabouts. What guns are to America, roundabouts are to England. And just to be dicks, they gave me a stick shift! Not only am I driving on the right side of a car, but I'm also shifting with my left and, not gonna lie, forgetting which lane to get in until I see a car going my direction! Yeah! This week is going to be fun!
After a few scares, I head three hours North to Cadwell Park Circuit! For those unfamiliar, it is the track with the jump, like a motocross jump, only its for road racers! Cadwell Park is a beautiful circuit, but very narrow. There are a few grandstands, and the fans are left to sit on the hillside. Think camping but with the sound of motorcycles in the distance. There are no big screens to watch the race but watching "the jump" up close and personal makes it well worth it! The racing was intense! BSB is an underrated series. It has produced Cal Crutchlow and a slew of others. It's a gritty series. You win in BSB, and you are a proven tough, sonofabitch! I witnessed Scott Redding nearly come to blows with a fellow rider who had taken him out! It was like a 1982 NASCAR race but on two wheels!
Tuesday, August 20: My buddy who I stayed with, is also the wrench for Hector Barbera, who just started racing in BSB. Since he was to race the first weekend of September at Oulton Park, he had to get acclimated to the course, so I was privy to watching a former MotoGP Rider get used to a new bike.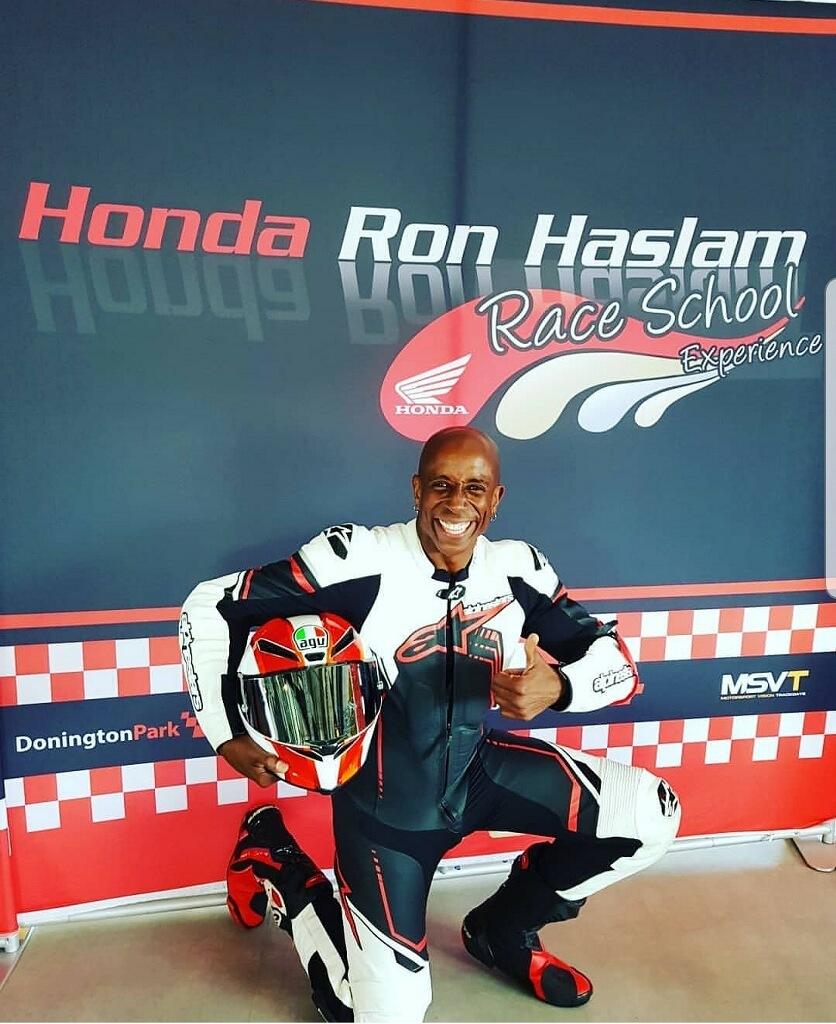 Barbera is about the size of your average sixth-grader. He's been through hell in his life, and you can tell he's in a good place now. He's friendly, affable and seems to be in love with his girlfriend. The entire paddock just happened to stroll past our garage and wanted pics! Hector was more than gracious with his time. He tested and tested and tested, and I had a smile on my face a mile wide watching this pro do work. Plus, I was at a racetrack. Need I say more?
Wednesday, August 21: The Ron Haslam Race School. This was the highlight of my trip. To be at a circuit where my GP Gods have done battle and where I would soon be riding, put a smile on my face, Tyson Fury couldn't knock off. I was in Heaven.
The first thing you notice when you arrive at Donington Park Circuit is the friendliness of the employees. They all had a smile and were very helpful with my and everyone else's overeagerness! Just like a schoolboy on his first day of school, I bought a new AGV Corsa R Sic 58 Helmet! I wanted to look good. Even if I sucked, I wanted people to say, "Yeah, but at least he looked like a racer!"
Everything was very well run and very, very professional. My group was the premier group. We had classroom instructors who told us about the track layout and told us the rules! To tell you the truth, I listened but the kind of listening that a kid does on Christmas Eve after he's gotten his new bicycle listen. All I do remember is, "You crash. You are done!
The great thing about this school is that you are paired up with another rider and an instructor. They tell what kind of rider you are from that first session, and I'm not gonna say I was slow but, I got moved to another instructor after my first session. They were very polite about it in the same way a girl says, "It's not you; it's me!" Well, trust me, it was me! But I really didn't care, because I was learning and I didn't ride over my head! And also, "You crash. You're done!" Echoed in my mind.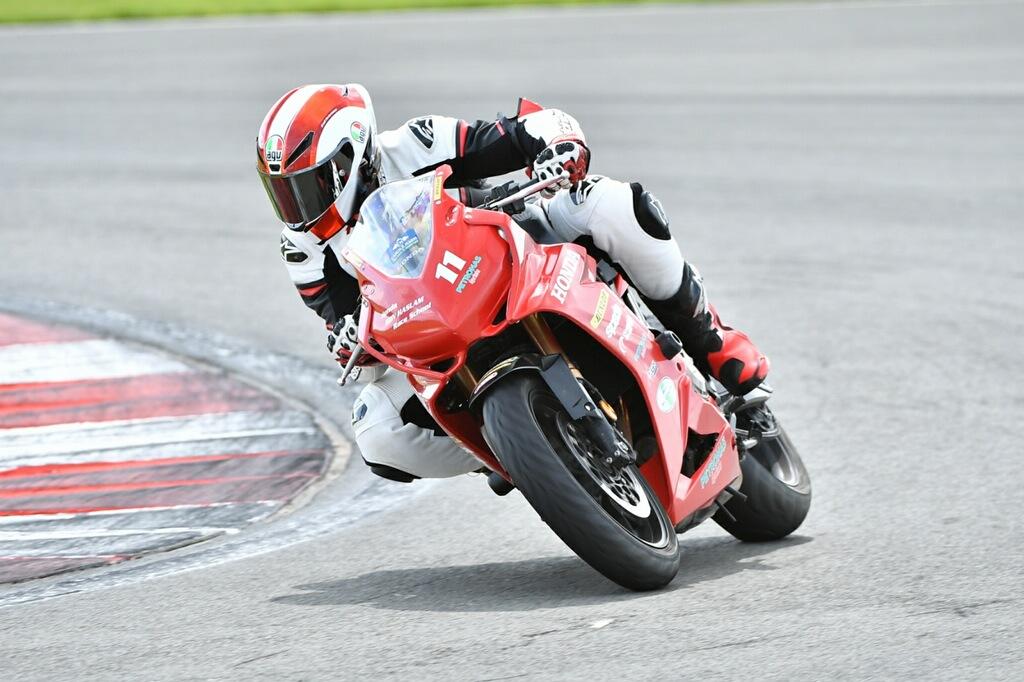 All in all, I did three sessions, and I like to think I improved with every one. They handed out the equivalent of a report card and told you about your weak and strong points. What I needed to work on was my braking! Not lack of balls, like I thought, but braking. I can live with that! I purchased photos of my on-track experience and wow! Great pics!
They gave me an awesome swag bag! The highlight was doing a two-up ride with Ron Haslam, himself, set up by my buddy! Ron Haslam raced for over thirty years, won three World Titles, four British Championships and raced in over 110 GP's. Plus, his name is on the race! That's like going to McDonald's and having Ronald serve you a Burger!
First of all, I don't like riding on the back of a motorcycle. I give all the credit in the world to the women who have bent their asses over a bike and hoped to God that the idiot piloting this thing knew what the hell he was doing! But this was Ron Haslam! He knew what he was doing! And, oh boy, did he!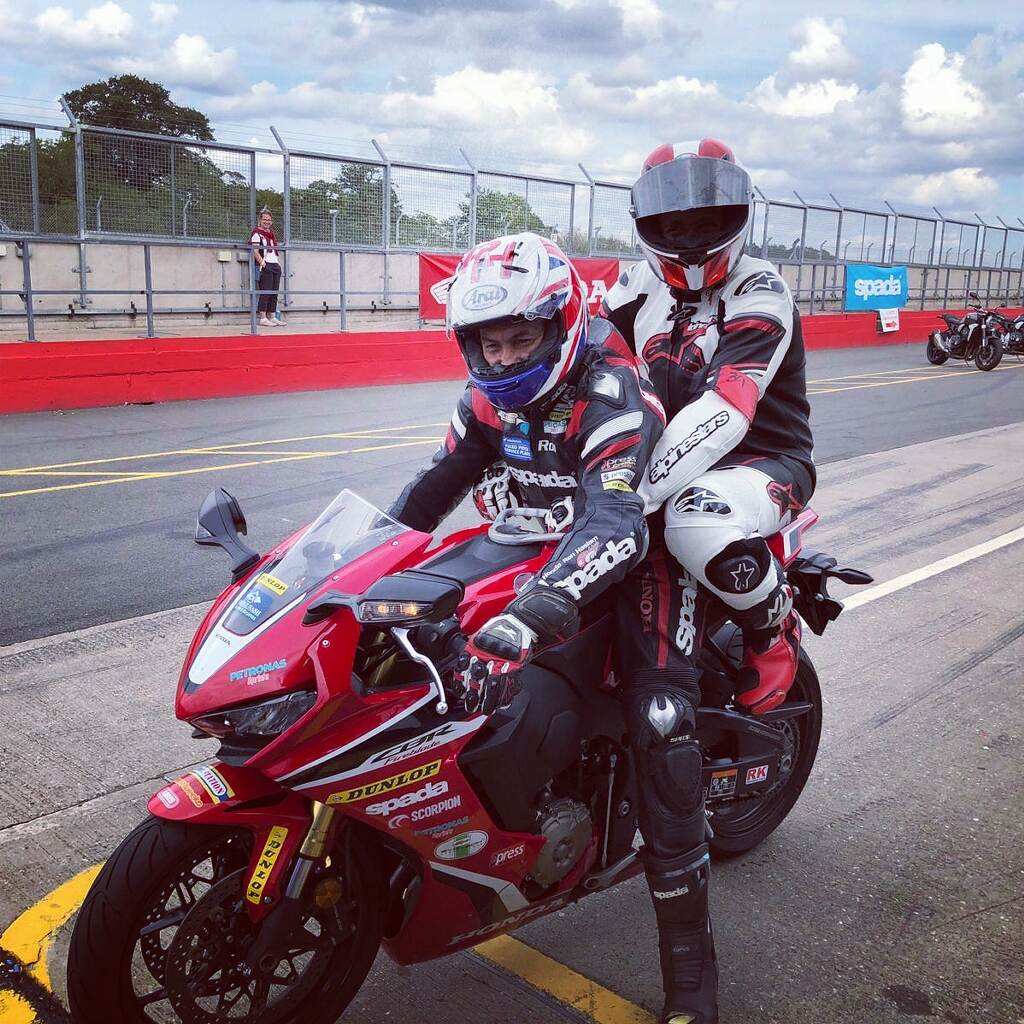 We did three laps, each getting faster and faster and then downright scary! I remember saying, "I've lived a great life. I guess it's going to end at any minute!" At one point Haslam wheelied down the straightaway with me on the back and switched gears, with me on the back! I wanted to say, "I get it! You still got it, Champ! You can stop any minute while my leathers are still clean!" Not bad for a 65-year-old man! I highly recommend the Ron Haslam Race School. It is top-notch from top to bottom!
Thursday – Sunday, August 22-25 Silverstone: Huge circuit, fun times.
To talk about my GP experience would be almost overkill. It's always great and always fun. I also got to witness QP2 in Moto2 from The Forward Racing Garage. Many thanks go to Forward Racing.
Overall my trip across the pond was even more awesome than I knew it would be. I strongly encourage you to go watch a race in Europe, ride in Europe, and experience the difference. It's one thing to ride but to ride in Europe or on an iconic racecourse? These are things that every rider should do. As I write this, I think of how lucky I am to experience these things, to write about my passion to you GP Geeks who take the time to read this. I thank you all!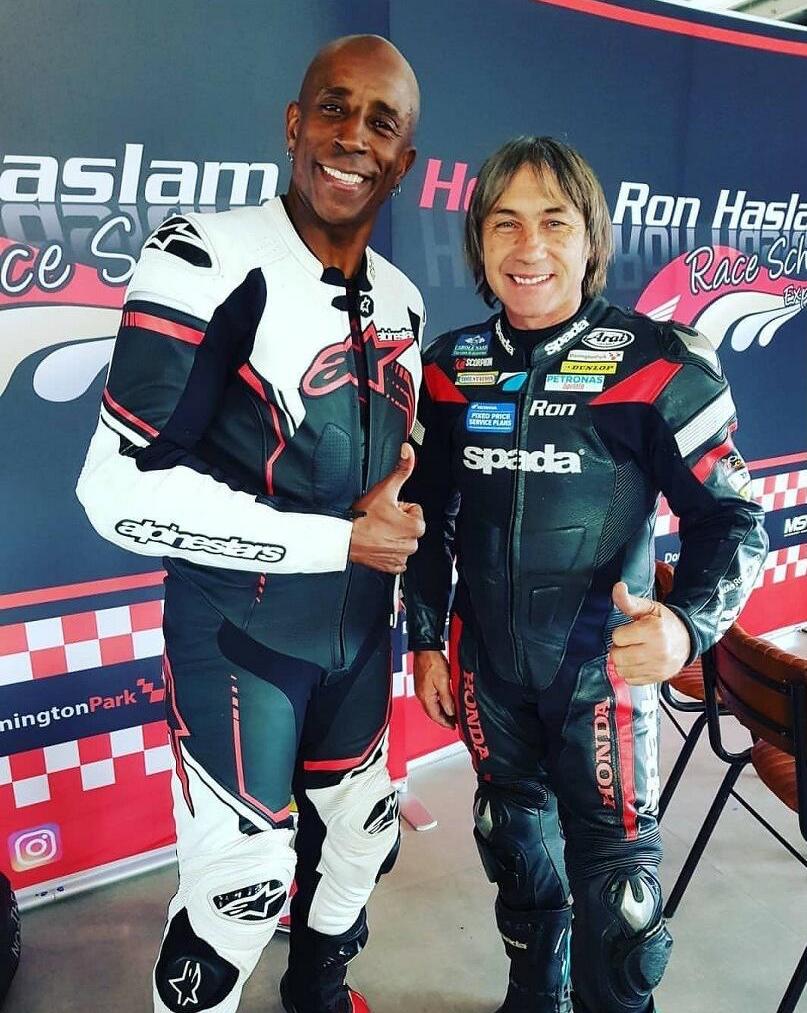 Now, book that ticket and go experience riding from across the pond. Trust me. You'll be glad you did. You're welcome!
---