C'etait Fou! MotoGP survives a wild one, barely, in France as Jack Miller makes it two in a row at the French GP!
If I told you a rider in the French GP took two long-lap penalties and still won the race you probably wouldn't believe me. If I told you an eight-time World Champion crashed twice in the same said race, you probably wouldn't believe me. If I told you that five races into the season, the Spanish national anthem has only been played once, you probably wouldn't believe me. And it is because of these phenomena that watching MotoGP this season, is must-see TV!
Hell, it's gotten so crazy this season that if you told me Bigfoot would be racing Moto3 with a team funded by LeBron James, I'd be like, "Watch out Pedro Acosta! You've got a real alien to contend with!"
Nothing demonstrates how crazy this season is more than the French GP in Le Mans, France. A weekend that saw only one dry session. And that wasn't the race or qualifying. It was the first "flag to flag" wet race of the season. Riddled with drama, it did not disappoint.
The great thing about wet races is that the rain levels the playing field. Factory riders aren't as dominating. It's like if every human being on Earth won the lottery. Sure, Bill Gates would still be one of the richest men in the world but you could probably attend the same country club because hey, you got money too!
That's what makes the races even more intriguing because you never really know who's going to win. Some riders develop a reputation for being "wet rider" riders. They master the wet and aren't phased by the rain. One of those riders is Marc Marquez. Or should I say, Marc Marquez was one of those riders? Marquez looked at wet races the same as any other race, a chance for victory but just a lil slower. LeMans offered a legit shot at a Marquez victory. Still nursing his three times operated arm, a wet race would be his best chance at a race win, being that it causes less stress on his body and for a while, this looked to be true.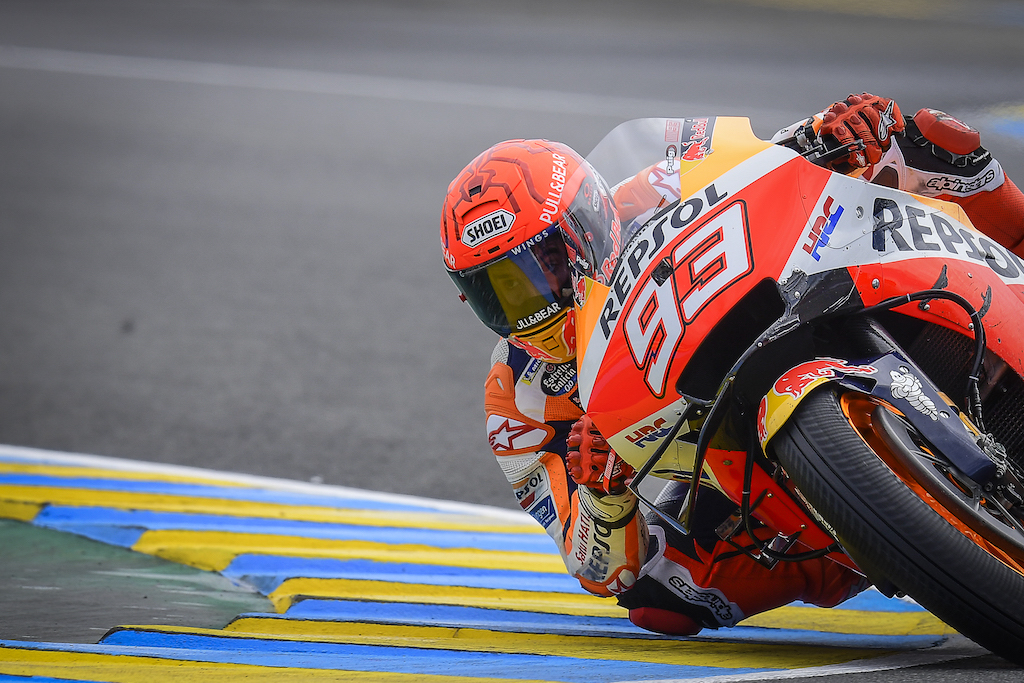 Marquez topped the timesheets in FP1 and was near the top the entire weekend and almost had pole. He looked like a favorite for the race win, even leading at one time. He looked to be the old Marquez until disaster struck and he ended up crashing. Twice.
But, to Marc's credit, almost everyone crashed this weekend. In fact, LeMans holds the record for most crashes on the GP Circuit. 100 crashes for a weekend is the norm for LeMans. Why? Turn 3! Riders go into Turn 3 after two right turns and a straightaway, not to mention negative banking and expect the left side of the tyre to be toasty enough to hold grip? Not happening!
It is a monster of a turn. Master it and you can master the race and that's exactly what Jack "Thriller" Miller did. Miller showed off why motocross training is helpful as he avoided going down after entering the gravel trap, then showed patience as he was assessed a double long-lap penalty for speeding on pit lane. Then to add to Miller's race maturity, he had the prescience of mind to stick with his rain tyres on a drying race circuit with Johan Zarco breathing down his neck.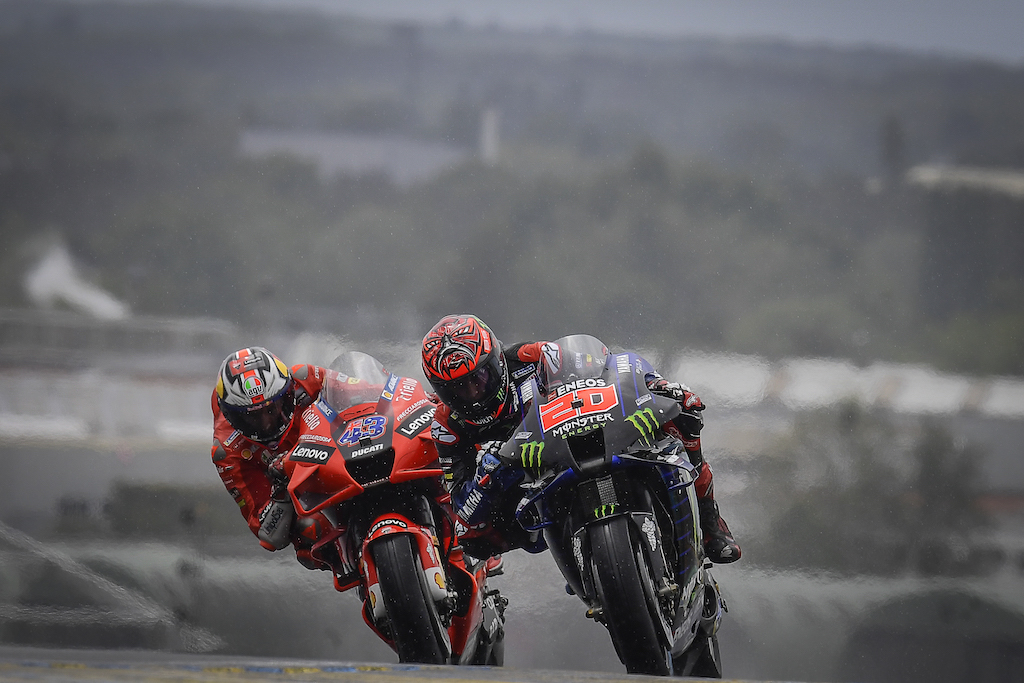 Miller was masterful. Plain and simple. He seems to be in impeccable form as he notched his second victory in a row. Not to be outdone, is Fabio Quartararo who has only missed the podium once this season. The top four are separated by only 16 points.
In Moto2,23 points separate the top four. Only Moto3 is a cakewalk for Pedro Acosta. A wunderkind like Acosta comes around once every Hailey's Comet. What are ya gonna do?
I have a feeling we won't see a crazier race than the French GP for a while. A flag to flag? Maybe. Rain after sunshine just five minutes before? Maybe. Riders crashing twice in the same race? Maybe. But a ride getting penalized twice, almost crashing once and then bringing it on home for a victory in the same damn race? I highly doubt it. After all, it is MotoGP and it is as unpredictable as asking your girlfriend where she wants to eat.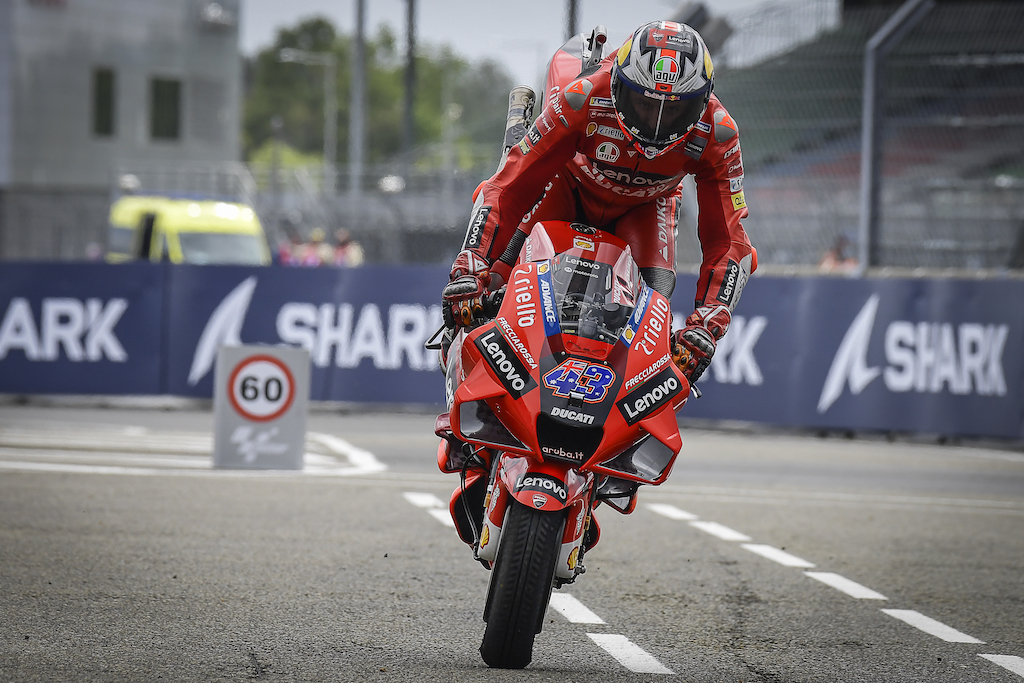 The next race on deck is my favorite… Mugello! Ducati's home track and the country of everything Rossi! I doubt it will match the craziness of LeMans but it is MotoGP. And what happens is always a mystery.
Stay tuned Freaks. Its just gettin' good!
---