Tragedy mars the Mugello Grand Prix. MotoGP suffers the loss of the young rider from Switzerland, Jason Dupasquier.
How many times have you heard, "You just know…." uttered in general conversation? Usually, it's when someone is describing the person they married. It goes something like, "You just know and I knew he/she was the one." And being single I'll just take their word for it. Unfortunately, it's also used in other areas of society with more dire consequences. When it is in reference to motorcycle racing, it is never a good thing. I am talking about the afternoon of May 29th at the iconic Mugello race circuit in the Tuscany Hills of Italy. Moto3 racer Jason Dupasquier lost control of his motorcycle and was struck by another rider. As the track was red-flagged and emergency medical technicians descended upon Dupasquier, you just knew…
The quietest a race circuit will ever get during a race weekend is when a serious accident occurs. It's a silence that has layers like a cake. It's one filled with held breath, prayers and anticipation of the inevitable. You just know… As time ticked away and more workers descended upon the fallen rider. Sometimes we think of our sports heroes as super human. They block out pain to achieve what us mere mortals are incapable of. They have the coolest job because they are cool. They have an ability to mask whatever may be ailing them. But on this Saturday afternoon, the mask and cape were being removed in front of our very eyes.
When the medical Helicopter descended upon the accident, there was a sliver of hope when the word was he was alive and being flown to Florence. We all held out for hope. I was afraid to go to sleep that night for waking up and seeing the imminent. I held my breath every time I checked social media. I listened carefully to the tone of the MotoGP announcers when they came on the air. So far, so good. Until…
It was before the Moto2 race on Sunday that Steve Day delivered the news. Jason Dupasquier had passed away from injuries sustained in Saturday afternoon's crash.
It all seemed inconsequential after that. Never mind the fact that Moto3 delivered another stellar outing that saw Dennis Foggia take the victory as well as Remy Gardner in Moto2 after a battle with teammate Raul Fernandez.
Before The Start of The MotoGP race, a minute of silence was observed. Then it was back to business as usual. The race was enthralling with French superstar Fabio Quartararo taking the top step of the podium along with Miguel Oliveira and Joan Mir. But the air was heavy with loss. You could hear it in the way the riders and announcers talked.
Jason Dupasquier was a 19-year-old rider from Bulle, Switzerland. His father was a former Motocross racer. Dupasquier made his Moto3 debut in 2020 after racing in the Red Bull Rookies Cup in 2019. He was a kid chasing a dream. No different than any other racer in the MotoGP paddock.
He knew the risks. We, the fans, knew the risks. And we flirt with it every time we watch or participate. It is the cruelest of the cruel when it doesn't go well. For brief periods during Sunday's races, I almost forgot about what had occurred between turns nine and ten. But after the race was over, that feeling had engulfed me like a blanket on a balmy night. I can never shake that feeling. I try with meaningless talk with people, laughing at stupid shit but in the end, it always comes back to someone who has lost their life chasing a dream. A dream that we should all have the guts to pursue with full bore excitement. Jason Dupasquier was a dream chaser.
I didn't know Jason but he liked my comments on his Instagram page. And the dork in me dorked out as if it was Beyonce who liked my comment. I will miss that and I will miss that question of "what if?" He was steadily improving, week by week. What level of talent could he have risen to?
My heart goes out to his parents. No parent should ever have to bury their child. It doesn't make it any easier but they know that their son died pursuing a dream. A dream that a lot of us let fade or didn't have the guts to pursue to the fullest. This is the other side of motorsports. A side that unfortunately rears its ugly head from time to time. Such is life in racing. Such is life.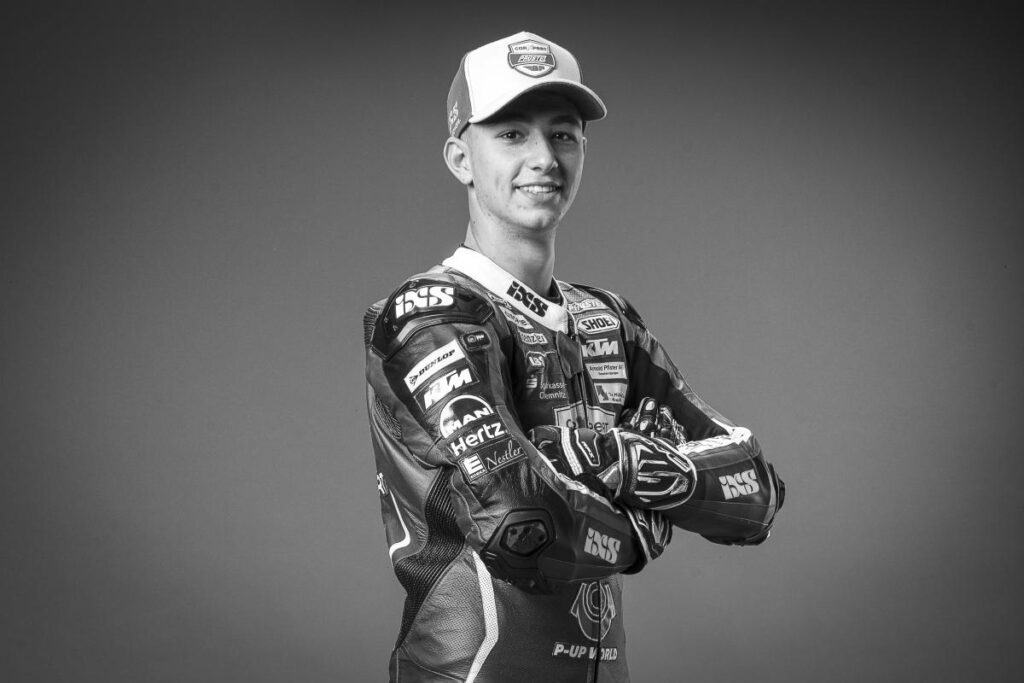 Rouler en paix, Jason. Thank you for living your life to the fullest. You will be missed by all of us.
---