Another Great Season of MotoGP is in the books and oh what a season it was. Five different winners, a one-man wrecking machine and the retirement of a legend. Yes, this season had it all and what better way to celebrate the 2019 Season than my annual MotoGP Awards!
Now, these awards aren't like your every day, stuffy, awards show that MotoGP has immediately following the season. These are the awards that I believe you, the everyday fan want to see! So without further adieu, BT,..'s Annual MotoGP Awards begins now!
"Mr. GQ Smoove" – Best Looking Bike (livery and rider combo) AKA The Pol Espargaro "Handsome Bastard" Award: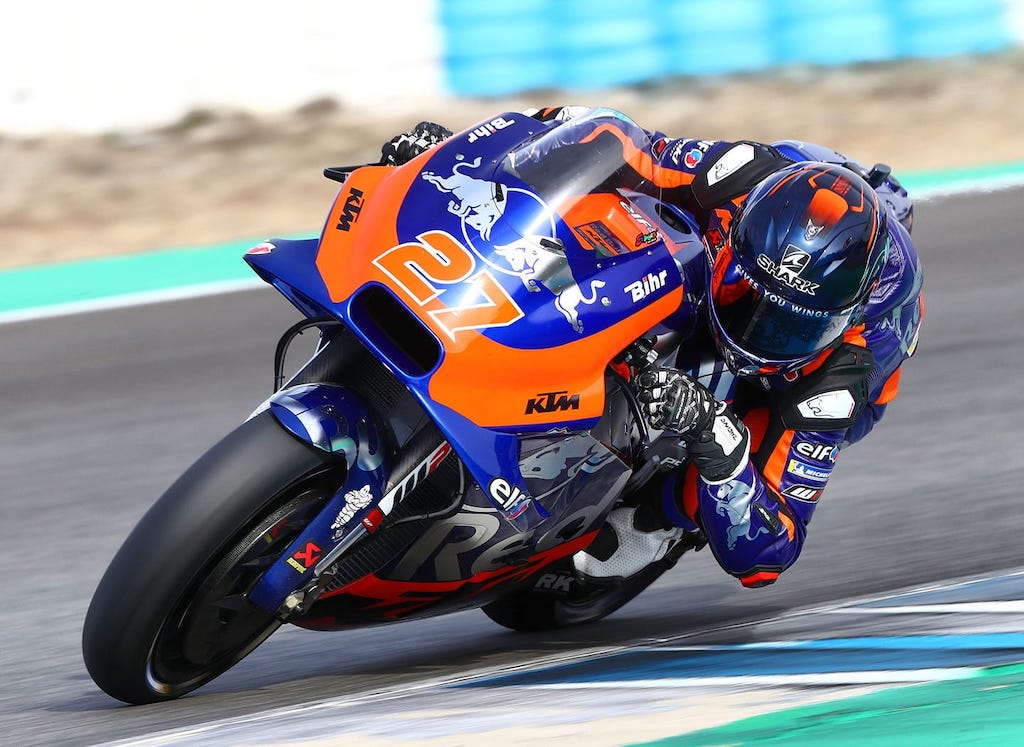 Ironically, Espargaro loses his title for the first time ever to his new teammate for the last race of the year, Iker Lecuona! Just one look at Iker in his shiny Red Bull helmet and bad azz KTM livery and you couldn't help but go "Damn, that kit is fresh AF!" Espargaro still has that "Brad Pitt" on a bike look but he fell victim to the youth movement. Hey, at least it was his teammate instead of some stranger.
Honorable mention: Marc Marquez and Maverick Vinales.
"Say What?" – Whittiest Rider in The Paddock: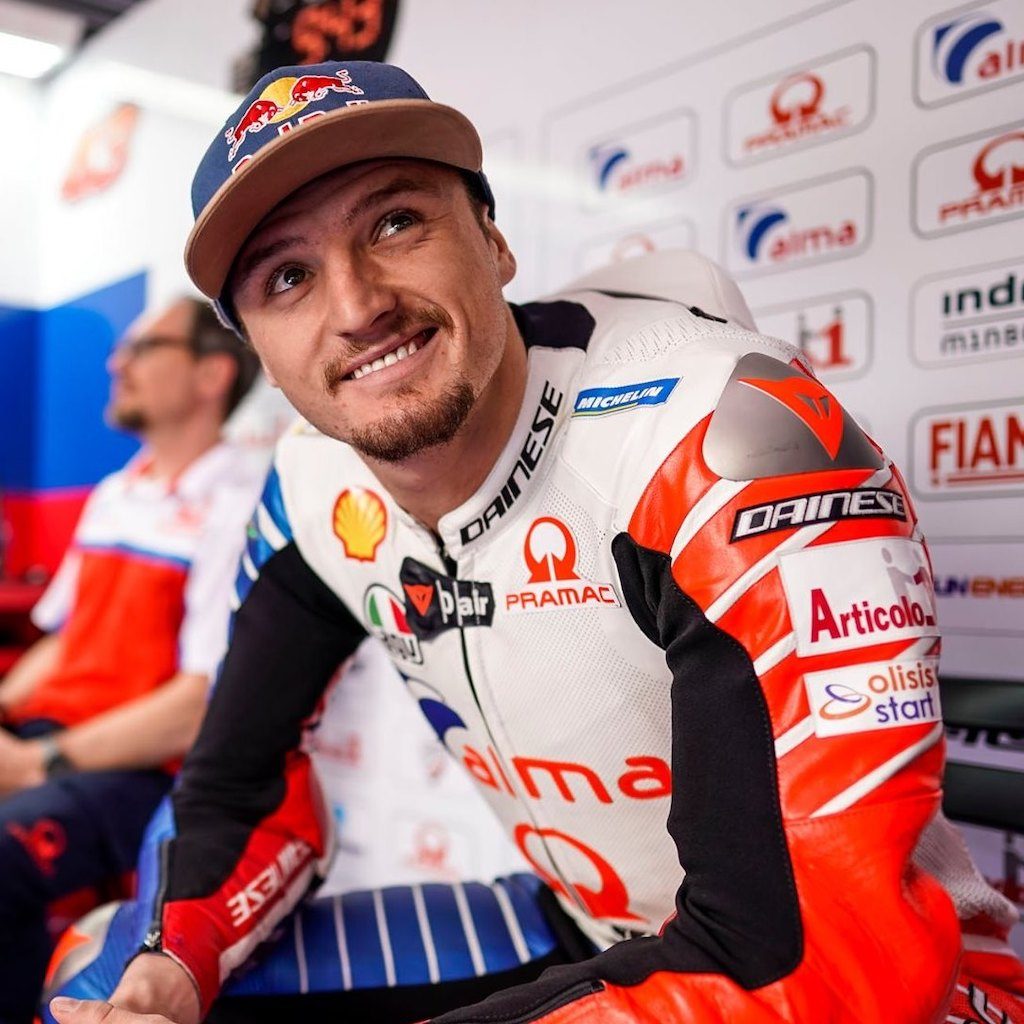 Jack Miller. A lot of people say its Cal Crutchlow, but Miller managed to throw shade at Jorge Lorenzo while at the same time remaining humorous during a pre-race presser! He always manages to skirt the line of politically incorrect without offending which is no small task in today's soft ass world. Just as Blue Oyster Cult needed more cowbell, MotoGP needs more Miller!
Honorable Mention: Cal Crutchlow, Danilo Petrucci and Marc Marquez.
"I didn't go nowhere" – Comeback Rider of The Year: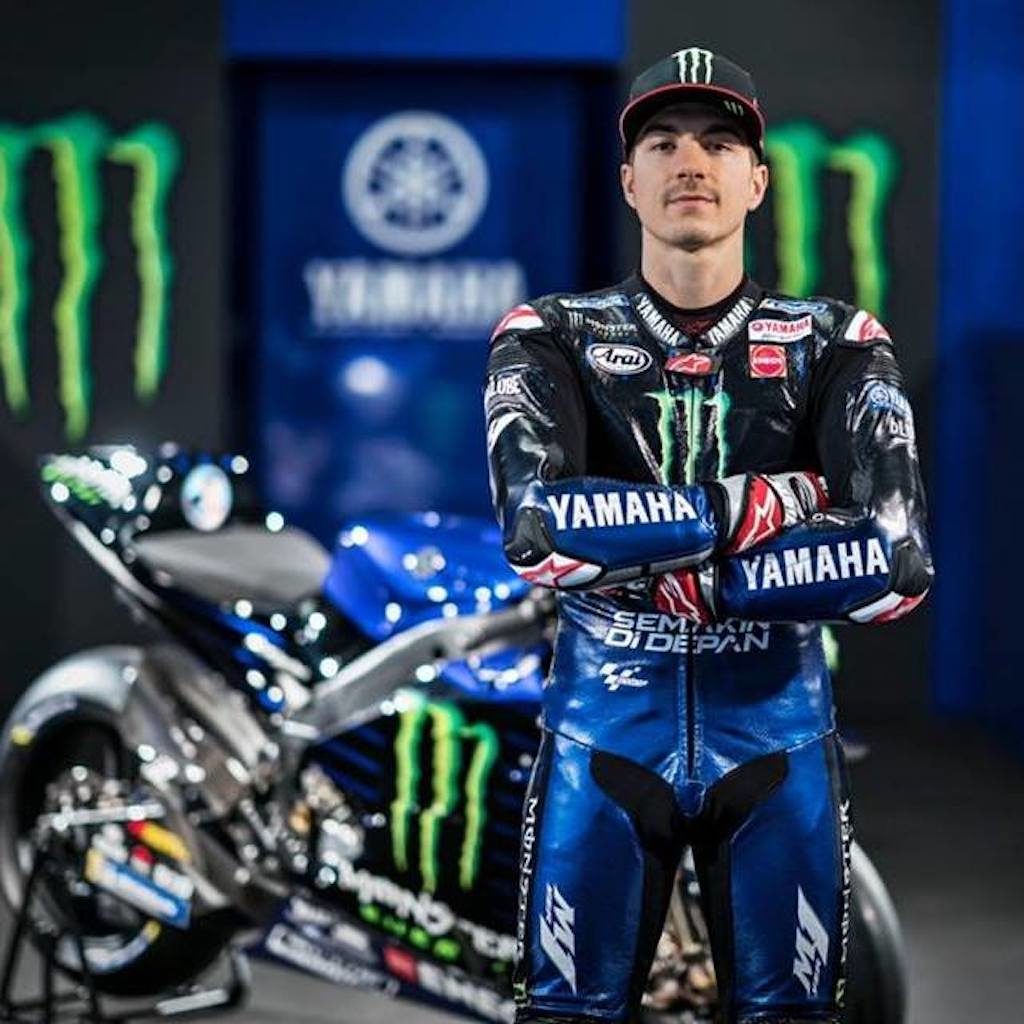 Maverick Vinales. Although Vinales seemed to disappoint some people in races they thought he should've won, Vinales was consistent and was the top Yamaha with two victories and a third place in the championship as he outpaced Marquez in two out of three showdowns. Vinales heads into 2020 as a favorite to snatch the crown away from Marquez.
Honorable Mention: Tito Rabat and Jack Miller.
"Say it to my face" – Baddest Mofo in the Paddock: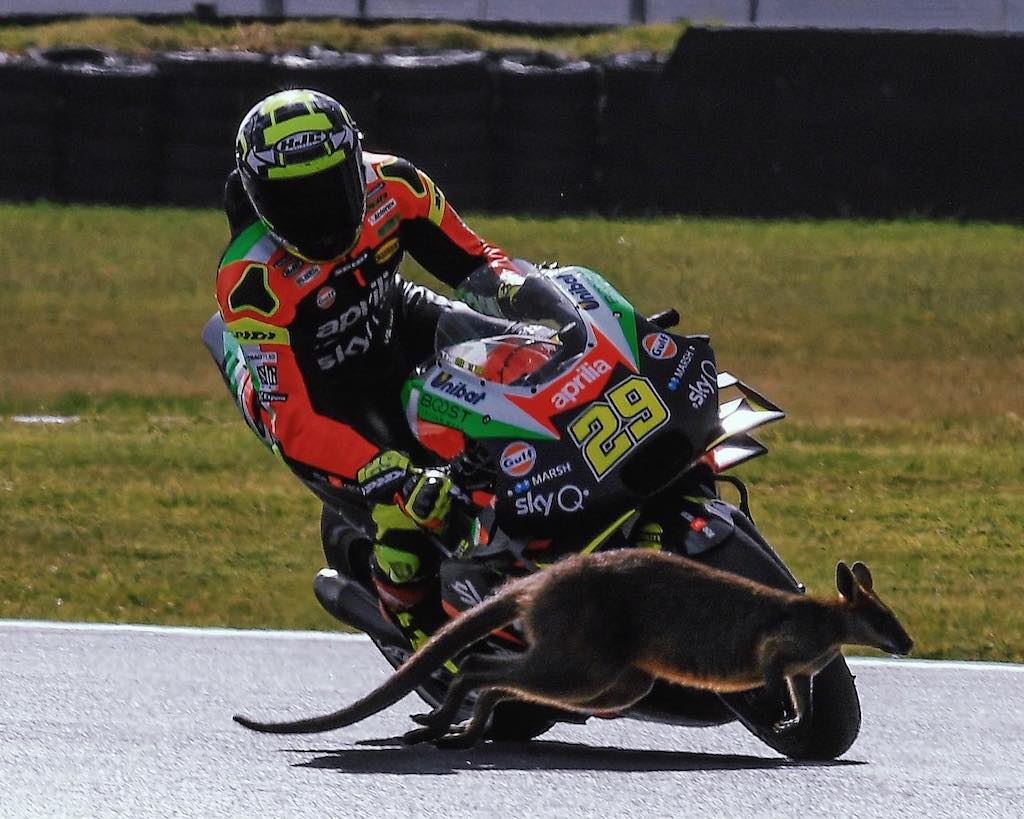 Andrea Iannone. Most would pick Cal Crutchlow but the money goes to Crazy Joe! He's the only man that when his head is on straight isn't afraid of Marquez. It's been proven from his countless battles in Moto2 and is a consensus among riders in the paddock. The problem with Iannone is that you just never know which Iannone is going to show up; the Iannone who won Ducati their first victory at the Spielberg Circuit or the Iannone that just ducked out of a press conference, mid press conference! One thing is certain. This is a man, that if you see him at night walking your way, you might be best to go the other way! They call him Crazy Joe for a reason.
Honorable Mention: Cal Crutchlow, Danilo Petrucci, Jack Miller, and Moto3's Aron Canet.
"Whoa, Horsey… Whoa!" – Save of The Year: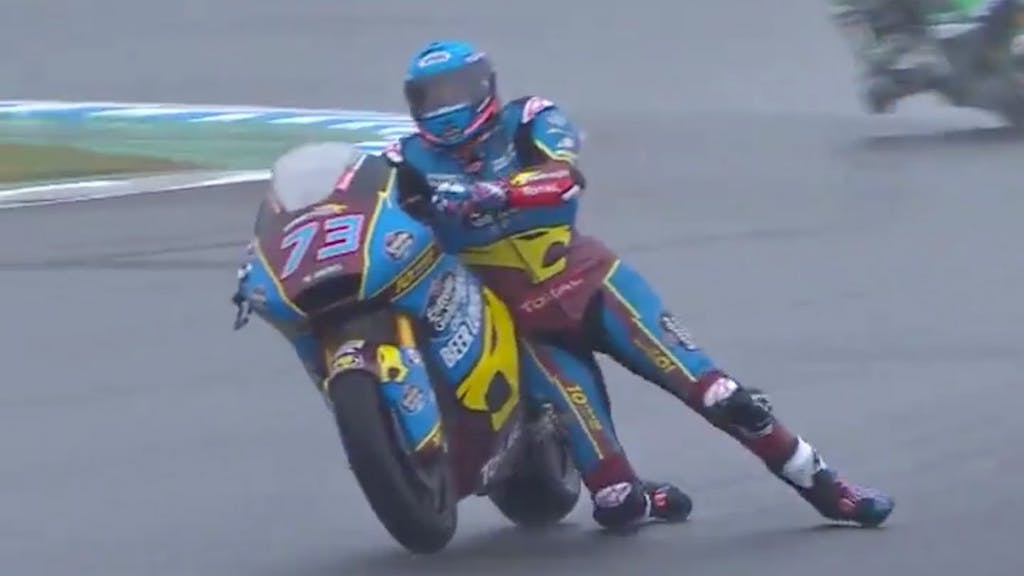 Alex Marquez. Although he was in Moto2, this is my article, so shut up. Besides, he's gonna be in MotoGP next year anyway, so there! Alex, just like his brother Marc, made an incredible save at the Twin Ring at Motegi when it looked like all hope was lost and he was about to be catapulted into the Japanese space program until a miracle caused him to tame his savage Triumph engine powered beast and coral it like a steer wrestler during a rodeo. No one will forget the lanky Marquez going the length of the rain-soaked front straight with the handlebars at his side while he appeared to water ski in his boots!
Honorable Mention: Jake Dixon and Marc Marquez.
"This is Going to Hurt" – Crash of The Year: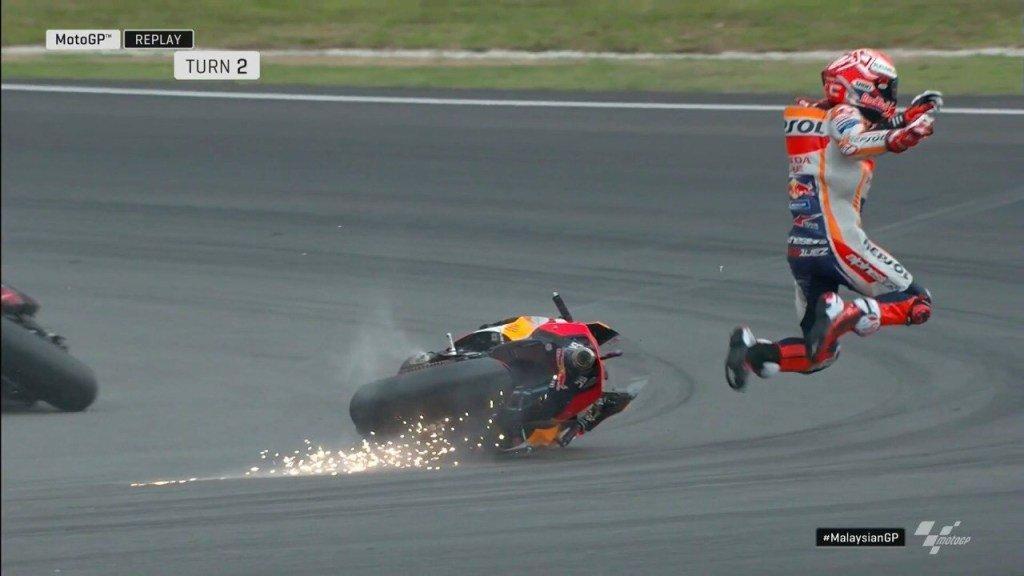 Marc Marquez. Marquez is known for his spectacular saves…but not this time! In Sepang, during P2, Marquez, playing games with Fabio Quartararo, decided it was time to show the young whippersnapper who tha' man was. Too bad Marc's tyres didn't get the memo as Marquez attempted to be another missing Malaysian aircraft… Except they found Marc… in the grass after he literally moonwalked through the air like a MotoGP Michael Jackson with both gloves on. This crash was so bad that Marquez actually proved he was human as he showed pain as he screamed and fell to his knees as he walked back to his garage. Like the song says, "even the best fall down sometimes…"
Honorable Mention: Andreas Dovizioso and Jorge Lorenzo.
People's Champ: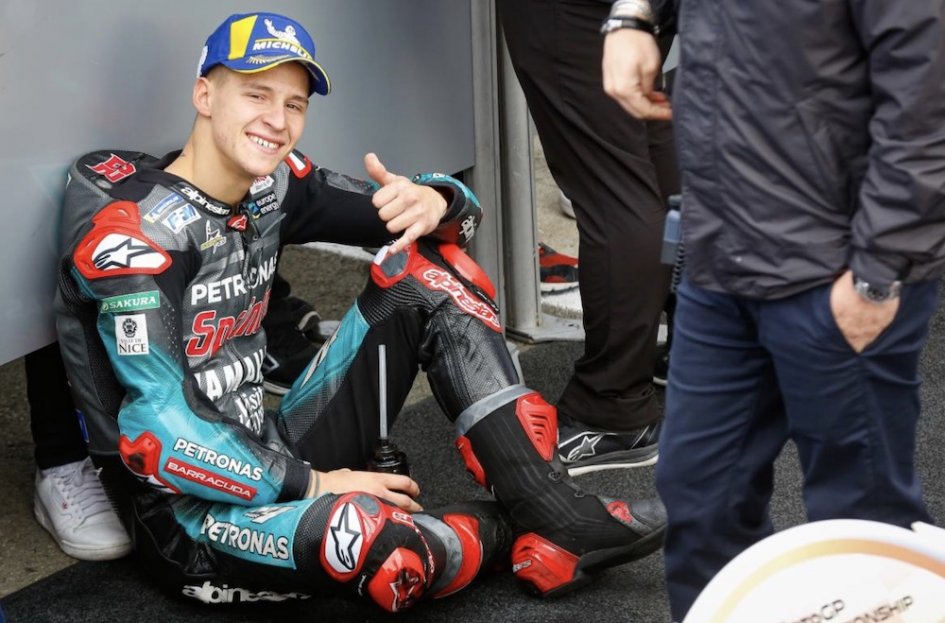 We all know who won the Championship but… It seemed like every week people were rooting for the rookie Frenchman Fabio Quartararo to take it to the Champ. In certain aspects, he did by capturing four pole positions and making the Champ work for his victories. It only seems like a matter of time before Fabio will get that elusive first victory. Marquez said, "He's gonna make it hard for me next year (2020)." And for that, Fabio Quartararo is the People's Champ!
"No, He Didn't?! Oh, Yes He Did! – Race of The Year: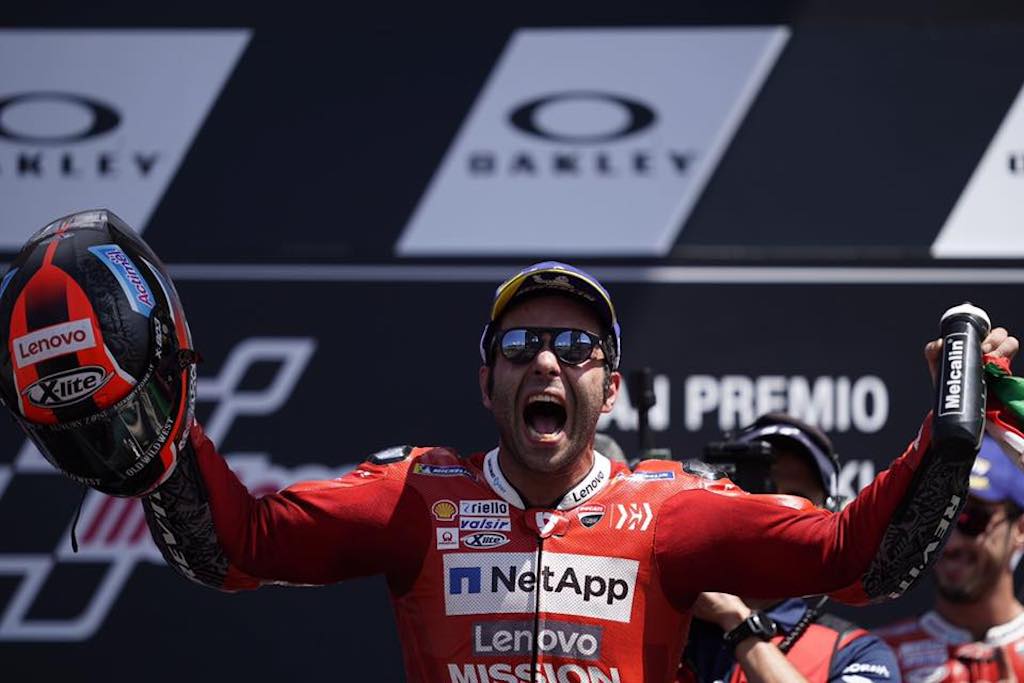 This one was the toughest of them all. It's like asking a Mormon Man which one of his wives does he like best. Although Dovi and Rins put in a great bid, I have to give it to Danilo Petrucci at Mugello! Petrucci outraced not only his teammate, Andreas Dovizioso, but also the Champ, Marc Marquez in an emotional win that will cement him as a legend. He won, as an Italian, on an Italian bike, on Italian soil, in their own backyard! To make this victory even sweeter than a glass of sweet tea, this was Petrucci's first-ever victory in MotoGP! Not bad for a guy who at one time raced superstock! He was the proverbial David who slew Goliath! And for that, Mugello is the race of the Year!
"Just Funnin'" – Who's having the most fun on the track: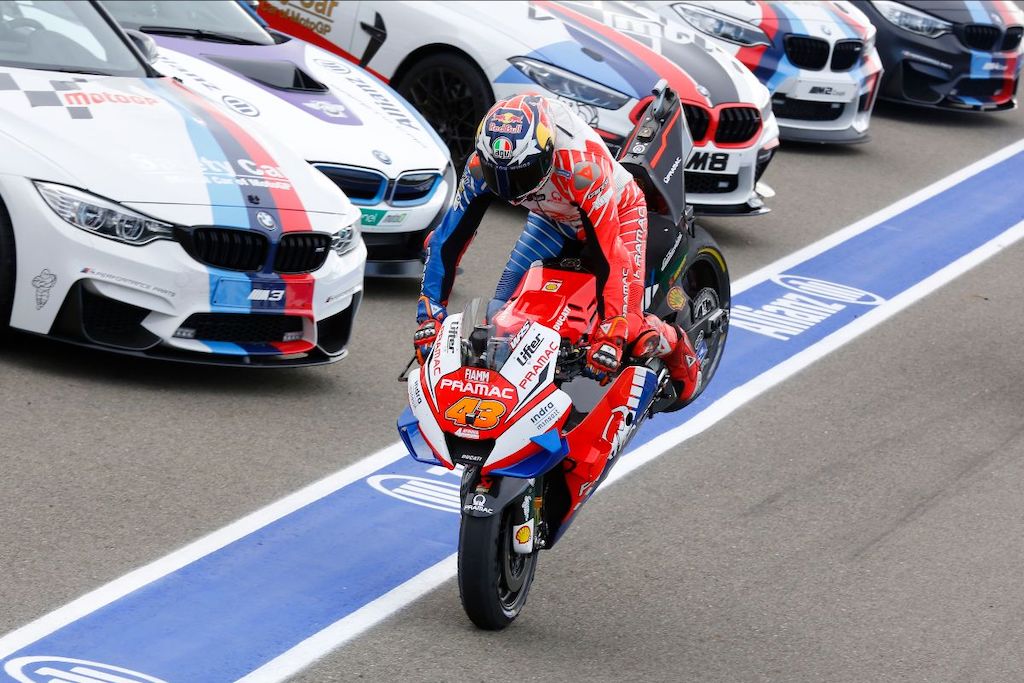 Jack Miller. Nobody seems to be enjoying themselves more than Jack Miller on a race track. After each session is over you'll find him doing the best stand up wheelies this side of a stunt show. And before a practice start or even on pit lane, you'll find Miller doing a stoppie that even Jason Britton would approve of. Oh, and let's not forget his podium classic of drinking champagne out of his racing boot. Miller makes GP look fun and for that, he gets this award.
Honorable Mention: Fabio Quartararo and Valentino Rossi.
Thanks For The Memories:
Jorge Lorenzo. This award was made specifically for the five-time World Champion. I already dedicated a previous column to him, so at this point, it would be overkill, so I'll just say… Thanks, Jorge!
"Ain't no Question who Tha Man is" – Rider of the Year: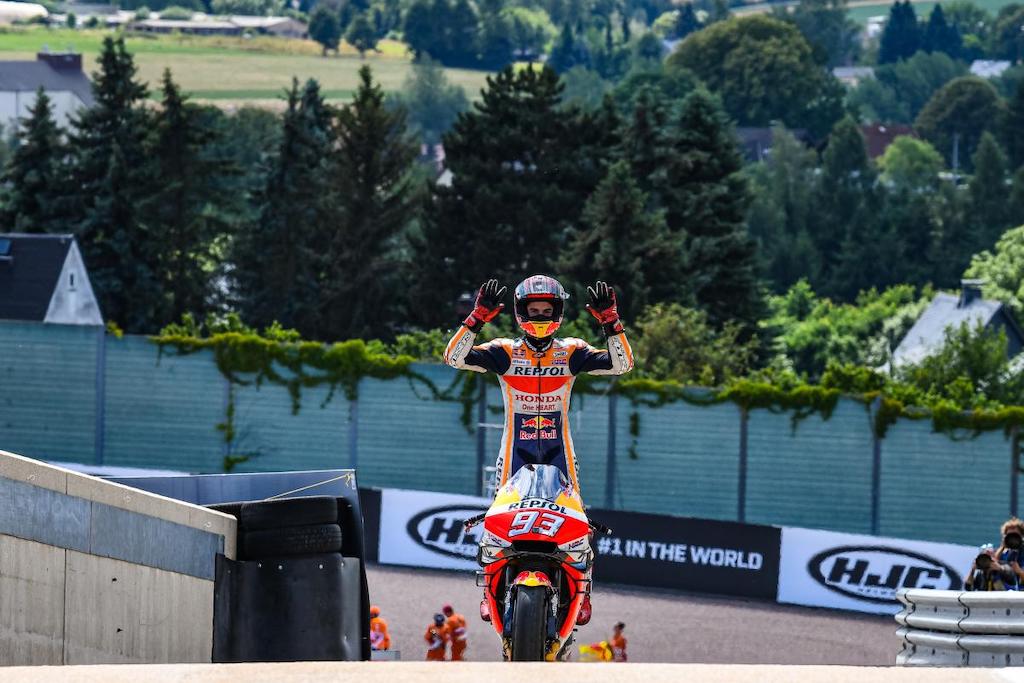 Marc Marquez. This guy was a literal one wrecking machine as Honda swept every category from Riders, Constructors, and Team Championship. Basically, all by himself! The only thing missing in Marquez's domination of 2019 was a ball-gag and whip. He already has the leathers! Marc seemed to Race with a chip on his shoulder as he never allowed the people's champ, Fabio Quartararo, to get the best of him in a race. A year that saw him finish no lower than second. Only his DNF in Austin prevented him from becoming near perfect. Marquez offered his opponents glimpses of hope when he crashed heavily in qualifying in back to back weeks but as MotoGP riders are called aliens, Marquez has proven to be the Predator! To beat this man, you're going to need to pull out all the stops, be damn near perfect, use everything in your arsenal and if you can find Arnold Schwarzenegger to help you, even better! Because that's what it takes to beat tha man! He's relentless. He studies you so he can beat you at your own game! Ask Dovi, Rossi or Lorenzo, the last man to beat Marquez for a championship! Will we see another year like this from "Tha Champ?" Who knows? But one thing is for certain, in 2019, Marc Marquez was simply "Tha Man!"
So there you have it, my youngest in cheek, MotoGP Awards! Was there a rhyme or reason to these awards? Hell no! Did I enjoy writing this and making these categories up? Ya' damn straight, I did!
MotoGP permeates my soul, but so does having fun. And if you combine the two? Well, you just read what that looks like.
Enjoy the break, my GP Freaks, because it won't be long before testing begins for 2020 and the 2021 silly season gets underway. The sweet cycle of MotoGP never ends!
---