We have all seen the movie or television show where the wannabe badass pulls his gun from his waistband with no regard for the threat of chaffing. Often in the same films or show, you witness the same character stylishly firing his gun while holding it sideways, affectionately known as the "Kill Shot." In the many adventures of my life, I myself have been in some tight spots where I've witnessed real people in people in real life carrying their weapons carelessly in their waistbands sans holster. I am going only say this once: Stop it.
Not only is this practice dangerous, unpractical and nontactical, but it is also straight up idiotic. Anyone that improperly carries a firearm on their body, be it their waistband or depending on the size of the gun, in their pocket, is a prime candidate for the Darwinism Award of the Century. Now imagine and apply that same level of stupidity to carrying in that manner while riding. The level of stupidity skyrockets to high fuckery.
Let me back it up here, slightly. I admit that when I first began carrying I struggled with finding a proper holster that was both functional and comfortable. I experimented with multiple styles of holsters and points of carrying on my body. I spent a considerable amount of time and money trying out both leather and Kydex IWB holsters, OWB holsters and even a shoulder holster. There are a few types of materials that holsters can be made of: leather, Kydex, nylon, hybrid. Each material comes with its own set of pros and cons mostly hindering on the level of comfort versus durability. Then it was a question of where do I carry: small of the back, appendix, hip or some variation thereof. Eventually, I found a combination that worked for me. However, when I began to carry while riding, the exploration process began all over again.
Riding while strapped required a rethinking of my carry style and philosophy. A number of new factors were put into play. I mainly ride two different styles of bikes, both sportbike, and cruiser. The riding position on both styles of bikes is very different. One is relaxed while the other is aggressive. So where I carried on my body would have to take that into consideration. Another factor was the accessibility to my firearm in the event of a threat. I needed to be able to draw my weapon while maintaining control of my bike.
An item that most may not consider is the style of gloves that you wear. We will get into how your riding apparel comes into play in a later installment but I thought it was worth mentioning here. Dexterity is elemental when riding and equally of importance when being able to draw your weapon from its point of carry and operating it, if the need may be. A bulky glove may offer the desired level of protection in the event of an off. That same bulkiness could present itself as a hurdle as you try to draw your sidearm and attempt to place your finger on the trigger.
I am going to suggest, as always, that you check with your state and local laws on your concealed carrying and open carrying rights and not apply my experience across the general public. Knowing your rights as a gun owner and being properly educated is just as important as owning and operating a motorcycle. With that in mind, and after several months of trial and error, my research led me to set up that works best for my riding style as well as my riding while strapped ideals.
My selection for holster is the Vent Core IWB rig from Stealth Gear USA. Its a hybrid holster that features a breathable mesh backing with a Kydex shell that completely covers my trigger. My experience with leather holsters while riding was sweaty and a tad unforgiving in the break-in department. Nylon holsters never did it for me. They seemed flimsy and insecure. On warmer riding days, the leather would sweat, I would sweat, there was unnecessary moisture. With the mesh backing of the Vent Core, moisture is at a bare minimum, if any at all. The Kydex kept my firearm in place and I didn't have a concern about it becoming loose at speed regardless of which style bike I was riding. This particular holster was designed in the appendix manner, at the center of your waist, in the 12 noon area. This point of carry is unpractical and extremely uncomfortable when riding. Sandwiching a gun between your precious cargo and a fuel tank is not my idea of a fun ride. Another option for point of carry could be the small of my back. This point doesn't feel the most secure nor the most accessible. Sure, you can reach and draw but there is an easier and safer position. The inside of the jacket shoulder rig eliminates your access to your firearm unless you are off your bike or your ride with your jacket unzipped. I opted to for my point of carry to be on my hip, what would be your three or nine o'clock position. This position is very comfortable and accessible whether I am riding a cruiser or sportbike.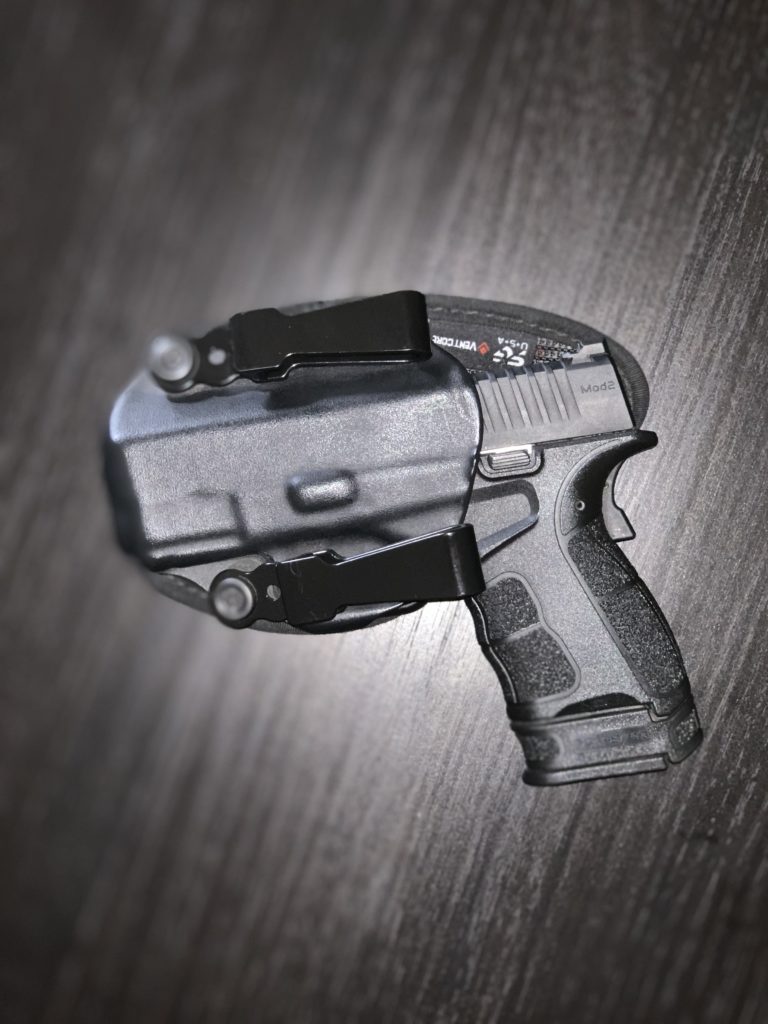 I live in an open-carry state so I could wear an OWB rig but I choose to go with the IWB for security and comfort reasons. With my gun tucked close to me, I can ride my ride without bringing unnecessary attention to myself. Even though I can open carry, not everyone understands that right and I've had my share of conversations with police who were investigating the report of a large black male on a motorcycle with a gun. The IWB is also handy when I cross over into a first-class city like Philadelphia where open carry is restricted. My IWB rig allows me to operate without issue when riding while strapped.
Whether you ride strapped or not, if you carry a firearm, please invest in a quality holster rig that serves your purpose. The waistband carry method is a fictional method of carrying and a foolish one at that. In the next installment, we'll have a deeper discussion on the effect that your riding gear has your access to your holstered weapon. Until then, ride safe and stay strapped.
---