---

---
One of the greatest things about Summer for me is the Summer Blockbuster! You'd seen all the trailers for the movie since forever and now the big night is here. You'd get your popcorn and Icee (all flavors mixed… That's how ya' boy does it), then you'd get that perfect seat and its movie time! The only thing you're thinking is, "Please be good. Please be good!" And when it was good! You were so pumped! You wanted to scream from the rooftop, "Yo! You gotta see (insert name of movie here)! It was that shit!"
That's exactly how the opening round for the MotoGP premier class was in Jerez, Spain on July 19th.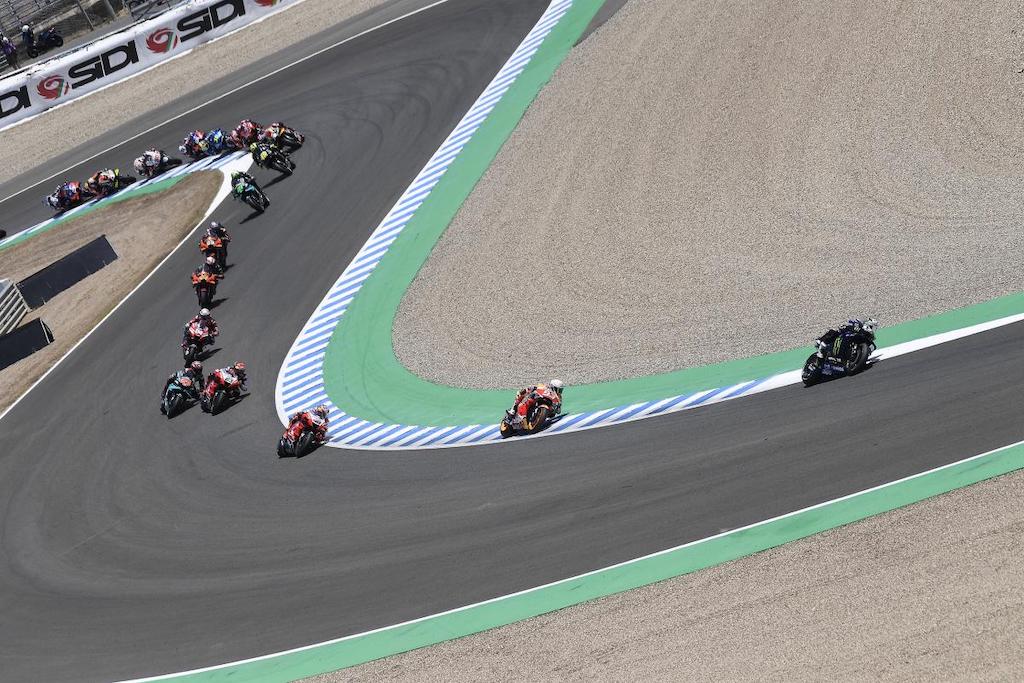 Moto3 and Moto2 had already turned their wheels in anger earlier in March before COVID-19 put an abrupt pause in proceedings, preventing the big boys from racing and forcing GP Freaks like yours truly into a state of depression that can only be cured by watching our boys working it out on a race track at over 200mph!
Our depression was lifted the third week of July when MotoGP got the green flag to go racing. This championship is going to be stranger than most years, as you all know.
Scheduled for thirteen rounds (fingers crossed), with no fans, back to Back weekends at some tracks, with the threat of the virus shutting things down like an old K-Mart! Yeah, this is going to be different, to say the least. But… GP is back!
It didn't take long for things to get back to close to normal with Moto3.
These kids did the usual business of giving me a heart attack! Every lap, it seemed, was a scrap to just survive. You couldn't call this race until it ended but I will say, I had a feeling about John McPhee and Albert Arenas. Turns out, I was right and wrong.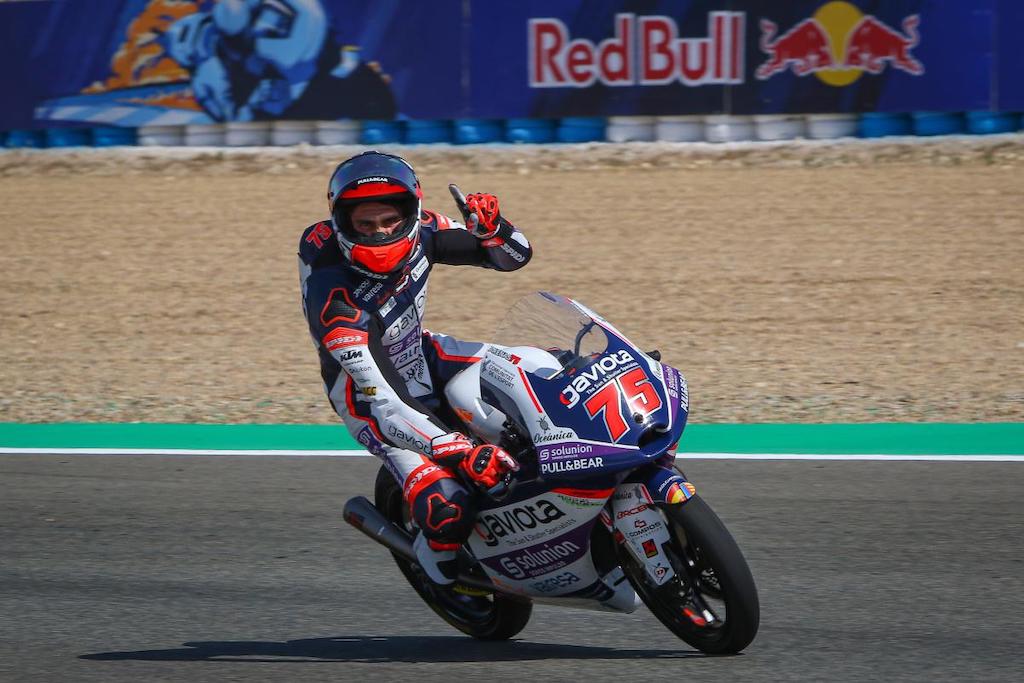 I was wrong with McPhee crashing in the final turn and spot on with Arenas! Arenas showed his maturity and made it two for two and with now just twelve races remaining, Two wins and a twelve-point lead over his nearest competitor, Arenas looks ready to assert himself as the man to beat in this street fight class.
In Moto2, Luca Marini was smooth as his brother Valentino Rossi as he coasted to an easy victory. Marini made it look effortless on Sunday and pulled to within twenty points of championship leader, Tetsuta Nagashima. Nagashima, despite a runner-up finish, looks every bit of a champion as he did the night he claimed his maiden victory in Qatar, which seems like eons ago. Moto2 should come down to the wire and its gonna be fun to watch. It's not the street fight that Moto3 is but its still a fight. Should be fun.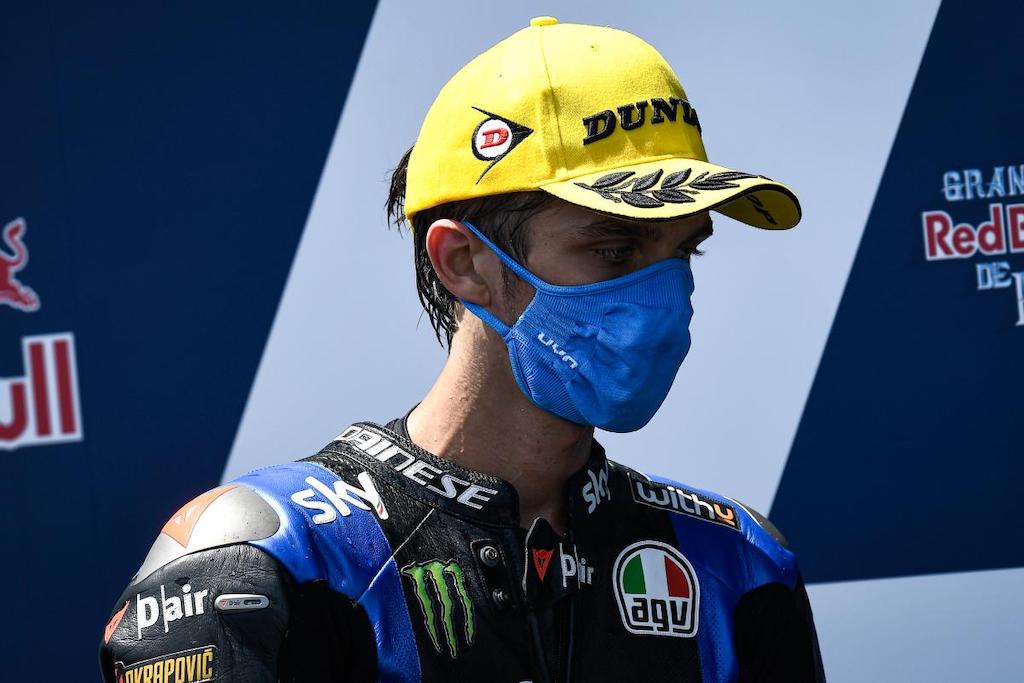 As is usual, it was the premier class we were waiting for. This would be their first weekend out and the anticipation was about as high as the Super Bowl. Could Marquez do it again? Would Fabio get his first? What about Rossi? Dovi broke his collarbone a week before the opener. How could he possibly be ready for the fight? Well let me tell you, all these questions were answered and a few more were to be asked afterward!
First and foremost, the first question was the weather! This is not to be understated. In May when MotoGP is usually in Jerez, it is hot. But it is July… in Southern Spain… and it was Muy Caliente. It was actually one of the few times where you actually felt the heat without being there.
The track temperature at race time was 125 degrees with an air temperature of 89 degrees. Throw in the leathers the riders were wearing… If they were in mid-pack, they were baking! With those track temps and two prior races, the track was as greasy as a Waffle House on a Saturday Night! How would the Yamaha's do? They struggled in years past on this track when it was hot and today was Hell hot!
Well, the question was answered the day before as Fabio Quartararo grabbed pole followed by Maverick Vinales and Marc "8X" Marquez!
It was Vinales that shot off the line like his moniker, Top Gun, followed closely by Marquez.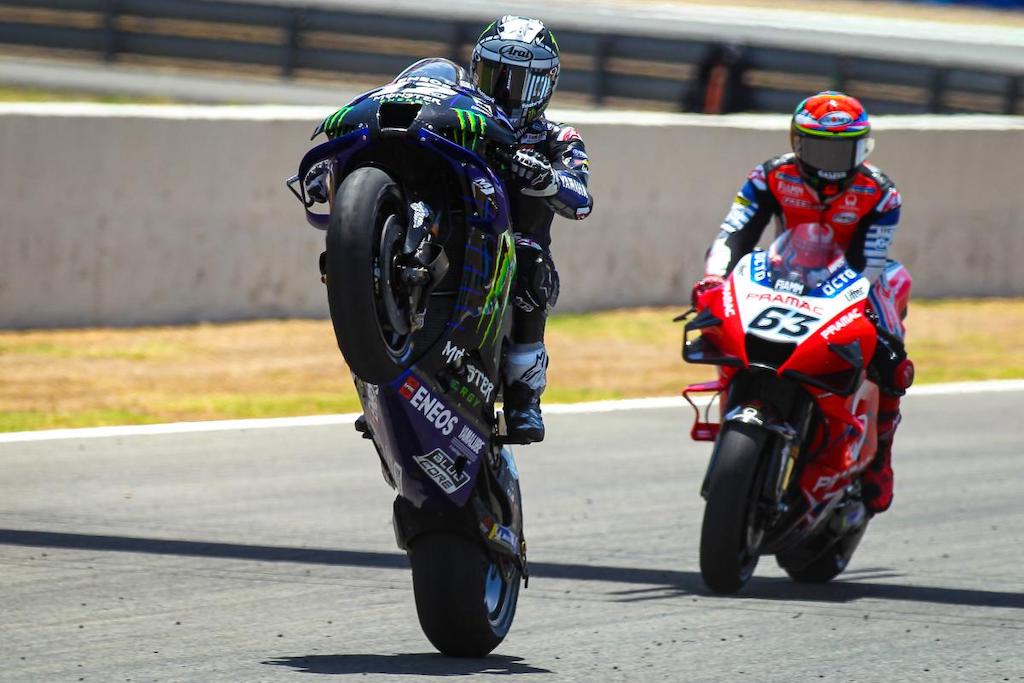 Vinales had gambled with a soft front tyre, with everybody and I mean everybody else choosing a hard front tyre, except his teammate Valentino Rossi. That choice was a Titanic error because both were sunk before the race even heated up.
Marquez pounced on Vinales like Jeffrey Epstein at a high school prom and quickly started to gap him until lap 4, turn 4. Marquez produced the save of all saves (which is really saying something), and ended up flat tracking his way through the gravel pit until he was able to rejoin the circuit, albeit in 16th place! And this, this is where he cemented his legend, tenfold!
While the rest of the field were dealing with the heat and jockeying for positions, Marquez proceeded to hunt down the field like they owed him money. And he needed that money!
What Marquez did to a field of World-Class Riders was astonishing, to say the least. He ran through them like coffee first thing in the morning. But like the song said, "It was all going fine, until…"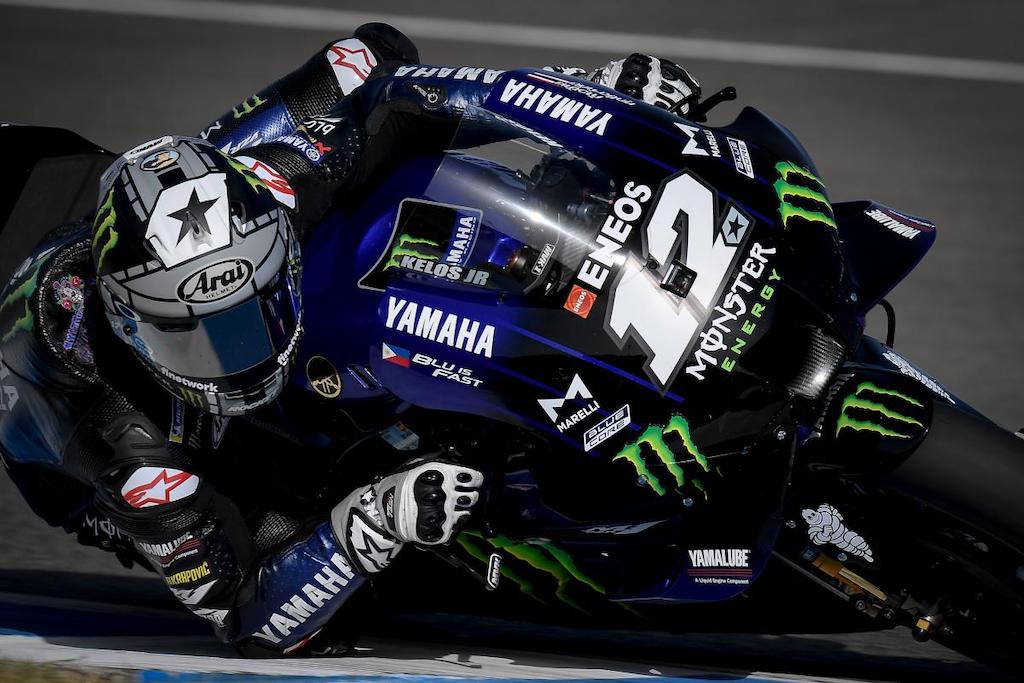 While dismantling the field and settling in behind Maverick Vinales (you read that right, Maverick Vinales), Marquez approached turn 4 but this time there would be no miraculous save. Instead, Marquez was violently flicked off his bike in a high side of 500cc proportions. Race over, maybe even season. But more on that later.
It was a cruel ending to an otherwise miraculous run.
But there was still more race to run. While Marquez was doing his best Criss Angel and making the field disappear, Fabio Quartararo was handling his business. On the same track that had so cruelly robbed him of a victory the previous year,
Fabio got his vengeance and nabbed his first victory at the Angel Nieto Circuit, followed by Vinales who somehow managed to garner second place despite his front tire being softer than a rich kid in a public school. Somehow Andrea Dovizioso managed to get his first podium on a track that never agreed with him, which bodes well for his championship aspirations. Jack Miller let a podium slip away because of numbness in his hands. And to show what a crazy Sunday it was, Valentino Rossi did not finish due to technical problems with the bike. It seems no one even bothered to ask until later.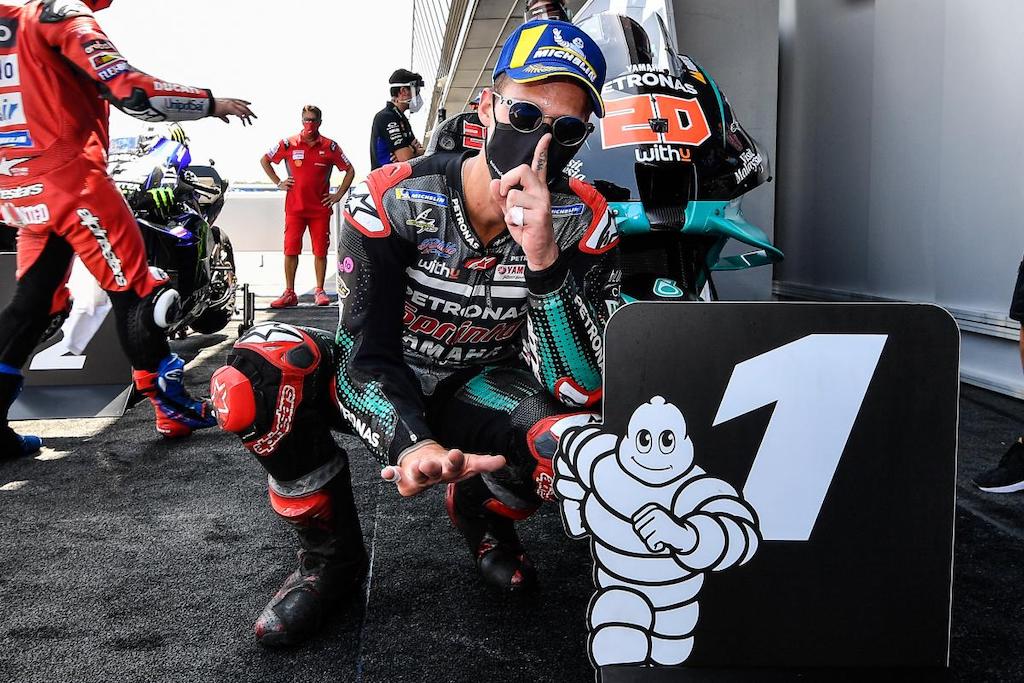 The big story was Fabio's first and Marc's injury. With Fabio set to be the next big star in MotoGP, everybody wanted to see him and Marquez go toe to toe for the title. For now, that hope is dashed.
As of the writing of this piece, Marquez is out of a successful surgery with no suspected nerve damage. His status to return is unknown. Thirteen races now down to twelve make you wonder if it is even worth it for the Champ to come back. Even if he rushes back and makes the third race, he'll be down at least 50 points maybe even more. Can he catch the leaders without risk of reinjuring himself?
Seems foolish to even attempt it. We all know Marc is the quintessential alien, he seriously seems to be from another planet, but at the same time, there's only so much the body can take. High sides take a toll on the body. Ask Jorge Lorenzo.
If it were me, I'd shut Marquez down for his own good, have him take his time to rehab his body, fight another day. This season is not like the others. 2021 will be yours, shut it down Champ! But I am not Marquez, nor do I work for HRC.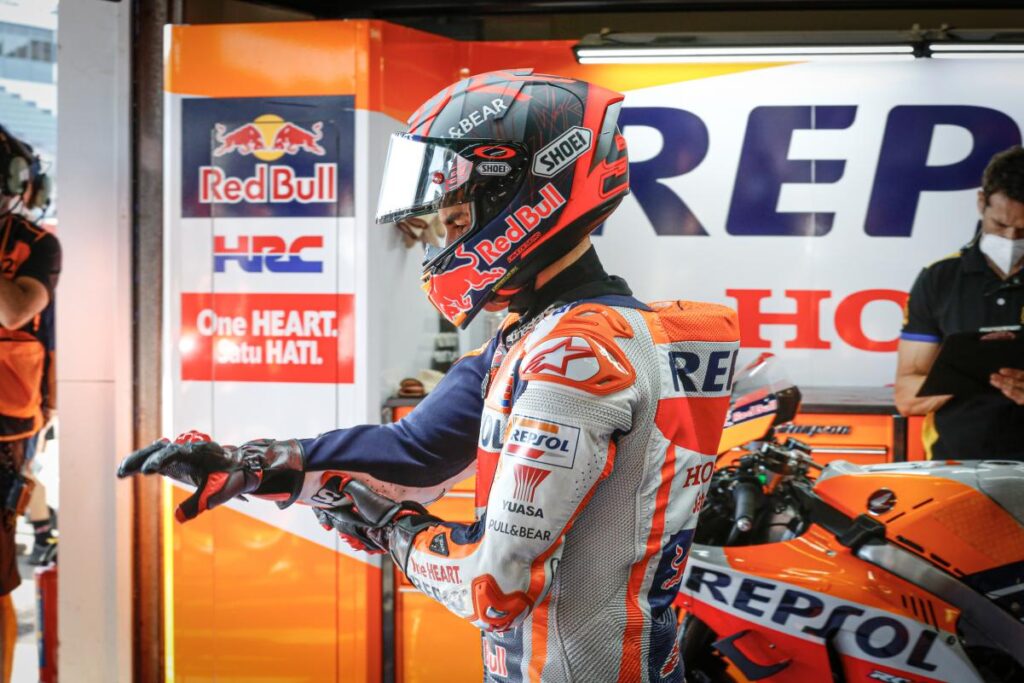 To watch it all unfold will be interesting but at the same time, we will witness the molding of a new MotoGP Champion. And, we will witness the mental strength of a Champion who's not ready to relinquish that title without a fight!
In either case, MotoGP is back and for GP Freaks everywhere, that's all that matters!
Stay tuned Freaks, it is about to get even better!
---