The $100,000 Ducati Superleggera V4 is a bike that will become an instant classic alongside the 916 and the 750 SS Green Frame.
Every now and then, a motorcycle comes along that serves two purposes— the first to show just what can be done when a manufacturer the size of Ducati lets its designers run free to create a no-compromise superbike.
And the second, to show you've not tried hard enough in life because, chances are, you'll never afford it. This is the rolling conundrum that is the Ducati Superleggera V4. A carbon-fiber, 224 hp, bi-plane winged masterpiece worth a staggering $100,000, the Superleggera (which translates from Italian to Superlight) is the finest superbike Ducati is capable of manufacturing for the public.
Compared to the already lithe V4 R, the Superleggera weighs in at claimed 52 pounds lighter (dry, Ducati refused to let us weigh the bike full of fuel), tipping the scales at a scant 335 pounds when fitted with the Racing Kit exhaust system and various bodywork components. That's lighter than the WorldSBK racer of Scott Redding and Chaz Davies, and with a claimed 234 hp on tap, almost as powerful.
And it's got more downforce to boot. At 186 mph, Ducati tells us the Superleggera's carbon-fiber wings are producing 134 pounds of lateral downforce. That's like having a rather plump 14-year-old sitting at the front of your bike as you rip down the front straight. Or Dani Pedrosa in leathers.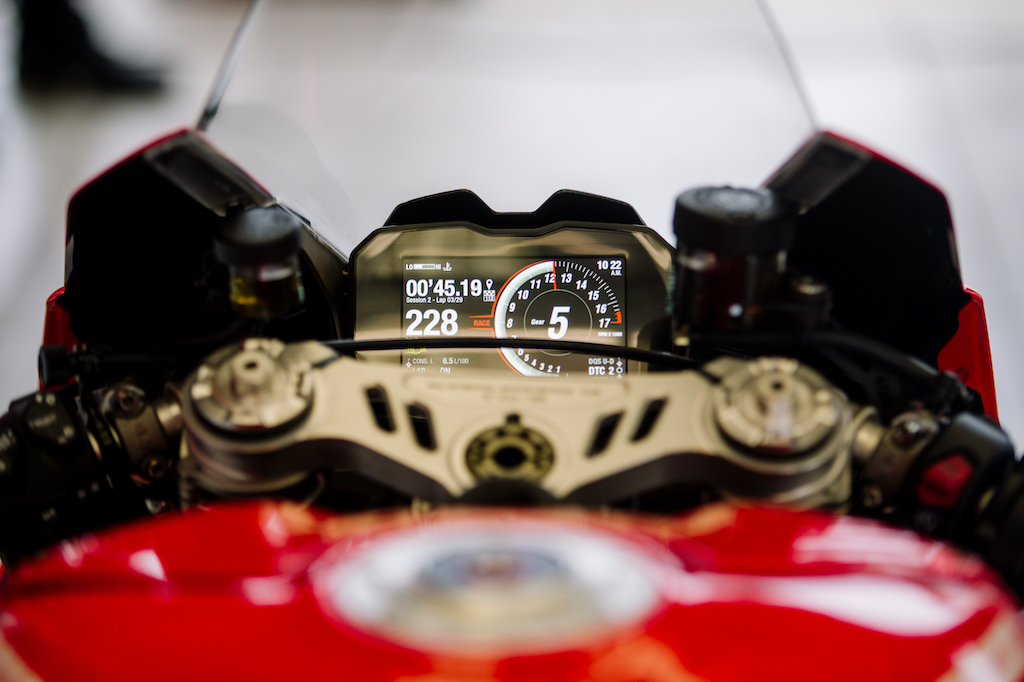 On track, the Superleggera V4 experience is nothing short of astonishing. If you've ever ridden a motorcycle with lightweight wheels, you'll know the difference less unsprung weight makes to the agility of a chassis. Now couple that with the fact the front frame (chassis), subframe, swingarm and bodywork are all made from the same carbon-fiber as the wheels, and you'll get somewhat of an idea where your $100-large goes.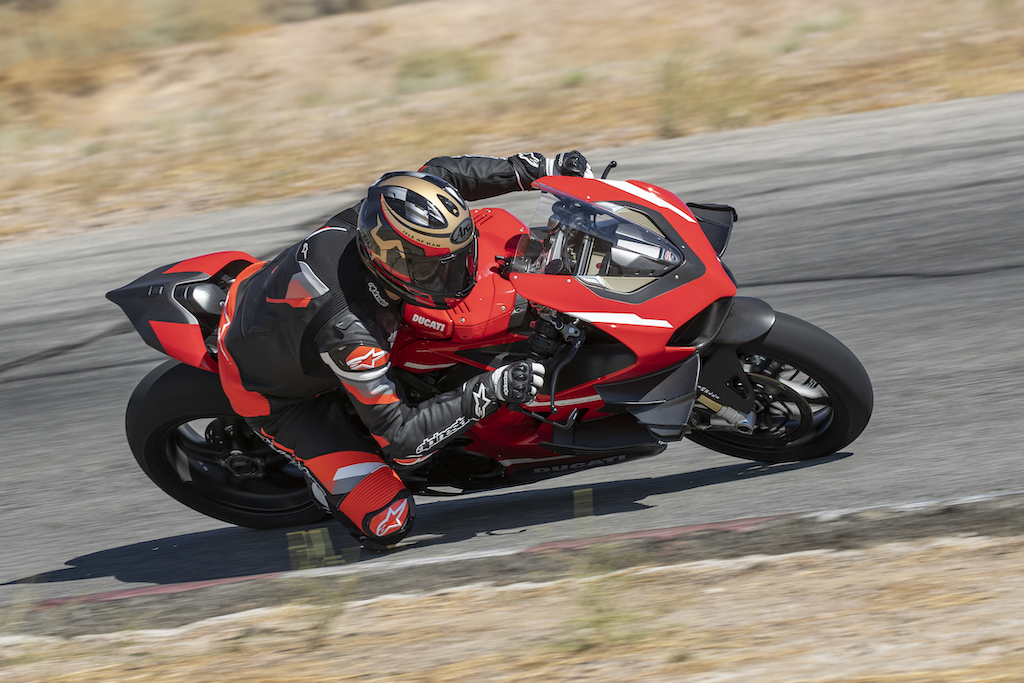 Our test bike was fitted with the Racing Kit, which bumped power 10 hp higher, so every one of the claimed 234 Italian stallions was at my disposal. Yet, despite this frankly mental horsepower number for a production bike, it wasn't the most impressive aspect of the design. That belongs to how it gets around corners.
The Superleggera V4 makes a standard Ducati Panigale V4 S feel decidedly cumbersome when the road gets twisty. On a Superleggera, you can change direction as fast as the thought enters your head. The less overall mass combines with the elite Ohlins in the NPX25/30 pressurized fork and TTX36 shock, plus the best Brembos in the four-piston Stylema R calipers and race-spec MCS 19.21 radial master-cylinder to deliver you around corners faster than you've ever gone before.
Scything through Rainey Curve down the tumbling Laguna Seca landscape, the Superleggera's superior turn speed and feel through every point of contact—hands, feet, butt, legs—is nothing short of divine. This is what it feels like, I think to myself, to ride something the top one percent of the top one percent get to.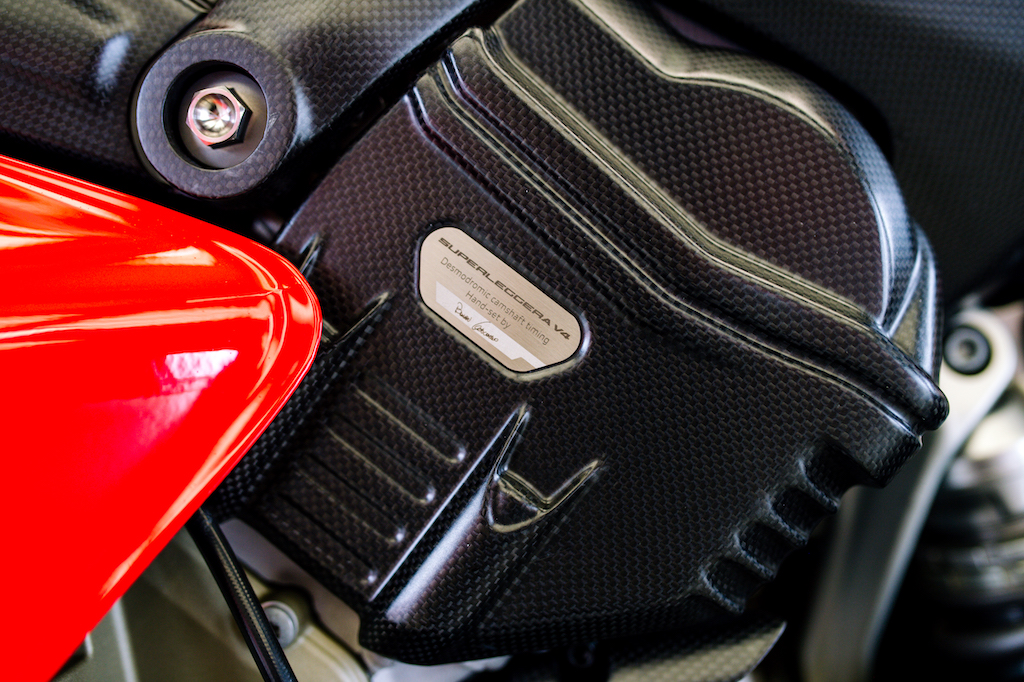 Unleashing the raucous power of the 998cc V4 down Laguna Seca's curving front straight is an experience in itself. Yes, it's smack-yer-lips fast, but the way in which it's handed to the tire is, dare I say it, nowhere near as intimidating as you might imagine. That's thanks to the relationship between the motor, suspension, the all-new electronics and the wings, which combine in an awesome foursome to propel you into your near future at an astonishing rate.
You've got five different modes at your disposal – two preset track maps of A and B and three customizable maps. And if you so desire, you can have the same race dash as used by Andrea Dovizioso in MotoGP. That means you get no rev counter, although you will get a flashing light if you get greedy with the revs and the ECU wants you to shift, at which point you're greeted with a glorious bang when you click a higher gear under full power like someone has just fired a gun.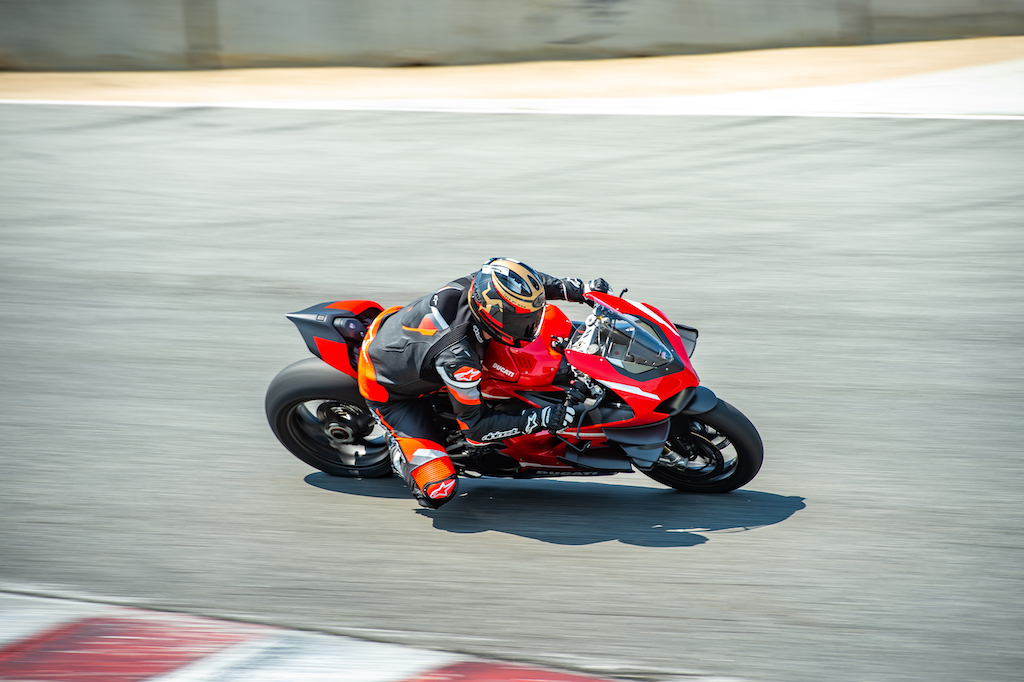 It's all part of an experience that's so far removed from a Panigale V4 S that it's hard to believe they can both be called a superbike. The Ducati Superleggera V4 is the superbike, a bike that will become an instant classic alongside the 916 and 750 SS Green Frame.
At $100,000, it better be awesome, but I'm happy to say, Ducati has absolutely outdone itself with this one.
Images: Kevin Wing, Ducati North America
---