Germany was hot for this MotoGP weekend as we witnessed Marc Marquez return to his winning ways at the Sachsenring.
The heat can cause you to see things that aren't really there. We know what we wanted to see in Germany, but would we see it or just leave wanting to see it? Sometimes you have to believe in magic for the magic to occur. The Sachsenring is a circuit that Marc Marquez has remained undefeated at for the past decade. When the stats are this stacked, people generally cheer for anybody but the dominant one. New blood is what they want.
Except this Sunday was different. Marquez's troubles were well documented. He has been on the comeback but he just didn't seem the same. He had crashed out of the last three races. And the races that he did finish, that old Marquez fire was missing. He was getting beaten up by the field. Karma, it seemed, as Marquez did that to the field during his championship runs. But with Marc, he gave as good as he dished out. Touche'.
This race was different. He was still injured and the question of would he ever regain his Marquez Magic seemed in doubt. If ever there was a track that could conjure up that magic, it would be here, at the Sachsenring.
Ten left-hand corners? This was a Marquez pie that was begging to be eaten by a hungry man. Thirty laps to a busted-up Marquez was a long way to go for a meal. but Marquez was hungry for victory and the Champion needed to be fed.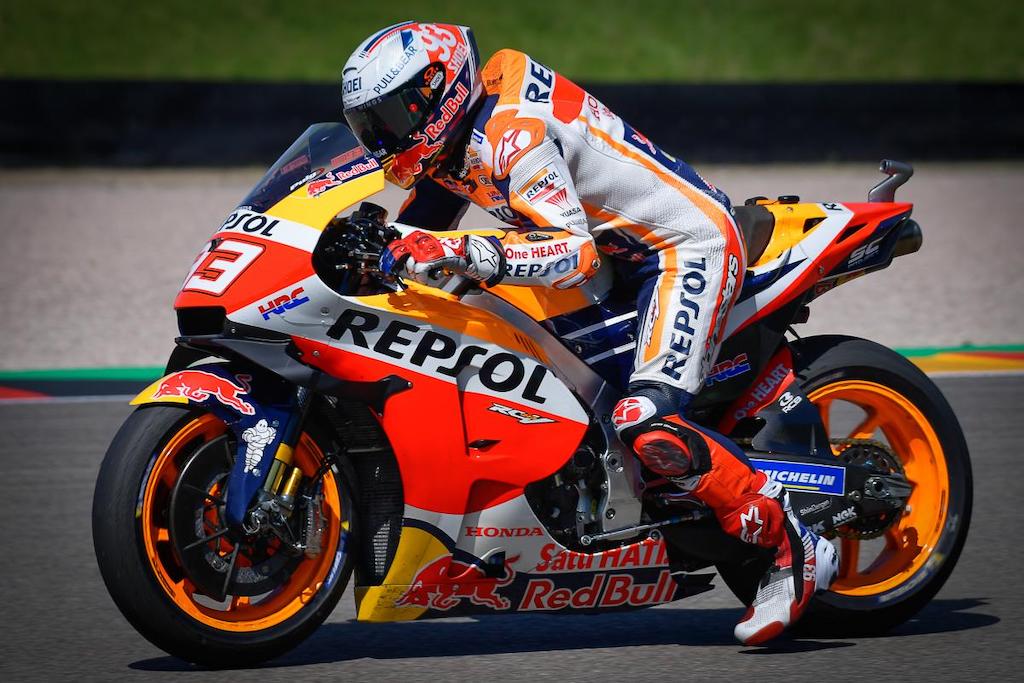 You had to qualify on the first two rows otherwise your chances for victory were nonexistent. Marquez qualified fifth, which meant he'd be starting from the middle of the second row. Prime real estate for the eight-time World Champ.
It took one lap for Marquez to grab the lead. It took a lap in a half for me to realize I wasn't breathing. I literally held my breath at the start of the race and wished Marquez well. Watching your favorite racer can cause you to see things that aren't there. You stay glued watching his every move until you're positive that the move was indeed orchestrated. Marquez was conducting a masterpiece. When a hint of rain made its appearance, instead of being a hindrance, it only seemed to strengthen an even more determined Marquez.
When it became clear that it was a two-man chase, that's when I remembered, "Oh yeah… I gotta breathe before I pass out!"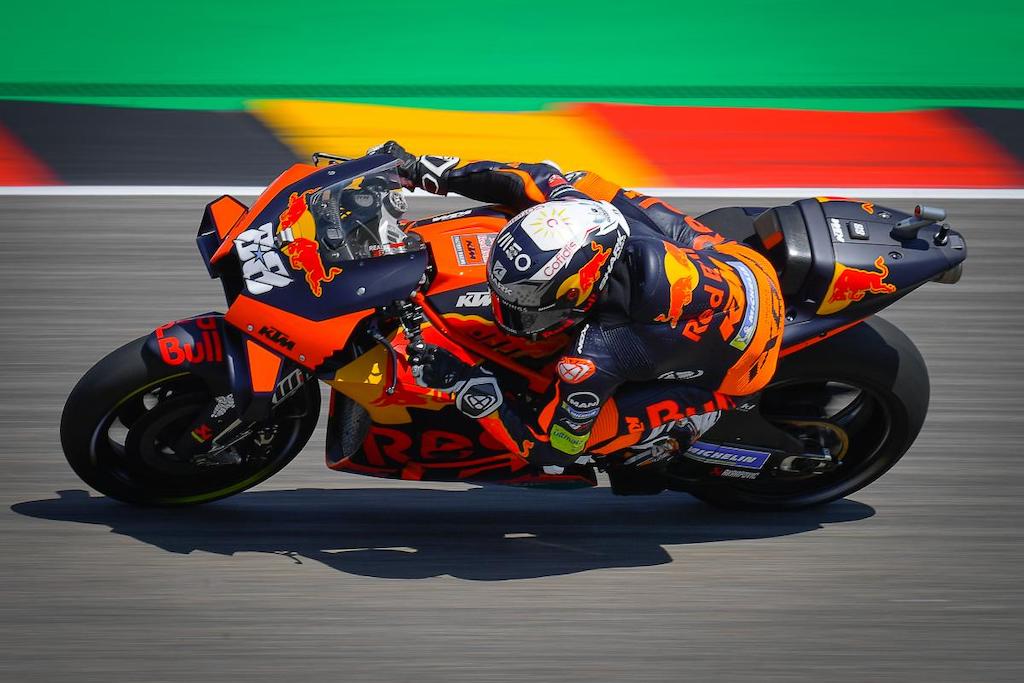 A two-second gap had dissipated to under a second and it seemed only a matter of time before the Champ would succumb to the claws of KTM's Miguel Oliveira. Oliveira and the KTM Crew had recently implemented a new chassis and it was paying off like a slot machine in Vegas, with a win and a podium in as many weeks. The theme from the movie "Jaws" was playing. A victim was in sight. But this time, the swimmer was Michael Phelps. It was a fighter. It wasn't going down without a fight. And that's what Marquez did. He fought like the champion he is. The "Old Marc" was back and it was apparent, he was here to stay.
Oliveira fought as gallantly as he could but Marquez fought harder. The lead never got to under half a second, not even close. It was like watching a champion boxer who is backed in a corner, slug his way out. That's what Marc did, he fought, and he fought, never getting hurt and scoring crucial points!
At lap 28 of the 30 lap affair, it was clear that Marquez had broken Oliveira. All he had to do was hang on and then… Something strange happened. I began chopping onions and my allergies started acting up. That's the only way I could possibly describe my mental state. I began sobbing uncontrollably. The dam had burst and I became an uncontrollable, blubbery mess. As Marc crossed the finish line in the number one position, it seemed I wasn't the only one. The tell-tale sign was watching the Repsol Honda White Shirts, like Alberto Puig, get emotional. Puig is the Stone Face Boss of the Honda garage. It seemed his allergies were acting up as well.
Even those with particular feelings about Marquez relished in his accomplishment. Gone, albeit briefly, were feelings about his race tactics or whatever caused feelings of animosity. Everyone seemed to grasp the enormity of the moment. The almost loss of a career and of health. It seemed everyone was a Marquez fan for at least five minutes.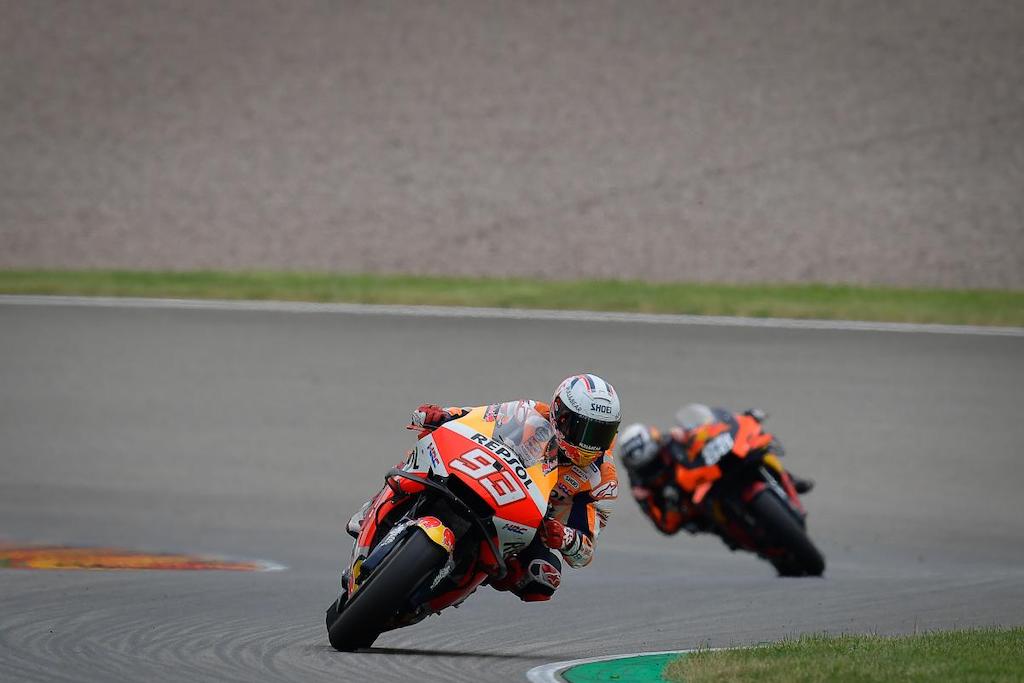 When the dust settled on that Sunday night in Germany, many tales were told that day on the Saschering Circuit. We know that a seventeen-year-old in Moto3 named Pedro Acosta is the truth, by notching another victory in what can only be described as the "barroom brawl" of classes. We know that Remy Gardner is a beast in Moto2 and shows no sign of slowing down his championship charge as he had no problem storming to victory in an ass-kicking performance. Although his Teammate Raul Fernandez crashed chasing him, his face, as he entered the garage, told you, he wasn't going to make it easy for Remy.
But it was the performance of a Champion who was down, but not out, that that stole the day! What the rest of the year holds for Marquez, no one knows but on this Sunday afternoon, Marquez proved, like the Alice in Chains song, "Grind" – "In the darkest night, you'd be well advised, not to plan my funeral… 'fore the body dies!"
The Champ, Marc marquez is still alive and ready to fight, at least on this afternoon at the Sachsenring, he certainly was. The next stop is Assen and we will see what the two-wheeled circus has in store for us. Now excuse me, these damn allergies keep acting up!
---