Honda releases the 2023 Honda Rebel 1100 with a new bagger trim that includes saddlebags and a handlebar fairing.
For 2023, Honda introduces the new "T" trim for the Rebel 1100 that offers a more aggressive styling with hard saddlebags and large handlebar fairing. This new trim is added to the two returning Rebel 1100manual and dual clutch models
The Rebel 1100 features a torquey, liquid-cooled parallel-twin 1,083cc engine that is based on the platform that was made popular in the Honda Africa Twin. However, the Rebel 1100 engine has been fine-tuned with electronic ignition timing and specific fuel-delivery maps, giving it a unique character. The flywheel weight has increased by 20 percent, in comparison to the Africa Twin. This engine has a pulsing, rhythmic feel at idle and low speeds. because of its 270-degree crankshaft design. A two-axis primary balancer eliminates unpleasant vibrations by canceling out primary inertia, resulting in a smooth-running engine that still performs.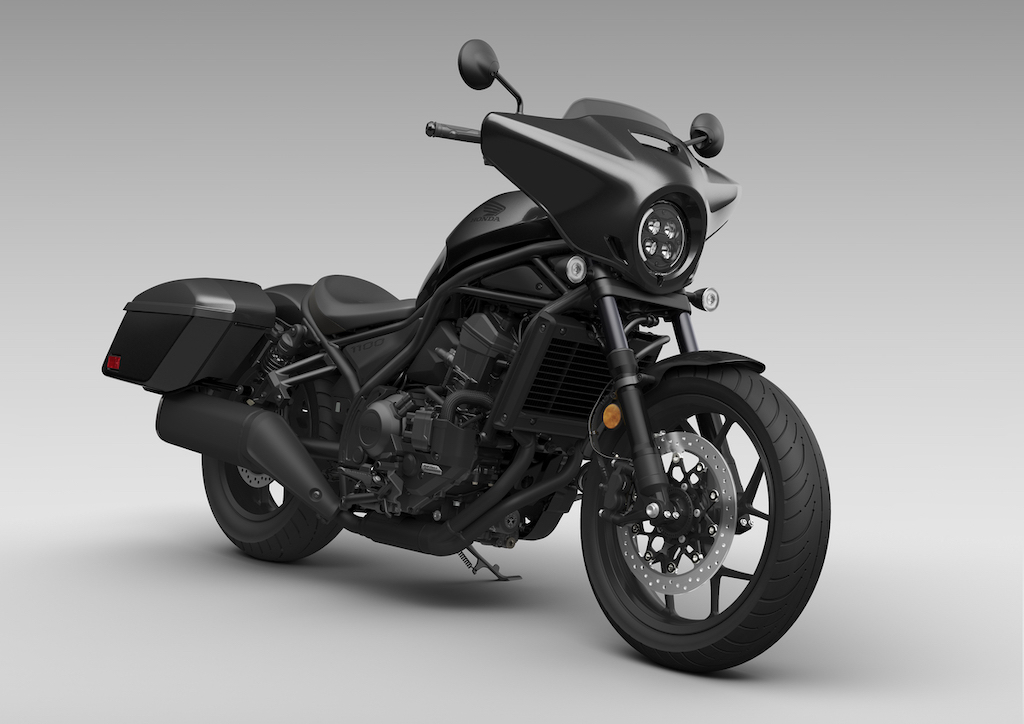 And we have to talk about the Honda Rebel 1100's six-speed automatic dual clutch transmission (DCT). DCT is a geared transmission that is durable and efficient like a conventional gearbox, but it also has an automatic clutch and gear-shifting. Honda debuted DTC technology in the 2010 VFR1200F and this latest-generation Honda DCT features odd and even gear sets that are always engaged and ready for the next shift.
DCT operates like this: A series of sensors collect data that is processed by the ECU to determine when to hydraulically trigger gear changes using an advanced algorithm. At those moments, one clutch disengages and the other engages, resulting in quick, smooth shifts without any gaps.
If you prefer traditional means of banging gears, you can engage the manual mode via the buttons located on the left switch cluster. Note that even when riding in automatic mode, you can momentarily force manual shifts. After several seconds have passed, DTC will switch the transmission back into auto mode.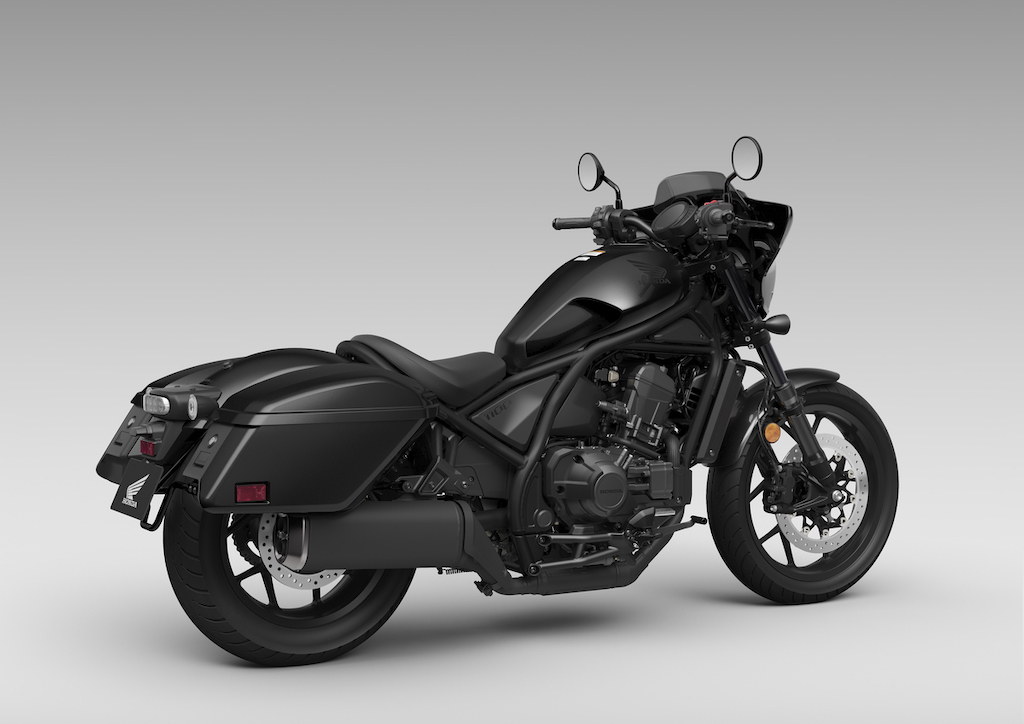 The Rebel 1100's preload adjustable suspension assembly consists of blacked-out stanchions coated with dark navy titanium oxide 43mm conventional telescopic front forks. The two-part sliders are wrought and die-cast aluminum while a cartridge-type damper and 5.5 inches of wheel travel help maintain sporty performance. The rear suspension has Showa dual shocks with 12.5mm shafts and pressurized piggyback reservoirs. Rear-wheel travel is 3.7 inches.
The ABS standard braking department employs four-piston monobloc radial-mount front calipers paired with a floating 330mm rotor. The rear caliper has a single piston operating on a 256mm rotor.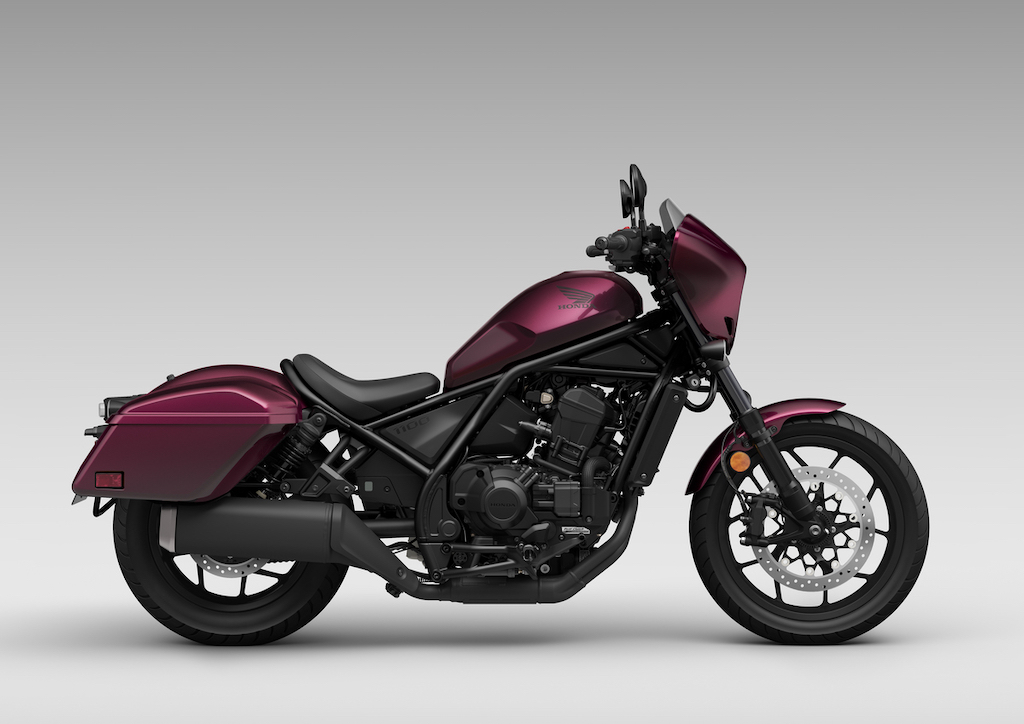 The Honda Rebel 1100 is loaded with a suite of rider aids that include throttle-by-wire, Honda Selectable Torque Control, wheelie control, cruise control, and three riding modes: Standard, Sport, and Rain.
By controlling the throttle opening, Honda Selectable Torque Control prevents rear-tire slippage during acceleration and cornering. When activated, the system monitors speed differences between the front and rear wheels. If the slip ratio goes beyond a certain point set by the rider, ECU will take over to control fuel injection and engine torque to better regulate rear-wheel drive. All status and bike info is displayed on an offset multi-function 4.7-inch diameter screen. Modes and functions can be engaged via the switch clusters on the left and right handlebars.
Other features include the fuel tank that holds 3.6 gallons and includes a 1.1 gallon reserve. The seat (27.5-inches tall) is designed to be comfortable for long rides. with a narrow front section and dished design to keep you in the saddle. The seat is easily removable, revealing a 3-liter storage space, plus 3-amp USB-C terminals. The fork-mounted windscreen provides protection from the elements and the hard saddlebags offer ample storage space.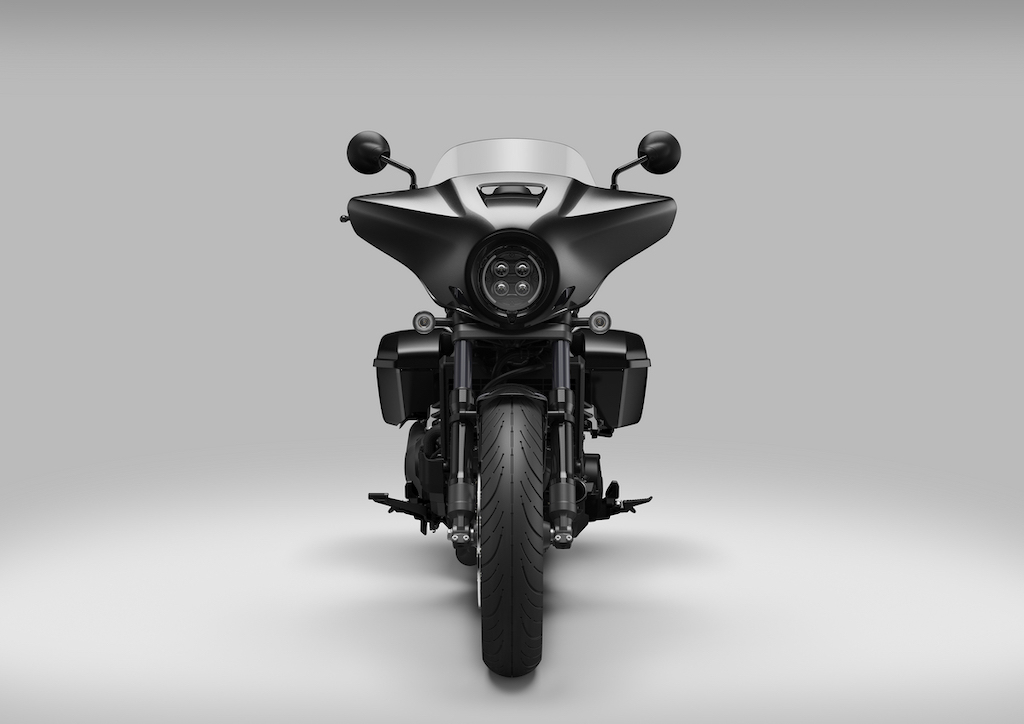 The 2023 Honda Rebel 1100 DCT ($10,099) is available in Iridium Gray Metallic and Green Metallic. The 1100T DCT ($11,299) is offered in Metallic Black and Bordeaux Red Metallic. The 9,499 Honda Rebel 1100 is presented in Iridium Gray Metallic and Green Metallic.
---