The Ducati Hypermotard 950 SP is the kind of bike that your mom warned you about.
Motorcycles are supposed to be fun, right? They're supposed to invoke a feeling of joy. The kind of joy you felt as a kid when all you had to worry about was finding and locating more joy. Some bikes are better at this than others. While some try hard to impress. It's those bikes that impart that joy so effortlessly that we gravitate towards. Much like people. And on that note, ladies and gentlemen, let me introduce you to today's main course: the Ducati Hypermotard 950 SP.
The Ducati Hypermotard 950 SP is the most laugh-your-ass-off-tickle-you-in-the-sweet-spot motorcycle you can get this side of financial ruin.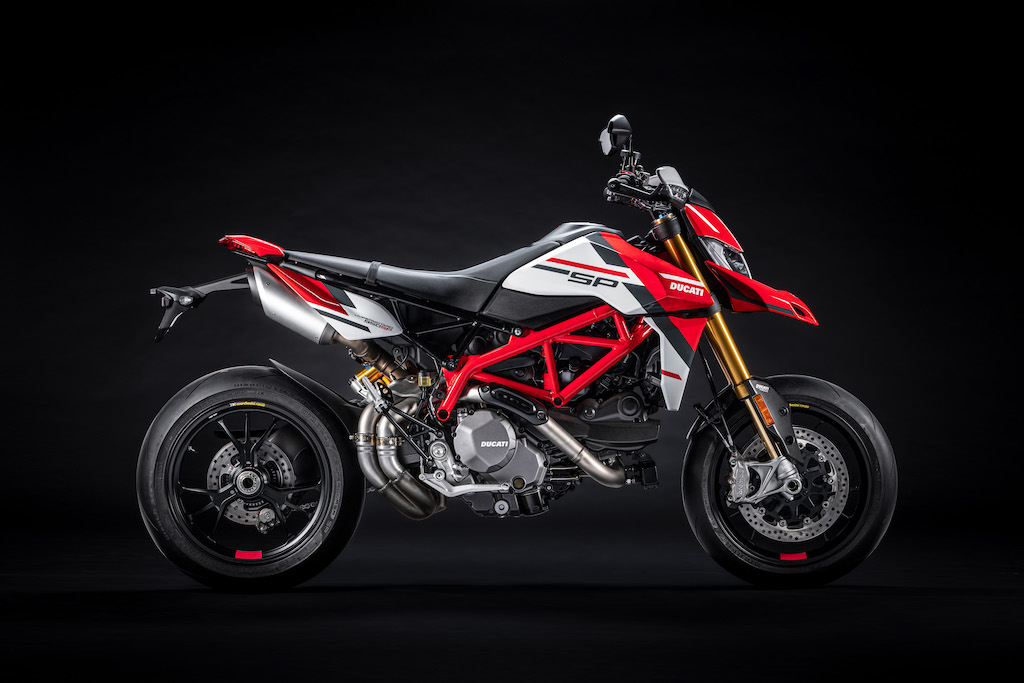 The Hypermotard 950 SP is the kind of bike your mom warned you about. If it were a person, it'd be that kid you hanged around as a teenager that you knew deep down was no good, but you couldn't help loving every second you two got up to god-knows-what horrors together.
It's an absolute middle finger to sense and sensibility. Life beats you down enough as it is, shouldn't this bike lift you up?
The Ducati Hypermotard 950 SP is mechanically identical to the 950 and 950 RVE (that we don't get in America) save for the gorgeous gold 48 mm Ohlins fully-adjustable fork and shock, the sexy AF forged aluminum Marchesini wheels, Ducati Quick Shift EVO system, carbon fork guards and the MotoGP-derived paint job.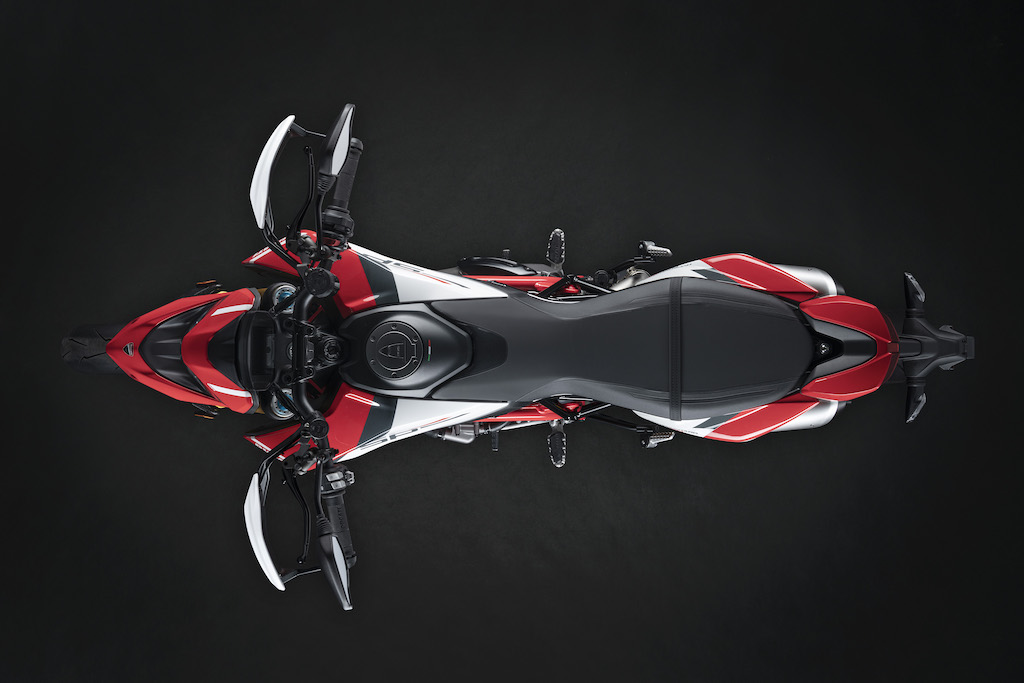 Everything else from the 6-axis IMU that mitigates all the usual Ducati electronics like traction and wheelie control and cornering ABS, to the 937 cc Ducati Testastretta 11° twin-cylinder, 114 hp/71 lb-ft motor also found on the Monster, and the tubular steel frame is the same.
Costing you a handsome $17,495 (some $3500 more than the base model and not including the Termignoni muffler our test bike came with), you're definitely paying for the privilege of shredding your license at the drop of the clutch because, I assure you, this bike is way more fun with the wheelie control switched off…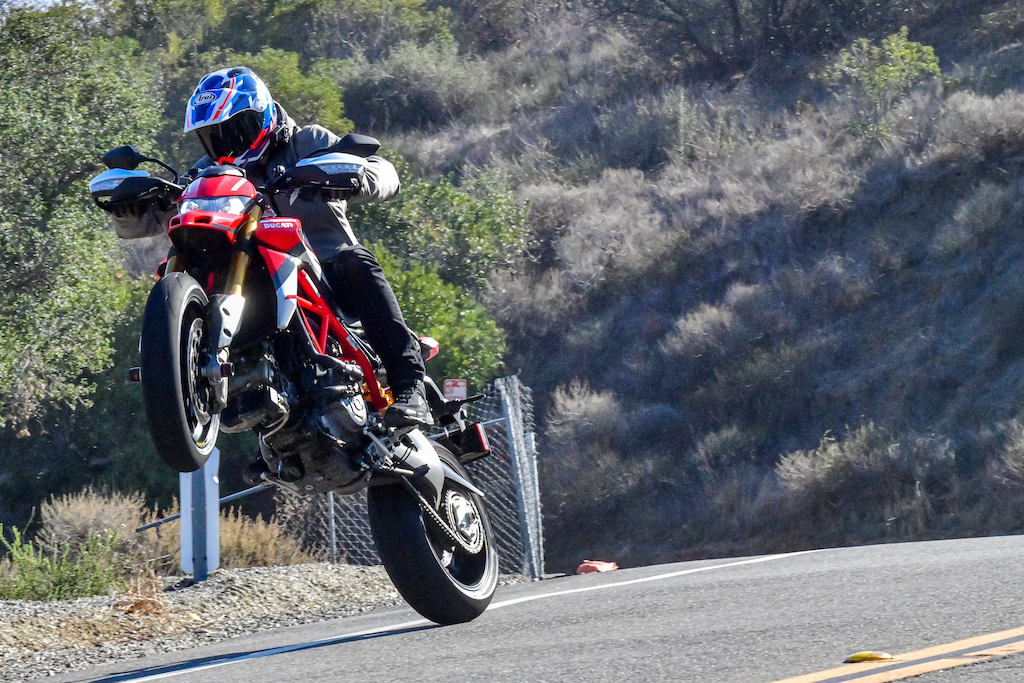 You sit right over the front of the Hyper in much the same style as a KTM 450 SX-F. You're so forward you feel you could almost grab the front axle with your heels, and the riding position means you can steer a Hypermotard through tight and twisty sections of tarmac like a, you guessed it, KTM 450 SX-F.
The Ducati Hypermotard 950 SP simply annihilates slow to medium speed corners. This motorcycle is the definition of hooligan, and a clear and present threat to your license should you use it incorrectly.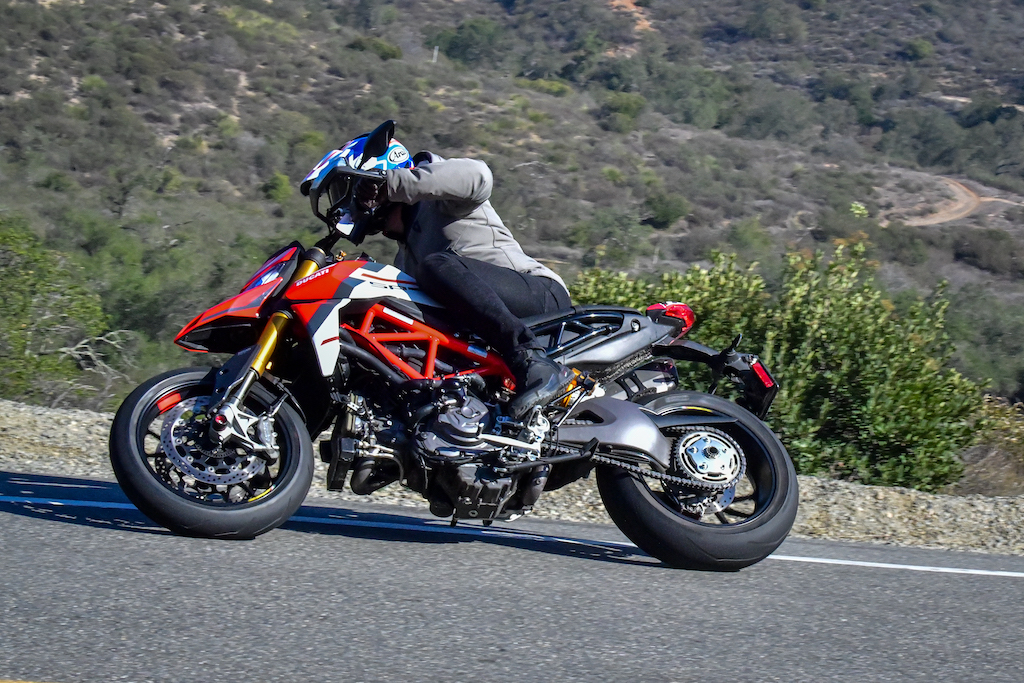 The seat is like a plank, so after an hour at best you'll be looking for the nearest stopping point. As the ride position is much like a dirt bike you're essentially a massive sail on the freeway, which makes for pretty tiring riding after a while. That's not what this bike was designed for. It was meant to spend as little time as possible on the center of the tire, preferring instead to locate the tightest, snottiest switchbacks and munch them for a pre-dinner snack.
Despite this hooligan demeanor, the Ducati Hypermotard 950 SP can play nice just as easily. There are few finer bikes for just ripping down to the shop to grab a few supplies as you're seated nice and tall and the motor is mapped about as sweetly as when god created Scarlett Johansson.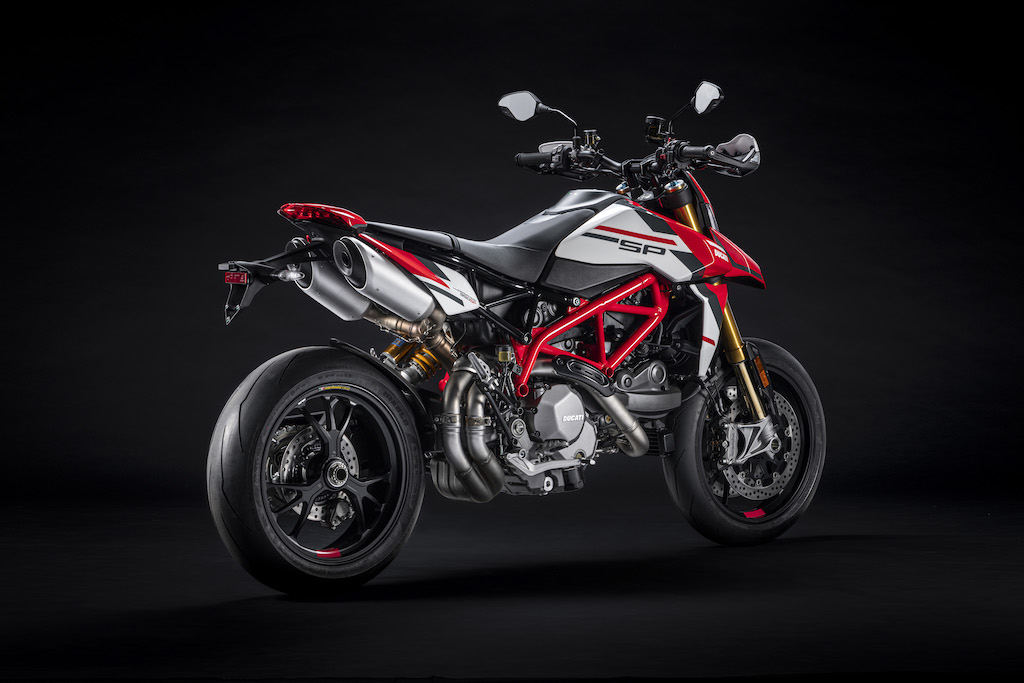 The initial touch of the throttle is delightfully smooth in either of the three riding modes of the full-house, 114 hp Sport, Touring or 75 hp Urban (you can take a wild guess which mode I spent most of my time in), and is a far cry from when cracking the throttle on a Ducati L-twin at low speed/low revs was like firing a handgun.
And when matched to the Ducati Quick Shift EVO, life is most certainly good. Although I did have more than a couple of issues trying to find neutral when coming to the traffic lights, which was quite the annoyance. But it was nowhere near enough to dampen my enthusiasm for this motorcycle.
There are so many more bikes in Ducati's line-up that do one thing way better than the Hyper (Multistrada for touring, Panigale for racing, Diavel for cruising), but none make you grin like the Joker himself than the Hyper.
The Ducati Hypermotard 950 SP exists for no other reason than to make you laugh your ass off. And that's as good a reason as any in my book.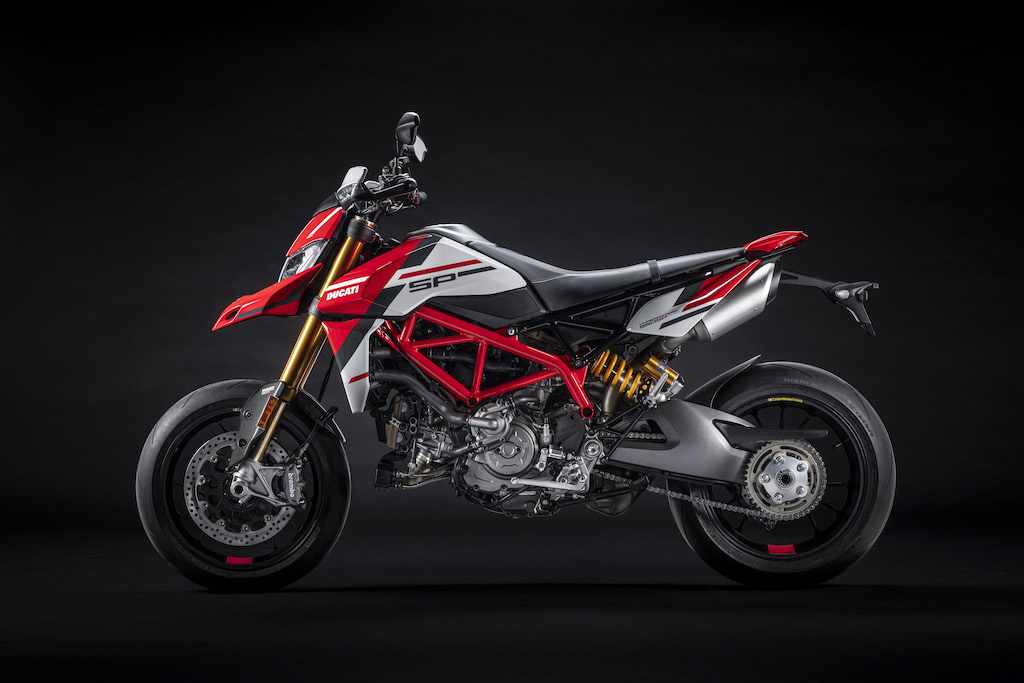 ---