Brad Binder and KTM continue their successful partnership as Binder signs an extended contract with Red Bull KTM Factory Racing, securing his presence in MotoGP until 2026.
In a testament to the strong bond between rider and team, Brad Binder has solidified his place in the MotoGP landscape by agreeing to an early contract extension with Red Bull KTM Factory Racing. The South African star, known for his skills and determination, will remain an integral part of the MotoGP project until the conclusion of the 2026 season. This contract extension comes after the agreement was signed at the team's home Grand Prix at the iconic Red Bull Ring in Austria.
At 28, Binder's journey with Red Bull KTM is set to continue, with his association with the KTM RC16 flourishing since its inception in 2020. A rider with a remarkable journey, Binder's connection with the factory dates back to 2015 when he became part of the Red Bull KTM structure. This period marked the commencement of his five-year tenure with the Red Bull KTM Ajo crew. His journey included a triumphant victory in the 2016 Moto3 championship, followed by an impressive run in Moto2, where he secured 8 wins and stood on the podium 15 times during a three-term development phase.
Brad Binder's transition to the MotoGP Red Bull KTM Factory Racing team in 2020 was a significant milestone. Notably, he became the first athlete to progress through the KTM GP Academy scheme, ascending from his formative days as a participant in the Red Bull MotoGP Rookies Cup during his teenage years. His remarkable debut year in the premier class saw him clinch KTM's inaugural MotoGP victory in the Czech Republic Grand Prix. Binder continued to shine with seven podium finishes, achieving a career-best championship finish of 6th.
The 2021 Austrian Grand Prix at the Red Bull Ring witnessed another achievement in Binder's MotoGP journey as he claimed his second victory, solidifying his status as a critical figure in the KTM MotoGP narrative. This season, Binder's performance in Argentina also earned KTM its first MotoGP Sprint Race win.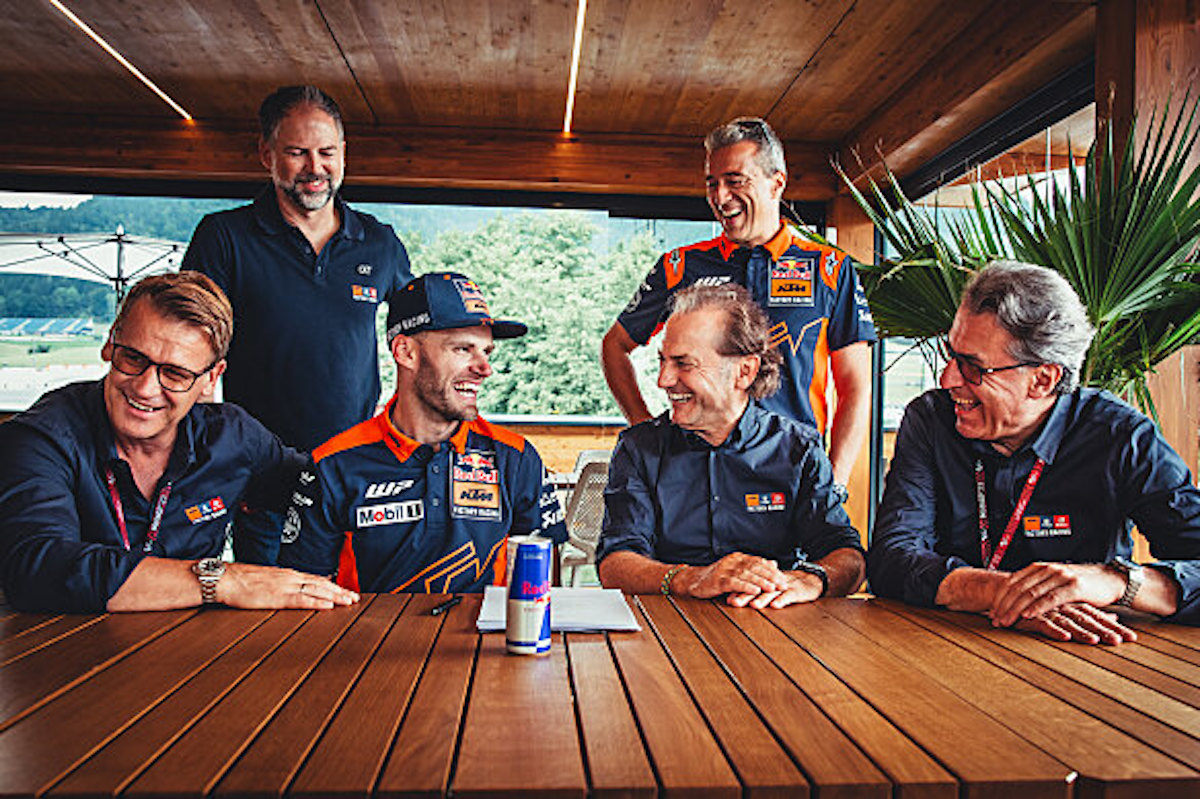 Although Binder already held a contract for the 2024 MotoGP campaign, his decision to extend his commitment reflects his role as a pivotal rider for Red Bull KTM Factory Racing's Grand Prix ambitions.
Binder's gratitude to KTM was evident as he expressed, "I cannot say enough good things about the team and my crew." His journey with KTM since 2015 holds a special place, and he looks forward to building more memories in the future.
Francesco Guidotti, Red Bull KTM Factory Racing Team Manager, praised Binder's contributions and the strong foundation they have built together. Pit Beirer, KTM Motorsports Director, echoed the sentiment, emphasizing Binder's exceptional character and role as an ambassador for KTM.
With this contract extension, Brad Binder and KTM are poised for a future filled with promise, teamwork, and the pursuit of MotoGP excellence.
---