The new BMW R 18 Roctane is the fifth member of the BMW R 18 family.
Inspired by the 1936 BMW R 5 model, with a focus on the iconic air-oil-cooled boxer motor, the new R 18 Roctane has a classic "streamliner" look. Refined and simplistic design with modern technology results in an enhanced riding experience.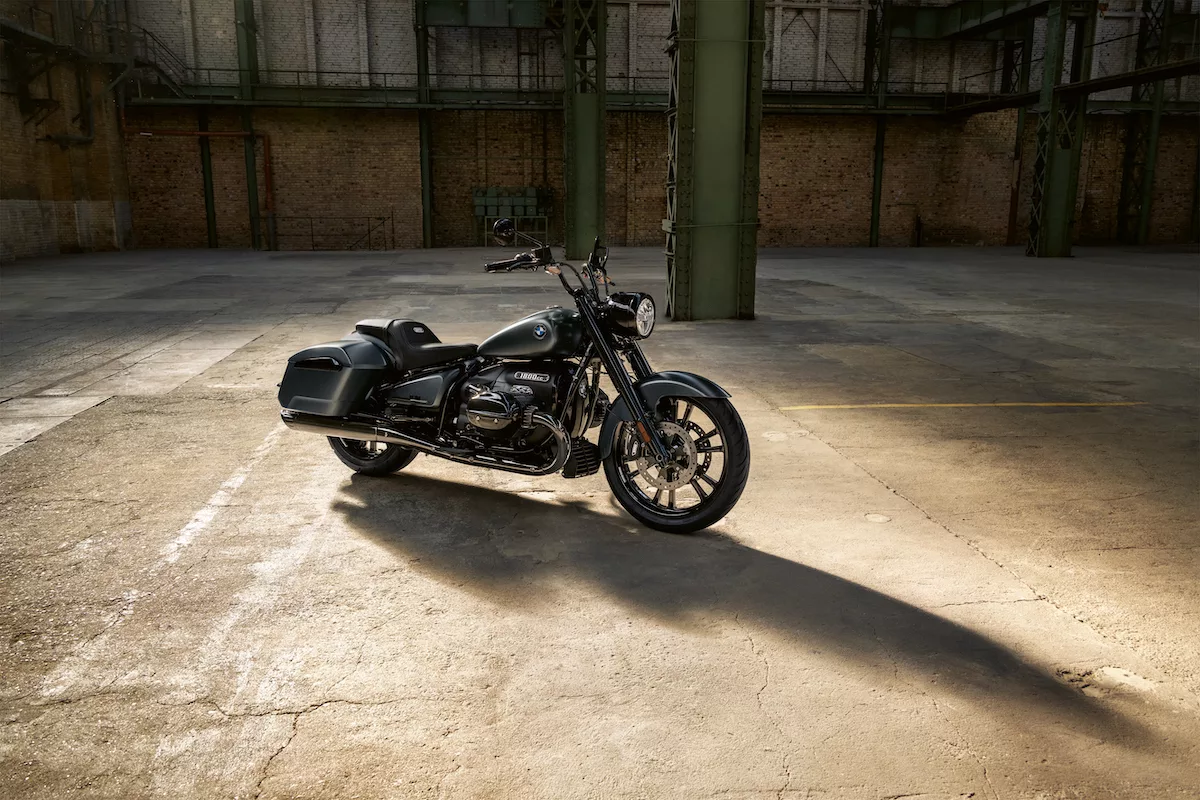 The BMW R 18 Roctane boasts a 1,802-cc boxer engine, a cornerstone of BMW Motorrad production since 1923. Performance specs read out at 91 horsepower at 4,750 rpm and a maximum torque of 116 lb-ft at 3,000 rpm. Additionally, the engine offers more than 110 lb-ft of torque between 2,000 to 4,000 rpm and has a maximum speed of 5,750 rpm.
The air/oil cooled motor is constructed with a vertically split aluminum engine and weighs 244 pounds with the transmission. This engine is the largest BMW boxer motor ever used in a production motorcycle. The engine has a forged crankshaft with an extra center main bearing to prevent bending vibrations caused by the large cylinder volume. Other features of this motor include forged connecting rods, cast aluminum pistons, NiCaSil-coated cylinder walls, and a wet sump lubrication system with a two-stage oil pump driven by a sleeve chain. The twin camshafts decrease the length of pushrods, resulting in lower moving masses, less deflection, and limited linear expansion of pushrods. The fork rocker arms actuate two intake and exhaust valves in pairs in the cylinder head. Each valve has one adjusting screw with a lock nut, allowing for quicker and easier valve clearance adjustments.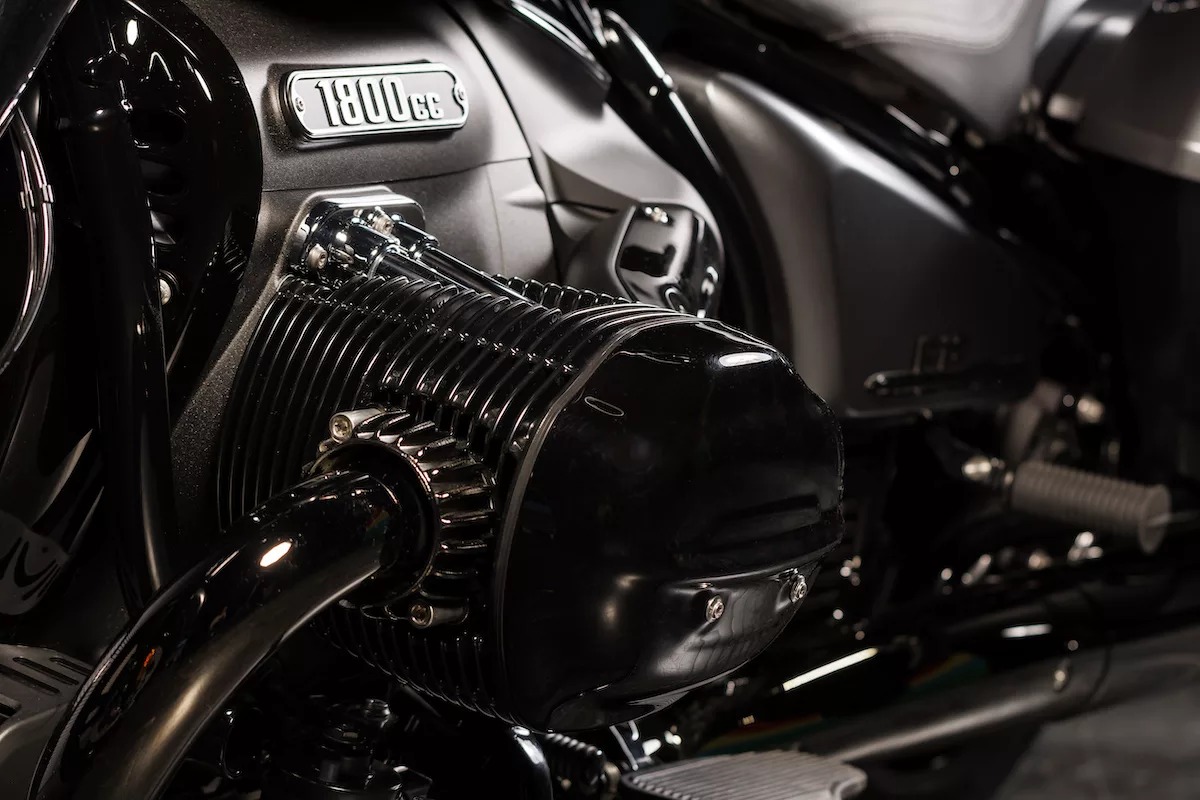 The motorcycle has a 6-speed gearbox of four shafts with helical gear pairs in a two-part aluminum housing. The input shaft with cleat damper drives the transmission shafts via a countershaft. An optional reverse gear, driven by an intermediate gear and an electric motor, is available. The motorcycle has a single-plate, dry, self-reinforcing anti-hopping clutch to prevent rear wheel hop from engine drag torque during hard downshifts.
The R 18 Roctane has several distinguishing features such as mid-rise handlebars, an instrument cluster integrated into the headlight housing, painted hard side cases with integrated turn signals, a blacked-out engine and drivetrain, a dark chrome exhaust system, and 21-inch front and 18-inch rear alloy wheels.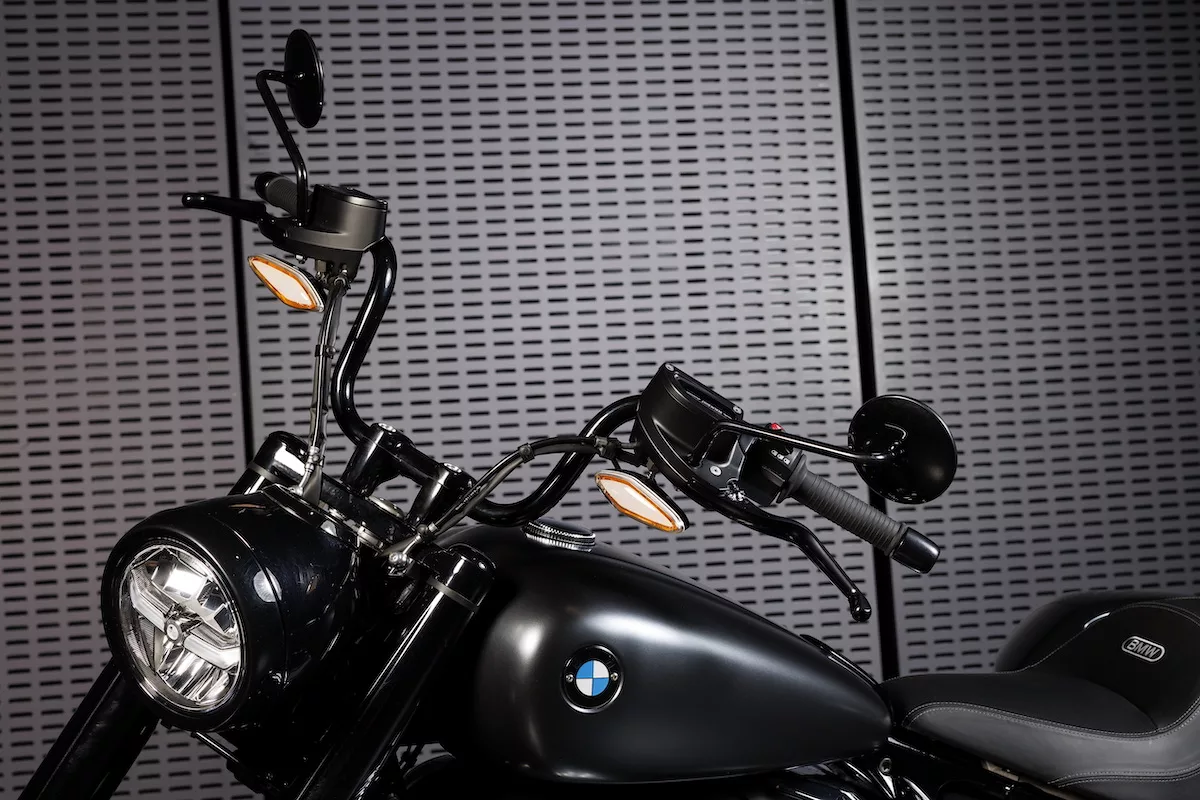 The frame spine forms a visually continuous line, rear swing arm top frame tubes, and steering head. The lower beam tubes of the swing arm are aligned with the frame down tubes, contributing to the bike's muscular appearance. The 4.2-gallon fuel tank has a teardrop shape, which the R 5 model inspired. The bike's front and rear fenders, fork covers, and headlight housing are also made of steel.
The new R 18 Roctane has the same double-loop steel tube frame as the R 18 and R 18 Classic. The chassis features high manufacturing quality and attention to detail, with subtle design elements in the steering head struts and welded joints between steel tubes and cast/forged parts. In addition, some tube joints in the steering head have an angled cut, creating an aesthetically pleasing connection.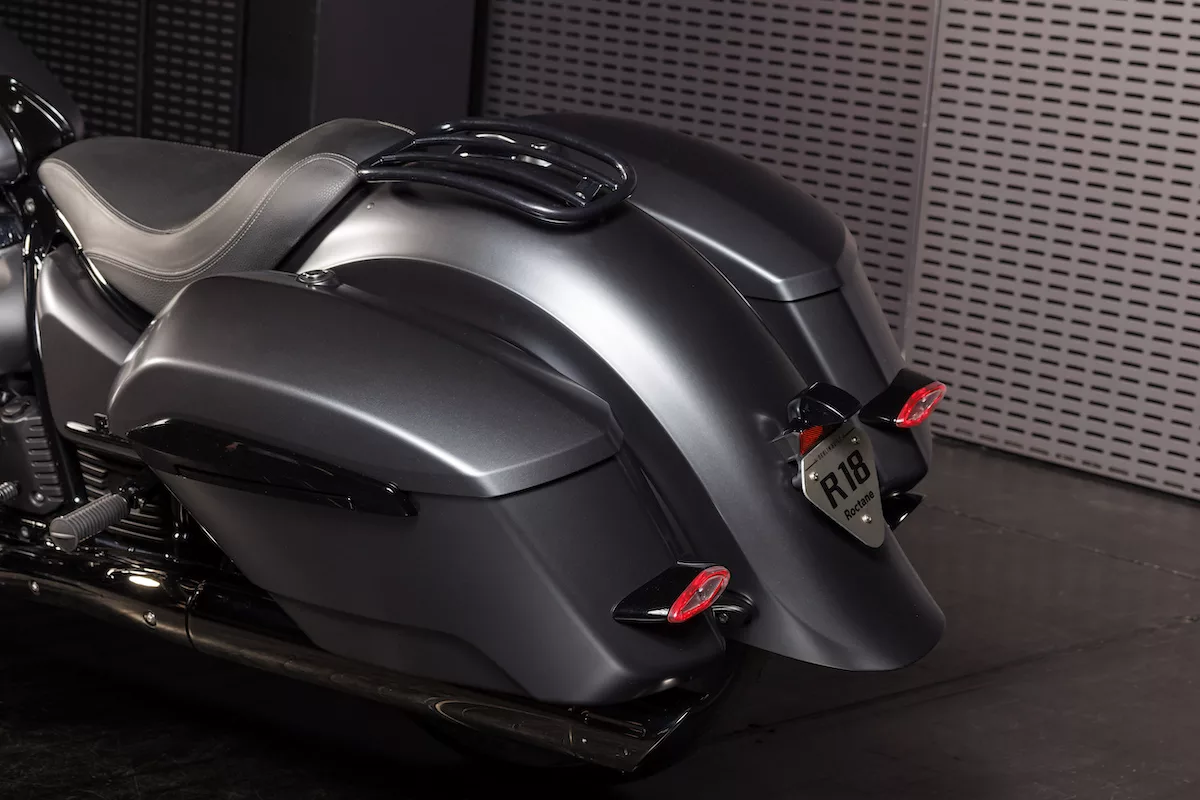 The R 18 Roctane has painted hard cases with integrated LED taillights and can hold 27 pieces of luggage each. The round instrument cluster is integrated into the metal LED headlight housing, as seen on BMW motorcycles from the 1930s to the 1970s. The instrument dial also features "BERLIN BUILT" lettering, paying homage to the bike's origin.
The suspension of the new R 18 Roctane has a classic design and does not have electronic adjustment options. Instead, it has telescopic forks and a central shock with travel-dependent damping and adjustable spring preload to provide excellent wheel guidance and suspension control for a comfortable ride. Like the legendary BMW R 5, the fork tubes are encased in fork sleeves. The front suspension has a fixed fork tube diameter of 49 mm and a travel of 4.7 inches, while the rear suspension has a travel of 3.5 inches, the same as on the R 18.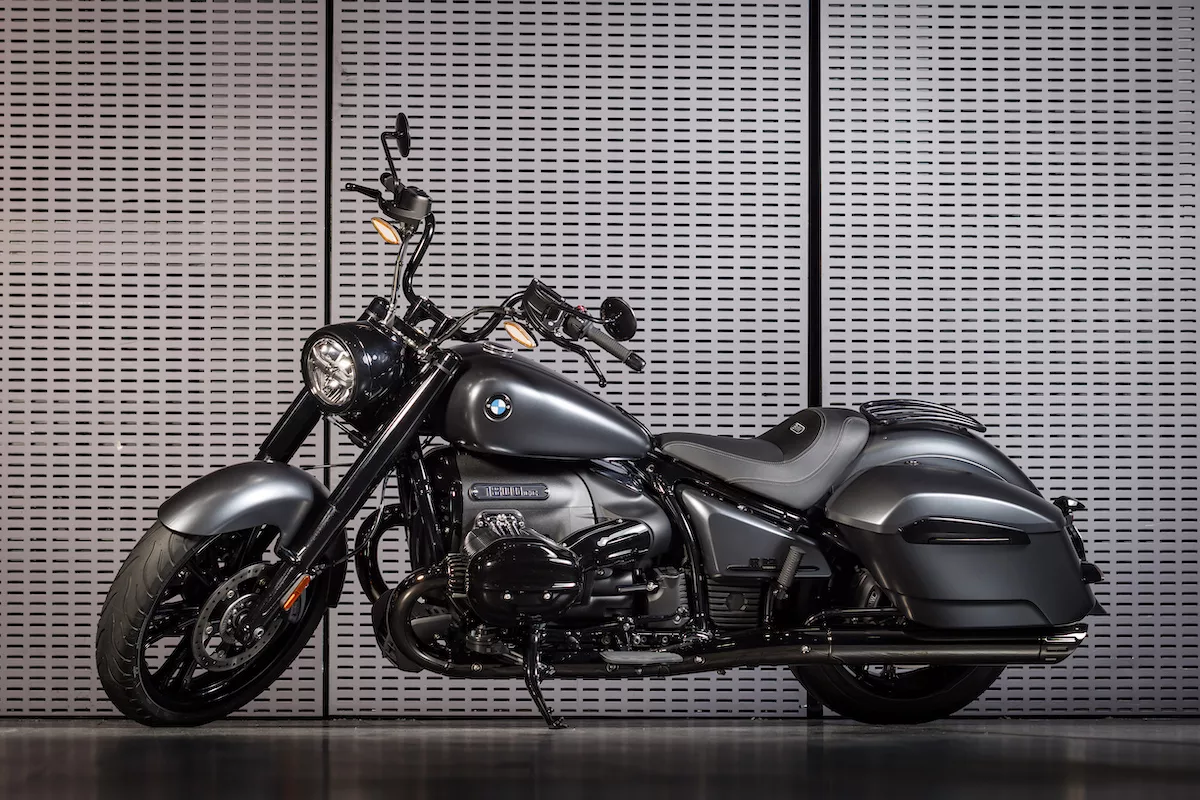 The BMW R 18 Roctane has mid-mounted controls, a narrow two-level seat that gets thinner towards the back and comes with straps for passengers, running boards, and a heel-toe gearshift control.
The brake system includes twin 300 mm front disc brakes with four-piston fixed calipers and a 300 mm single-disk rear brake. It also comes with standard BMW Motorrad Integral ABS (partially integral).
The cast alloy wheels measures 3.5 x 21 inches with a 120/70 B21 tire at the front, while the rear wheel is 5.5 x 18 inches with a 180/55 B18 tire. In addition, the 21-inch front wheel, the castor extends further, increasing straight-line stability to 7.3 inches in the R 18 Roctane versus 5.9 inches in the R 18.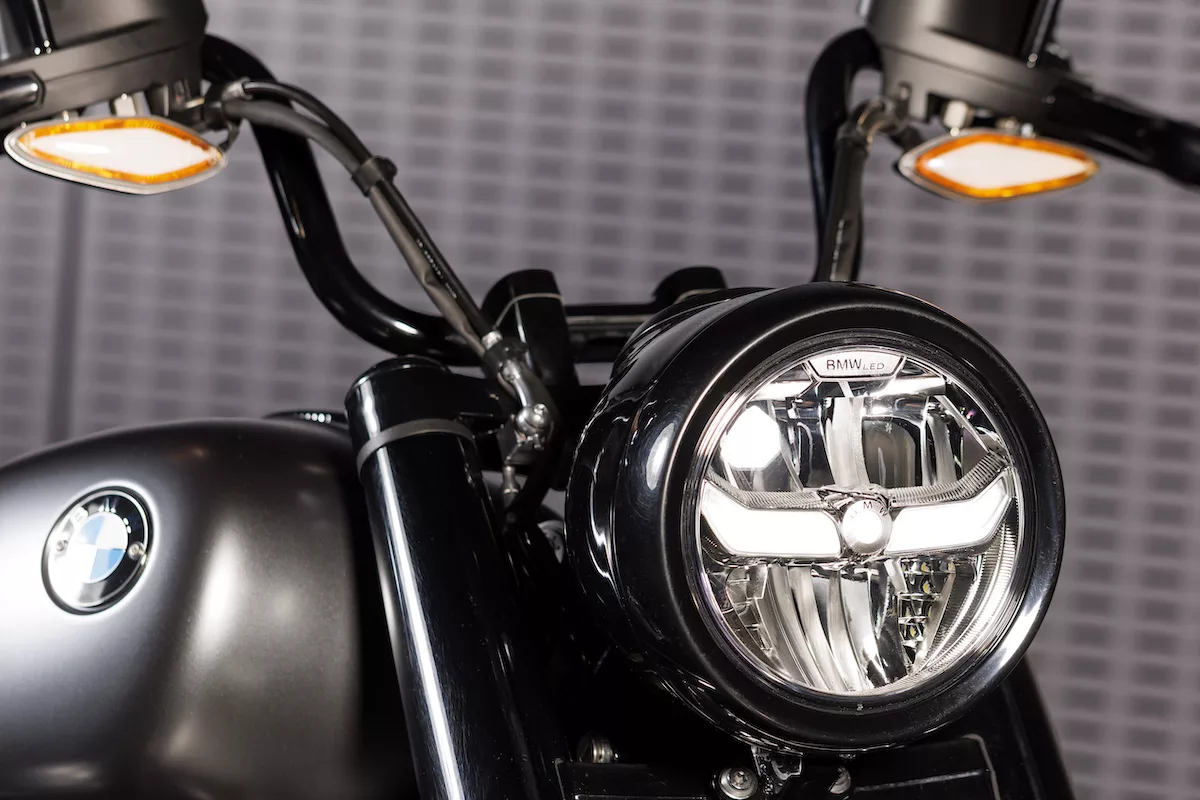 When riding the bike at night or in poorly lit conditions, the adaptive headlight can be activated by reading the signal from the lean angle sensor. This function turns on when the engine is running, the low or high beam is activated, it's dark out, and the motorcycle is moving at a speed of at least six mph and leaning at an angle between 7 and 25 degrees.
The R 18 Roctane comes with standard cruise control, and you can also choose to add Reverse Assist and Hill Start Control as optional features. Reverse Assist can be activated using the selector lever whenever necessary and started by pressing the starter button.
The BMW R 18 Roctane comes with a keyless start and three riding modes: Rain, Roll, and Rock. It also features standard ASC (Automatic Stability Control) and Engine Drag Control, ensuring higher riding safety. In "Rain" mode, the bike's throttle response becomes smoother, and the ASC and engine drag control settings help ensure safe riding on wet and slippery roads. "Road" mode is for optimal performance on all roads, with ideal throttle response and ASC and engine drag control settings. Finally, switching to "Rock" mode allows you to explore the R 18 Roctane's full potential. Throttle response is very direct, and ASC allows for a little more slip.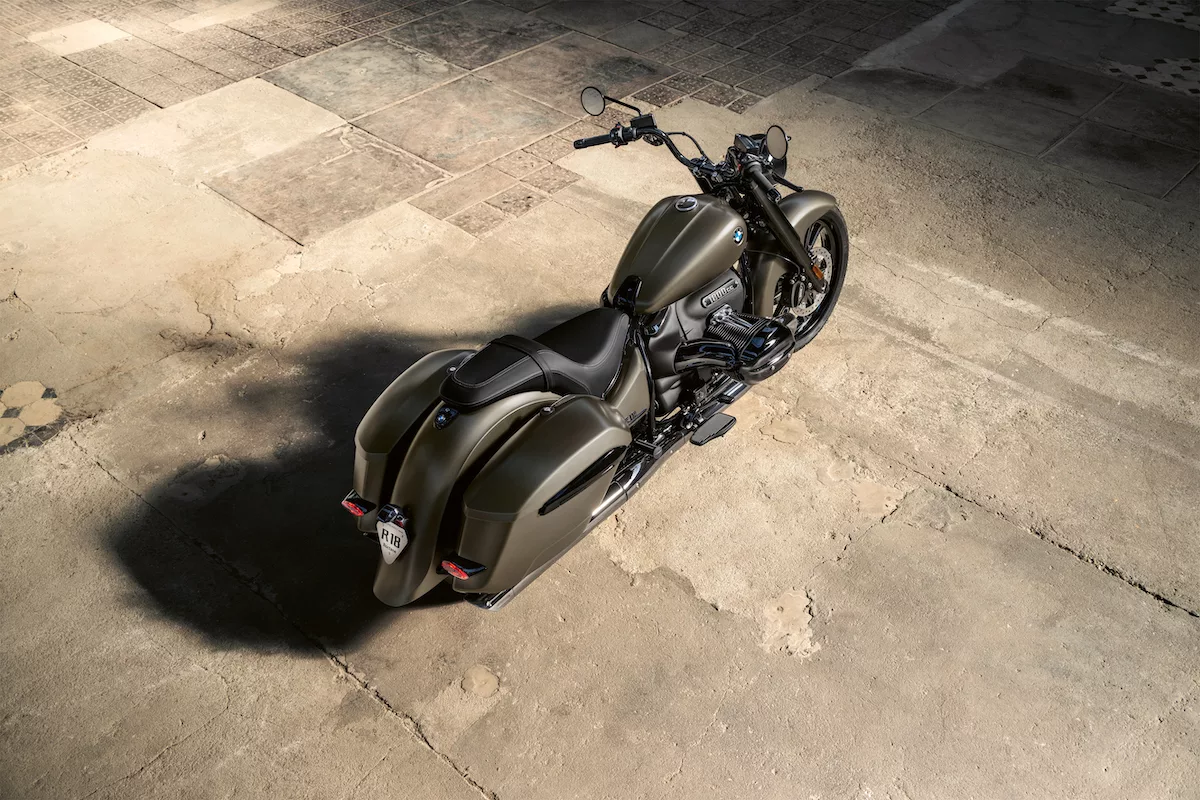 The Engine Drag Control, which is electronically controlled, prevents the rear wheel from slipping when there are abrupt throttle changes or downshifting.
The $18,695 BMW R 18 Roctane is available in Black Storm Metallic, Mineral Gray Metallic Matte, and Manhattan Metallic Matte and now joins the Heritage line R 18 family, alongside the R 18, R 18 Classic, R 18 B, and R 18 Transcontinental.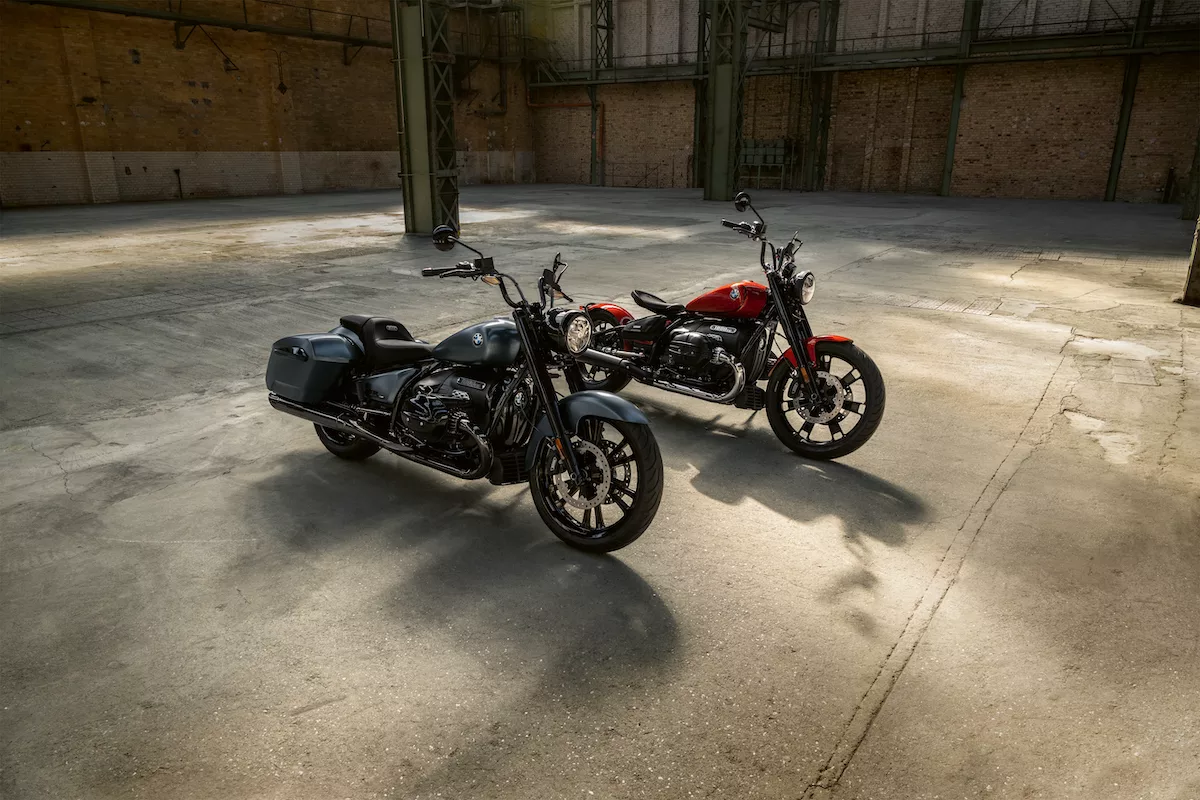 ---