---

---
Good Times. Good Friends. Two Wheels. That's what Babes Ride Out is all about.
"Good Times, Good Friends, Two Wheels"; the quote that continues to be an integral part of the Babes Ride Out (BRO) event held every fall in Joshua Tree, CA. After it's inception five years ago, this women's only celebration of female motorcyclists has become nothing short of a phenomenon with similar events cropping up all around the world. For me, as tempting as it is, to sum up the Babes Ride Out experience in a single quote or even an entire article, is a difficult task. Even so, I shall do my best for the loyal SBI readers!
2017 was my second year attending the ever-growing motorcycle ride and camp out in the desert that's lovingly referred to as "BRO" and sometimes simply as "Babes". What brought me back, you ask? I'll tell you.
As a woman, I know that an event solely for women must be full of goodies to meet the general female requirements of a rocking good time. With that being said, BRO is not just a motorcycle ride and camp out although riding motorcycles is truly what brings all these ladies together. The Joshua Tree campsite is adorned with vendors, food trucks, a stage for live music and of course a mechanical bull providing lots of friendly 8-second competition during the "BROdeo" (clever right?). The onsite food options thoughtfully include vegan selections and cold-pressed juices, this is Southern California after all.
During the day it's all about exploring the surrounding sights on motorcycles. Suggestions for ride routes and maps are provided allowing the ladies to choose what best suits their group. Up to Idyllwild for lunch and a change of scenery? Over to the desert wonder of Salvation Mountain for some inspiration? Or there's always a short ride to Pioneer Town to visit the famous Pappy and Harriet's restaurant. The options are endless and one thing is for sure, the sheer volume of women on motorcycles is a spectacle, enough to stop anyone in their tracks.
---
---
Our group had intentions of an Idyllwild ride but after some aggressively strong winds and dropping temperatures we opted to check out Pioneer Town and enjoy lunch. One thing to know about BRO is that it truly feels like a sisterhood. Simply walking through the restaurant to find a seat is an experience of meeting new friends and greeting fellow "Babes" even if you've never met.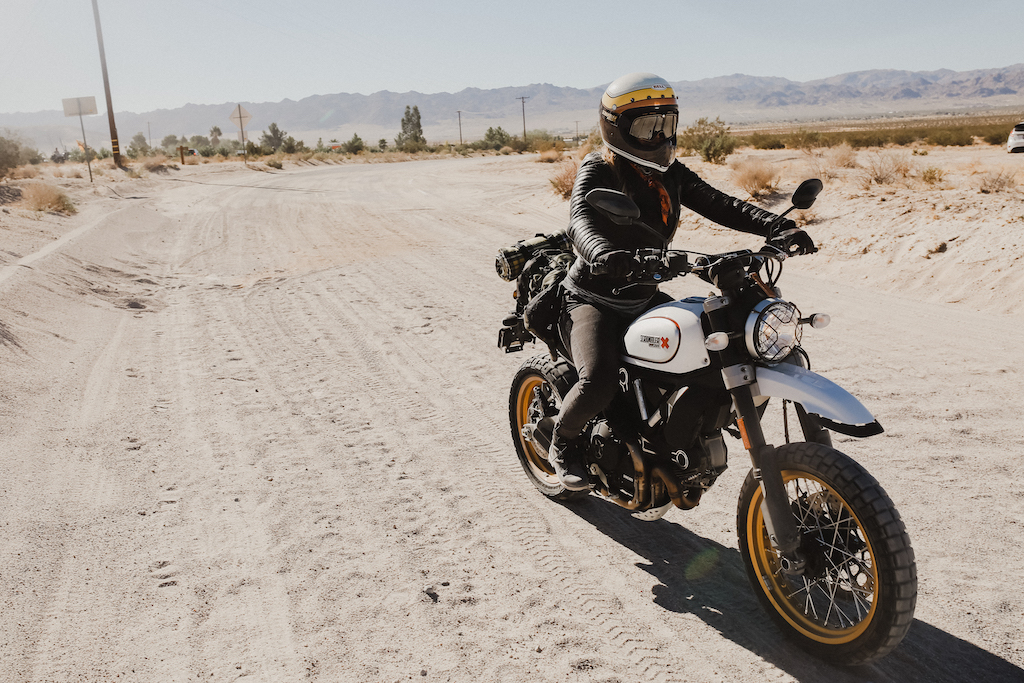 As the ladies start to return to camp after the day's ride, the evening starts to set in bringing its own action. The pop-up tattoo shop and the photo booth capture memories under the stars as music and laughter fill the crisp night air. This year we were completely spoiled with live performances by the talented sister duo, Larkin Poe and one of my personal favorite rock stars, Dorothy!
With this year's event being my second go around, it was especially fun to run into friends I had made the year before. Catching up and reminiscing about the previous year's adventures while meeting new like-minded people is one of my favorite parts of BRO. This is the type of event that you could show up to completely alone and leave with a pack of new girlfriends. Bonus: they ride motorcycles!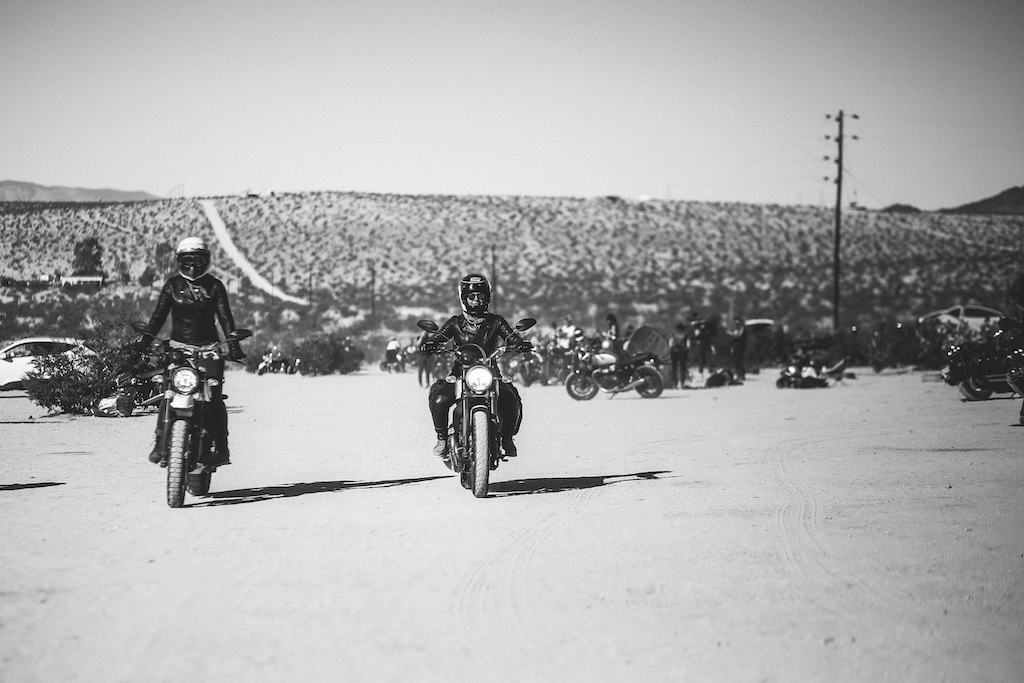 Packing up camp came with bittersweet recounts of the memories made over the past few days. We talked about not wanting the weekend to end as we rolled our sleeping bags and cleaned our helmet shields in preparation for the ride back to our daily lives.
So what is Babes Ride Out really all about?
Pillow fights? Sorry to disappoint guys, not the case.
For me, BRO is about women having the freedom to be who they are in the presence of other women while sharing one common thread. We all have different backgrounds, live in different places, have different life experiences and crazy pasts but the passion for swinging a leg over a bike and feeling the road under our tires runs deep within each "Babe" that shows up in the Joshua Tree desert during these few days. Just as the old saying goes "You meet the best people on a motorcycle."
See you Babes next year!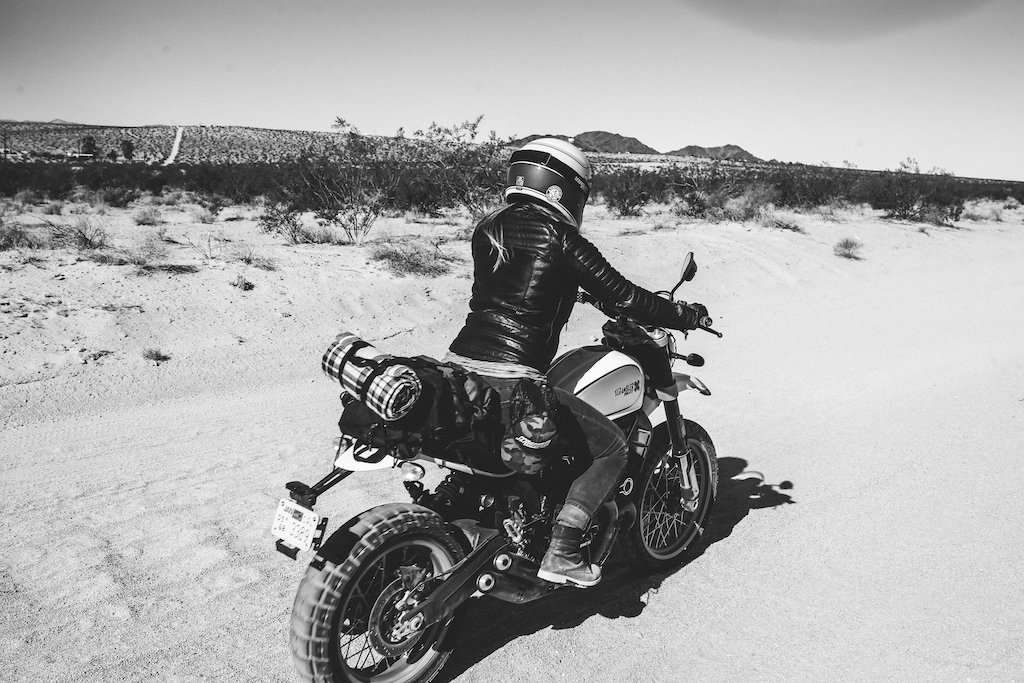 Images: Lindsey Grace Whiddon
---