The Stars and Stripes are ready for battle in 2022. The American Racing Team prepares for the upcoming season with a regal team launch.
When it comes to international motorcycle racing, there's no more competitive category than Moto2. The intermediate level is the most hotly contested of all grand prix classes, due to the parity that exists between machines and the fact this is the final step on the ladder before cracking the big time in MotoGP. The 2022 season marks the fourth for America's sole representatives in the MotoGP paddock in the American Racing Team.
This year, the team will be fronted once again by five-time MotoAmerica and Moto2 sophomore, Cameron Beaubier, and his new teammate, 2021 MotoAmerica Supersport Champion, Sean Dylan Kelly, marking the first all-American grand prix team since Wayne Rainey and John Kocinski flew the flag for Team Roberts in 1992.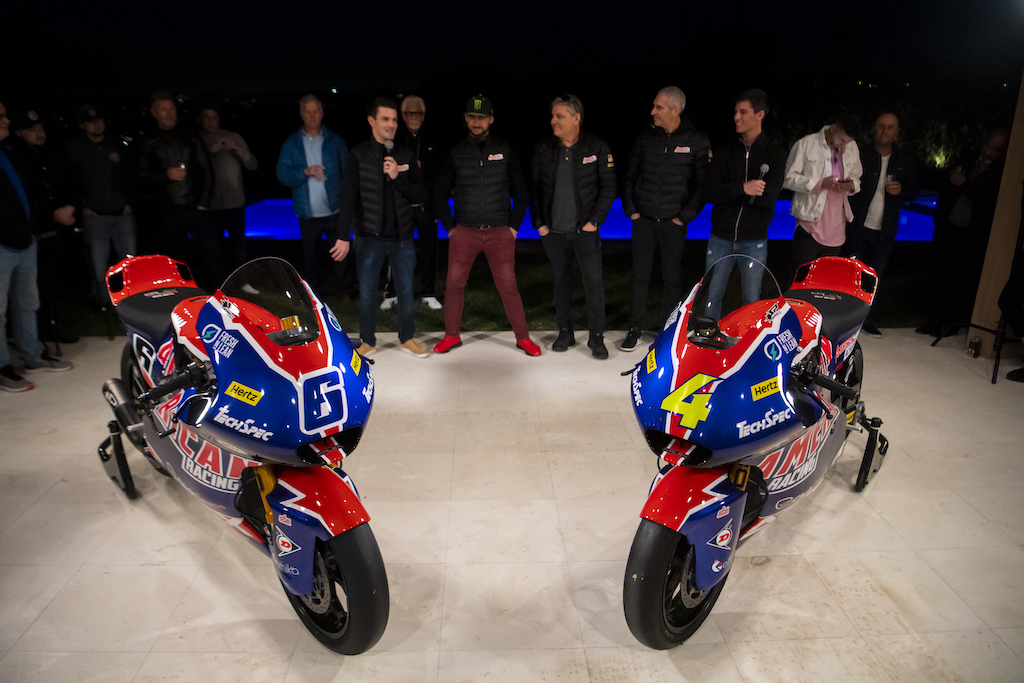 At a regal event at team owner Eitan Butbul's estate in Calabasas, CA, Beaubier put his most polished foot forward for the established racing glitterati, but is under no illusions as to the task at hand in 2022.
"It's kind of time," the Californian said. "I want to run up front. I did on a couple of occasions last year when everything went right and it felt really good. I want more of that."
Beaubier's rookie season was marred by too many crashes interspersed with the kind of speed that made him near unbeatable on the factory Yamaha in MotoAmerica, but a rousing ride to fifth at Circuit of The Americas in front of a roaring partisan home crowd, backing that up with another fifth at the following round at the second Portimao race gave the 29-year-old the belief he belongs with the world's best.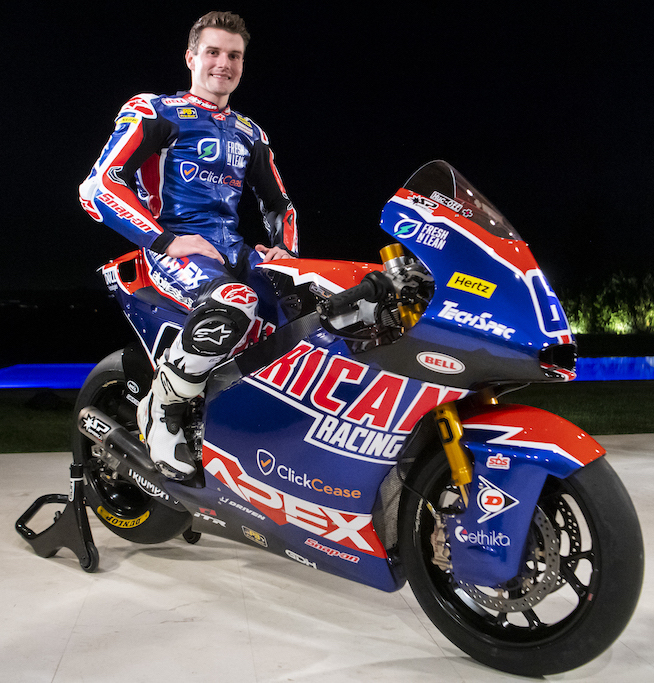 "It was such a weight lifted off my shoulders, because going into that race, there was no excuses," Beaubier said of Austin 2021. "I knew the track. I'd learned the bike and all that stuff. It just goes to show how freaking fast those guys are. They're all ruthless. They're not afraid to crash. They get right back up when they do, and they go faster. It's pretty incredible. The lap times we were doing on the Moto2 bikes (at COTA), we were going faster than I went on the superbike around there with 70 less horsepower."
Although the task to bring America back to glory weighs heavily on his shoulders, Beaubier's in the best personal space of his life. Newly married to long-time partner Shelby, who will join him for the majority of the season at their base about 45 minutes southwest of Barcelona, Beaubier's got it all lined up to have a stellar season on the American Racing Team Kalex.
"Yeah, life's great," he says, as the smile broadens on his face. "I've got a great family, got married, have my wife. It was cool to have her come over to Europe with me and be able to show her around, the little bit I know about the place, because she's never been out of the country. On that note, it's been really cool. Life's good."
Across the room, Sean Dylan Kelly is bubbling with the enthusiasm reserved solely for the youthful. The 19-year-old, fresh from sealing the 2021 MotoAmerica Supersport Championship, is determined to not just make up the numbers in his rookie season for American Racing but turn as many heads as possible, something he already did with a fine ride to ninth at the end-of-year Moto2 test at Jerez last November, placing ahead of Albert Arenas, Pedro Acosta, Marcel Schrotter, Romano Fenati, Beaubier, and the man he replaced in the team, Marcos Ramirez.
"Honestly, it was incredible," Floridian Kelly said of the test. "Luckily, I had been able to get some kilometers on the Moto2 bike prior to that. My dad and I rode a few different tracks (Misano, Jerez, Portimao) prior to that test, but it was with no team whatsoever. I had no suspension changes, no telemetry, nothing. It was just me and a bike. It helped a lot to get to Jerez, just knowing what the bike was like and all I had to do was get there, work with the team and try my best."
Kelly's no stranger to Europe as he's already completed for three years in the Red Bull Rookies Cup with a best place of 10th in the series in 2018 prior to moving to M4 ECSTAR Suzuki at the MotoAmerica Supersport Championship in 2019, but admits Moto2 is a whole different ball game.
"It's a big difference, for sure," Kelly says of the Suzuki GSX-R600 supersport machine to his Kalex Moto2. "The Moto2 chassis is so stiff. The Triumph engine, it's beautiful. I love it. But, the chassis just changes everything. The limit is just so much further, and that's why the class is so hard. I didn't feel the Dunlop tires were a huge jump for me. For sure the Moto2 tires, both front and rear, you can tell they are a little bit wider, but it goes hand-in-hand with how the chassis is. You also need to use the rear brake all the time on this bike. If you're not using it, you're screwed."
Like Beaubier, Kelly will be relocating to just outside Barcelona at the foothills of the mountains where there are plenty of practice tracks and areas for training, with partner Gabrielle joining him for select rounds throughout the year.
"I'll be going (to Spain) at the end of the month, and I'll be going by myself," Kelly admits. "I have my girlfriend who is going to be flying back and forth to as many races as possible. It's the same with my parents. They really want to go over there, but, as of right now, it's not possible. I hope that, maybe by the end of the year, they will be able to not only go to as many races as possible, but even find a place to stay. It's going to be good."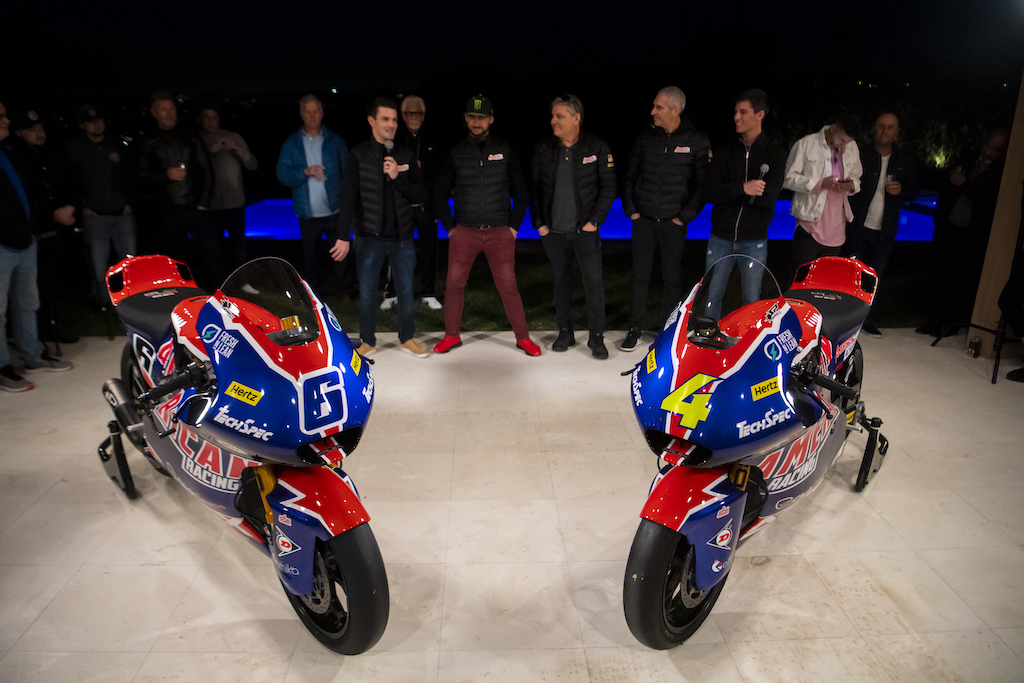 The American Racing Team's first assignment will be a private two-day test at Jerez in mid-February, before heading west to Portugal and Portimao for the official Moto2 preseason test on February 19th through 21st.
One thing is for sure, American road racing has not had as good a chance as this for grand prix success in decades.
---