This is the revolutionary 2024 KTM DUKE range with reimagined and redesigned power, style, and tech.
KTM has launched its 2024 KTM DUKE range, a new lineup that represents a bold design, power, and performance step, reflecting KTM's unapologetic "no bullshit" attitude. If you're a fan of sub-500 cc capacity bikes, get ready to be blown away, or at least mildly intrigued, by the changes KTM has brought.
The 2024 KTM DUKE range is a compelling testament to KTM's commitment to innovation. This revamp is the most significant change in the sub-500 cc capacity DUKE model lineup since the inception of the KTM 125 DUKE back in 2011. KTM is not holding back as they've unveiled new engines, reimagined chassis concepts, and embraced a fresh design language that amplifies the signature aggressive KTM DUKE look.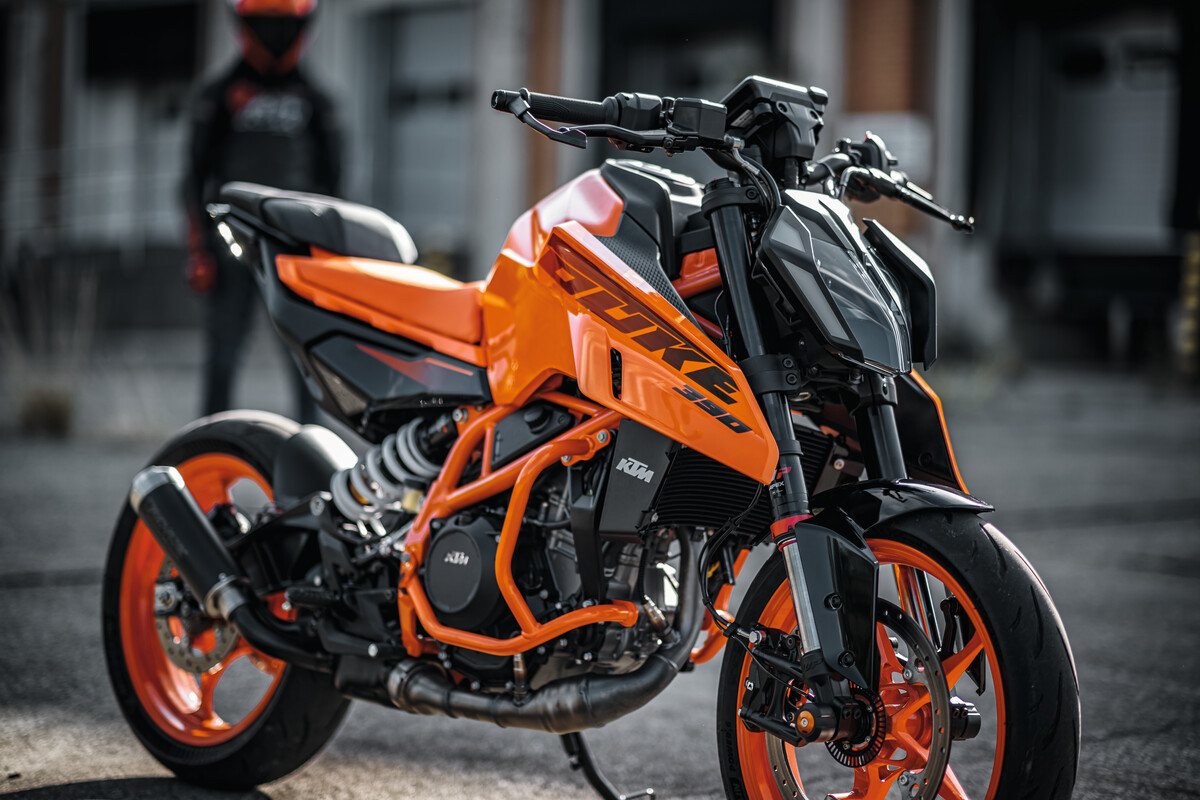 KTM's commitment to superior dynamics and handling is showcased in the 2024 DUKE models. A two-piece frame design blends an innovative steel trellis main frame with an aluminum subframe, boosting torsional rigidity and agility. Enhanced feedback from the chassis, along with new triple clamps and revised offset, provide riders with impeccable control and stability.
The frame upgrade goes hand in hand with an all-new curved lightweight swingarm that accommodates a relocated rear shock absorber. This off-center placement allows for a larger airbox design and contributes to a reduced seat height, designed for accessibility without compromising stability.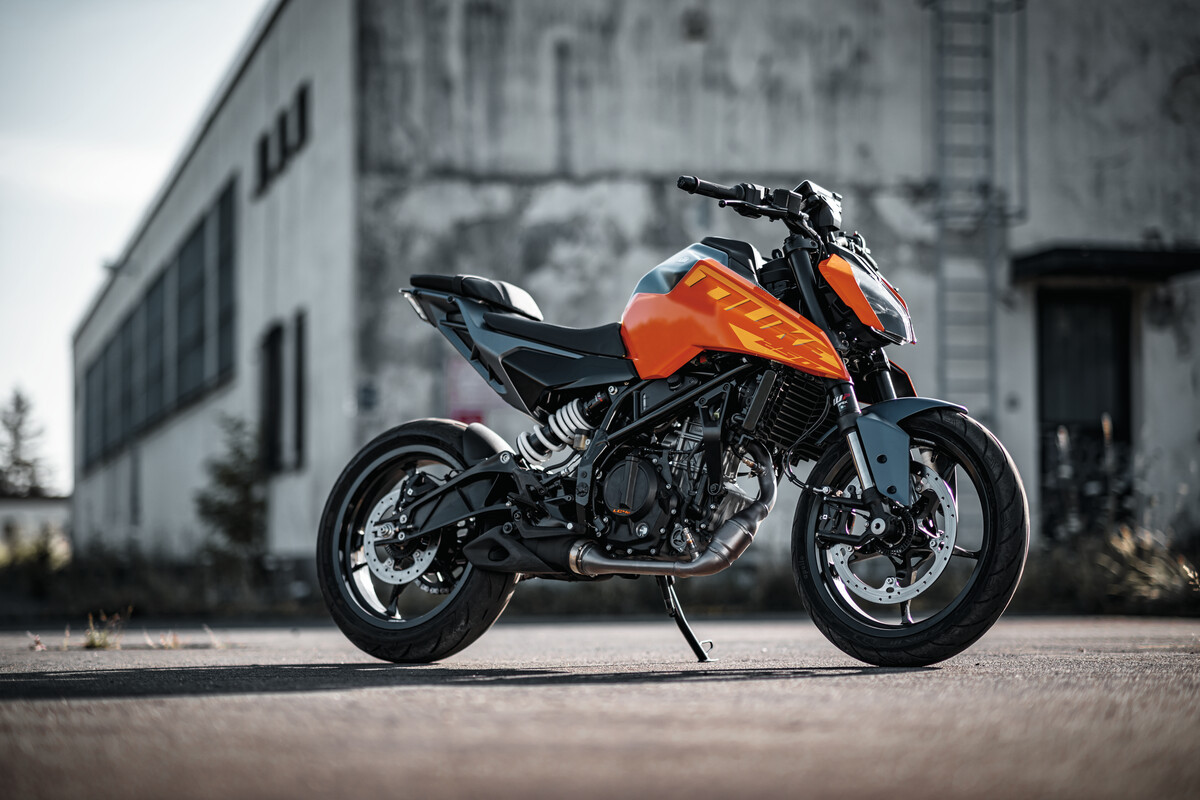 The 2024 KTM DUKE range introduces an entirely new generation of engines – the LC4c. This powerhouse family includes 125 cc, 250 cc (for selected markets), and 399 cc engines, each boasting a fresh approach to power delivery, efficiency, and EURO 5.2 compatibility standards. Each model has selectable Supermoto ABS, 5-inch dashboards, smartphone connectivity, and an optional Quickshifter+.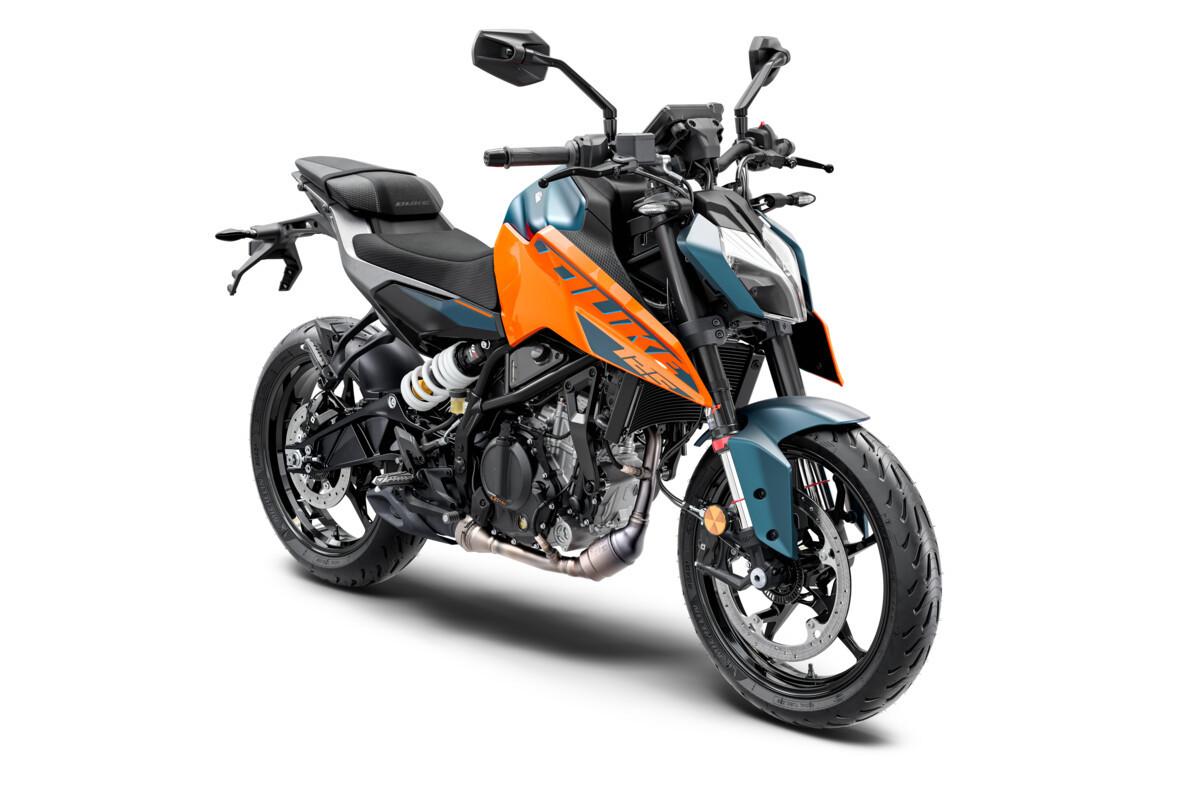 The 2024 KTM 390 DUKE, in signature Electronic Orange and Atlantic Blue, leads the pack with its impressive 399 cc single-cylinder LC4c engine.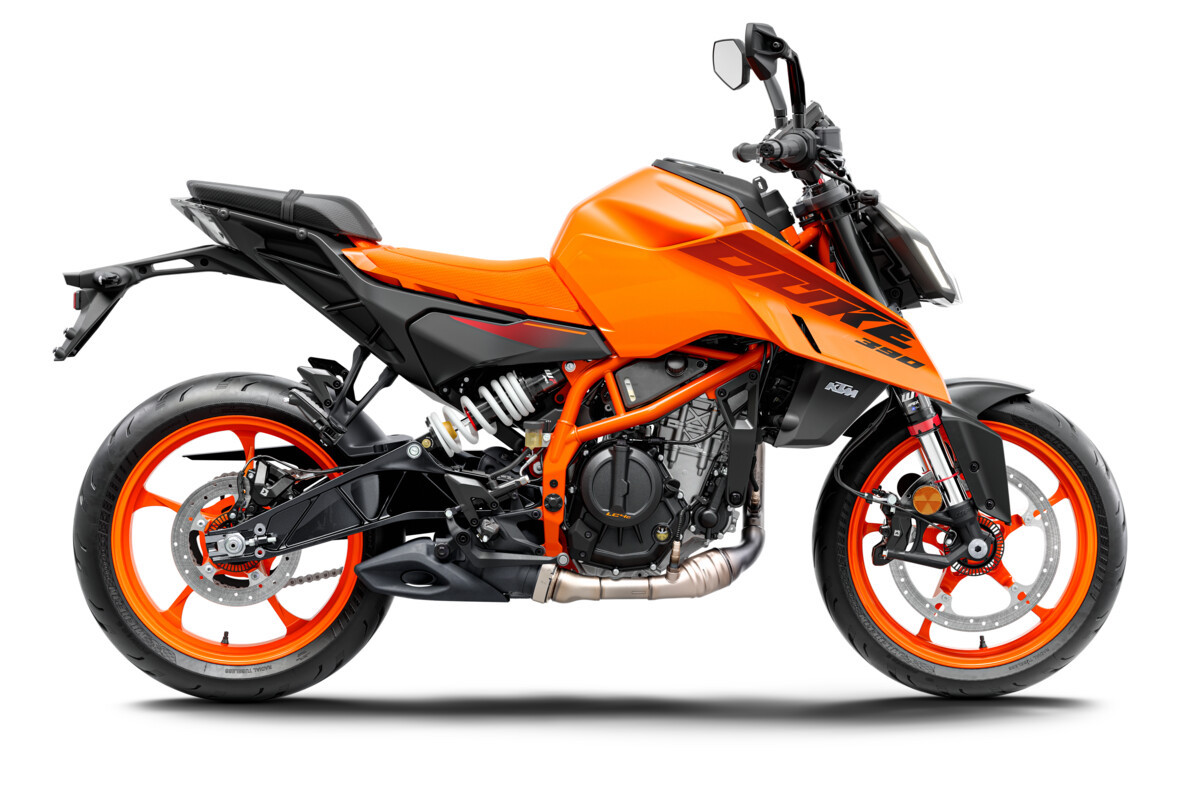 The 2024 KTM 250 DUKE stands out with a slim profile, highlighted by its LED headlight, LCD display, and vibrant color options. Meanwhile, the entry-level 2024 KTM 125 DUKE makes its mark with its potent 125 cc engine, enhanced electronics, and striking design.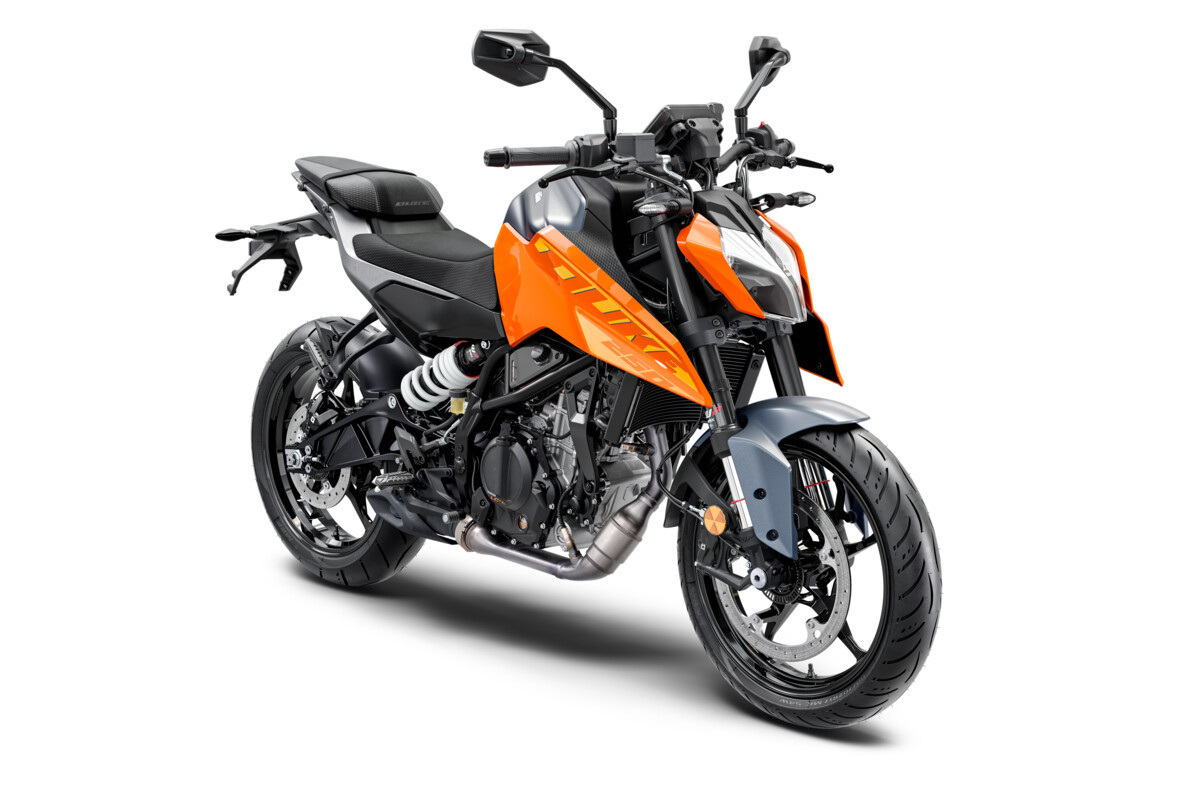 The 2024 KTM DUKE models are set to hit selected markets beginning in September of 2023 with upgraded chassis, powerful engines, cutting-edge technology, and distinct visual identities, redefining what it means to ride a KTM.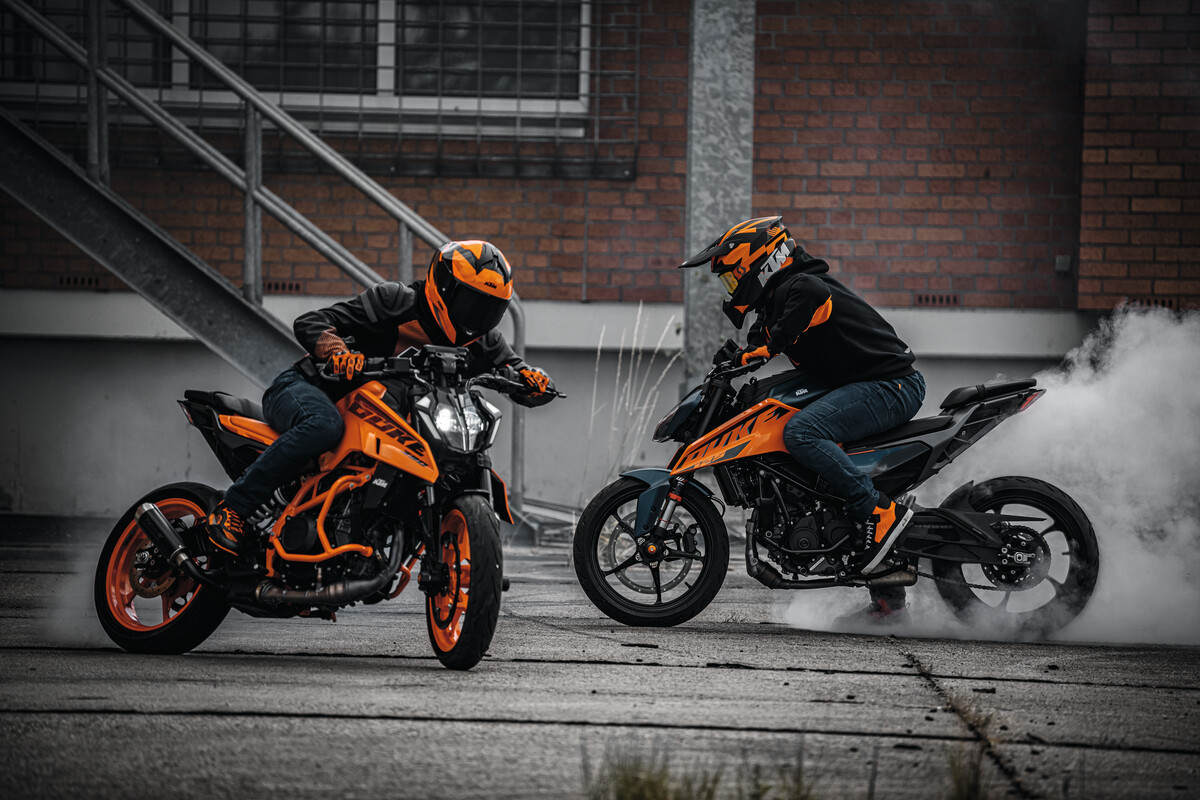 ---