---

---
The visually striking 2021 BMW R18 is one of the most character-rich motorcycles on the road today. Ironically, it's also objectively BMW's least dynamically impressive motorcycle since the ill-fated R1200CL. However, this majestic Beemer is uniquely appealing, overshadowing its dynamic flaws.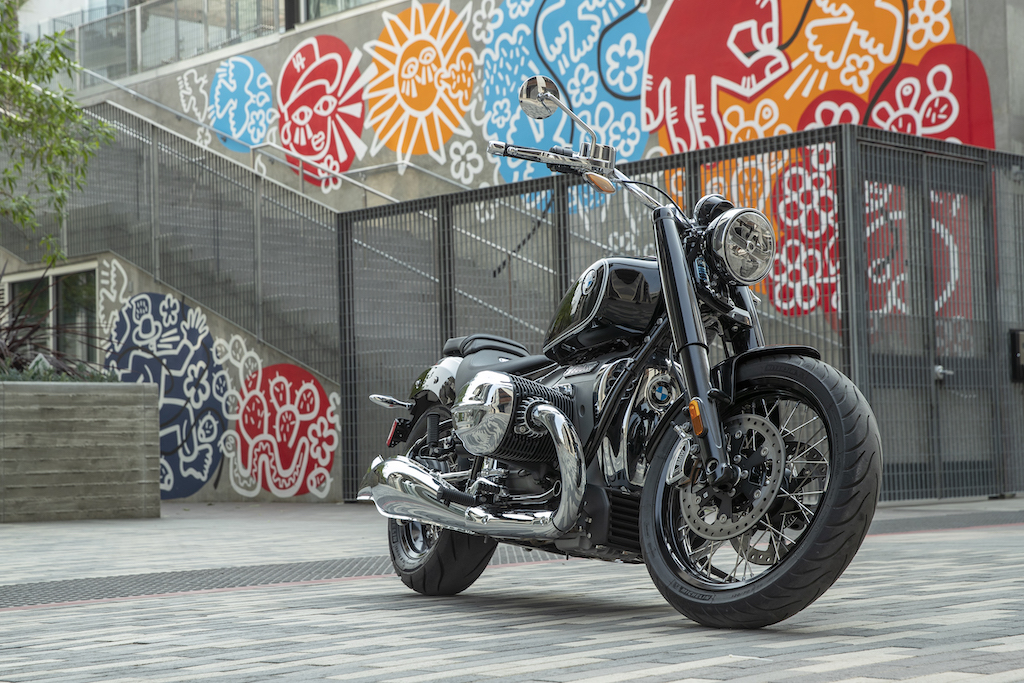 BMW drew inspiration from its early history to create a cruiser unlike any other and apart from the many Japanese cruisers that mimicked Harley V-twin formula. Go back to 1936 and BMW's R5, and you'll see key styling cues that have migrated to the new R18: teardrop tank, hardtail-look rear suspension, black fork tubes, an exposed driveshaft, and, of course, BMW's iconic flat-twin engine arrangement.
BMW says its new cruiser needed to be impressive to look at, and man, is it ever! Seeing those massive 901cc cylinders poking out each side of the R18 is awe-inspiring and regularly elicits provocative comments about big jugs.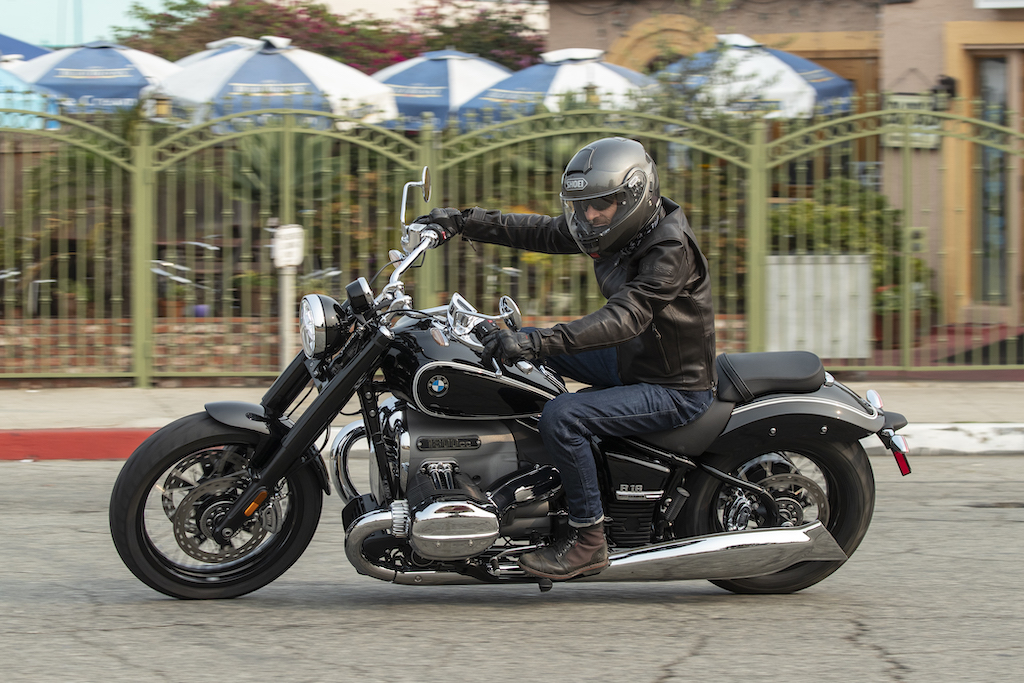 "The relevance of cubic inches couldn't be ignored," says Edgar Heinrich, BMW Motorrad's design chief, so he says the engine needed to displace at least 100 cubic inches. Here, the air/oil-cooled Boxer displaces a whopping 110 c.i., pumping out a grunty 116 lb-ft at 3,000rpm.
It's interesting that BMW has decided to trod down the cruiser alley again during this era when cruiser juggernaut Harley-Davidson has been suffering dwindling sales. In fact, the target for this new R18 was Harley's Softail Slim. BMW market research dictated that "It has to be as American as possible to do well globally," according to Vinnie Kung, Product Manager at BMW of North America.
Kung, a former Harley owner, also notes there is currently a level of "Harley fatigue" in the cruiser market, but what's there is still quite strong and BMW doesn't expect many OEMs to be investing in this market in the near future.
"This is a perfect time to take this chance (in the custom cruiser market)," says Kung, "and we are very bullish on it." Kung admits BMW won't reach the 57% of cruiser customers that are "loyal to the bone" Harley riders, but he notes that custom cruiser customers are younger and open-minded, so BMW is targeting older millennials and younger Gen-Xers around 40 years-old.
Together with premium-cruiser customers that are hoped to be poached from Harley and others, BMW also expects many of its current customers will want to diversify their garage by adding an R18. BMW optimistically predicts sales of the R18 to nearly equal the brand's iconic R1250GS. More than half of R18 production will be directed at the U.S. and Canadian markets.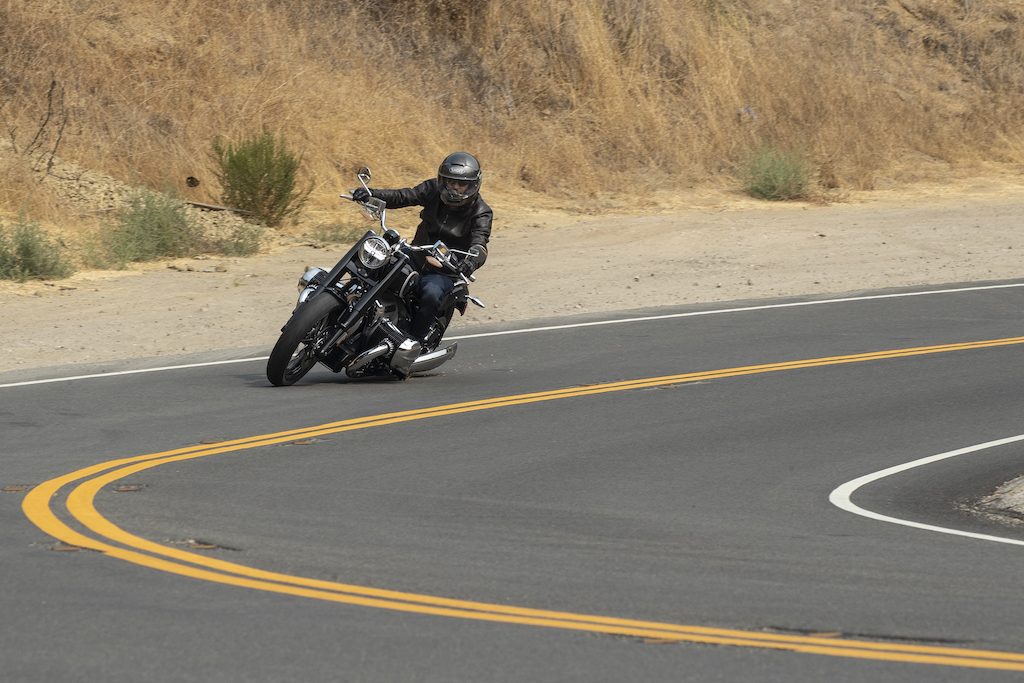 The uber-Boxer thuds to life with a twist, rotating the chassis to the left as the hefty longitudinal crankshaft spins to life. A flat-twin BMW will never sound like a Harley, but the BMW R18's beefy baritone sounds appropriately butch and blats out a pleasingly deep rumble. Motorrad engineers tuned this mill for instant grunt rather than top-end power, punching out more than 110 lb-ft of torque available from 2,000 to 4,000rpm. Horsepower peaks at 91, arriving at a low 4,750rpm.
As is typical these days, the R18 has a choice of ride modes that deliver alternative engine responses with complementary traction control and ABS tuning. Here, BMW gets a little cute. Rain mode is self-explanatory, while dry-weather choices are Rock and Roll, literally.
Roll delivers smoother engine response, while Rock is decidedly more aggressive and includes a party trick that is endearing and annoying: it exhibits a lumpy idle like it has hot-rod camshaft tuning that shakes the handlebars quite visibly at idle. The effect is initially kinda cool but eventually irritates. I'd prefer to have the smoother idle of Roll combined with the more direct throttle response of Rock.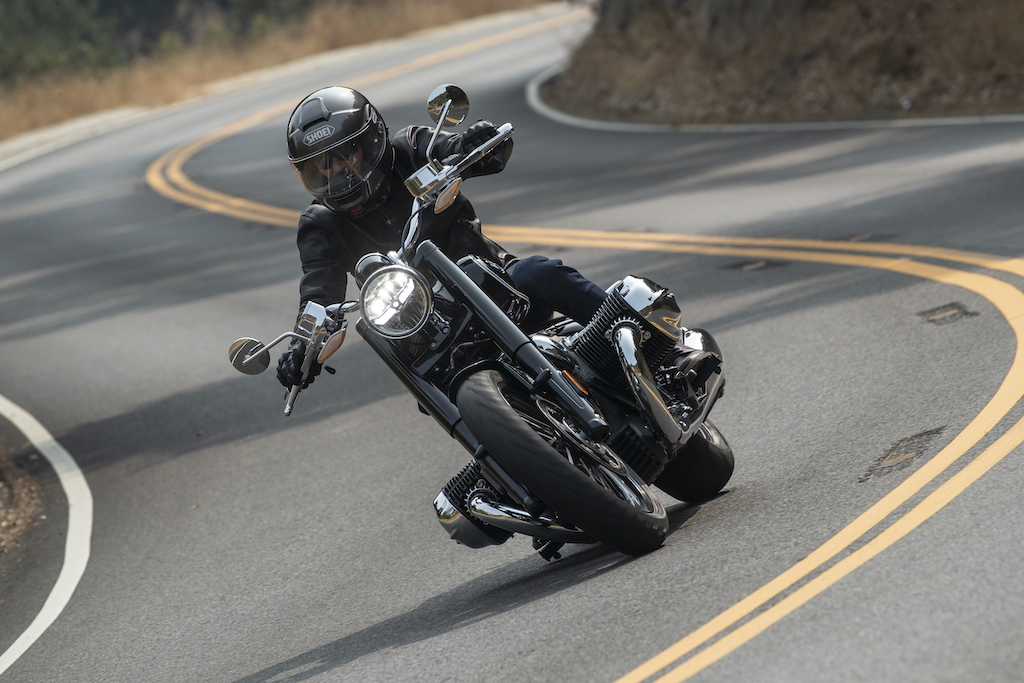 To BMW in this application, a bit of vibration is a feature, not a bug. So there are no rubber mounts for the handlebar, which yields accurate, non-rubbery steering responses, as well as discernable vibes, felt through the hands that ramp up with revs. Best to simply upshift through the remarkably light-action gearbox and surf on the surplus of torque at lower revs where vibration is present but subdued. Sloppy downshifts are eased by a slip-assist clutch and a system that lifts the throttle butterflies to reduce the strong engine braking endemic with big-twin engines.
Low-speed trundling is where the BMW R18 is least adept. Combine 761 pounds of weight with a 68.1-inch wheelbase and an engine that wants to rotate the chassis with rev changes, and you've got an unlikely candidate for the slow-speed gymkhana race at Bike Night. It can be a handful in especially tight confines.
Cruiser riders covet low seats, and the big Beemer delivers with a saddle 27.1 inches high. The nicely low seat is enabled by a squat rear suspension that works through 3.5 inches of travel. It performs adequately for the most part, but big hits will make you wish for more cush. An overly firm seat doesn't help. The beefy 49mm fork performs better, as it has 4.7 inches of stroke to work with.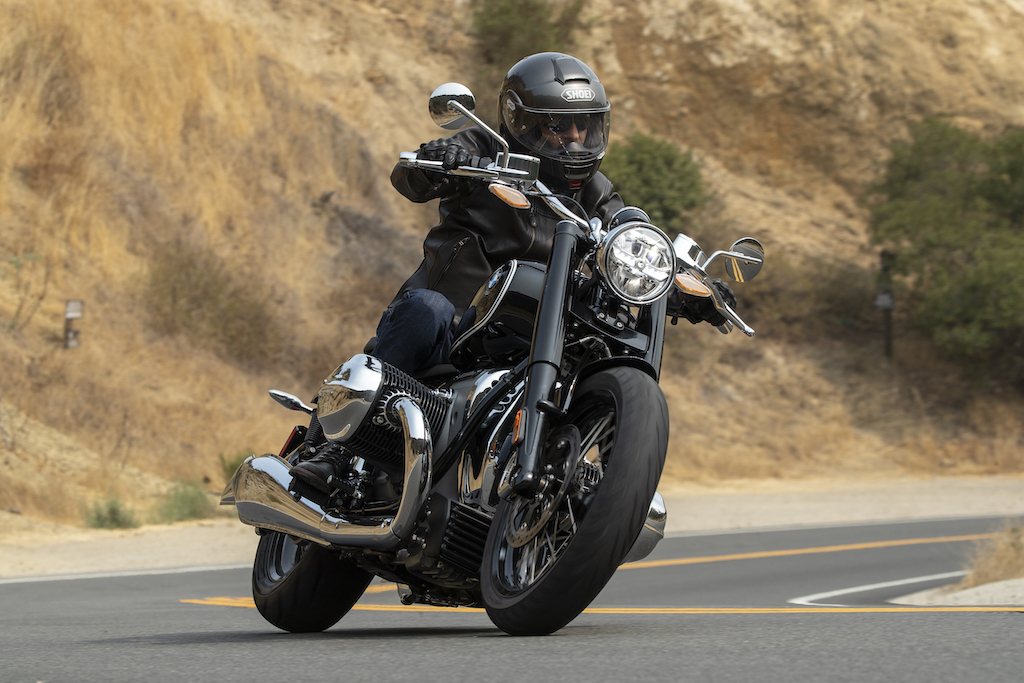 As is the case for long and low cruisers, the R18's dynamic performance is compromised. The BMW's big jugs, er, cylinders, demand further concessions by forcing a rider's feet to reside behind the voluptuous cylinders rather than being stretched out ahead. Long-legged riders will prefer shorter trips, and all riders will prefer a cushier seat. BMW graciously offers the option of a taller seat at no extra charge, which is likely a smart choice.
And with the tighter knee bend, BMW was forced to place the footpegs as low as possible for adequate legroom, which unfortunately results in the pegs dragging at even modest lean angles. Yes, many cruisers are short on cornering clearance, but I can't recall another bike that touches down so early when leaned over. Sport-minded riders will be frustrated.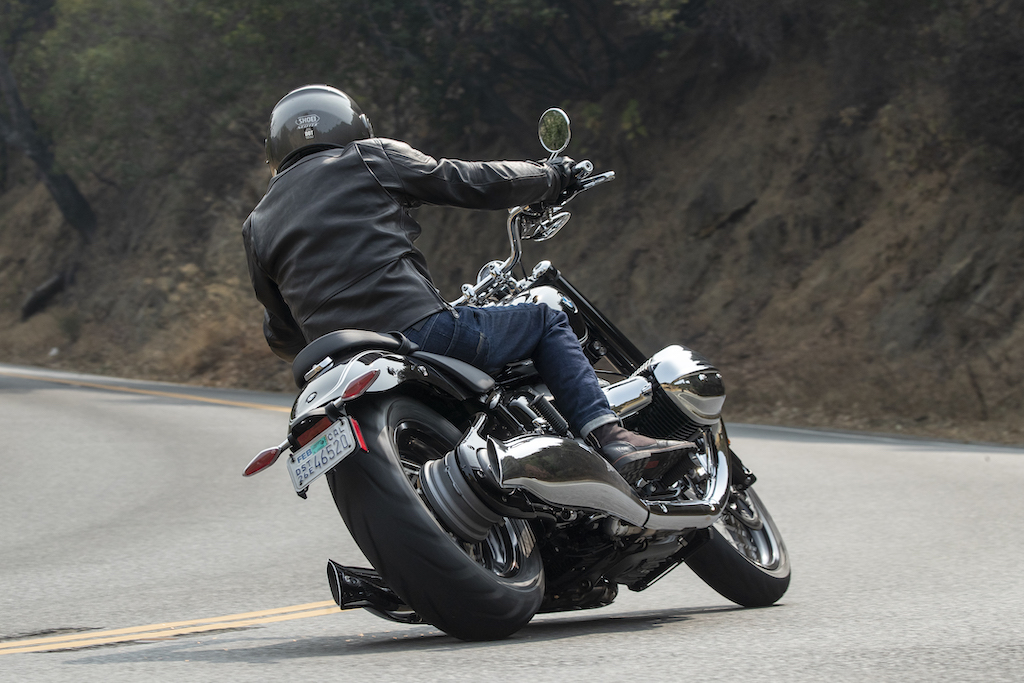 It was a strange PowerPoint slide when BMW execs bragged about their bike being longer and heavier than Harley's Softail Slim that was their target. Yep, the R18 has a 3.9-inch longer wheelbase and weighs 90 pounds extra compared to the Softail. Despite the girth, the R18's chassis is willing and imperturbably stable, but its sporting potential is held short by the cornering-clearance issue.
While we're whinging, let's bring up the fact that this pricey motorbike full of electronic doodads is lacking a fuel gauge as well as a miles-to-empty meter. (It does have a miles count-up feature when the low-fuel indicator is triggered.) It's difficult to imagine the meeting of BMW department heads when they decided to leave out these useful items, both of which have negligible cost, especially on a machine that in every other respect screams "premium."
The triple-disc brake system is strong, and it one-ups the Softail Slim and its single front disc. The R18 is also endowed with cornering-ABS and is a partial-integral system by which the front brake lever also applies one piston at the rear for extra stability and no noticeable intrusion.
As a BMW built in Germany, the R18 can't be bargain-priced, so it starts with a base price of $17,495. The R18 seen here is the First Edition version, which includes the classy white pinstriped paintwork, numerous chrome surfaces (even the brake calipers!), a seat badge and a "First Edition" chrome clasp on the side covers. It retails for $19,870.
Still no sticker shock? Then option up for the $1,450 Premium package, which includes hill-holding brakes, an adaptive headlight that peers into corners, and a reverse assist that uses the starter motor to propel the hulk out of tricky parking spots.
BMW reps say cost isn't much of a concern for American cruiser riders, and hundreds of thousands of Harley riders seem to agree. Many sport-minded riders will decry the R18's limited cornering clearance, but to concentrate on dynamic performance is perhaps to overlook the brilliance of the R18's appearance and its wonderful Continental styling that sets it apart from everything else on the road.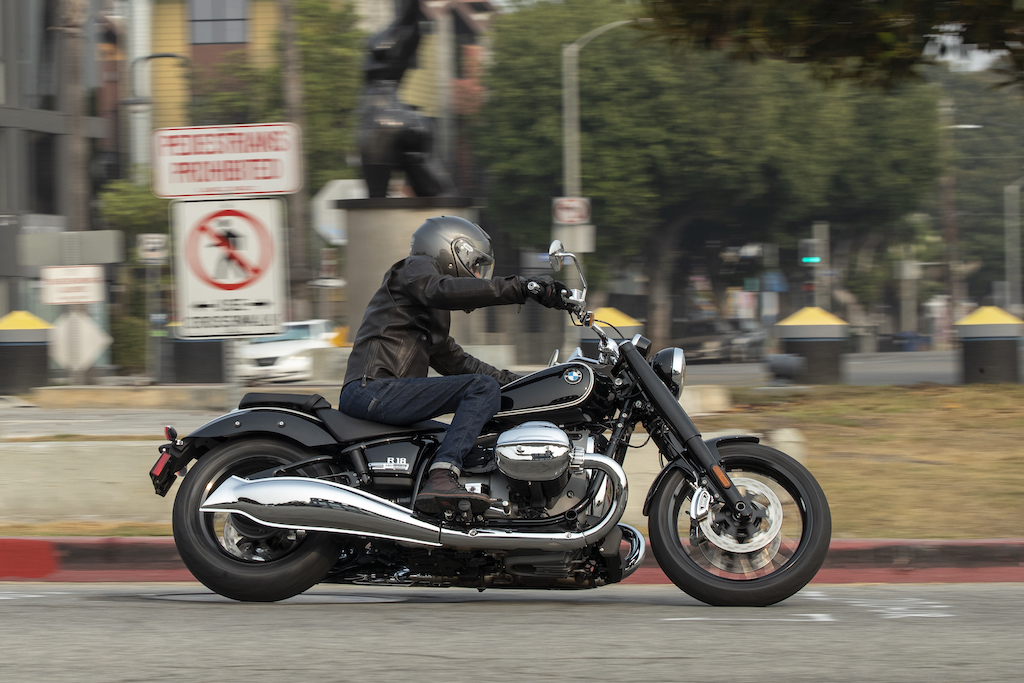 The R18 has so much presence that it's impossible not to gawk at it. There is no plasti-chrome here, just high-value metal housings. The open-running nickel-plated driveshaft is delightful to observe. The brake lighting is incorporated into the turn signals for a clean look. Heck, the key fob is even styled to look like the R18's fuel tank!
The 2021 BMW R18 is an impressive interpretation of historic BMWs supersized for cruiser consumption where being large is desirable. During our time with it, the R18 received an outpouring of positive reaction from a wide cross-section of riders, including many of the Harley faithful. The big Beemer is tremendously appealing but not without a few notable foibles, so it will be interesting to see how the market reacts to it.
Final note: Don't Google R18 pics.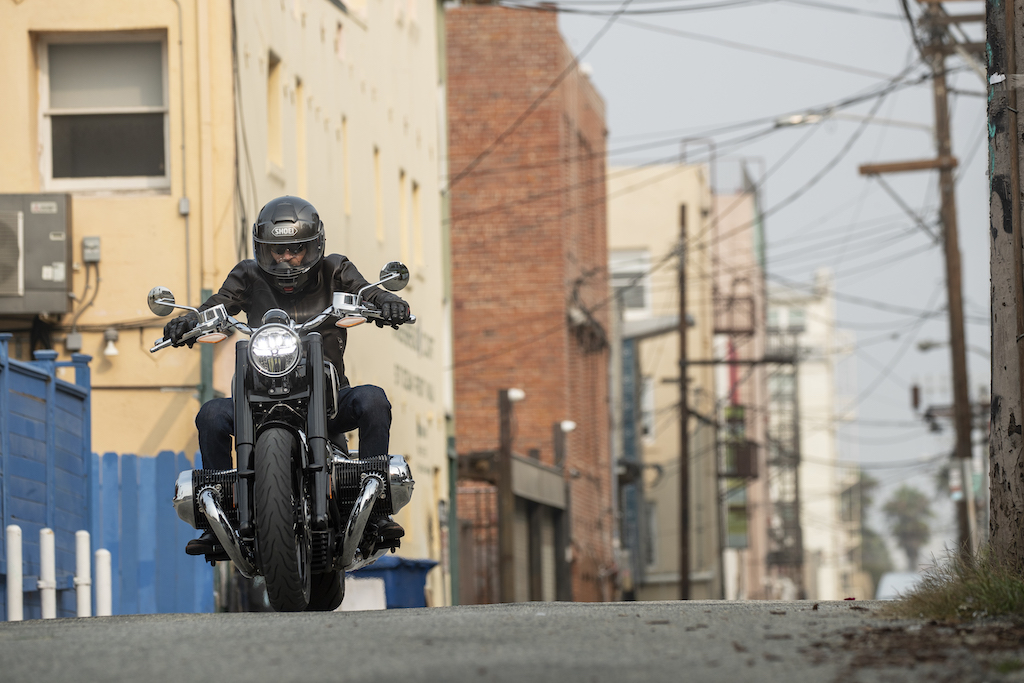 Images: Kevin Wing
---