Pocket Aces Performance, Inc has been responsible for some of the more recent custom builds coming out of the northeastern region of the states and is single-handedly, putting the city of Philadelphia back on the map in the custom bike world. Based out of South Philly, owned and operated by Harry "Ace" Berkley, Pocket Aces has built bikes over the last few years for a growing list of clientele that ranges from average customers that are looking for significant mods to their bikes so that they stand out in the crowd to full-on celebrity custom builds.
When it comes to his own ride, Ace knows that his machine is the direct reflection of the level of work that Pocket Aces Performance is producing. His 2000 Suzuki Hayabusa, "Wild Card 3" serves that purpose and then some. From a distance, the muted crushed red grabs your attention like a red light at a busy intersection. It makes you stop and pay attention and as you do, it is revealed what truly makes this bike special. You will investigate Wild Card 3 and find that Ace has an understanding of composition, design, and execution.
The selection of components that adorn Wild Card 3 is also a testament to Ace's desire to create with quality parts. Starting with the 300 rear tire kit and Unknown Customs swing arm. "The arm is a one-off arm built for me. We call the arm "the Ripper" due to the super sharp spikes at the end which have ripped multiple sneakers, jeans, and rags during cleaning." Ace explains, "It's eighteen inches over and holds a 300 rear wheel and tire."
Wild Card 3 has a Brock's Performance Titanium Side Winder full exhaust system with the race baffle. As the throttle is rolled, the bike rumbles and it's not in a "Hey look at me because I need attention," type of way. It's rumbling in the "Yes, this is me," manner garnishing well deserved respect.
The Tricky Air Ride suspension set up is activated via remote control and a "quick up" manual switch that Pocket Aces designed specifically for Wild Card 3. For wheels, Pocket Aces rolled with the Performance Machines Royal 2 Spinners that have been painted to match the overall color palette of the bike. Pocket Aces reached out to Killer Kreations for paint services and their hand is undeniable in the finished look of the bike. "What is not painted on this bike is chrome. When I say everything, I mean everything including all components under the bike."
Looks aside, Wild Card's engine is no slouch. The 2000 Hayabusas were pre-governor so their speedometers do, in fact, go to 220 and the bike is more than capable of achieving that speed. Pocket Aces took the bike's pedigree into account when Wild Card 3 was designed and built it for go and show. "The motor was done by Carpenter Racing and has Carpenter's ported head and cams. It also has a big bore kit in it, airbox modification, Carpenter's clutch mod, clutch basket and of course a Power Commander. To be tuned, I took it to Master Tuner, Eraldo Ferracci at Fast By Ferracci, the man himself."
Pocket Aces Performance, Inc may currently be one of the best-kept secrets in the custom bike game but that is only for the moment. Ace is focused on expanding his brand and customer base as he and his team step into the spotlight.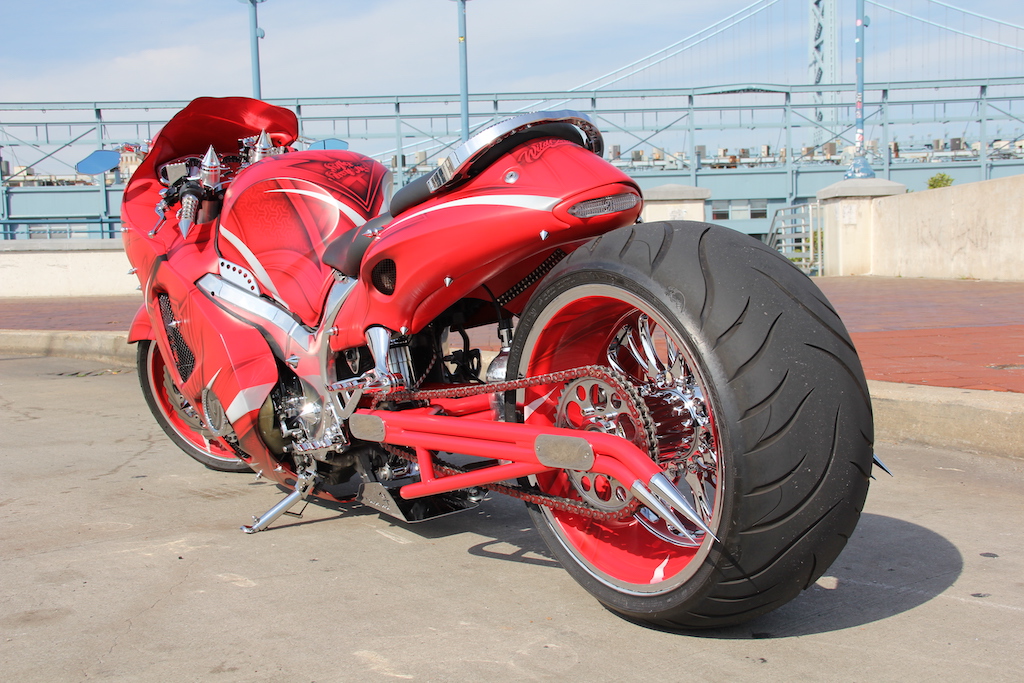 BIKE NAME: Wild Card 3
BASE MAKE/MODEL/YEAR: 2000 Suzuki Hayabusa
ENGINE/POWER UPGRADES: 1397cc Big Bore Kit, Carpenter Racing Ported Heads and Cams, Carpenter Racing Clutch Kit, Power Commander. Tuned by Master Tuner, Eraldo Ferracci at Fast by Ferracci.
BRAKES: Bremzen Wave Rotors, Bremzen Pads, Bremzen Steel Braided Lines.
EXHAUST: Brock's Titanium Side Winder full System with Race Baffle.
WHEELS: Performance Machine Royal 2 Spinners.
TIRES: Shinko
SUSPENSION: Tricky Air Ride Technology. Pocket Aces Performance Inc Quick Up Manual Switch and Remote, Adjustable Rear Lowering Links.
SWINGARM: Unknown Customs' The Ripper 300 Kit.
CUSTOM/ONE OFF ACCESSORIES: Custom molded bodywork. 30 LED lighting strips. Strobe lights.
BUILT BY: Pocket Aces Performance, Inc.
PAINT BY: Killer Kreations.
OWNER: Harry "Ace" Berkley.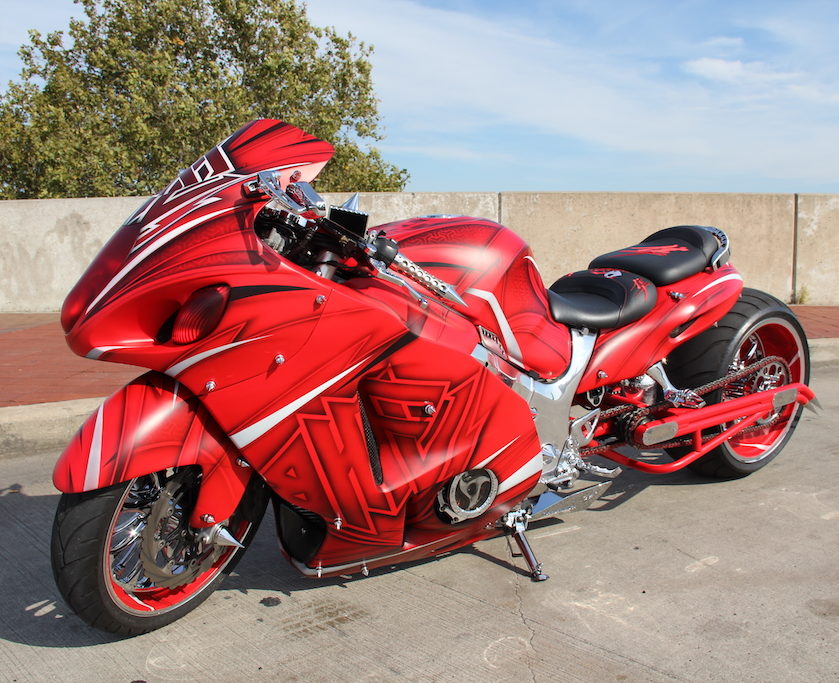 Images: Allan Lane
---