Eliezer "LOCO" Lugo loves his homeland of Puerto Rico. Proud of his roots, his culture and the love that comes with it. He chose to combine that love with his passion for two wheels and set out to create a special tribute to Puerto Rico. Lugo went to the team at Voodoo Industries to see his vision come to life.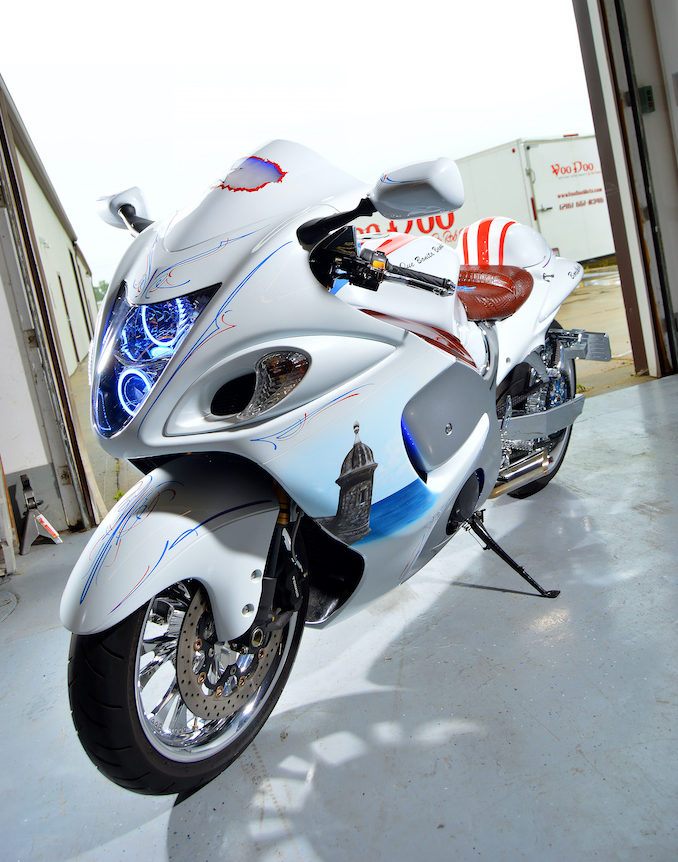 Lugo's 2009 Suzuki Hayabusa was the canvas to express his adoration for his birthplace and for what was to become titled "Nostalgico". While Voodoo Industries has and continues to create some of the most visually startling and stunning custom bikes on the road, this build seemed to take a different path to the same destination.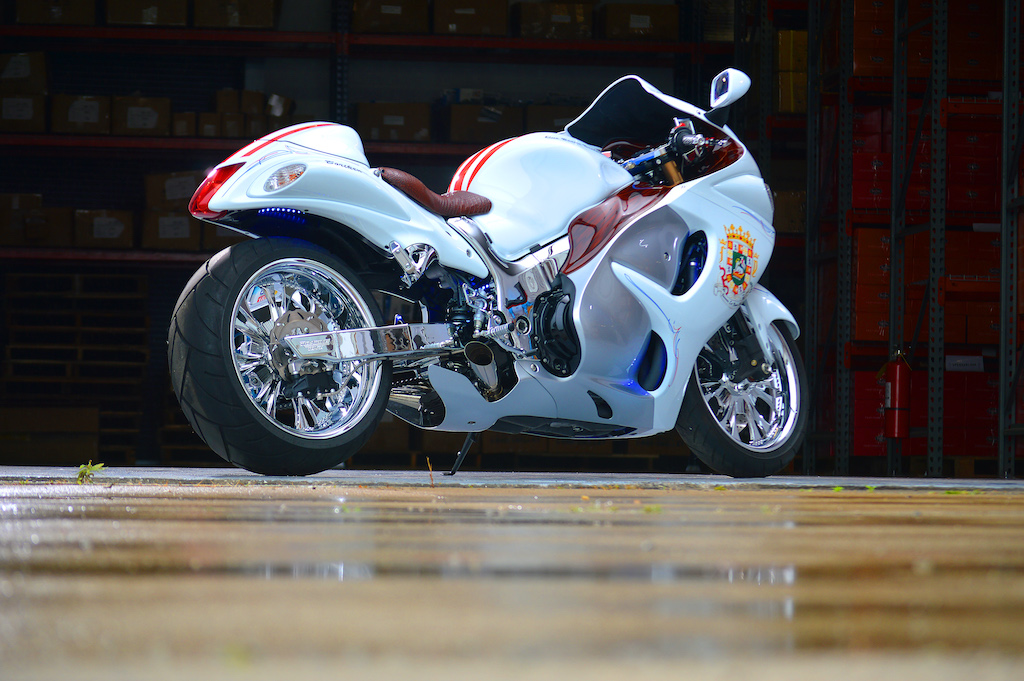 The 240, 6 inch over Roaring Toyz chrome swing arm kit is complemented by the Performance Machine Eldorado wheels and the Voodoo chrome frame covers and chrome rearsets as well as the chrome Voodoo shorty exhausts. The option of a hand-painted woodgrain look for the gauge cluster and side panels is unexpected but works in the overall visuals of the bike. Of course, simulated nature grains can be less than stellar if not executed properly. That is not the case here as the finished product is spot on and very impressive.
In its simplicity, Nostalgico has the same visual impact as Voodoo's other bikes: Resurrection, Tapout, Viper or the Shelby. Even from a distance and then upon further inspection and you look at the paint scheme, you can understand why. The bike is an homage to Puerto Rico. Voodoo Industries enlisted the service of Garwood Custom Cycles to tackle the paintwork and translate the theme in a classical and mature manner.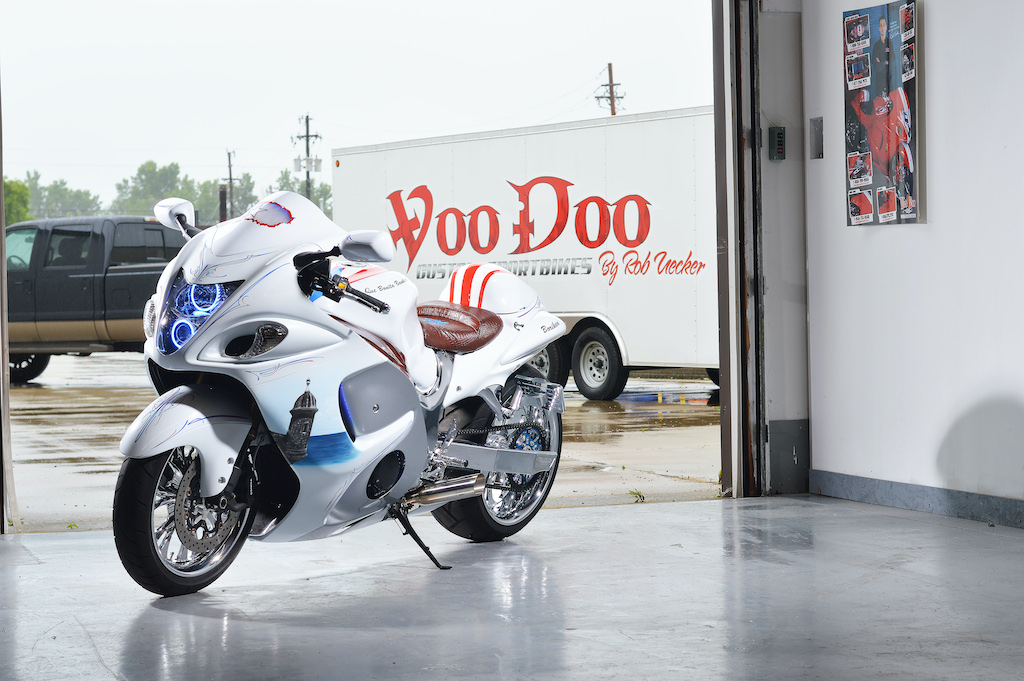 In the finished product, there are three visual focal points. On the right side fairing, there is the Governor's Flag of Puerto Rico. On the left side, you find a bunker from Fort San Felipe del Morro, located in San Juan. On the tank, the solo starred flag of Puerto Rico. Beautiful pinstriping serves as accents throughout the bike's body. While the fuel tank imagery will ring familiar, the image of the flag and the bunker will possibly spark dialogue and a conversation. If you are not up on your Puerto Rican history, do yourself a favor and brush up on it, especially regarding the Fort.
It is great when someone takes pride in their history and wants to share it with others. Sometimes, it is about making the world a smaller place. We as motorcyclists already know this.
BIKE NAME: Nostalgico
BASE MAKE/MODEL/YEAR: 2009 Suzuki Hayabusa
ENGINE/POWER UPGRADES: K&N Air and Oil Filters
BRAKES: Front single caliper conversion, rear radial caliper conversion
EXHAUST: Voodoo Industries Shorty dual mufflers
WHEELS: Performance Machine Eldorado with SuperSprox rear sprocket
TIRES: Shinko
SUSPENSION: Fully adjustable lowering link with stock shocks
SWINGARM: Chrome Roaring Toyz, double sided, 6 inch over, 240 tire with stealth under bracing
CUSTOM/ONE OFF ACCESSORIES: Voodoo chrome rearsets, Voodoo chrome frame covers, alligator seats with custom embroidery, hand painted woodgrain dash panels, custom gauges with Voodoo Industries logo
BUILT BY: Voodoo Industries
PAINT BY: Garwood Custom Cycles
OWNER: Eliezer "LOCO" Lugo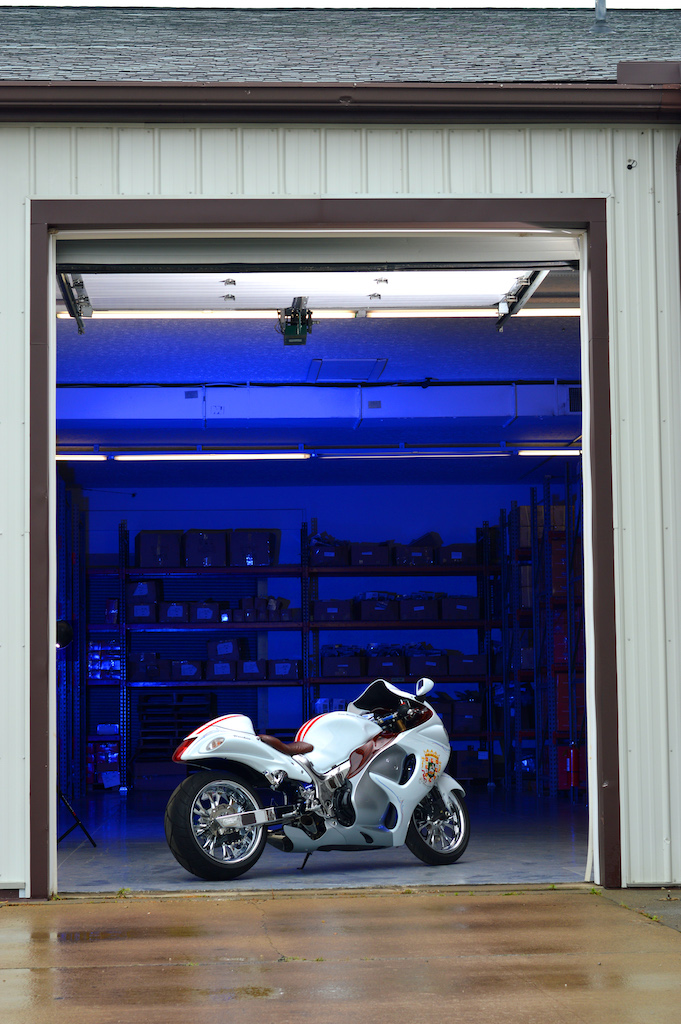 Images: Jesse Gordon.
---