Intricate yet simple. Complex but easy on the senses. Visually user-friendly. The 2006 Suzuki Hayabusa aptly named "Judy" is definitely an example of "just enough." Playing upon the canvas of the Busa, Myrtle West Cycle's Patrick Mclafferty's selection of components paired with a dynamic and engaging paint scheme sets Judy aside from the average bike night trophy machine.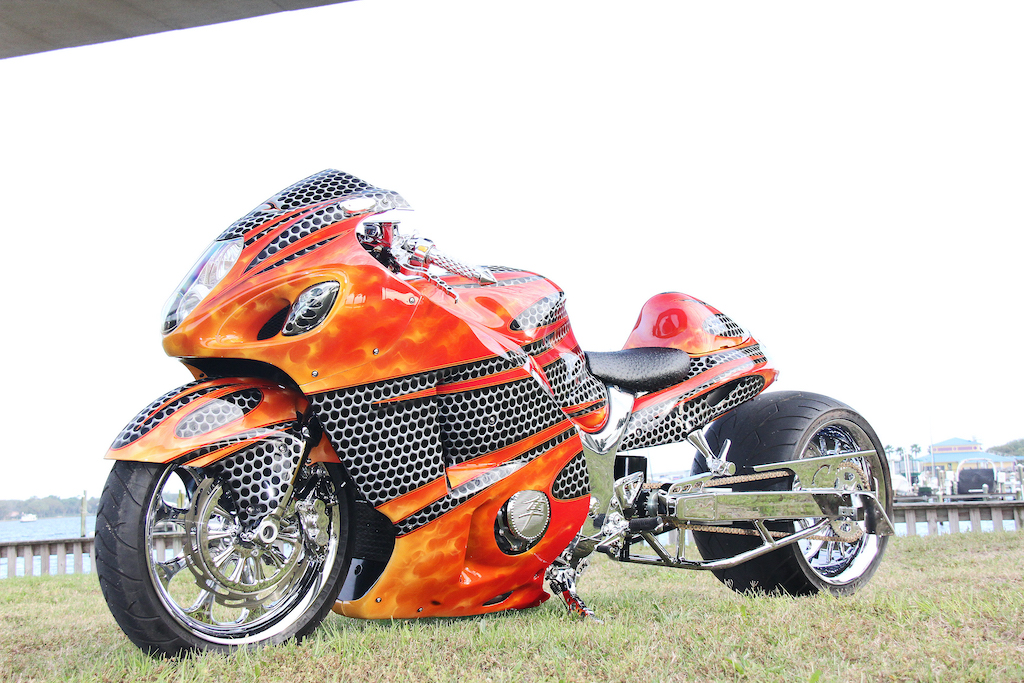 Aggression is not the motive of this build. The well placed chrome accents build a foundation for juxtaposing imagery. Presented is the feeling that the bike is bathed in a coat of flames that are tearing away the surface and unrevealing what is underneath, exposing a metallic honeycomb pattern. The linework of the bike is mirrored in a sweeping up and back motion of the design, moving your eyes quickly from the front wheel to the tail section. Make no mistake, while the overall presence of the bike is quite comprehensive, it is the artwork that defines its existence.
The chassis rolls on a set of Myrtle West's Austan wheels which are components of the 360mm, 20 inch stretched rear swingarm kit. The Laconia exhaust offers a modest and effective option that allows the swingarm to remain the focus while giving Judy a severe bark to match her bite.
BIKE NAME: Judy
BASE MAKE/MODEL/YEAR: 2006 Suzuki Hayabusa
ENGINE/POWER UPGRADES: Power Commander
BRAKES: Front, stock. Rear, Performance Machines
EXHAUST: Myrtle West Laconic
WHEELS: Myrtle West Austan
TIRES: Vee Rubber
SUSPENSION: Front, internally lowered. Rear, AirFX Air Ride system
SWINGARM: Myrtle West 360 with 20-inch stretch kit
BUILT BY: Patrick McCafferty
PAINT BY: Jimmy Jackson Designs
OWNER: Pete Messina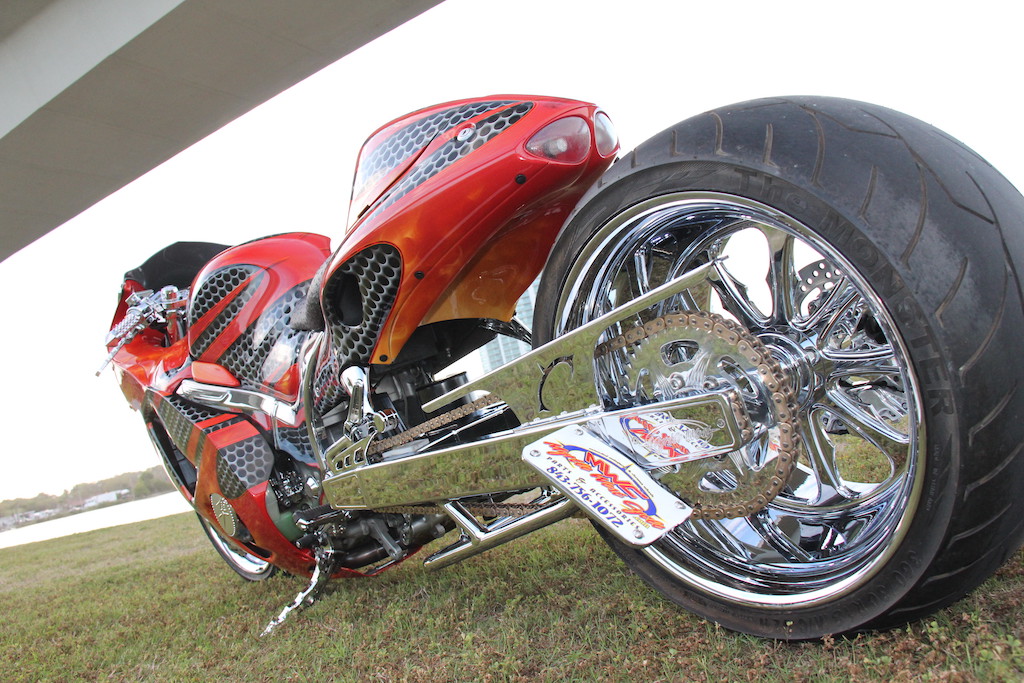 Images: Leon Brittain
---