Harley-Davidson returns to its real roots with a new motorcycle that honors the company's heritage from a time before there were roads. The Pan America 1250.
Believe it or not, there was a time when Harley-Davidson motorcycles were considered off-road motorcycles. Not by a choice of branding. But because of the era of time. When the company began in 1903, the concept of paved roads was decades away. The manicured roads that we are are accustomed to today, came even later. So despite the critics that gaffed when Harley-Davidson announced plans for their off-road, adventure touring Pan America 1250, it isn't new territory for the manufacturer.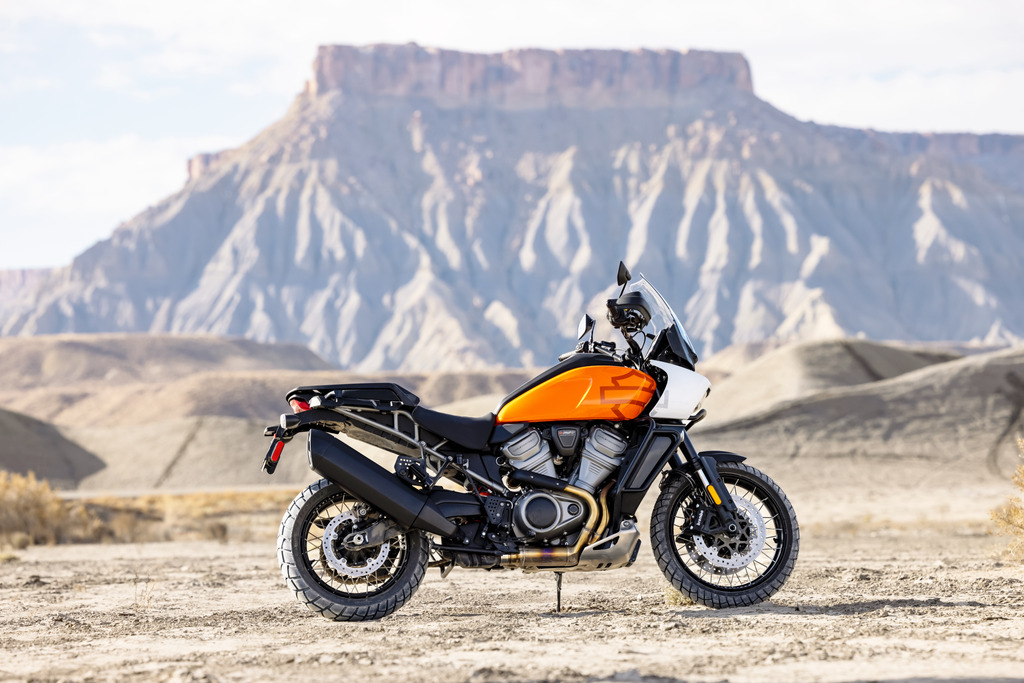 With the Pan America 1250, Harley-Davidson offers today's riders a new option in the adventure touring market. And while the Pan America is baked in Harley-Davidson heritage, this is not your Grampa's Harley…
The presentation of the new model sets itself apart from the rest of the herd with its brawny and rugged appearance. Engineered and built to be functional in a variety of riding conditions and styles, the bike is equipped with grab handles, integrated luggage mounts, a horizontal headlamp for improved lighting when on off-road trails.
The Pan America has a wet weight of 534 pounds. This is thanks, in part to, the implementation of the 150hp Harley-Davidson Revolution Max 1250cc V-Twin engine. The engine is a central component of the chassis with the front-frame, mid-frame and sub-frame bolted directly to it.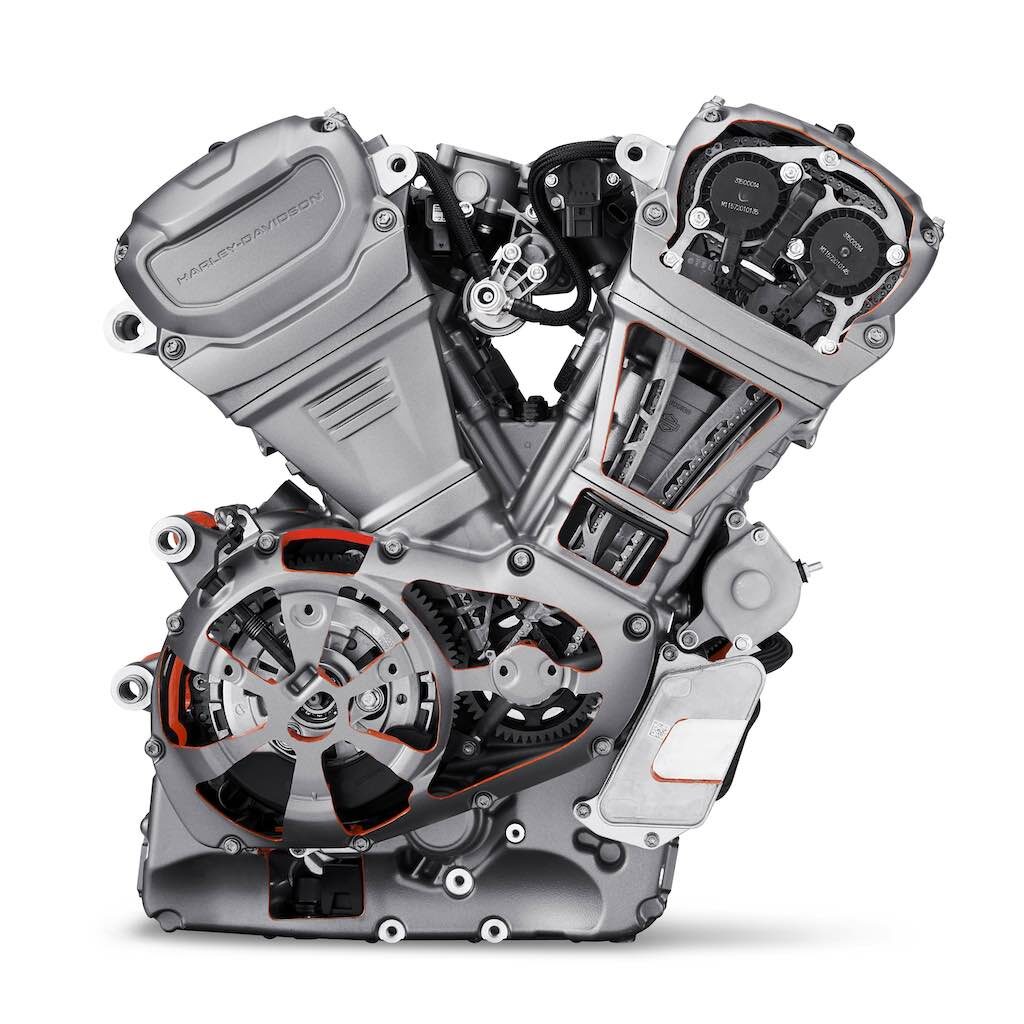 SHOWA 1 by 1 47mm inverted cartridge forks compose the front suspension setup while a SHOWA piggyback reservoir shock with adjustable hydraulic preload makes it happen in the rear.
The cast-aluminum wheels of the Pan America measure 19 inches in the front and 17 inches at the rear. They are dressed with knobby Michelin Anakee Wild tires. Brembo brakes handle stopping duty with new dual front four-piston radial monoblock caliper that grips a pair of 320mm rotors. The rear brake system features a single 280mm disc.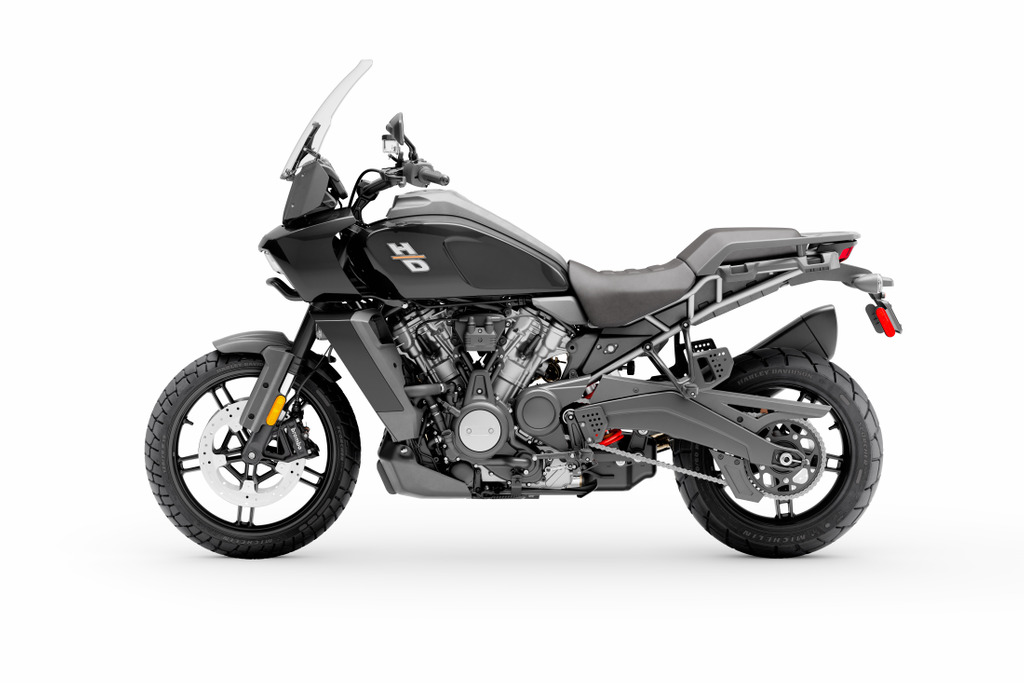 The Pan America features a suite of aids to enhance the rider experience, such as Cornering Rider Safety Enhancements. Corner Riding Safety is a group of rider aids that assist when rider experiences unexpected situations or poor road conditions. Included in the collection of aids are Linked Braking, Antilock Braking System, Traction Control System, Drag-Torque Slip Control System, and Hill Hold Control.
Five ride modes are available: Road, Sport, Rain, Off-Road and Off-Road Plus. Each mode sets specific parameters of engagement for the power delivery, engine braking, Cornering Enhanced Antilock Braking System (C-ABS) and Cornering Enhanced Traction Control System (C-TCS) settings, etc. Modes can be selected on the fly with the data and other pertinent information displayed on a tilting 6.8-inch TFT touchscreen. The touchscreen ability is disabled while the bike is moving for a measure of safety.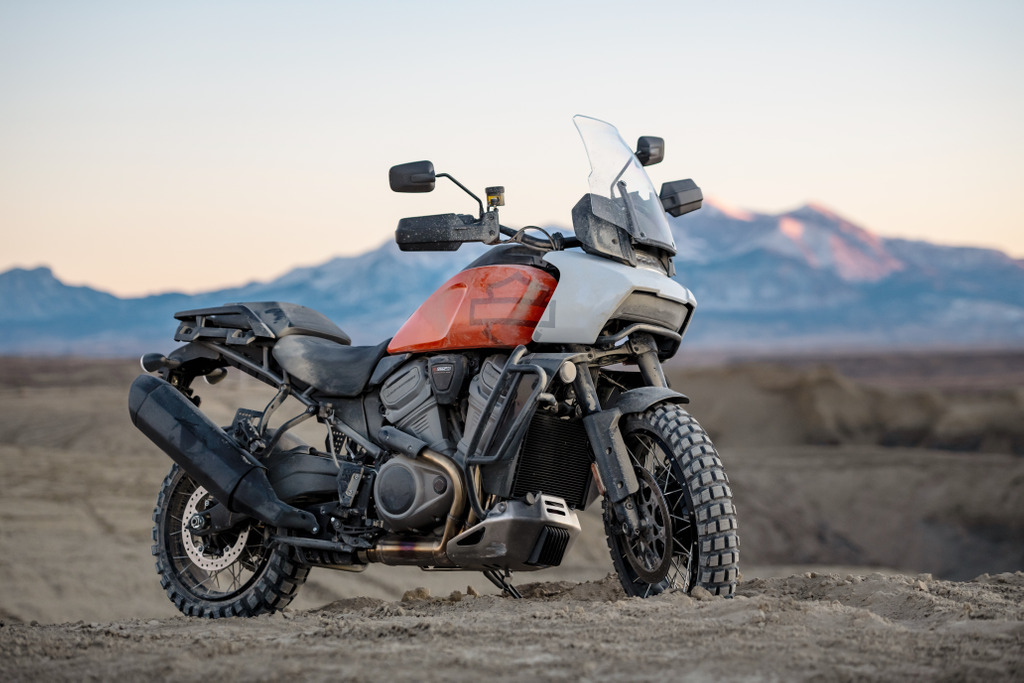 The Pan America is also offered in a 559 pound 1250 Special version. This model of the Pan America is host to a number of optional premium upgrades that include semi-active front and rear suspension with load control, a tire pressure monitoring system, a center stand, and a multi-position rear brake pedal. Other upgrades include an innovative bit of suspension technology. Adaptive Ride Height automatically transitions between a low stopped position and optimal ride height when the bike is moving. You'll also get a steering damper, an adaptive headlamp from Daymaker, tubeless laced wheels, brush guards, and a skid plate.
The Harley-Davidson Pan America 1250 arrives in two color options: Vivid Black, River Rock Gray with Medallion. The 1250 Special will be offered in Vivid Black, Gauntlet Gray Metallic, Deadwood Green (available in select international markets only), two-tone Baja Orange and Stone Washed White Pearl, all with the Split Graphic. Both models are scheduled to be in Harley-Davidson dealerships in the Spring of 2021.
---