Suzuki has finally brought forth their new GSX-S1000 naked bike a year after the rest of the world got it. Is it a case of good things come to those who wait?
You really have to feel for Suzuki and the 2015 GSX-S1000. Here was a motorcycle based heavily off the halo GSX-R1000K5 — probably the greatest hit in Suzuki's list of greatest hits sportbikes — stripped of its bodywork and turned into a naked bike and… no one bought it.
The GSX-S was hardly seen anywhere on the street after its 2015 release, which is one of motorcycling's great shames because it really was a good bike.
It got a very minor facelift in 2017, but until last year it was essentially the same bike as when it came out. Think about how much the naked bike game has changed since 2015.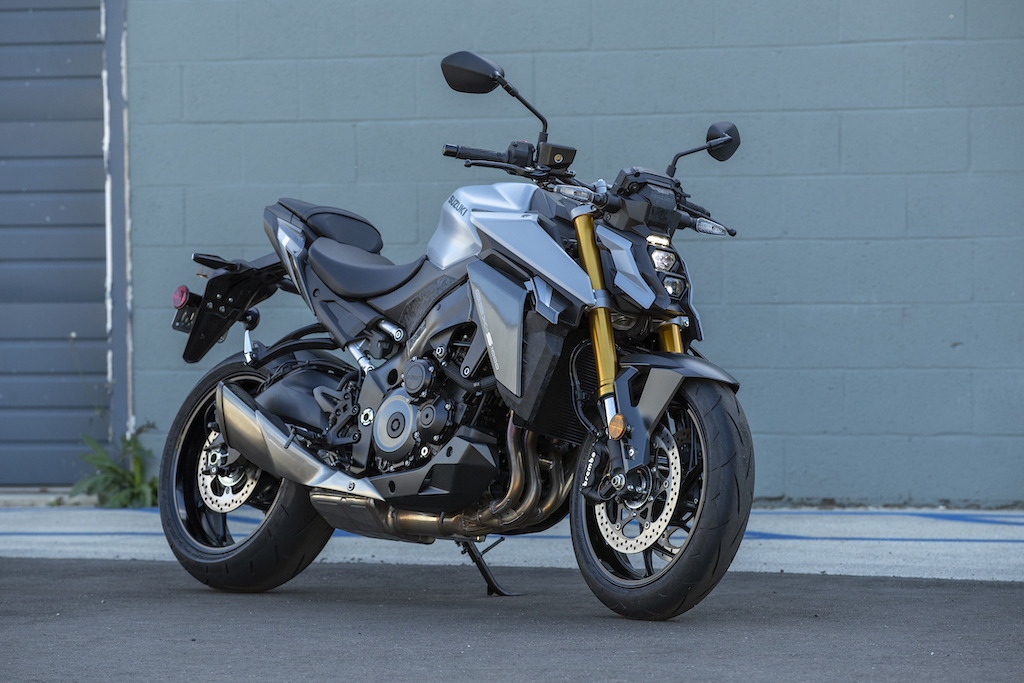 Suzuki's OG naked hit the market at exactly the wrong time. As a sporty yet budget-conscious naked, it was properly outgunned both in hype and sales by super nakeds like the BMW S 1000 R or the Aprilia Tuono V4 Factory. But as the world slowly wakes up from that power-driven hangover, Suzuki may now have timed the market just right.
The 2022 Suzuki GSX-S1000 isn't totally new, but there are some very significant changes. Priced at a very tasty $11,299, you get a revamped engine with a flatter, fatter torque curve, new throttle maps and traction control, all-new edgy bodywork that's got LED's in the back and front via the new triple-stacked headlight system, and a revamped riding position via a new seat, tank, and handlebar position.
It's quite a compact motorcycle, even though the seat height at 31.9 inches would lead you to believe otherwise. Nimble and agile in the twisties, the Suzuki GSX-S1000 rolls on KYB suspenders that are just the right side of firm, meaning you can especially rail long sweeping corners at will and not get too battered around on the freeway trying to get to those twisties.
There's no electronic suspension here, no sir, so you get this lovely feel at the 'bars when you're really going for it. There's no computer to dilute the feeling between you and the Dunlop Roadsmart II rubber, and it's a refreshing feeling.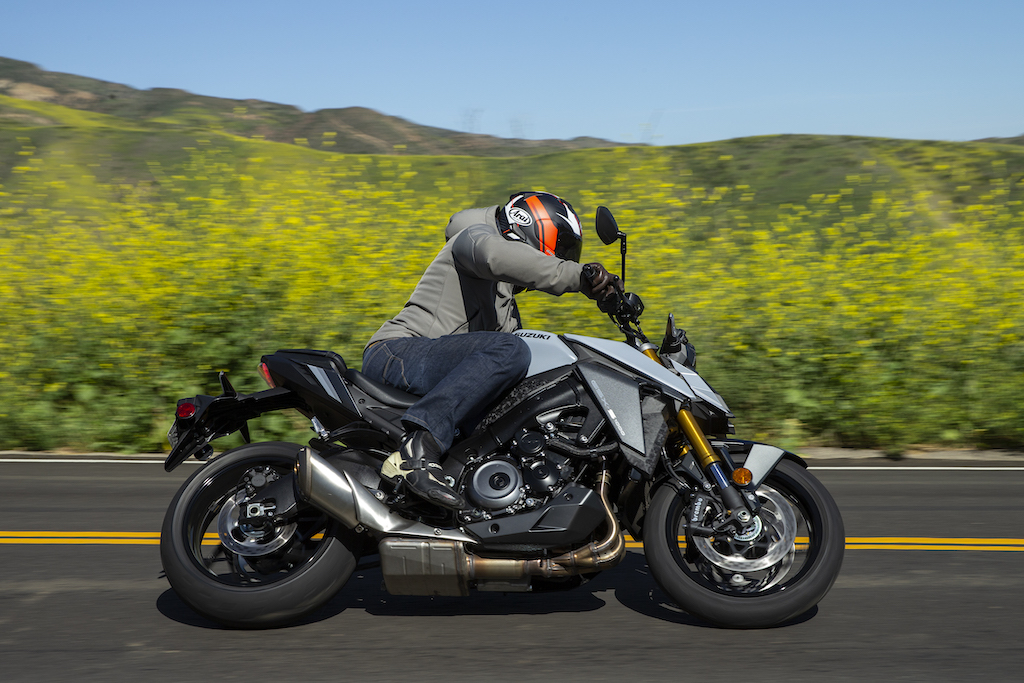 One thing never in doubt is that 149 hp, 999cc inline four-cylinder motor. It feels and sounds old school, with tons of mid-range torque and relatively tall fourth and fifth gears which lets you just focus on the bends coming up than constantly searching for gears on the absolutely beautiful quick shifter Suzuki has developed for the GSX-S. Each shift is so light and precise—Suzuki should be congratulated for bringing this to market.
There are three different engine modes and five possible traction control modes available to the rider via the Suzuki Intelligent Ride System (S.I.R.S.) settings, and there's a noticeable change between each mode when you scroll through them. I settled on the middle mode of B, simply because A was too aggressive and C was not aggressive enough. You get all the same power in each mode, it's just how quickly said power is delivered.
This Suzuki GSX-S1000 doesn't come with an IMU, so there's no lean angle-sensitive TC or Cornering ABS. In truth, you really don't miss their absence, but you do miss not having cruise control or the option to fit it after sale.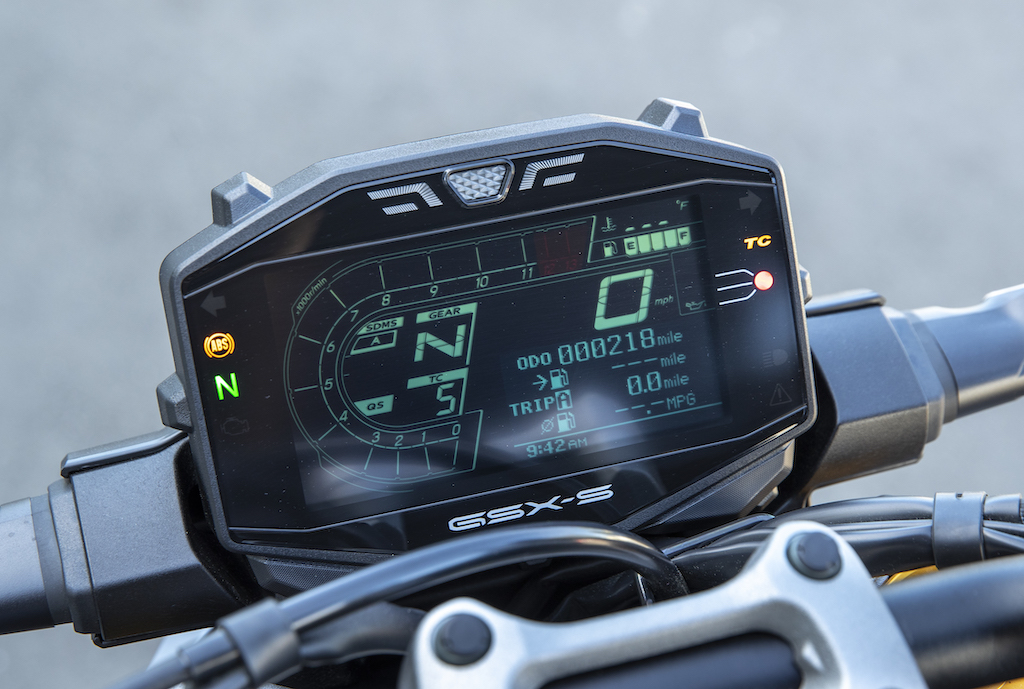 A black mark must go against the dash. This is one of the hardest dashes to read at a glance I can remember for a very long time and is simply not up to the rest of the machine's quality. If you have a high sun in the middle of the day, good luck reading what you need at a glance. It's only when the sun begins to go down that the info becomes legible, which is just not good enough when something like a KTM RC390 meant for kids comes out with a proper color TFT display.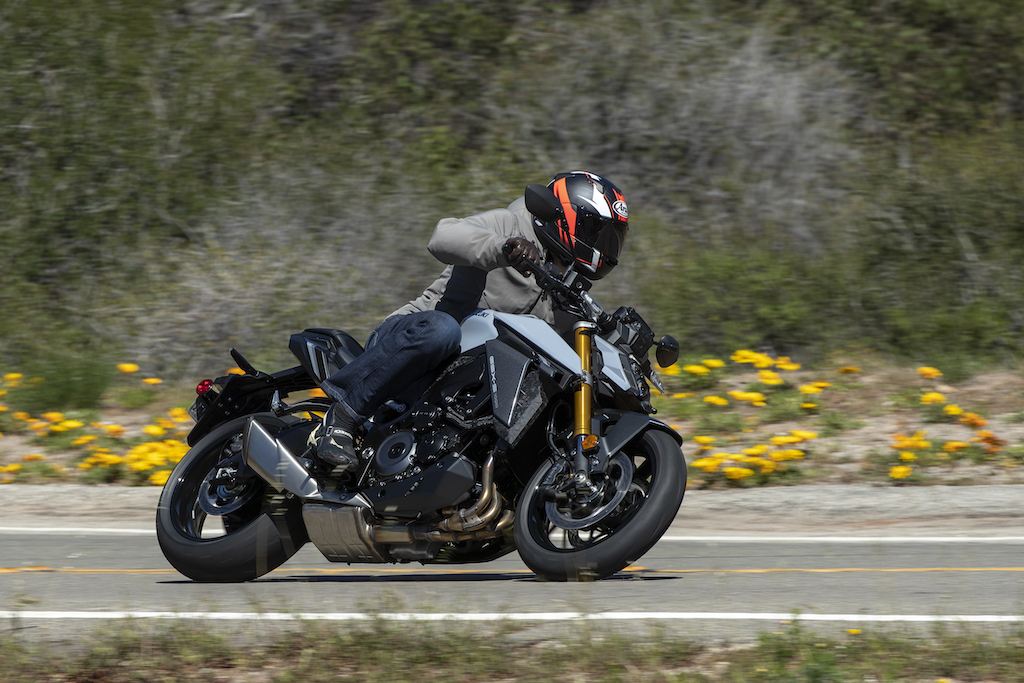 While the dash is ultra-annoying — as is the lack of cruise control — the rest of the Suzuki GSX-S1000 is nicely executed. Yes, it's got a bit of an old school feel but that's a good thing. There's a bit of rawness to the GSX-S, one that's almost gone in modern naked biking, and considering it's less than $12K for a 1000cc naked, that's something to really consider.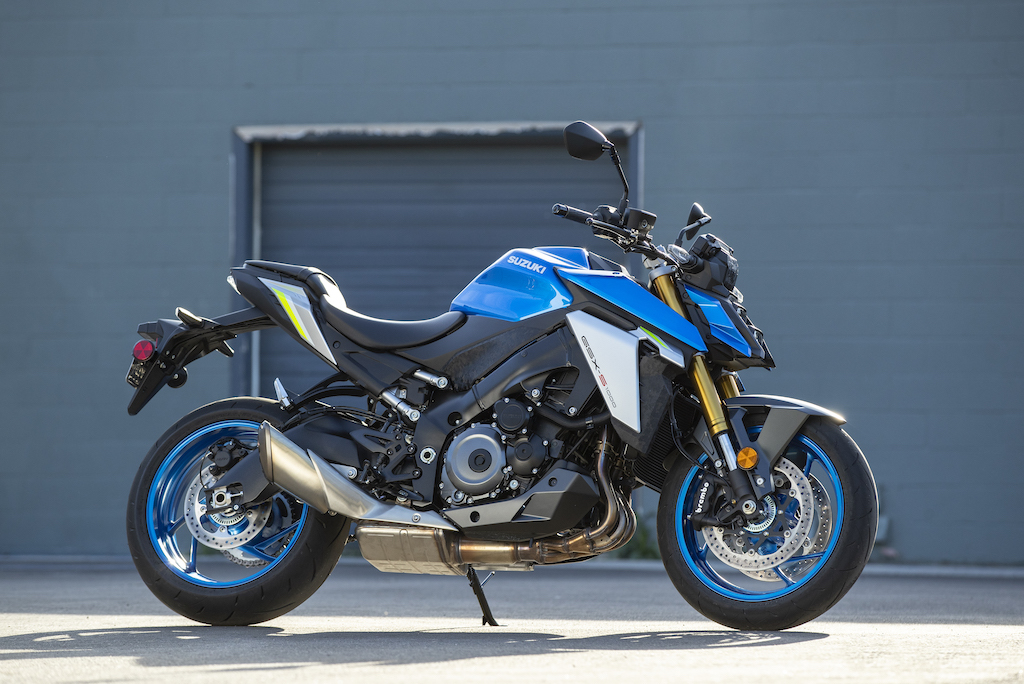 ---