Alonzo Bodden travels to Albufeira, Portugal with Triumph Motorcycles to experience the 2023 Triumph Tiger 1200 Range. 
So here I am in Albufeira, Portugal for the launch of the 2023 Triumph Tiger 1200 Range of adventure bikes. In the words of Zack Courts from Revzilla, " Alonzo, why are you here?"
Well, Zack, Triumph called and the trip was free.
The GT series are street-oriented adventure bikes. There's the base GT, the GT Pro and the GT Explorer. The Rally Bikes are the off-roaders. The Rally Pro and Rally Explorer The most obvious difference is the cast wheels on the GT bikes versus the spoked wheels on the Rallys. The GT front wheel is 19 inches while the Rally's front wheel is 21. Both use an 18 inch rear.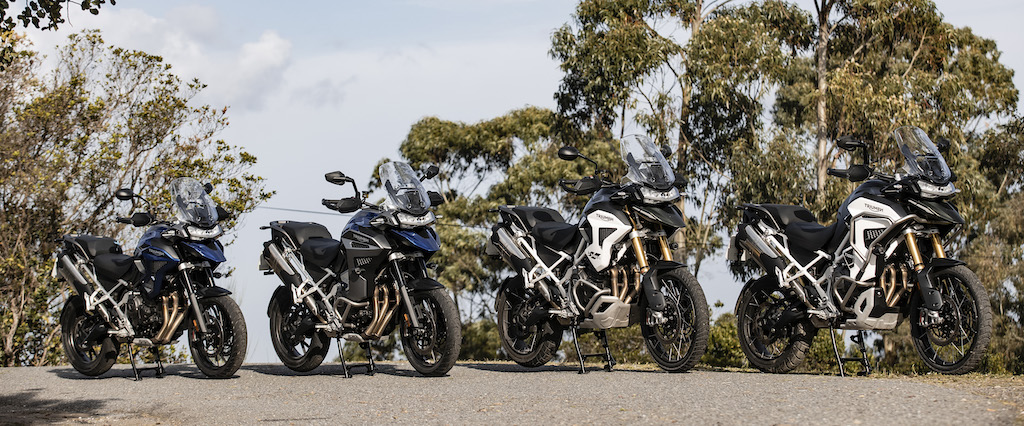 The Explorer models both have a 7.9-gallon tank while the GT and Pro models hold 5.3 gallons. The Rally bikes have 8.7 inches of suspension travel, the GT offers 7.9 inches. The engines are the same and tuned the same. Triumph triple engines are almost the perfect compromise between the torque of a twin and the top end of a four.
Triumph claims the new 2023 Tiger 1200 range is 25 kilos or about 50 pounds less than the Tigers they replace. Weight savings start with the frame and all other components are lightened. 
Power was never a problem. I stalled a few times on the off-road ride but that was me being in the wrong gear, not the bike. Did I mention I have no business being off-road?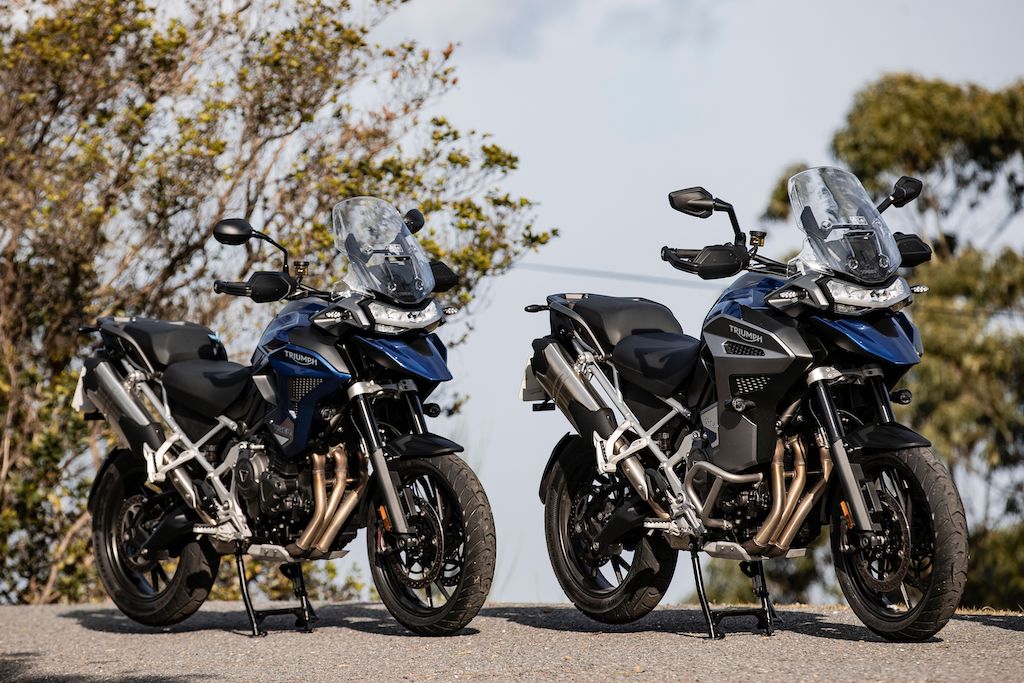 There are tons of features fitting the high-end 2023 Triumph Tiger 1200 Range: a 7 inch TFT screen, lean sensing traction control with cornering ABS, quick-shifter, keyless ignition, cruise control, heated seats, heated grips and hill hold. There are modes for street, rain, sport, and off-road with a rider mode in which you set the parameters. The Rally bikes also have an off-road pro mode. These modes are for engine management, ABS and traction control, and of course suspension. Within each suspension mode, damping can be fine-tuned with a simple sliding scale between comfort and sport. I found the comfort settings a bit too soft and stayed between normal which is the midway setting and sport.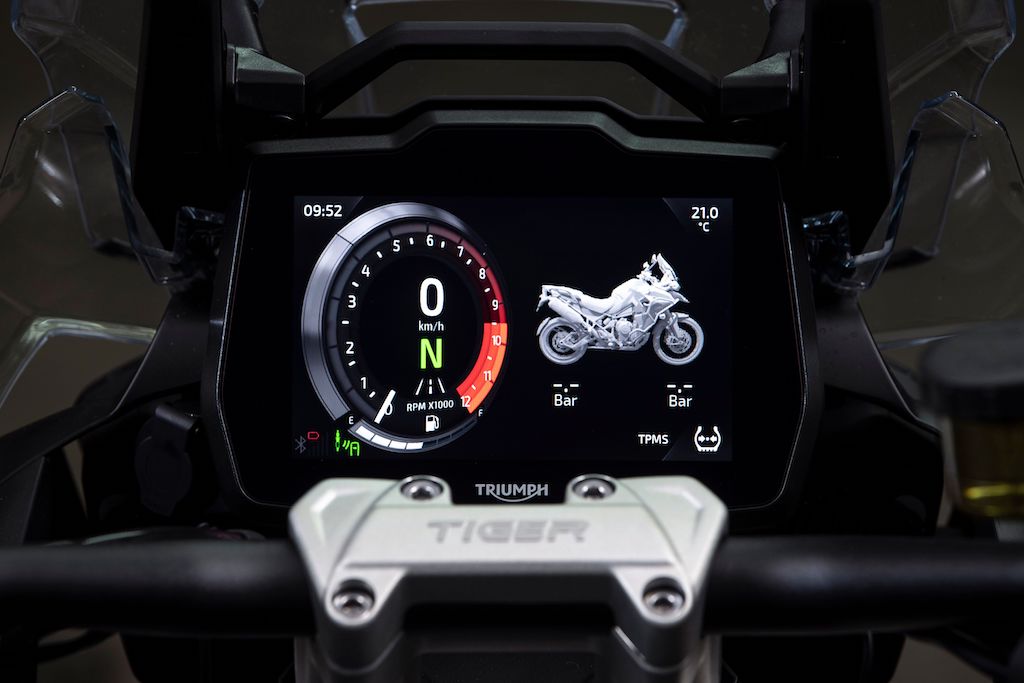 The adjustments are easily controlled with a home button, a mode button, and a small joystick on the left bar. It's simpler than it sounds and can be changed on the fly. There are also two different views for the instrument panel both highlighting the tach outside and speed inside. Something I haven't seen before is a switch between a daytime led running light and LED headlights for night riding. We didn't ride at night so I can't tell you how bright the headlight is or how the switches look after dark. We're told they are backlit.
The seats have a high and low adjustments. The 2023 Triumph Tiger 1200 Range is noticeably narrow for its size making it easy to put a foot down at a stop. Then again, I'm 6'3 it's always easy to put my big feet down at a stop. The bike was comfortable in the high position though I noticed on the GT Sport model my knee would occasionally hit the fairing. No problem with the GT Explorer. The Rally Explorer was the most comfortable for me with a little more suspension travel and well-spaced ergonomics.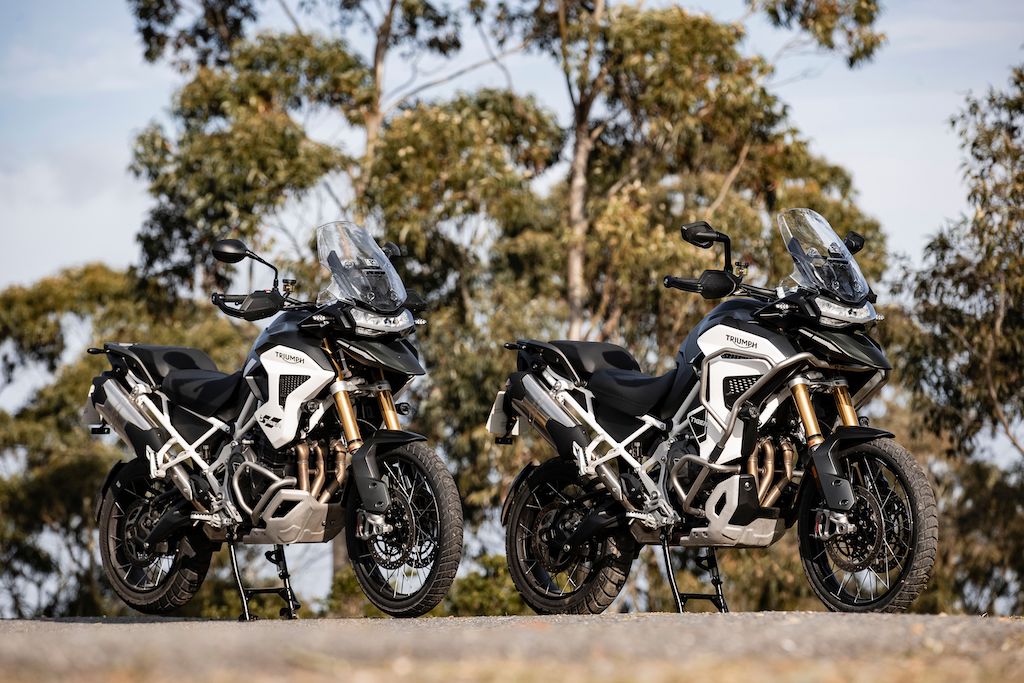 Ok time to talk riding… We had the GT Pro the GT Explorer and Rally Explorer to ride in the street and the Rally Explorer for off-road. No base models for us.
The GT Pro felt most like a standard naked bike. If you're coming off of sportbikes and now don't fold up like you used to, this bike will be most familiar to you. It's fast, handling is stable and smooth.
The GT Explorer is a bigger version. A huge 7.9-gallon tank and engine guards give the bike a much bigger feel. More comfortable for me since I'm a big guy. I'd say a fat guy but my therapist says I should be nice to myself. The Rally Explorer feels bigger than the GT with its extra suspension travel and bigger front wheel. It was most comfortable for me.
I didn't hear anyone in the group complain the bikes were too big and the size range of riders went from Chris at 5'7 who can tour on a 400 cc sportbike to myself. We also had a woman Eva in the group and she was fine on them so I'd say the sizes are manageable and with the different models there's something for everyone.
One rider, who shall remain nameless, had a low-speed tip over on a Rally Explorer. He tried to catch it. The bike didn't fall but unfortunately, he pulled a hamstring in the attempt. These bikes are lighter than they used to be but still big and rather tall bikes. That's probably the biggest change if you're coming from a sportbike or cruiser. Adventure bikes are tall. The 2023 Triumph Tiger 1200 feels bigger than the Multistrada but not as big as my BMW GS Adventure.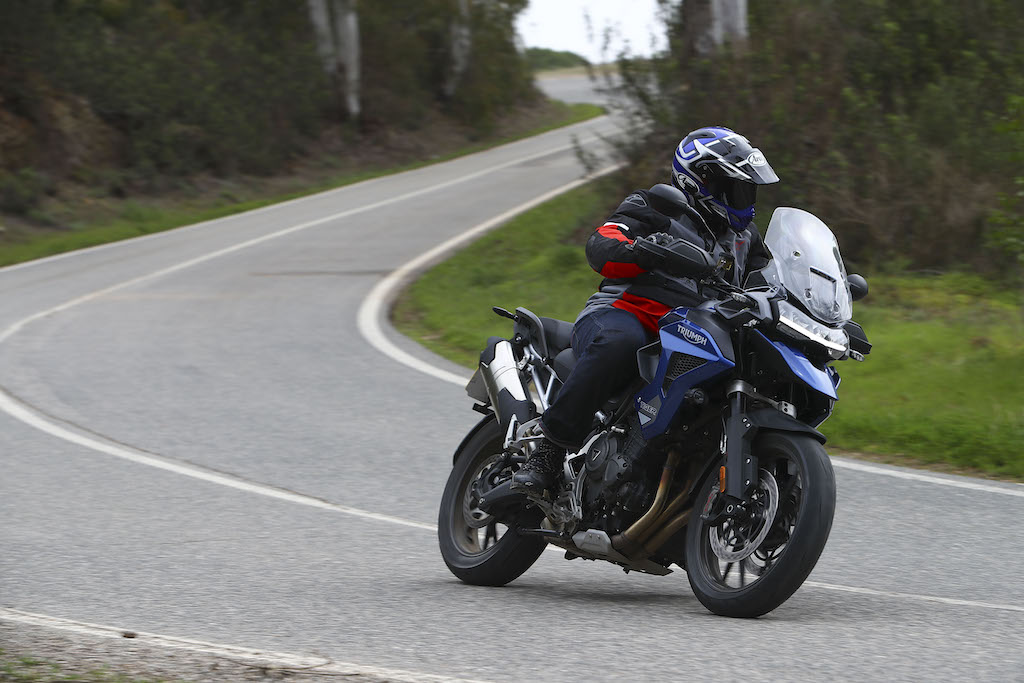 Now I should tell you I'm a huge adventure bike fan. They work great in the city. They absorb bumps and you can easily see over most cars. These bikes handle great and it's always fun surprising sportbike riders when you can hang on your big adventure bike. It's also nice to not hurt after 200 miles. Riding canyons and hitting a bump in a corner doesn't upset the bike at all. They have cornering ABS, so trail braking isn't a problem. I didn't try rain mode. It didn't rain. Throttle response was definitely smoother in street mode than sport mode. These bikes are easy to ride confidently fast.
A bit about the roads around Albufeira, Portugal where we rode. They were fantastic, smooth fast and empty. Traffic in town was nothing. There were some roundabouts. Once you get used to them, riding was no problem at all except maybe for the road signs in Portuguese. I have no gift for language but I'm very good at following the guy in front of me so I didn't get lost.
Once we hit the hills… Wow! 30 to 50 mph sweepers with very few blind corners and no traffic to speak of. Beautiful scenery, trees and farms. The kinds of roads you can ride all day. You can speed up and play road racer or kick back and enjoy the scenery. Just change your bike mode and fine-tune the damping.
I didn't notice a huge difference between the GT bikes. It's funny, I went in thinking the GT Explorer would be the perfect bike for me. A big street-oriented adventure bike. I was probably at my fastest on the GT Pro as I felt closer to the ground. I did have to be careful of dragging my toes. Bigfoot problems. The GT Explorer eliminated the foot and fairing problem I had.
My personal favorite bike of the group was the Rally Explorer. I'm used to the big front wheel so that wasn't a problem. It won't turn as quick as a 17 incher with sport rubber but then this isn't that bike. I think you'd have to be pushing pretty hard to have a problem with any of these bikes in sport mode on any canyon road. Don't worry, you'll keep up with your sportbike friends. You'll feel the size in the tightest corners otherwise these things can fly. You get to a point where you realize it's not the bike as much as the rider and anyone short of expert should be fine on the street with these. You'll definitely be more comfortable heading home than your buddy on his superbike. Take the long way home. Sure his 200 hp rocketship has a higher top speed that you may never see… But look at the pain in his face as you ride the freeway home while you're smiling in comfort mode with cruise control.
And if you have to pick up some groceries, clothes, or whatever else on the way home, there's a full range of luggage for these bikes. I'm telling you, adventure bikes do it all.
Speaking of doing it all. We went off-road riding on Friday. I'm going to say I've done maybe 10 off-road rides in my life. I'm talking gravel roads or groomed dirt. Nothing heavy duty. No climbing mountains or rocks. I'm a city kid. In my mind, as society progressed we paved the road and I am good with that so this is in no way an expert's off-road opinion… I loved it!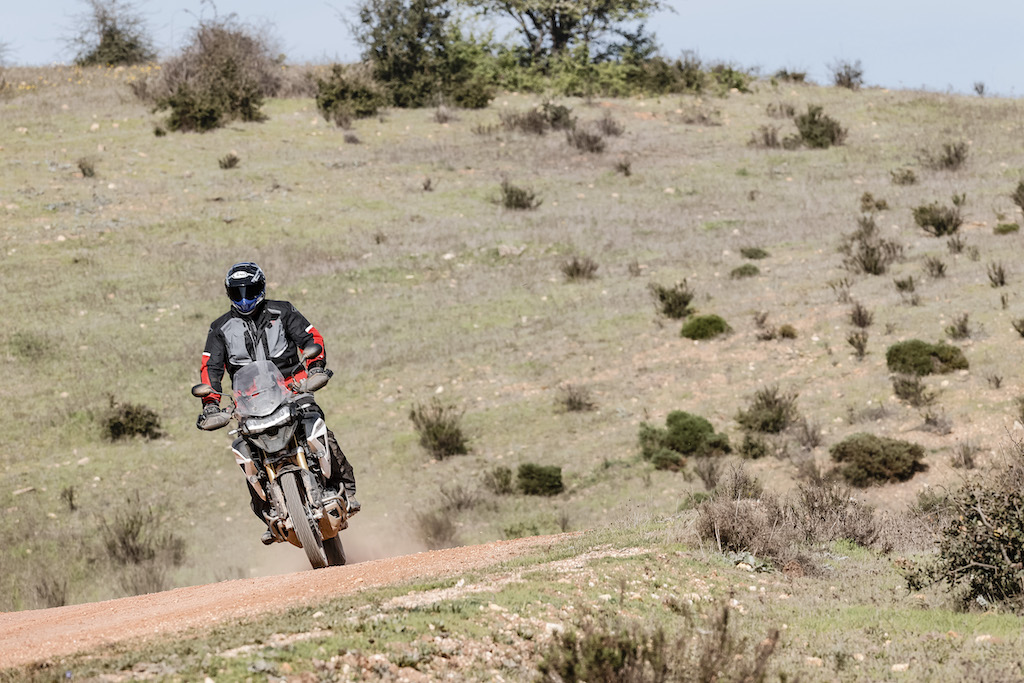 We rode the Rally Explorers with Michelin Anakee Wild tires off-road. Triumph provided excellent instructors for our beginner's group. Eva was the ringer who had some off-road experience. Dustin, who was maybe 5 days more experienced than I, learned as we went.
The first thing I learned is setup really matters. You stand on the pegs off-road and the Triumph techs rotating the bars to achieve more height really helped me find a balanced position. I liked the big tank to brace my knees against.
Some things off-road are counterintuitive to a street rider. In the dirt, the rear brake is key for stopping and stability. I had one low-speed tip over caused by my instinct to hit the front brake and the dirt trails instinct was to tuck my front wheel and teach me a lesson. I wasn't hurt. The bike was fine and now my AStars Andes suit has some experience on it. Badge of honor.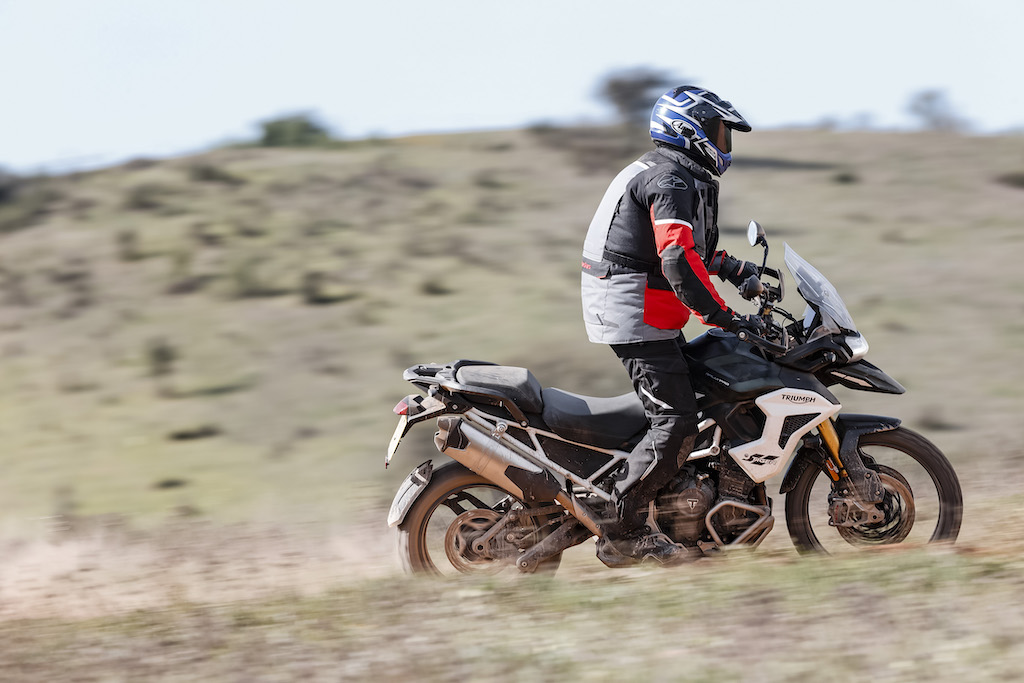 The nice thing is that in the dirt you tip over at 15 mph rather than crash at 80 mph. I also tipped over in a muddy water crossing but I blame that on Dustin slowing down in front of me and killing my momentum.
I think it's a testament to the balance and ease of control of 2023 Triumph Tiger 1200 range to see we were learning to ride on 1200 cc adventure bikes and never found the bikes to be the problem. One of the marks of a great bike is not feeling or fighting the bike under you so you can concentrate on the ride. The Tigers were like that on or off-road. 
Another off-road trick I learned was to use a higher gear and lower rpm for throttle control. It worked for me. I stalled a time or two but again that was me learning no fault of the bike or the engine.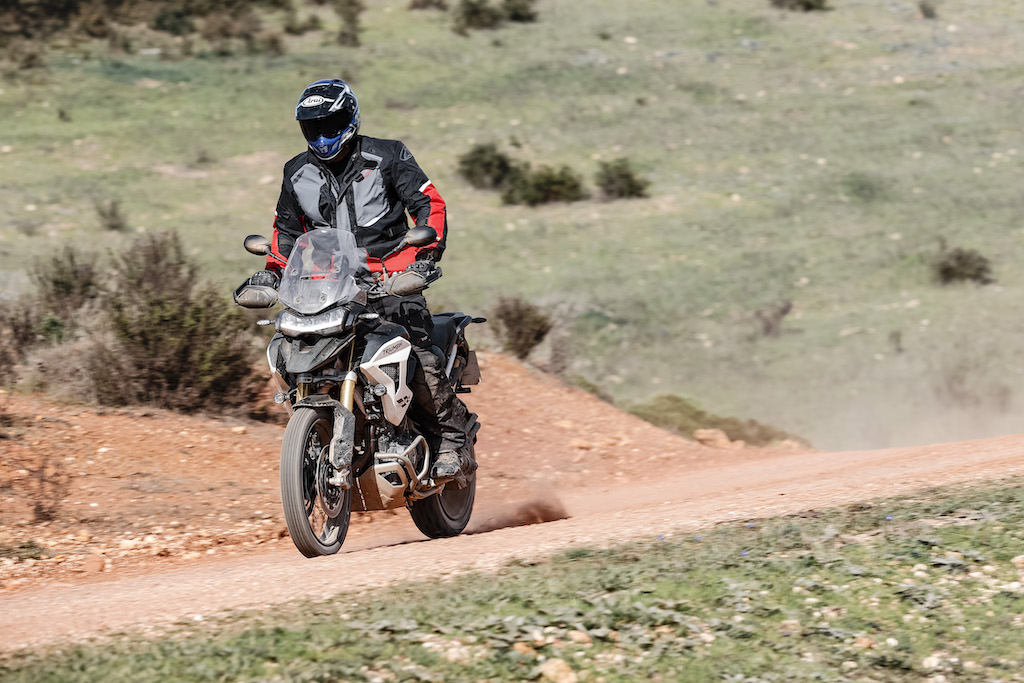 At every stop, we were laughing and every segment was a bit smoother and faster. Downhill riding takes much more control than uphill. By the end of the day, we were going downhill on a single-track goat path. Now I wasn't happy about it as there was a perfectly good gravel road right next to us, but we did it.
The names of the bikes fit what I would call my first time riding in Europe, an Adventure. These 2023 Triumph Tiger 1200 models and their range, from tame to roaring, are the adventure.    
---