The Spring 2021 Buyer's Guide – A curated list of new moto-products from a selection of apparel and aftermarket companies.
A new season and new stuff to buy for yourself or for the rider in your life. This is our curated list of moto-products to enhance your riding life for the upcoming riding season. From new helmets, tires, exhausts, parts, apparel and accessories… The Spring 2021 Buyer's Guide has a little something for everyone.
Alpinestars – Charger Pro Backpack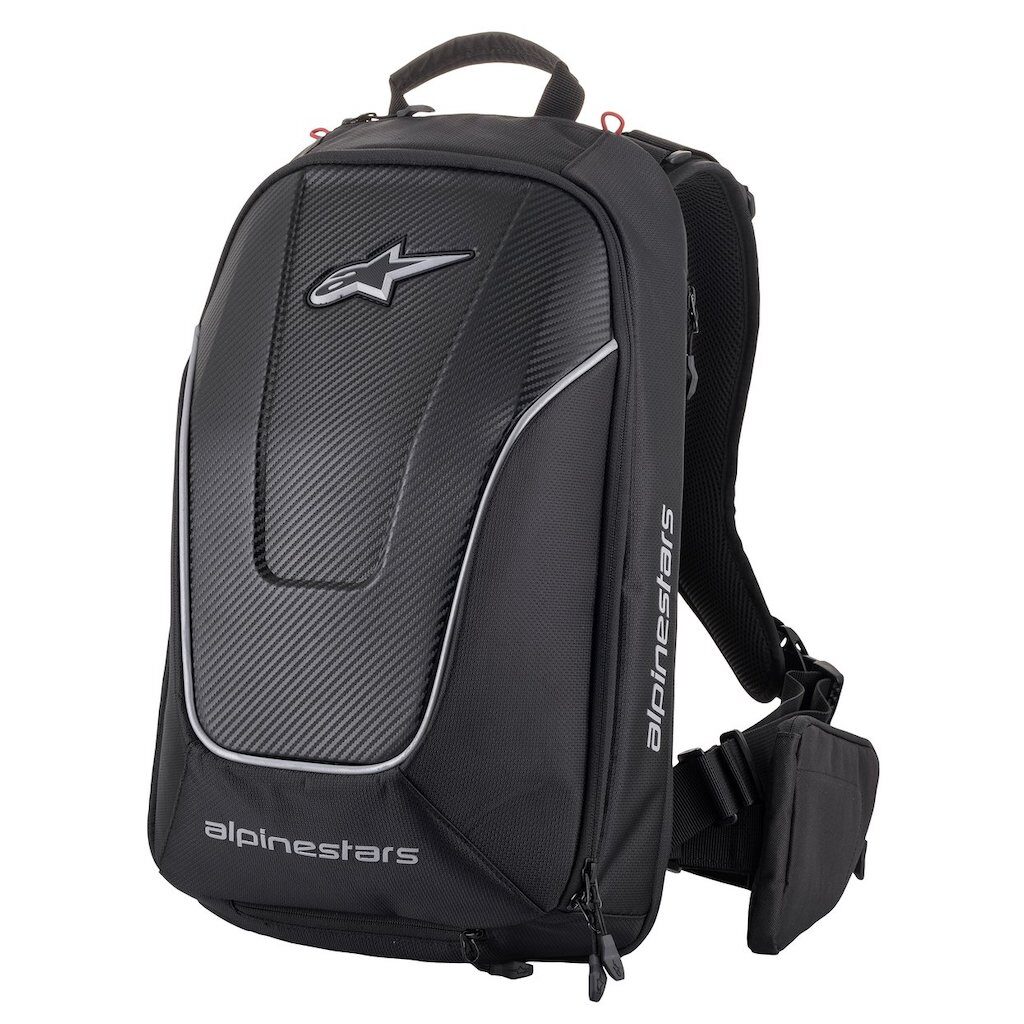 The aerodynamically shaped, semi-rigid Charger Pro Backpack is built to excel at carrying bulky items over big distances in total comfort, thanks to its adjustable harness, complete with magnetic closure, which delivers comfort by spreading the load over the back, thus making the weight disappear. Constructed from a heavy-duty fabric for durability, the Charger Pro Backpack is equipped with a pocket to accommodate an Alpinestars Nucleon KR-Celli back protector and a helmet carrier.
Price: $149.95
Contact: www.alpinestars.com
Rev'it! – Arc Air Ladies Jacket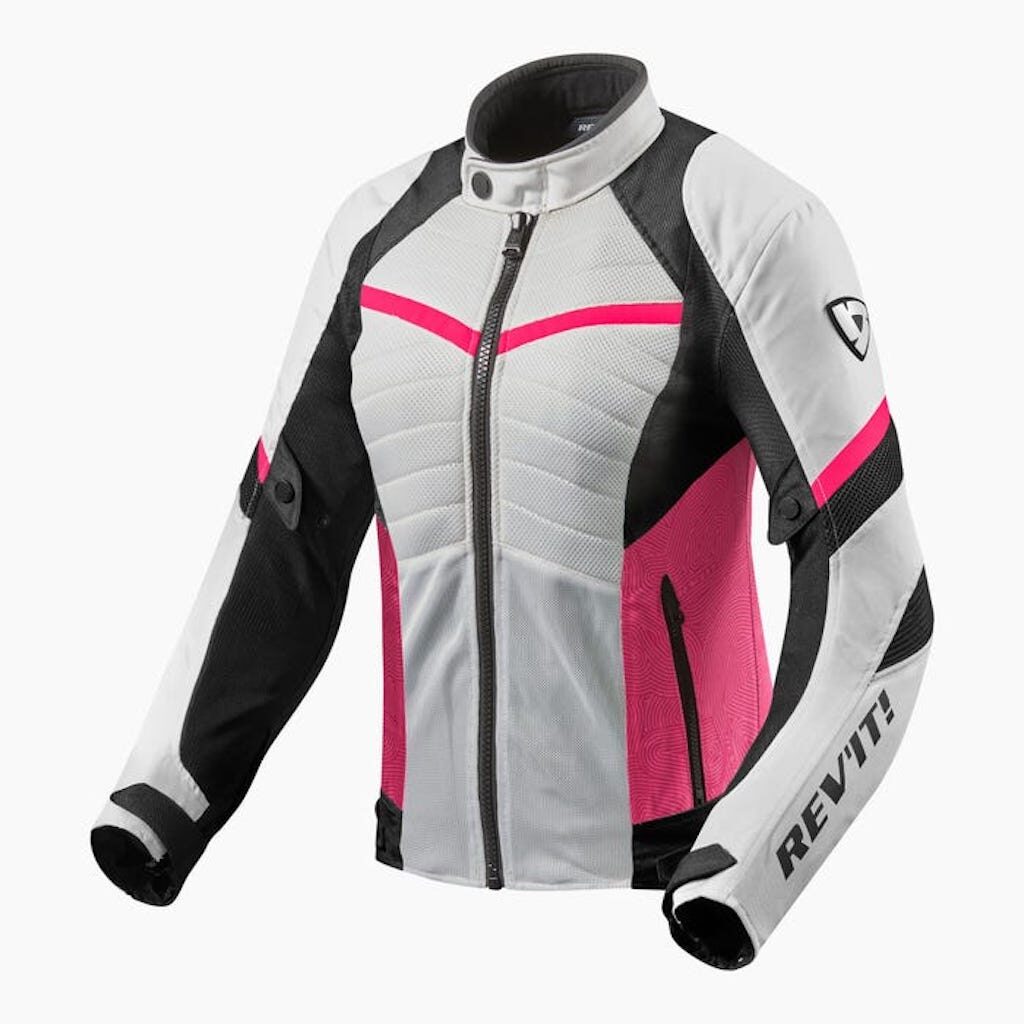 On hot summer rides, the Arc Air Ladies jacket lives up to its promise of cooling you down while offering the perfect female fit and great style. The right blend of abrasion-resistant PWR mesh and polyester 600D materials ensure safety and sportiveness, promoting the optimal amount of airflow to the upper body to keep things comfortable in warm conditions. In case of any unfortunate mishap, the incorporated SEESMART CE-level 1 protectors at the shoulders and elbows take care of impact protection. Additionally, the Arc Air Ladies can be upgraded by installing the SEESOFT CE-level 2 back protector in the prepared pocket.
Sizes: 34 – 46 Euro
Colors: White/Fuchsia, Black/White, Black/Grey
Price: $249.99
Contact: www.revitsport.com
RK Excel – MRU Sealed U-Ring Chain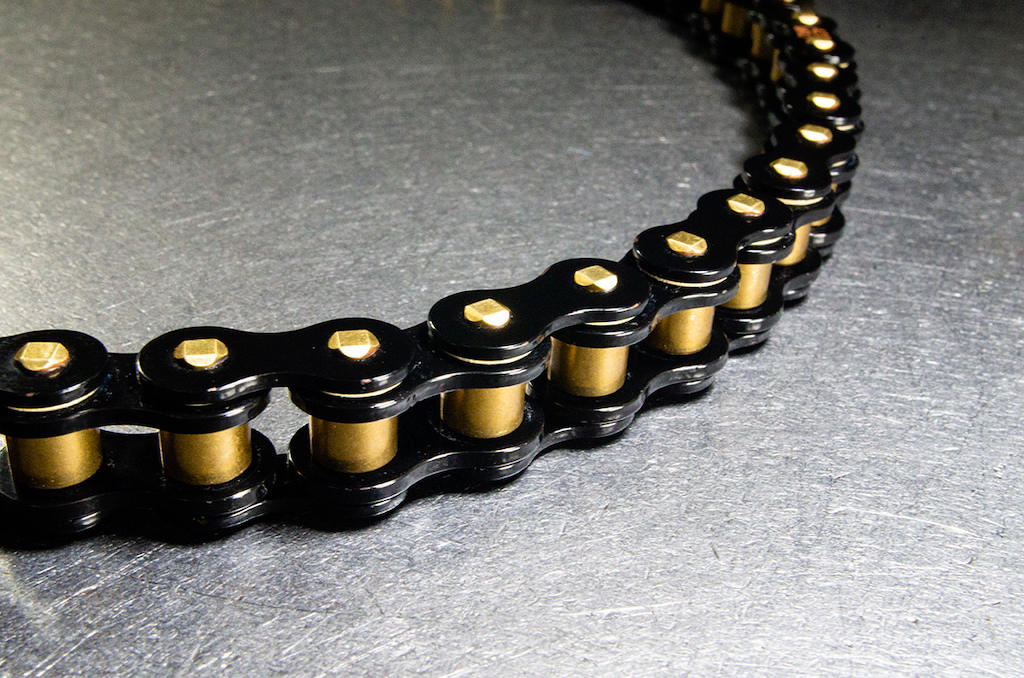 This lightweight, low friction, sealed, U-Ring 420 pitch chain is perfect for the Honda Monkey and Grom. Providing a chain life expectancy four times longer when compared to non-sealed 420 chains, the MRU features an ultra-thin U-ring seal, where the thickness of the seal is less than 50% of the most common O-ring seal. The thin U-ring seal keeps the weight low and reduces the rotational mass of a standard sealed chain. The MRU will require fewer chain adjustments compared to non-sealed 420 chains and have a maximum tensile strength of 4,540 lbs/ft, weighs 1.74 lbs per 100 links and is rated up to 150cc and 25 Horsepower.
Sizes: 120 links, 130 links
Price: $109.28
Contact: www.rkexcelamerica.com
Triumph Motorcycles – Triple Leather Jacket
The Triple Leather features sports leather construction with TriStretch Aramid stretch fabric inserts, removable D3O shoulder, elbow and back protectors and new TPU-moulded shoulder panels. Highlights include contrast color reflective detailing and contemporary Triumph logos provide additional styling to complete a streamlined roadster look. This jacket has been designed to be worn with the Triple Black Leather Jean that connects together by a zip fastening.
Sizes: XS – XXL
Price: $550.00
Contact: www.shop.triumphmotorcycles.com
Shoei – GT-Air II Helmet
With the innovative and highly-acclaimed GT-Air as a baseline, the all-new GT-Air II was destined for greatness from the very start. Advancements in design, functionality and performance have further evolved SHOEI's premiere full-face touring helmet, yielding even easier adaptation to the ever-changing conditions throughout your journeys. Featuring a lengthened internal sun shield for optimal sun-glare protection, all-new "first position" shield opening for advanced ventilation and defogging, enhanced aerodynamics and noise-reduction technology, and the ability to seamlessly integrate with the all-new SENA SRL2 Communication System, the GT-Air II is equipped to accommodate your every need.
Sizes: XS – XXL
Colors: Solids, Graphics
Prices: $569.99 – $699.00
Contact: www.shoei-helmets.com
Hard Knocks Moto – Classic Crew Sweatshirt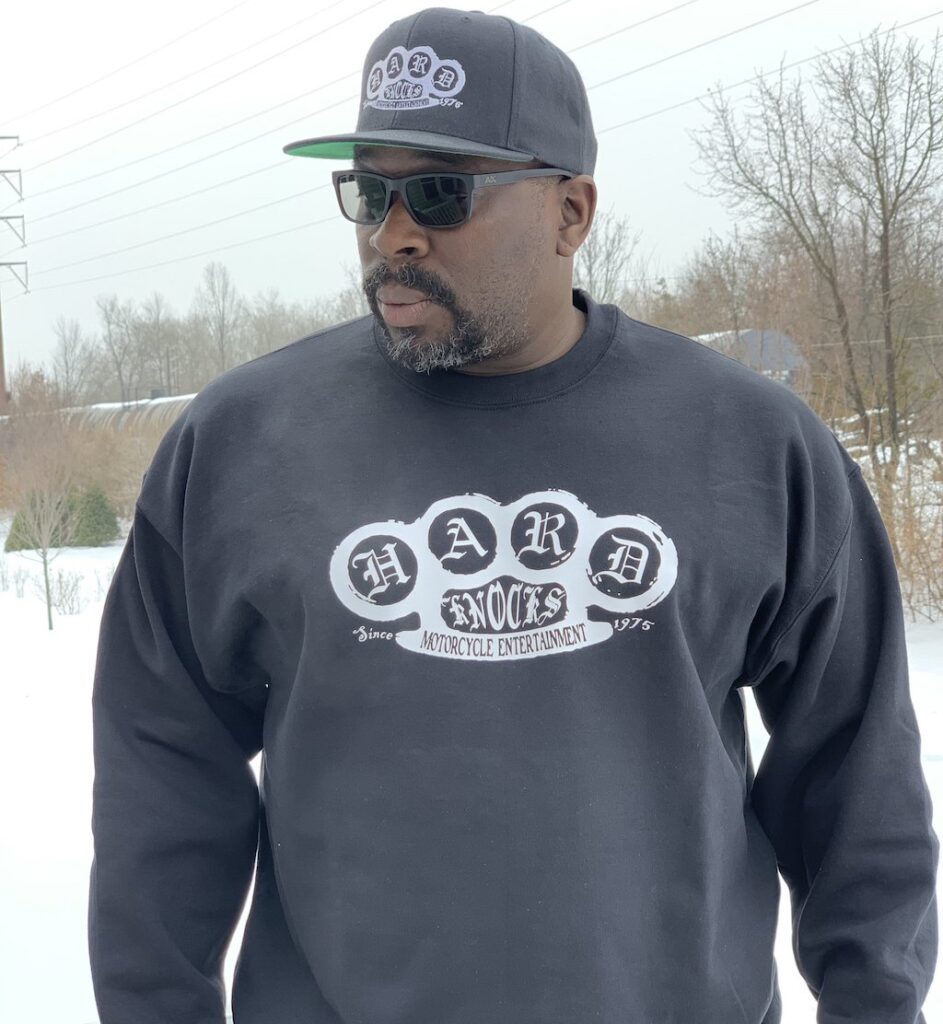 The Hard Knocks Moto preshrunk fleece knit Classic Crew sweatshirt features double-needed stitching for durability. The stretchy ribbed collar and cuffs provide a comfortable and cozy fit.
Sizes: XS – XXXL
Price: $40.00 – $44.00
Contact: www.hardknocksmoto.com
Forcefield Body Armor – Pro L2K EVO Back Protector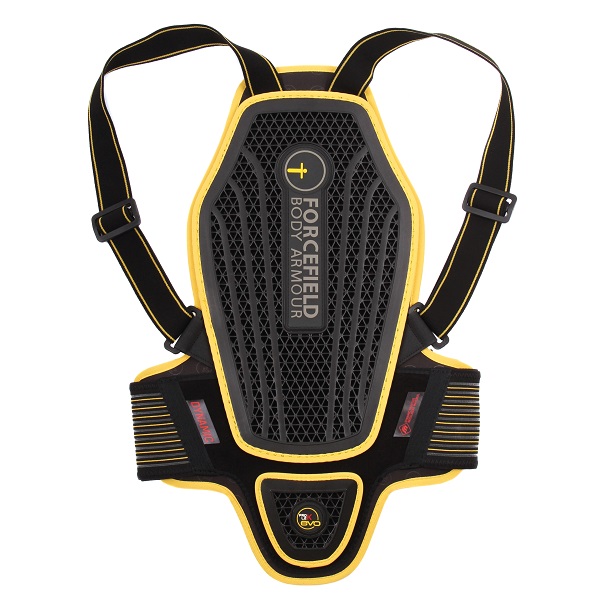 Made with NitrexEvo a unique high-tech shock-absorbing material the Forcefield Pro L2K EVO back protector is designed to be soft, flexible and comfortable. All while still providing maximum impact protection and conforms to, and exceeds the CE test EN1621-2 Level 2 the highest possible level. NitrexEvo provides Repeat Performance Technology (RPT) to ensure that even after multiple impacts there is no loss of protective performance and 3D molds to closely fit the contours of the riders back creating the ultimate in all-day comfort.
Sizes: S – L
Price: $179.99
Contact: www.motonation.com
Sidi – Rex Boots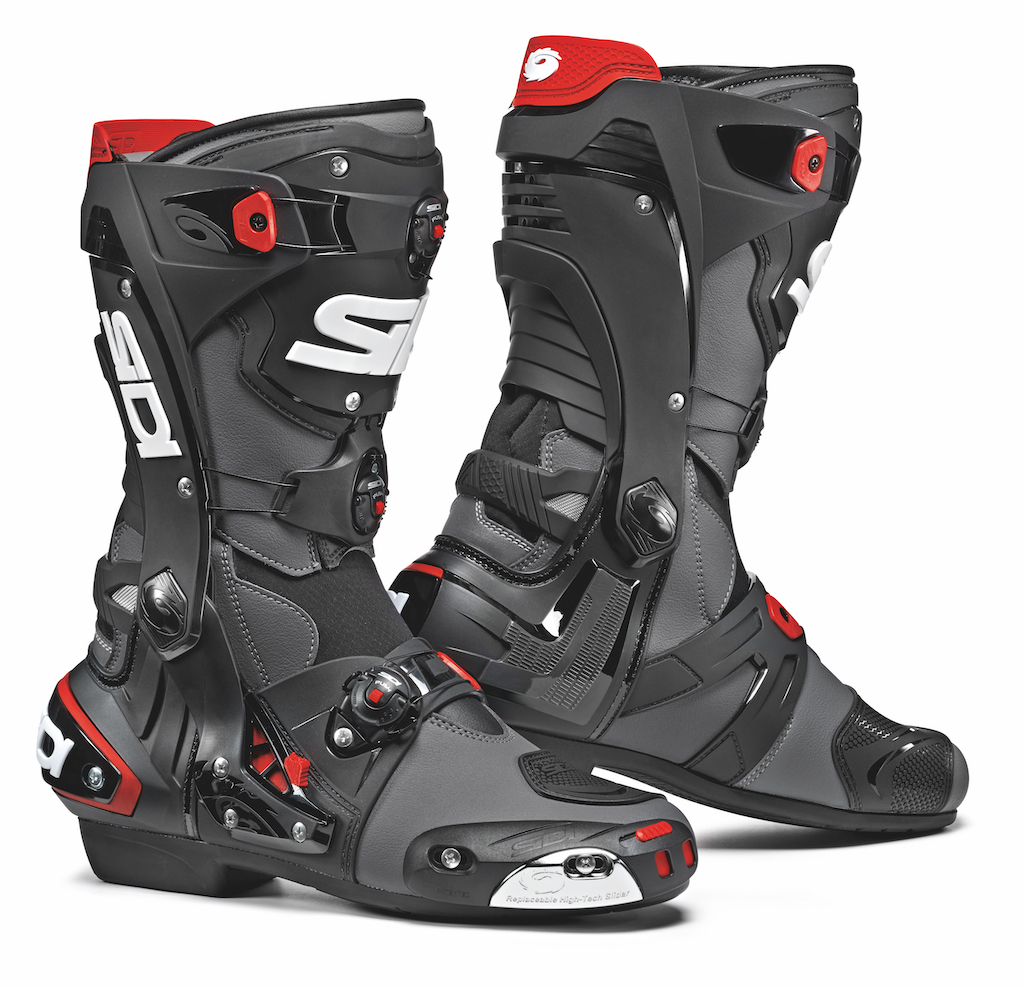 The Rex boot is Sidi's premier race boot. Its ease of entry and incredible adjustability through the calf and shin protectors make it one of the best fitting, safest and most comfortable sport boots available.
The boot is equipped with 3 steel cable adjustable closures with Sidi's exclusive Techno-3 Push rotor. The push-button allows the arm of the dial to be lifted perpendicular for more closing pressure. The shin and ankle mechanisms pull from the center allowing a symmetric closure. The instep mechanism ensures a snug yet comfortable fit. Sidi's proprietary Technomicro is used to construct the upper. Elastic panels are added in the key front and rear of the boot flex areas for maximum comfort. The foot is surrounded by Cambrelle®, a synthetic lining material that wicks moisture away and keeps your skin dry and less likely to blister.
A single ankle support brace joins the internal and external ankle joint for more support. In the outer lower part, the ankle support brace is equipped with air vents that can be operated by an aerodynamic shaped button. The ankle support brace is made of a nylon material infused with fiberglass fibers. Small slots on the joint's central part allow perspiration and air dissipation.
Sizes: 7 -13 (US)
Colors: Black, Grey/Black
Price: $499.99
Contact: www.motonation.com
ICON Motosports – Airflite Jewel Helmet
With gloss upfront and matte outback, the Airflite Jewel is two sides of the same classy coin. Not to be outdone by the refined exterior treatments, the Jewel features the latest rotational-reduction system from MIPS. Hydradry interior liner, internal DropShield, included Fog-Free Clear and Dark Smoke Fliteshields and superior venting complete the metallic perfection of the Airflite Jewel.
Sizes: XS – XXXL
Colors: Gold, Silver
Contact: www.rideicon.com
Cortech Racing – Adrenaline GP 1-Piece Leather Suit
The Adrenaline GP cowhide leather suit features a race-fit with rotated sleeves and pre-curved arms and legs. Perforations in the chest, torso, and top of legs assist with airflow and detachable and adjustable suspenders for off-track comfort come in handy. Internal protection includes a suite of KNOX CE-approved armor at the shoulders, knees, elbows and hips. Externally, you will find titanium shoulder armor and TPU elbow sliders.
Sizes: S – XXL
Colors: Black, Black/Camo, Fluo Red/Hi Viz, Blue/Hi Viz,
Price: $699.99
Contact: www.cortech.net
Cortech Racing – Adrenaline GP Gloves
Featuring a cowhide leather construction, the Adrenaline GP gloves are highlighted by an abrasion-resistant goat leather palm, Kevlar stitching, and a CE-approved KNOX scaphoid protection system on the underhand. The leather overlays on the palm and along the pinky as well as the Superfabric on the thumb, outside of the pinky, the fingers, and the gauntlet provides added protection.
Sizes: S – XXL
Colors: Red/White, Black, Black/Hi-viz
Price: $199.99
Contact: www.cortech.net
SW-Motech – PRO Blaze Saddlebags
The PRO BLAZE saddlebags with removable support arms have been an impressive luggage solution for sport bikes for many years. They feature a streamlined, sporty look, low weight and a patented simple mounting system that eliminates flapping. SW-MOTECH manufactures the bags from robust, UV-resistant 1680D Ballistic Nylon. In combination with sturdy EVA side panels, the bags are protected from splashing water and dust.
Developed specifically for sportbikes, the saddlebags have minimal effect on handling performance. When traveling without luggage, the removable support arms can be detached with a simple click, leaving only inconspicuous holders behind on the bike. The PRO Blaze bags are expandable for additional capacity and riders can secure additional accessories to them with the M.O.L.L.E. system.
Price: $449.95
Contact: https://sw-motech.us
ScorpionEXO – EXO R1 Air Carbon Helmet
As if the R1 Air wasn't already the ultimate in lightweight performance, ScorpionEXO raises the bar with the addition of a full application 3K carbon fiber shell option. The result is one of the lightest helmets on the planet that also happens to offer unparalleled comfort, and just like the original R1 Air, the R1 Air Carbon even includes an extra Pinlock shield and film. DOT FMVSS No. 218 and ECE 22.05 certified, the EXO R1 Air comes with a 5-year warranty.
Sizes: XS – 3XL
Price: $549.95
Contact: www.scorpionusa.com
ICON Motosports – Stormhawk Waterproof Boot
From our rain-soaked rides in Portland, Oregon, comes the ICON Stormhawk Waterproof boot. The premium leather upper features a water-resistant finish combined with a waterproof breathable liner for the ultimate in four-season comfort and function. A highly-lugged outsole provides certified motorcycle performance with an oil-resistant rubber. The BOA lacing system allows for easy on and off while allowing a custom fit. Internally the Stormhawk features dual D3O inserts to provide ankle coverage. Reinforced rubber toe-cap, reflective accents, and shifter interface nubs complete the all-purpose, overachieving, any-condition Stormhawk Waterproof riding boot.
Sizes: S – XXXXL
Prices: $295.00
Contact: www.rideicon.com
Dunlop – Sportmax Q4 Tires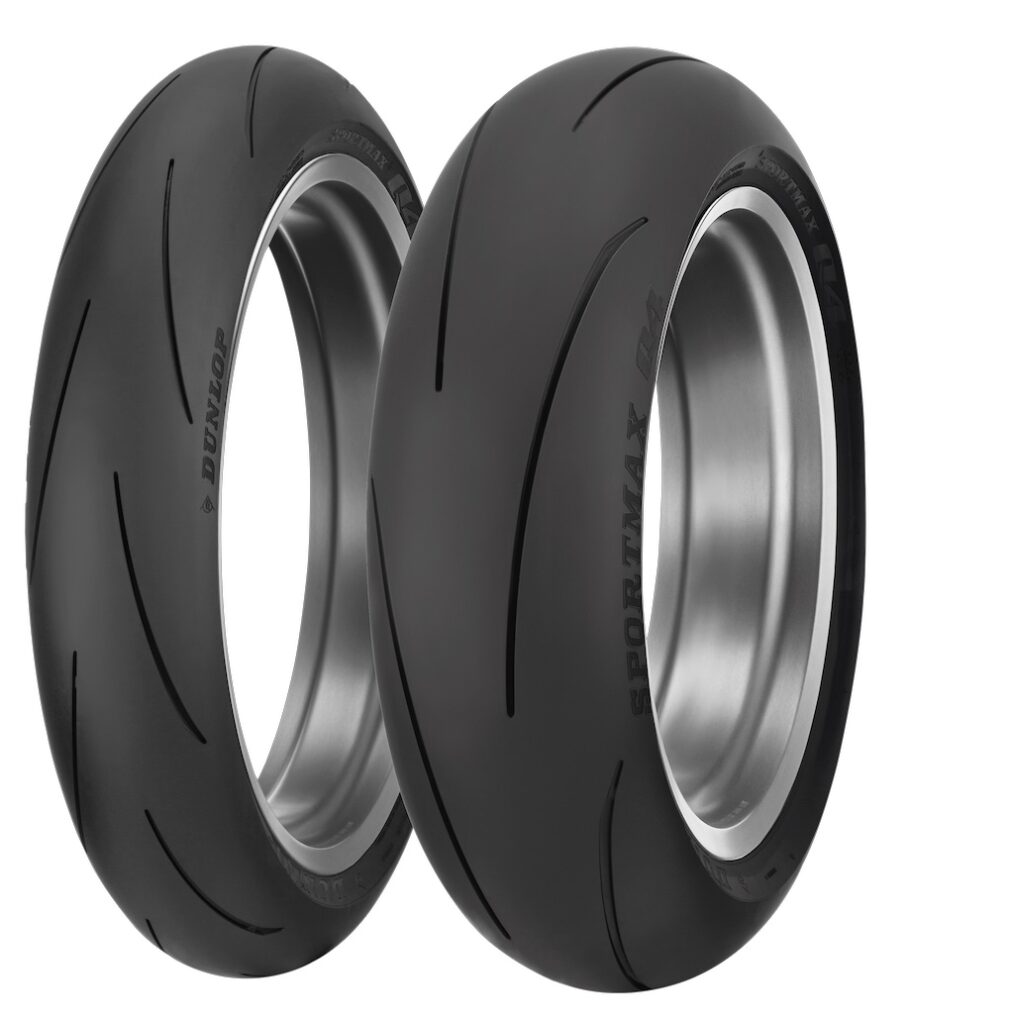 Introducing the all-new Sportmax Q4 with bold looks, and bold performance for bold riders. This purpose-built track-day tire achieves lean angles up to 62 degrees, more than any other street-legal tire Dunlop has ever made and DOT-approved for street-legal use. The user-friendly Q4 does not require tire warmers, and runs at street pressures, eliminating the need for chassis or electronic adjustments. The rear tire compound contains carbon black like Dunlop's racing slicks for maximum grip. Jointless Tread (JLT) technology uses a continuously wound strip compound to optimize stability, flex, and grip across the rear tread profile. Carbon Fiber Technology (CFT) uses carbon fiber reinforcement in the sidewalls for exceptional cornering performance, braking stability and feel.
Sizes: 120/70ZR17 (Front), 180/60ZR17, 190/50ZR17, 190/55ZR17, 200/55ZR17 (Rear)
Prices: Contact retailer.
Contact: www.dunlopmotorcycletires.com
Voodoo Custom Motorcycle Components – Mojo Exhaust System
The Mojo Exhaust Systems from VooDoo Custom Motorcycle Components is offered in both a four into one full system and a half system. Applications are available for the Suzuki Hayabusa and GSX-R 1000, the Kawasaki ZX-14, ZX-10, and the Yamaha YZF-R6. The modular stainless steel muffler features a polished finish and Cerakote Black will be offered soon. The muffler can be complemented with a hi-heat custom-colored accent billet aluminum Mojo Ring or a VooDoo badge. The Mojo muffler is also available as a solo slip-on muffler with universal fitment.
Prices: $429.95 – $985.99
Contact: www.voodoomoto.com
---