---

---
"In the last few years, we've been competing against a manufacturer that focuses exclusively on WorldSBK and a fast and consistent rider such as Rea. But we believe that with the new Panigale V4 R we have the potential to bring the title back to Borgo Panigale," Paolo Ciabatti proclaims, giving his thoughts on the 2019 World Superbike Season and the maiden outing of Ducati's new Panigale V4 R. "We've been able to mount a strong challenge in recent years. Even though the V-twin was at the end of development, and now we have a new bike which has been developed based on our experience in MotoGP."
Paolo Ciabatti was born in Turin, in the Northern Italian region of Piedmont. Lush with culture and history, Turin is populated with art galleries, museums, restaurants, and the like. Several years ago, when I met Paolo, it was immediately clear to me what type of man he was. Regal, sans the arrogance. Well to do, yet noble. Refined, but a not pushover. Quite simply, a gentleman's gentleman. I've watched him in the Ducati team box at GP races as he emitted a calmed intensity. Watching his eyes, I could see him processing data, lap after lap, second by second. Although soft-spoken, nothing is lost in translation. His interactions with his team and riders border the lines of orchestral symphonic heights. Paolo Ciabatti conducts under pressure while remaining collected. The only thing missing is his coattails and a baton.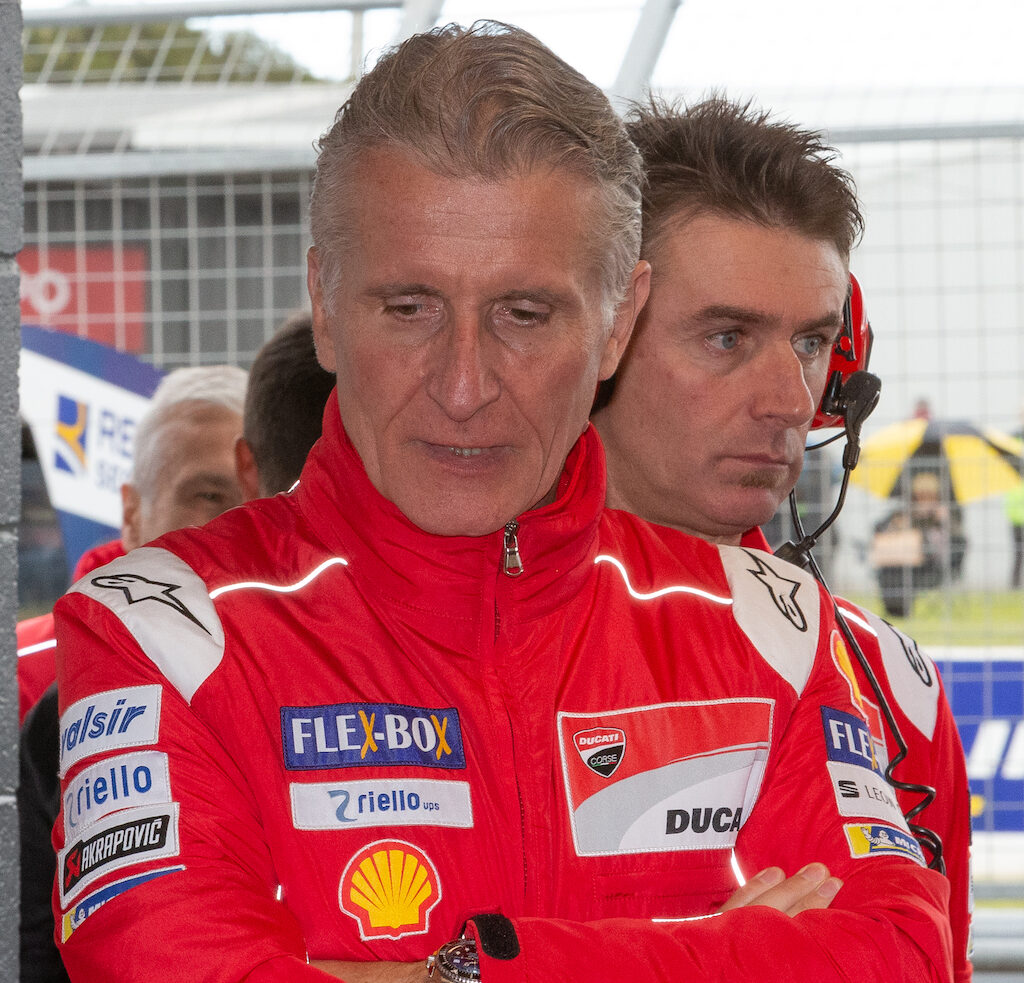 SBI: How do you manage all the different personalities in the team's garage?
PC: This is one of the most difficult aspects of the job. Everyone has their own personality, and there is no golden rule, but in general, you have to make sure that everybody works together as a team to reach the common goal, which is winning races and titles. It's all about making sure there is harmony and chemistry in the team to maximize the talent of each member involved. To this end, Davide Tardozzi, the team manager, is very helpful as well.
SBI: Who are the other vital members of the team?
PC: Everybody is, we are not only a team but also a family. Obviously, without Gigi (Dall'Igna) and our team of engineers, it wouldn't be possible to achieve the level of performance that our bike is at now.
Ciabatti joined Ducati as the Corse Export Manager in 1997. Before that, he performed duties as the Commercial Director at Mazda Motor Italia. He remained at Ducati until taking a break in 2007. He returned in 2013 and took on his current role as Ducati Corse Sporting Director in 2014. His duties have included securing team sponsors, marketing efforts, locking down rider contracts, all of the non-technical aspects of Ducati Corse for both MotoGP and WorldSBK. The pressure to perform comes from all around. The stakes are more than high, but the goals are achievable.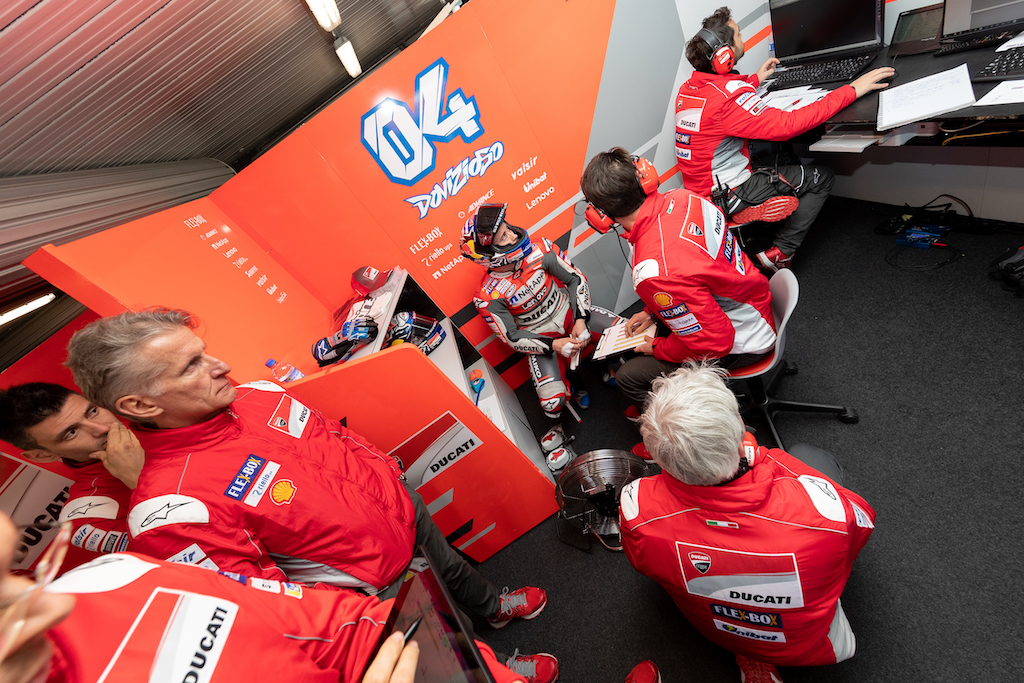 SBI: What is the favorite part of your job?
PC: When we win.
SBI: What do you like the least about your job?
PC: When we don't perform according to our expectations.
Equipment and talent, there is most often a synergy between the two. But not always. There is a short history of very talented riders that have struggled with Ducati's equipment, seemingly unable to harness the power and ability of their Desmosedici. A selection has taken to the Desmosedici straight away. There is a shortlist of stellar riders that found the level of adaptation and adjustment difficult. Part of Ciabatti's job is to search the talent pool with discernment to find riders that might have that adaptive quality.
SBI: What is the process for selecting or recruiting a rider for the team? What is the criteria? Is it a combination of talent, ability, and personality?PC: It depends. Ducati sometimes relies upon its network of satellite teams to bring to MotoGP riders whom we think have the talent to succeed. For example, Iannone and Petrucci first started with the Pramac Racing Team and were promoted to the factory team. Also, at the beginning of 2018, we have signed Francesco Bagnaia who will debut in MotoGP with the Pramac Racing Team as the reigning Moto2 champion. In other cases, for example with Lorenzo, we simply chose one of the best riders available based on the track record.
SBI: Of the riders that you have worked with, who else stands out?
PC: Troy Bayliss. Aside from being one of the greatest riders ever in bike racing, he was a really close friend, he still is, and we shared many a fantastic moment together, including three WorldSBK titles and that historic win in Valencia at the end of the 2006 MotoGP season as a wild-card rider in the Ducati MotoGP team. More recently, Andrea Dovizioso. We came to Ducati together in 2013, and it was an extremely difficult year for both of us, but we didn't give up and, step by step, with lots of hard work, we managed to turn the situation around. Nicky Hayden. I only worked with Nicky in his last season with Ducati. He was part of our family for five years in MotoGP, and he stuck with us through thick and thin. Although he didn't win any races with Ducati, he was always competitive and a class act through and through. Even today, if you take a stroll through Ducati, you will see memorabilia of him in virtually every office. He was a much-loved figure, and we were deeply saddened to hear about his loss. 
---
---
Casey Stoner won Ducati's first MotoGP Championship in 2007. Although Paolo Ciabatti was not with Ducati at the time, he still draws upon the achievement as a driving force for himself and his team. "His (Stoner's) title represents a milestone for Ducati because it was the first ever we achieved in MotoGP after many successful years in WorldSBK. It took only five years to reach that goal, something which cannot be taken for granted." Ciabatti continues, "Also, to win it in Japan in front of our main rivals was particularly emotional. That demonstrated that a relatively 'small' Italian bike manufacturer could take on and defeat industrial giants and it consolidated our brand on the market."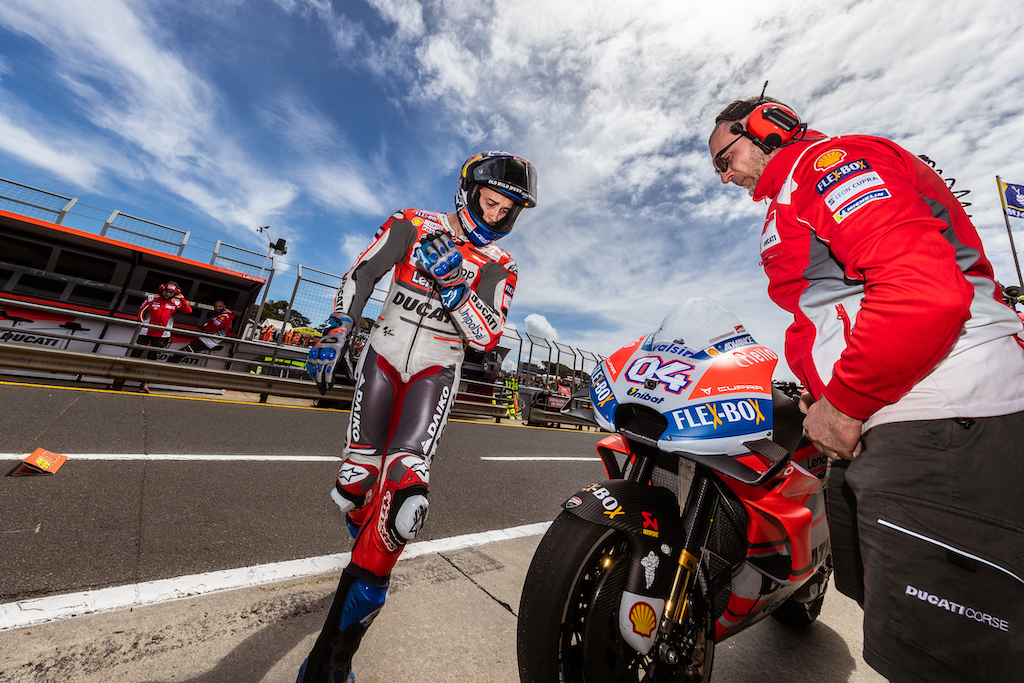 2019 is a pivotal year for Ducati with new teams and new bikes. Ducati finished their 2018 WorldSBK season second to Kawasaki. Their MotoGP season ended with another second-place finish, behind Honda. "We've been targeting the title for a while now, establishing ourselves as the main contender with Andrea Dovizioso," Paolo Ciabatti explains. "The goal for 2019 is to go one better than in the previous two years and seal the title, and I think we have the right riders line-up to make the necessary improvements and work more efficiently. Chaz (Davies) and Alvaro (Bautista) are both top-class riders, who perhaps didn't always have the chance to show their true potential. Chaz has been with us for six years now, helping us with development while at the same time winning plenty of races (25), finishing second in the championship on three occasions, and conquering the fans with his spectacular style, especially under braking. Probably he had to ride the V2 on the limit a bit too often, but he's proved that he can win basically in all circumstances, as he did in the second half of 2016. Àlvaro has clearly shown that he is one of the fastest MotoGP riders, especially last year when he rode Lorenzo's factory bike at Phillip Island and immediately fought for a podium finish. He was also able to adapt quickly to the V4 R and the Pirelli tires in WorldSBK, showing very interesting lap times during the first winter tests."
SBI: What can you discuss regarding the Panigale V4 R and the Desmosedici GP19?
PC: In the first year we will still have to work on the development of the Panigale V4 R, but I believe that it is the right bike to challenge Kawasaki and Jonathan Rea, and obviously the rest of the field. Chaz Davies is a top rider in WorldSBK and a fierce competitor. He has proved on many occasions that he is capable of beating Rea, so I'm sure he'll be even stronger on the Panigale V4 R. Not only him but also Àlvaro, in my opinion, can beat Jonathan. The Desmosedici GP19 is an evolution of the 2018 model, with improvements targeting all areas, from engine and electronics to chassis and aerodynamics. As always, the goal is to win the title."
Paolo Ciabatti is passionately focused on his mission of securing a title for Ducati. If you've been watching motorcycle racing in recent years, the Ducati Corse teams have always been just over the shoulder, only a few steps behind from Honda in GP and Kawasaki in WorldSBK. Equipped with new riders and new machines, the overture has concluded. It's a new day. Ducati Corse's Orchestra of speed is primed and prepared to unleash their symphony. The curtains are rising. It's showtime.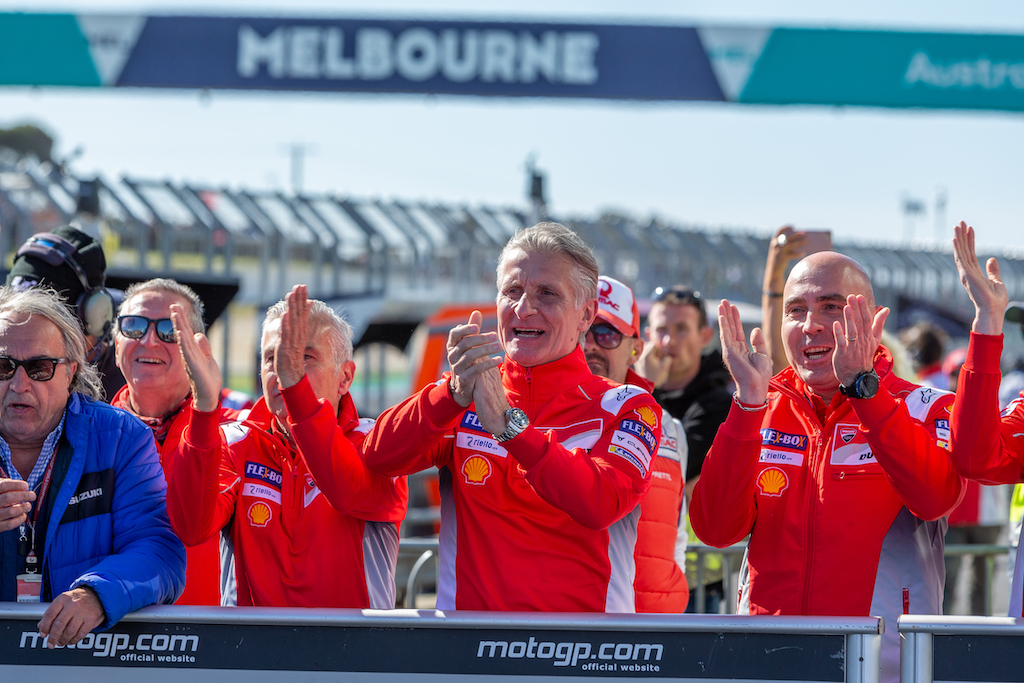 Images: Andrew Gosling
---