Husqvarna is ready to take adventurers off the beaten path with their 2023 Norden 901 Expedition: a featherlight, mid-sized touring bike built for conquering any terrain and extended offroad travels.
Introducing the Norden 901 Expedition – a revolutionary model featuring an eye-catching, new color scheme and long travel WP XPLOR suspension front and rear. The WP XPLOR 48 mm upside-down front forks, with an impressive 240mm travel, provide optimal performance and comfort in a variety of terrain. Their split damping system allows for easy adjustment of compression and rebound via the clickers located on top of the tubes. The forks have a sealed hydro-stop that ensures reliable resistance to bottoming out.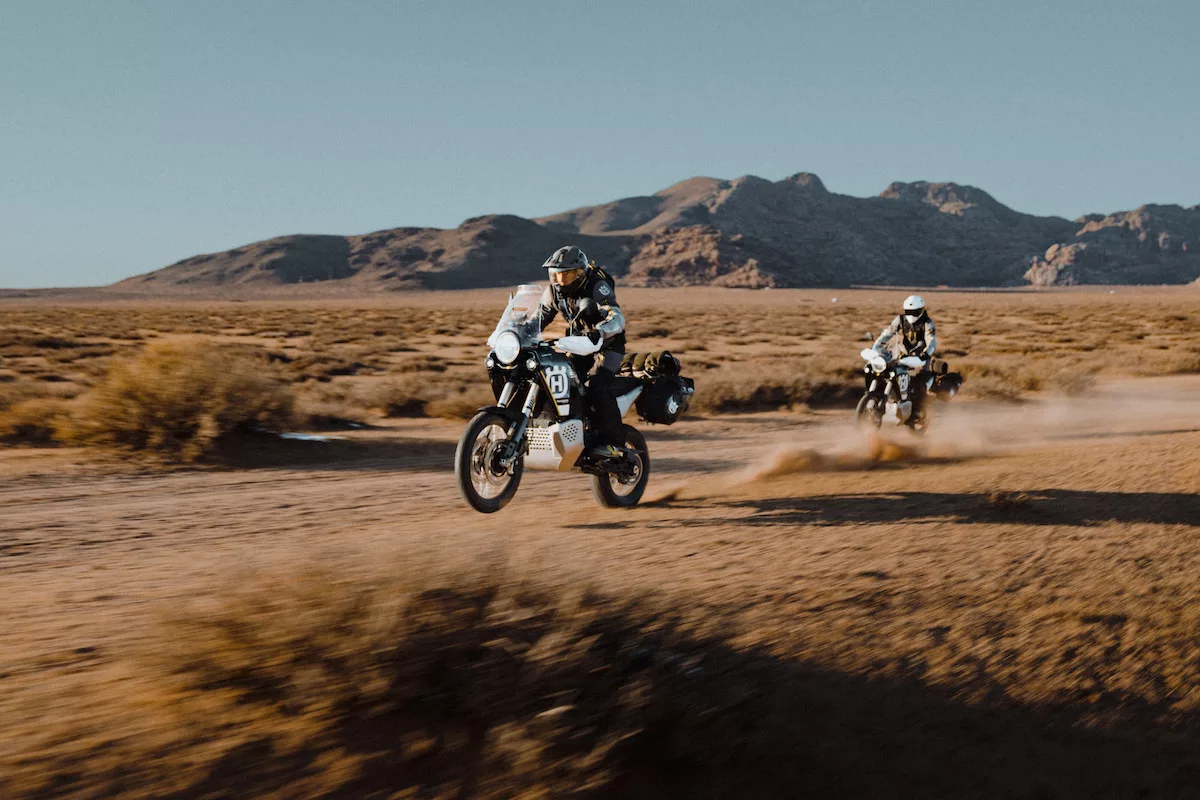 The 889cc double overhead cam, liquid-cooled parallel-twin cylinder engine weighs 117.7 pounds. The 68.8 mm stroke crankshaft is equipped with a reliable and durable plain bearing. The rotating mass has been precisely calculated. The trapezoidal top end (V-shape) of the 90.7 mm piston reduces oscillating masses, connected via a bronze top end connecting rod bearing to the plain bearing type connecting rod. The lightweight forged pistons, with three piston rings, offer a compression ratio of 13.5:1. The engine has incorporated two balancer shafts – one positioned before the crankshaft and another located between both camshafts in the cylinder head. This integration of balancing mechanisms lowers inertia forces to deliver a smoother ride experience.
The engine is equipped with two 46 mm Dell´Orto throttle bodies that are not connected to the grip. As you rotate the handlebar, your machine's electronic engine management system (EMS) scans through parameters and data from multiple sensors in order to continuously adjust the throttle valve for optimal power delivery and responding speed.
The PASC clutch system operates a slipper clutch to unlock when the engine back-torque gets too intense, ensuring superior rear wheel grip and preventing instability while braking hard into turns. This allows for smoother deceleration and overall enhanced control compared to other systems.
Constructed from lightweight chromium-molybdenum steel, the frame incorporates the engine as a structural element. The lightweight aluminum open-lattice swingarm ensures a dependable ride with dependable performance.
The Norden 901 Expedition's forged aluminum triple clamps are designed with optimal rigidity to ensure both strength and tracking stability while ensuring comfort at the same time. Instead of using steel, its steering stem is built with high-strength aluminum. The aluminum tapered handlebar provides a comfortable riding position and six adjustable mounting positions for customization. High praise for the employment of heated grips that can be activated via the menu switch on the handlebars.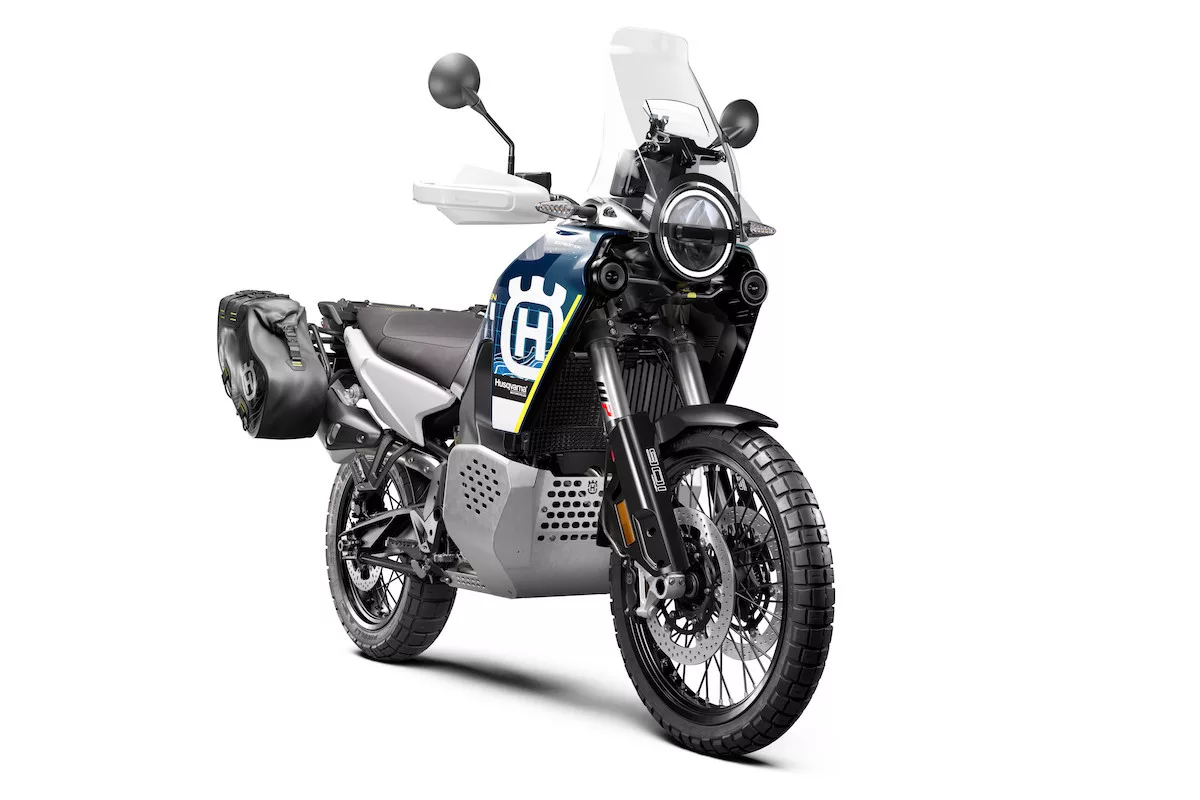 Properly crafted aluminum footrest holders are built to provide distinctive ergonomics, while robust steel footrests have been designed to ensure comfort and ease during long rides in either a seated or standing position.
Strength and durability are featured prominently in the spoked 21" front and 18″ rear tubeless wheels, mated to Pirelli Scorpion Rally STR tires, resulting in less unsprung weight for outstanding performance.
Husqvarna's branded J.Juan brake system provides stopping power. The front brake calipers with dual, 320 mm floating brake discs handle the business at the front while the rear braking system features a 260mm disc operated by a two-piston caliper. The Norden 901 comes standard with ABS that can be deactivated.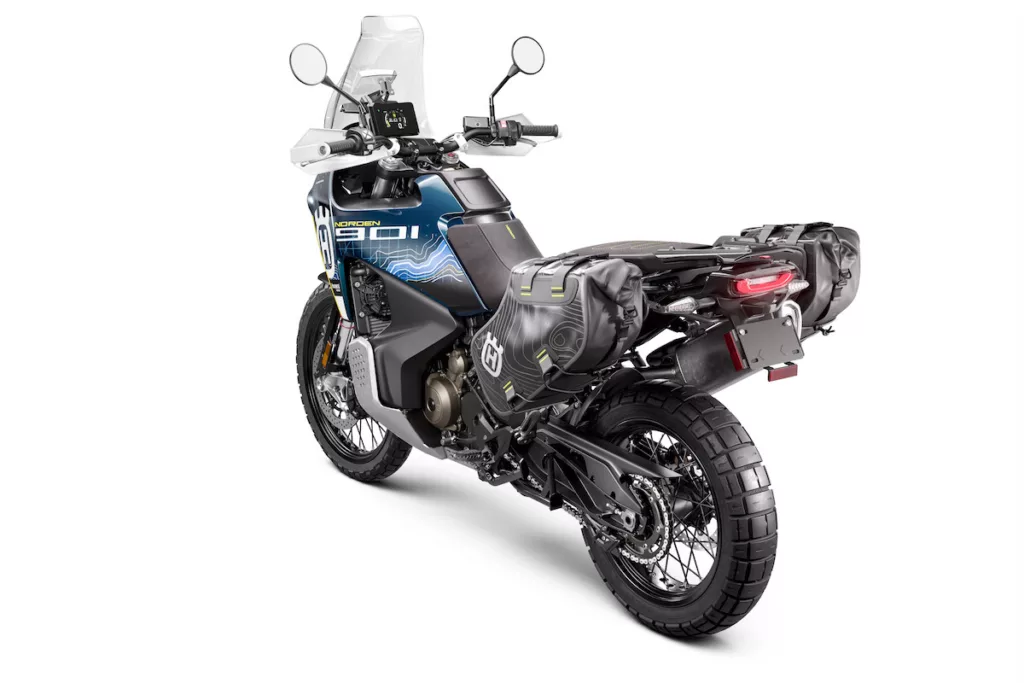 The Norden 901 Expedition has a streamlined profile with an integrated LED headlight and fog lights. By equipping the Norden 901 Expedition with a higher touring windshield, rider fatigue is significantly decreased.
At the front end, you'll find a set of premium LED headlights with daytime running lights. Standard fog lamps provide great visibility when riding at night and in demanding situations.
Placing a majority of its central volume beneath the rider's knees and just ahead of the engine, the 5-gallon, rotation-molded fuel tank offers exceptional ergonomics similar to those found on the Husqvarna Factory Racing rally bikes. By lowering the center of gravity, this design offers impressive handling and maneuverability.
At the center of the bar, you'll find the 5-inch TFT, auto-adjusting display. The Ride Mode and ABS settings can be viewed here alongside other important features like trip meter, fuel range, and consumption, as well as water temperature.
The Ride Husqvarna Motorcycles app allows riders to connect their smartphones with the motorcycle through Connectivity Unit+, utilize the Turn-by-Turn navigation, answer phone calls, or listen to music. Every Norden 901 Expedition comes fitted with a GPS mount that easily attaches above the dashboard
Long haulers will appreciate the tubular steel side carrying system and two sturdy, 18-liter capacity per waterproof side bags that come standard.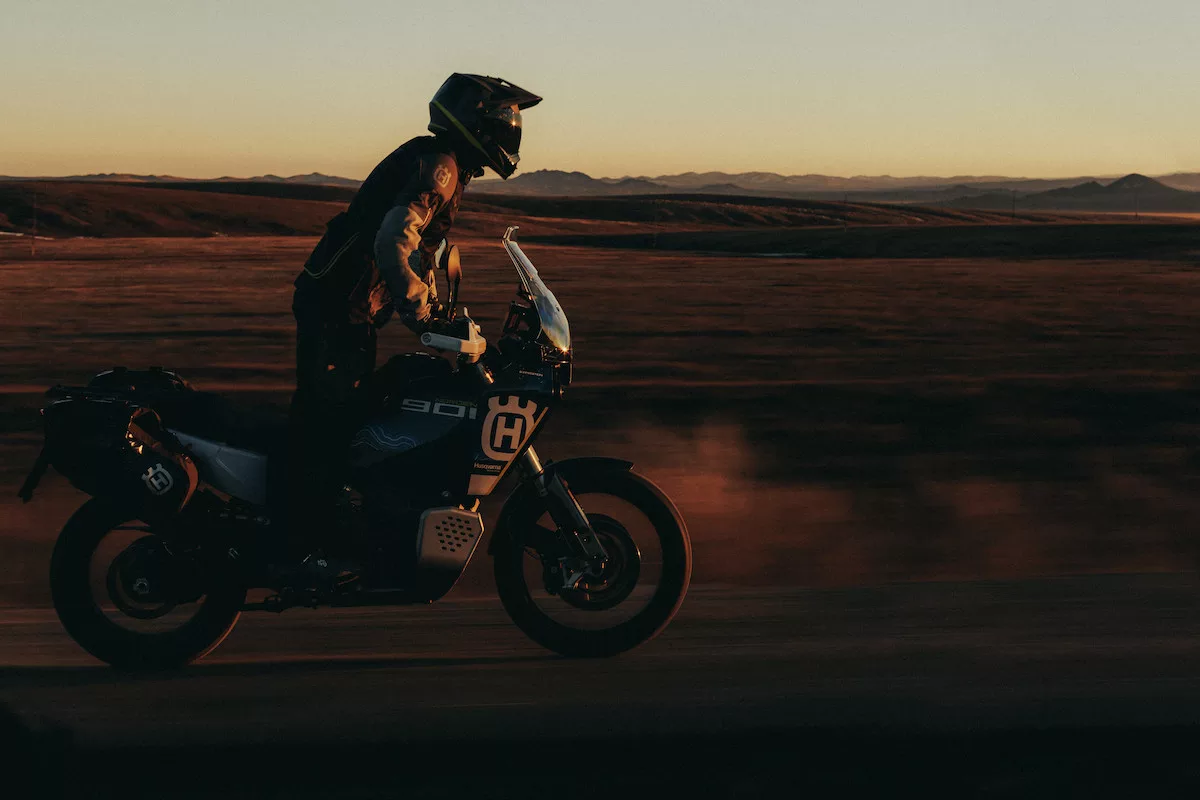 The Norden 901 Expedition is equipped with a bevy of rider aides that include Easy Shift, Motor slip regulation, Cruise control, Cornering ABS, Offroad ABS mode, Cornering MTC, and Ride Modes (Street, Street ABS, Rain, Offroad, Offroad ABS, and Standard explorer).
Husqvarna is releasing a catalog of performance upgrades and apparel dedicated to the 2023 Norden 901 Expedition. The bike will start to appearances at authorized Husqvarna Motorcycles dealers in the Spring of 2023.
---