With improved performance from its proven three-cylinder engine platform, MV Agusta strips down to bare knuckles with the 2014 Brutale 800. First published SportBikes Inc Magazine, January 2014.
The 2014 MV Agusta Brutale 800 is an accomplishment. Boosting the MV Agusta three-cylinder engine platform's output to 798cc's and 125 horses, while maintaining the bike's weight class of 368 pounds, puts the Brutale 800 on par with its older 1000cc siblings but with much better handling and agility. It's not necessary to muscle the bike around. It's light, nimble and most importantly… it's fun.
When MV Agusta introduced its three-cylinder engine in the F3, it was an interesting move to create a brand new engine platform instead of revamping, reverse engineering or modifying the existing four-cylinder powerplant. While three-cylinder machines are anything but new, they were at a certain point a rarity in Italian motorcycle production. So for its take on three-cylinder performance, MV was more concerned with innovation and originality than simply borrowing.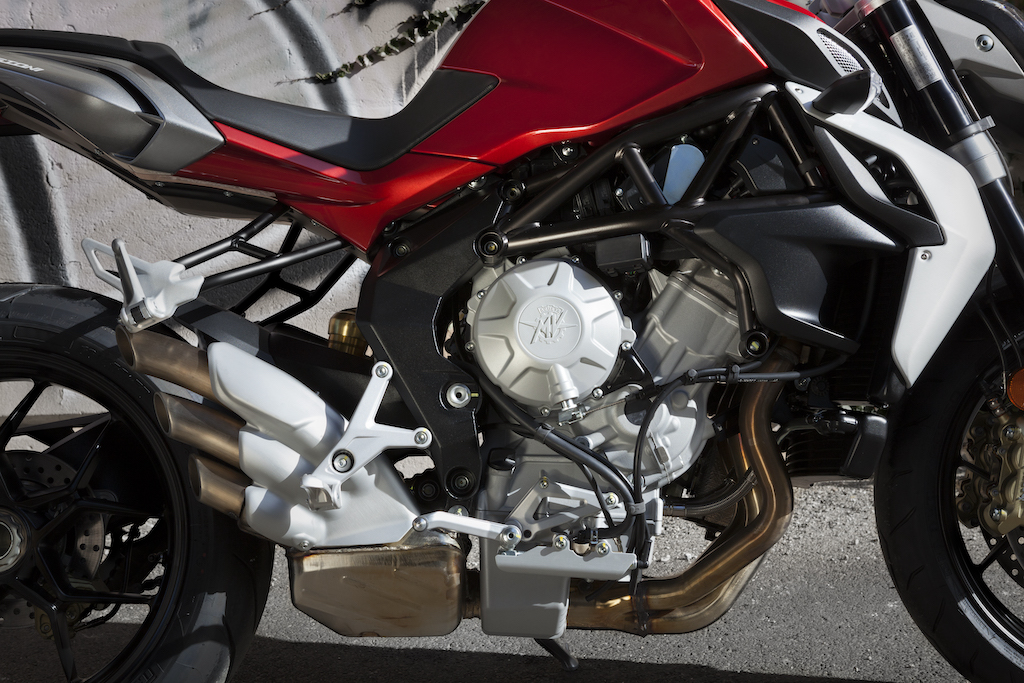 The Italians' interest in a three-cylinder platform was not based on the novelty of, "Hey! Look we built an MV Augusta with a three cylinder engine instead of four!" When you look at any manufacturer with true heritage and a real pedigree, you know that everything produced has a reason and serves a purpose. Under the guide of "less is more" the objective becomes clear. MV took their four-cylinder engine and made it smaller, lighter and compact without sacrificing power or performance. They did not simply downsize the four-cylinder engine. They created a new three-cylinder, four-stroke, twelve-valve, engine.
The MV Agusta F3 675 was the first incarnation of the new engine composition housed in the sleek look and design of its older brother, the F4. The Brutale 675 quickly followed, offering the same compact package of power and performance to riders whose tastes were more in line with the naked style of bike design. But MV was only scratching the surface.
MV Agusta Brutale 800 is beyond existing as a practical or convenient machine. With ease, it translates very well to a variety of riding conditions and road selections. It presents itself and behaves very much in a simple "power up and ride…" The dash is straightforward with a backlit amber read-out that offers all of the machine's vitals and stats. User-friendly controls are located on the handlebar switches that allow you to scroll through a number of menus and modes. Its simplicity and ease of use are only part of the Brutale's appeal.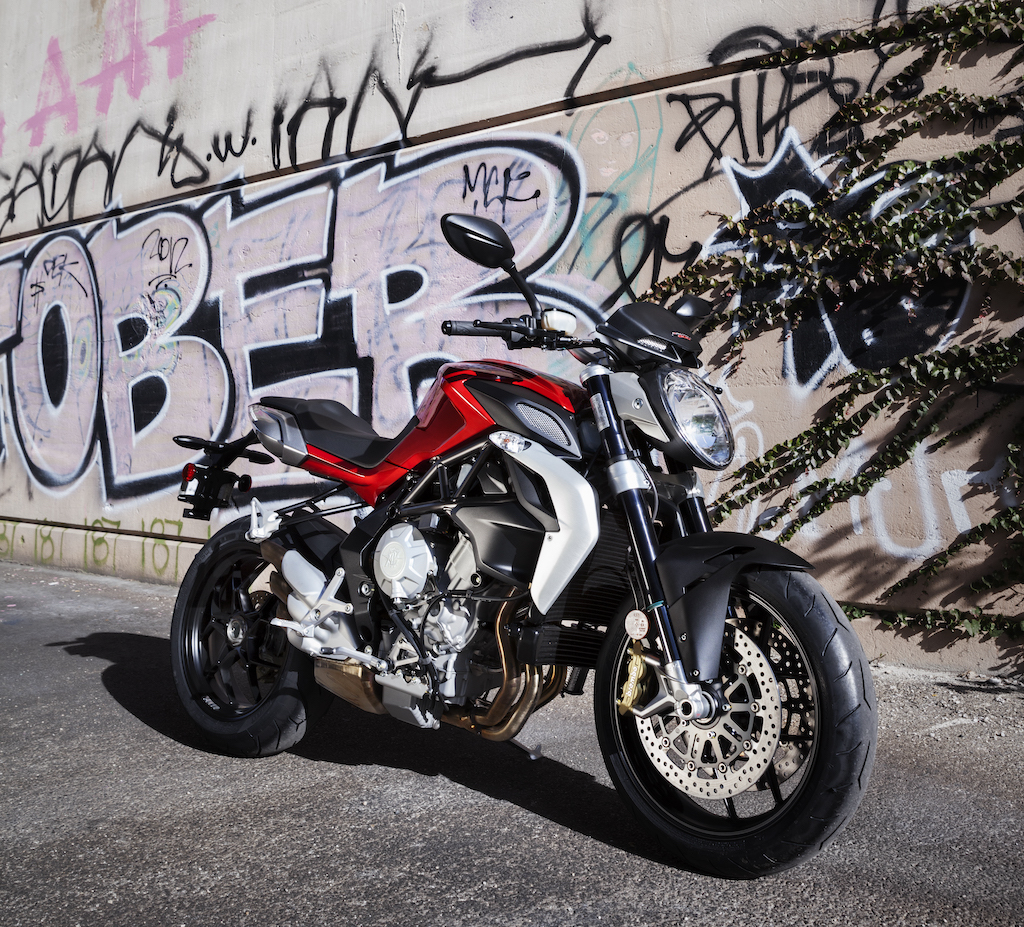 Riding the MV Agusta Brutale 800 is an exercise in joy. It is just as easy to manipulate and maneuver in the city as it is on the highway or back roads. At speed on the highway is a bit mundane, minus the fact that between your legs is a masterpiece of fine Italian engineering. However, the highway is not the Brutale's lane and that's not a discredit to the bike. Naked bikes crave terrain, be it urban or suburban.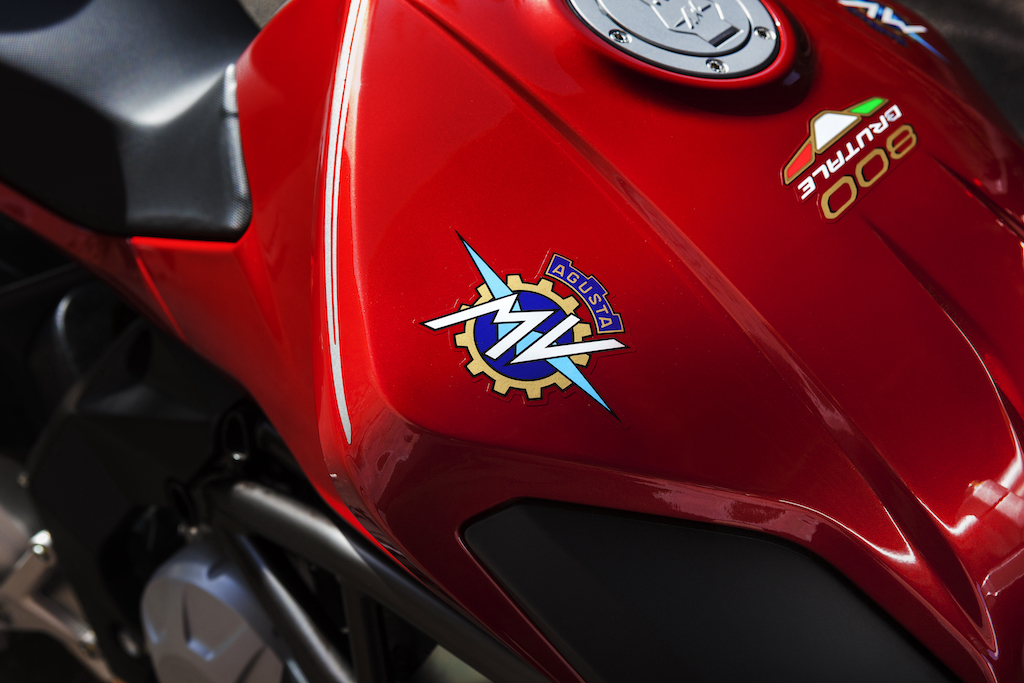 This motorcycle is the perfect storm of speed, power, agility… the factors that define a proper commuter that by all means, will stretch its legs when the opportunity presents itself. It's quick, like a squirrel, with attribution to an impressive throttle response. You roll on the throttle and the MV Agusta Brutale 800 goes to work. Not in a jaunting, hiccup motion but in a smooth and deliberate manner. Power without hesitation is key. There is a feeling, a connection between you and the bike that is borderline organic.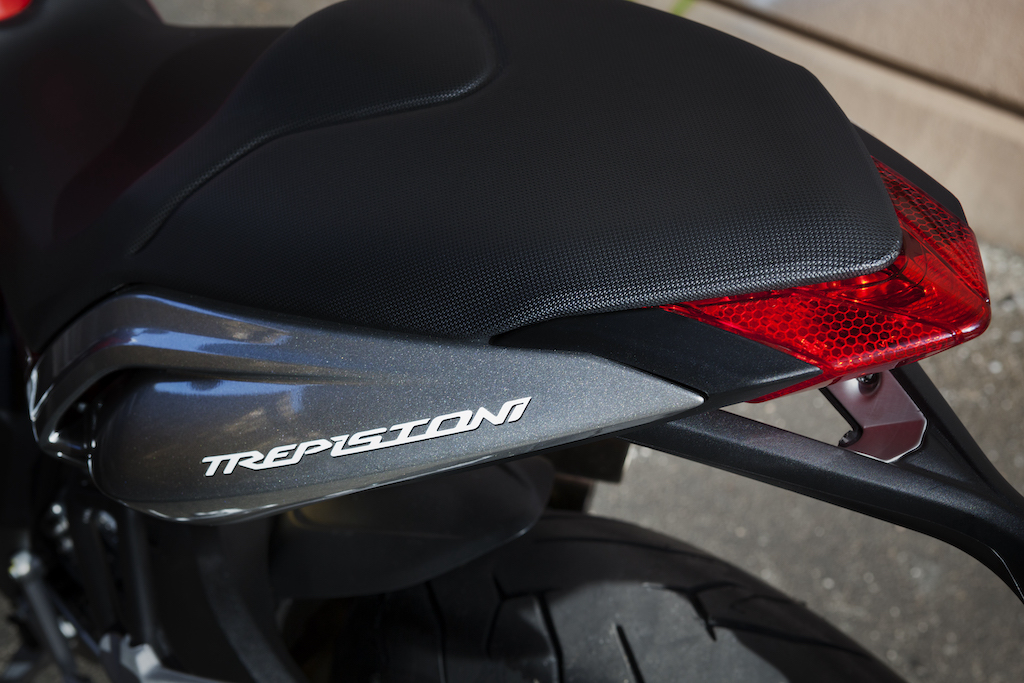 The 2014 MV Agusta Brutale 800 is not overwhelming nor is it basic. The approach of the bike's aesthetics is refined aggression. At a standstill, it has curb appeal. The lines tend to have an all about business stance but in a very artistic manner, yet the bike's appearance is far from subtle. With the stacked three muffler exhaust, the finished angle of the tail and even the cut of the fuel tank suggest a sweeping back and up movement for your eyes. The exposed inners that can be seen through and underneath the trellis frame offer grounding visual points that move your vision in a juxtaposed path following the underbelly of the bike through to the single-sided rear swingarm.
Practical. Power. Performance. Solid motorcycle art.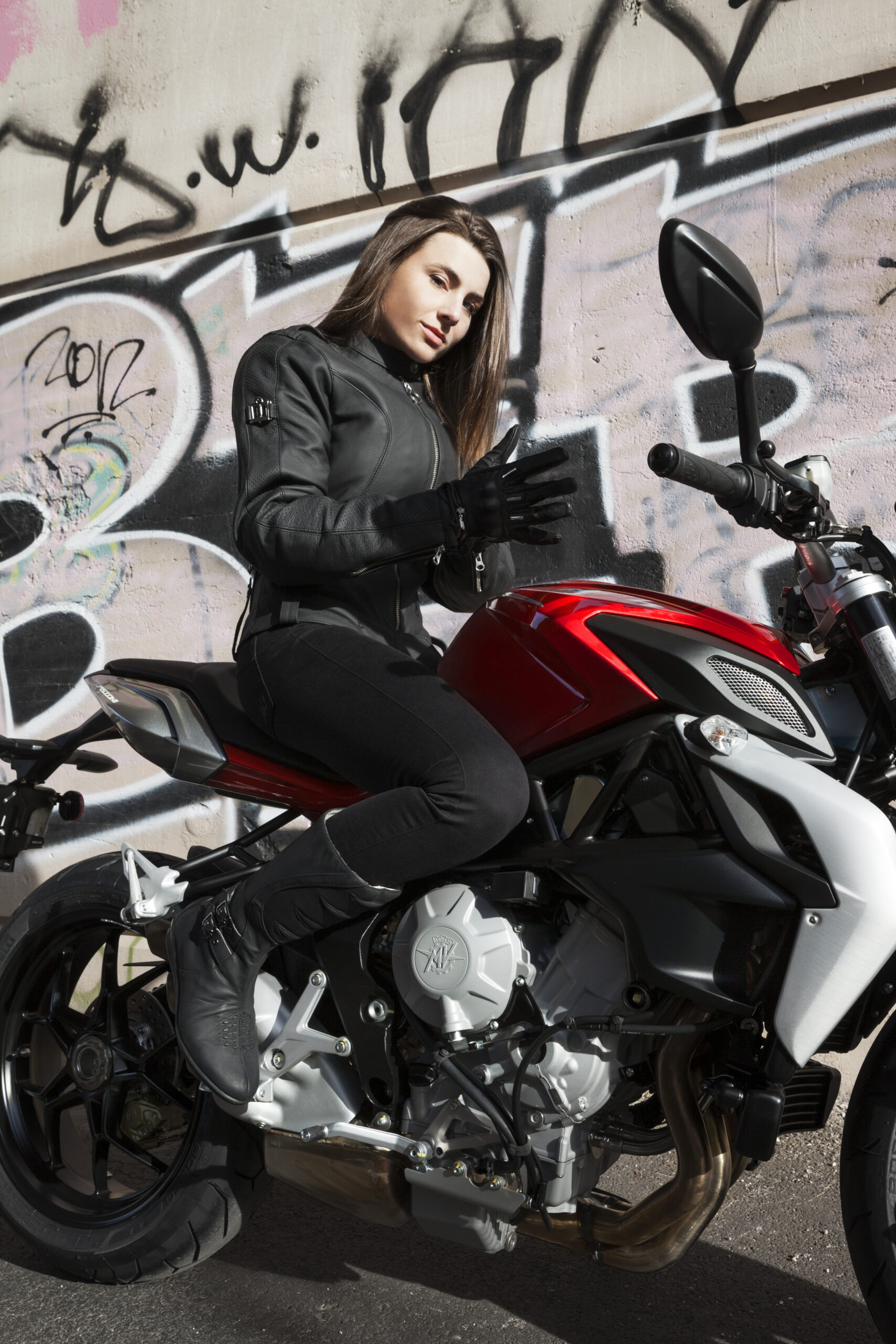 Images: Elizabeth Raab
Model: Jillian Titus
---