MotoGP Rookies Pedro Acosta, Raul Fernandez, and Jorge Martin cut up at the Losail Race Circuit. Rock group Skid Row would be proud…
Time waits for no one, is what they say. And on a Sunday night at the Losail Race Circuit in Qatar, that was never more evident. Veterans who have settled in GP were put on notice as a wave of MotoGP rookies, in all classes, emerged like Jason Vorhees out of the woods and staked claim as the new blood in MotoGP.
"We're one and one for all…..We are the youth gone wild!"
Pedro Acosta. What he did to the entire Moto3 field was so impressive that garages of other teams lined up on pit road to shake this 16-year-old's hand! That impressive.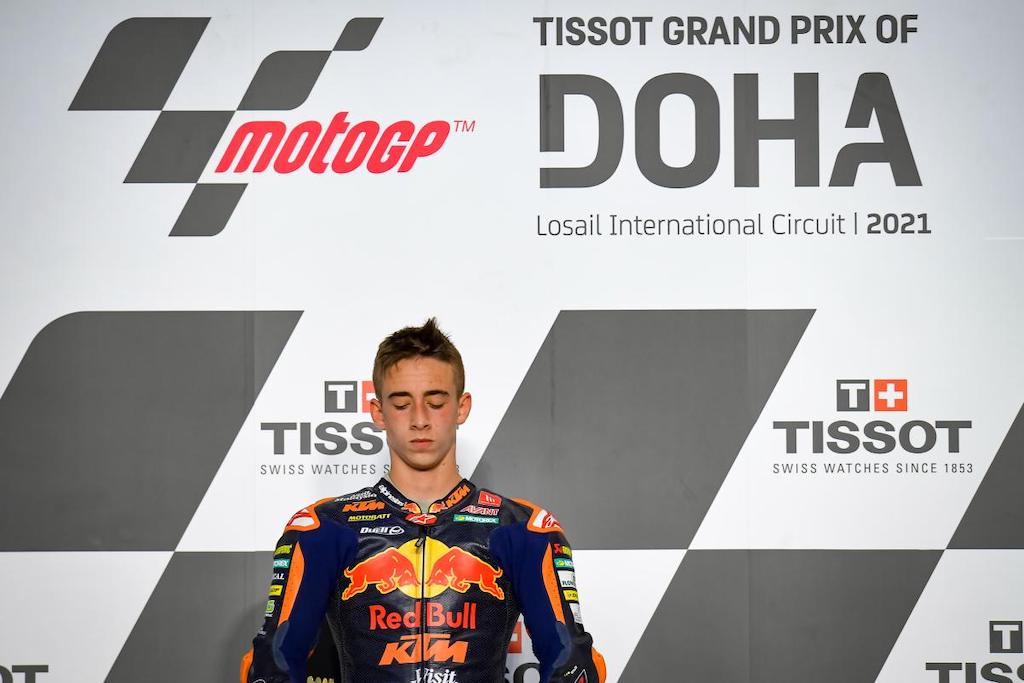 If you didn't see it, Acosta started from pit lane for being a bad boy during qualifying. He not only started from pit lane with seven others because when you're a teenager you never just do stuff by yourself, he started from pit lane plus had to wait for five seconds and then he was able to unleash his wrath upon other teenagers and grown men, alike.
"Since I was born, they couldn't hold me down…"
It may have been the greatest display of dominance I've ever seen. For damn sure in Moto3. And that is saying something. Even Marc "Daddy's Home" Marquez tweeted, "Acosta is good, really good!" Enough said. Along with Acosta, another rookie Izan Guevara who I predict in the next five years will be giving other riders fits.
"The writing's on the wall…"
Moto2 has rookie Raul Fernandez who has never, never ever, never eva'… Never eva' qualified lower than sixth in Moto3, and so far Moto2. He got his first podium in Qatar on Sunday night but it seems like it's only a matter of time before his first win. This kid has a future in MotoGP sooner than later. My only problem with Fernandez? I want to see him in a scrap. How can you tell anything about a person unless you've seen 'em in a fight?!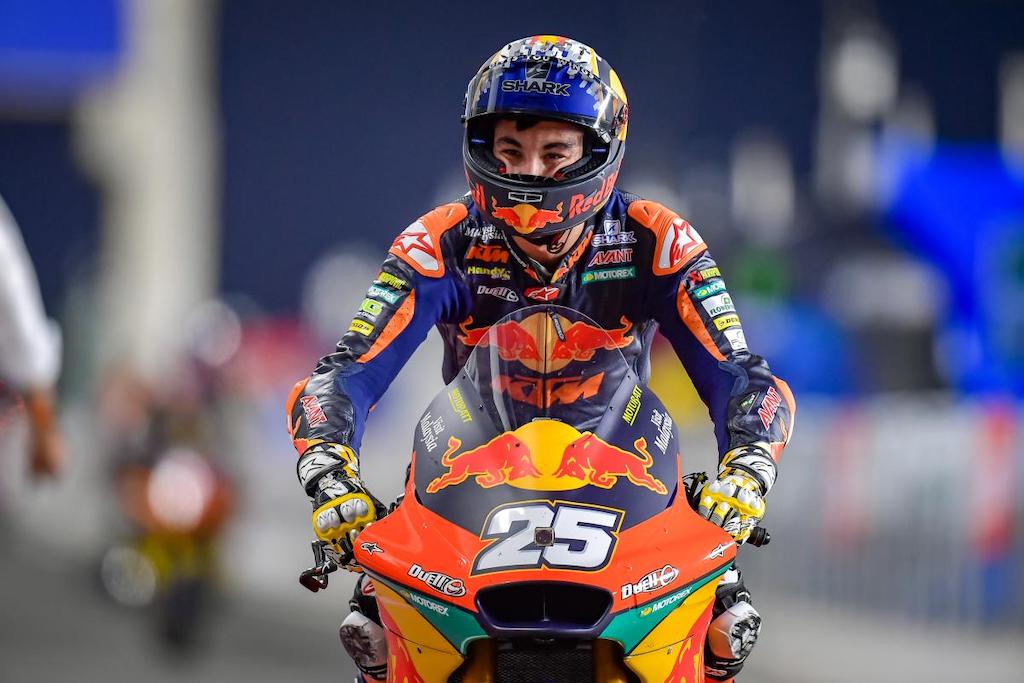 Regardless, Fernandez has Sam Lowes looking over his shoulder and wondering if an early retirement would be more suitable than battling this kid every Sunday. Make no mistake, Raul Fernandez is tha' truth!
"We stand and we won't fall…"
In MotoGP, Rookies not only permeate the landscape but they are producing. None more so than Jorge Martin.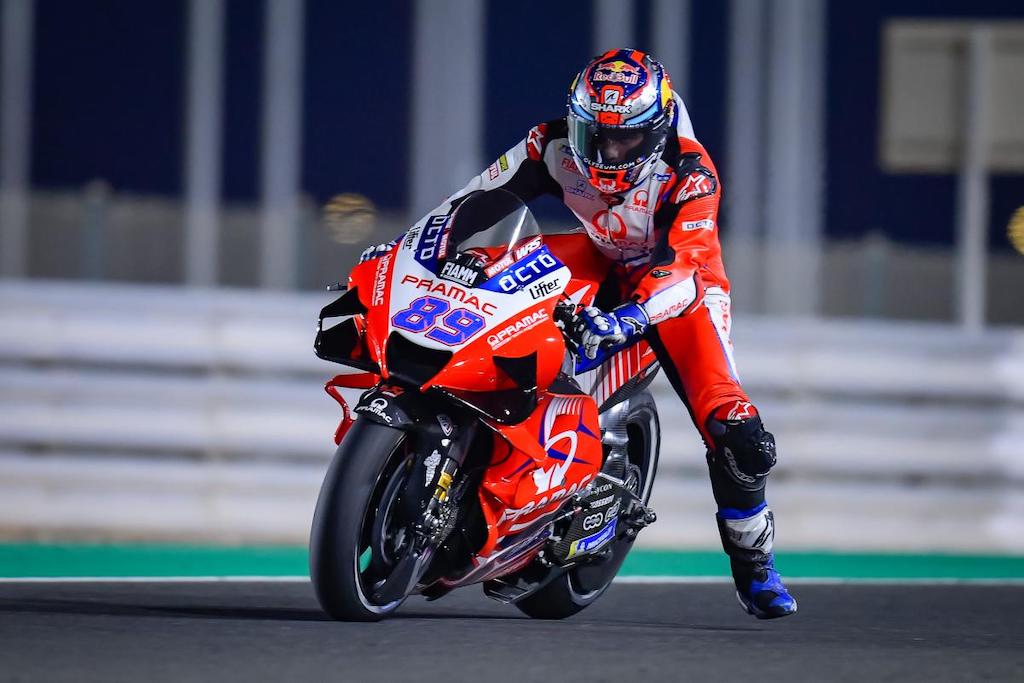 Martin's Pole on Saturday, which put him in the company of Marc Marquez and Casey Stoner as the only riders to garner a pole in only their second GP race and subsequent podium on Sunday, night only added to the record-breaking night which saw the closest ever top fifteen in MotoGP history. It also saw two French riders stand on the podium together for the first time since 1954, with Fabio Quartararo taking victory and Johan Zarco following up with a second.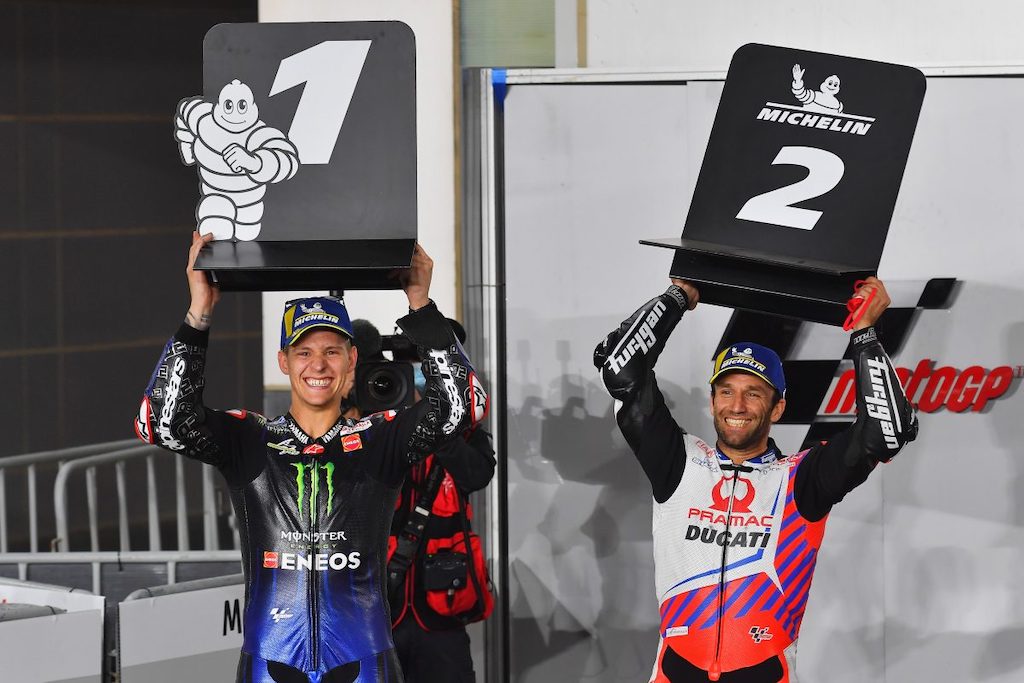 This great race was a literal freight train of top-notch talent playing chess at almost 200 mph. There were elbows, there was drama, and there was a nine-time World Champion unable to score a point! All of which was underscored by rookie Jorge Martin who led for 17 out of 22 laps aboard a Ducati rocket ship.
Fabio Quartararo still smells like baby powder. Jorge Martin still has to be burped. And yet these two have given MotoGP the brightest future I've seen in a decade. One race or even two does not a career make. But you see the potential for greatness and MotoGP is serving up excellence at the current moment all lead by the youth!
"They call us problem child…"
Qatar II showed the future of MotoGP. The youth inject energy into the mundane and Sunday Night's slugfest was anything but mundane. For the mature riders in all classes, it served as a wake-up call. Time waits for no one. That being said, we turn our heads to Portugal, where, with luck and a doctor's blessing, we shall see whether a certain eight-time World Champion can serve a mature ass-whooping and put these young'uns to bed.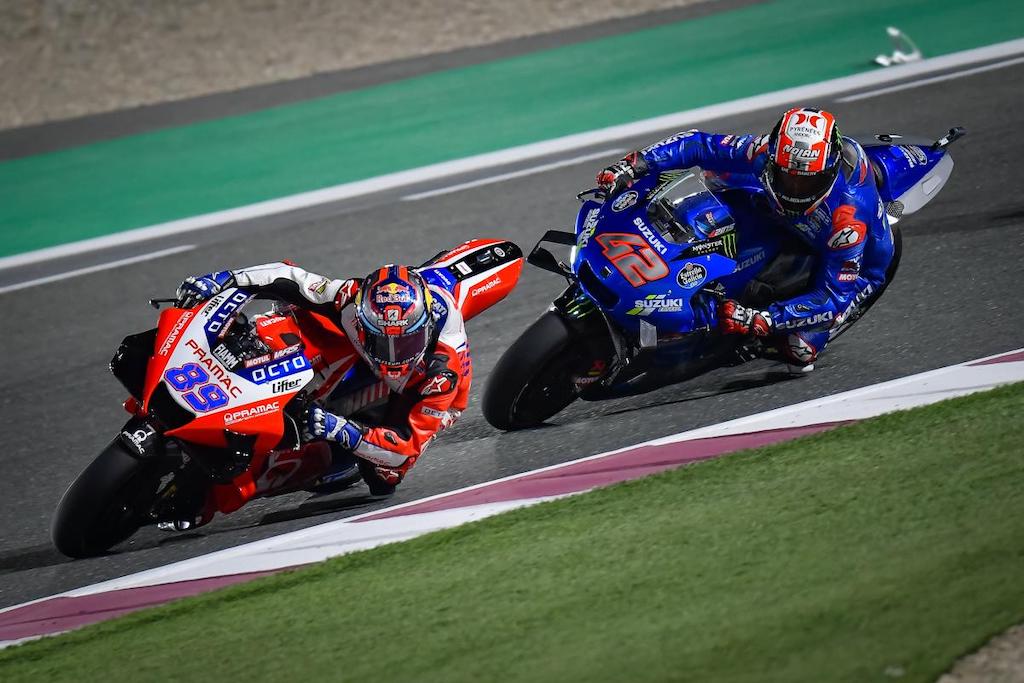 MotoGP is "The Youth Gone Wild!" It is the two-wheeled soap opera we call MotoGP. Stay tuned, GP Freaks! You ain't seen nothing yet.
---