The 2021 Ducati Monster – The iconic trellis frame is no longer there, which has led some to discuss if its design can compete with the past models, or even be considered a Monster.
I own both a Ducati 2015 Scrambler and a 2009 Monster, as well. There have been several modifications to my motorcycles: lowering the suspension by two inches, swapping out the handlebars for clip-ons, installing new exhausts, changing the body from its original skin to carbon fiber. I've spent laps on my Monster, along with the 821 at Laguna Seca.
I was invited by Ducati North America to travel to San Francisco to ride the new Ducati Monster. At the new Monster's launch, we started our ride in the city, through the typical San Francisco traffic, for which the "urban" ride mode of the new Monster was perfect. Coming from good ol' sunny Florida, I wondered how it was going to feel being on the steep streets of San Francisco that averaged a grade of 30%. This is where we decided to stop for photos, pulling to the side halfway up the street sitting horizontally, waiting for traffic to go by to get that perfect shot. I was a bit nervous.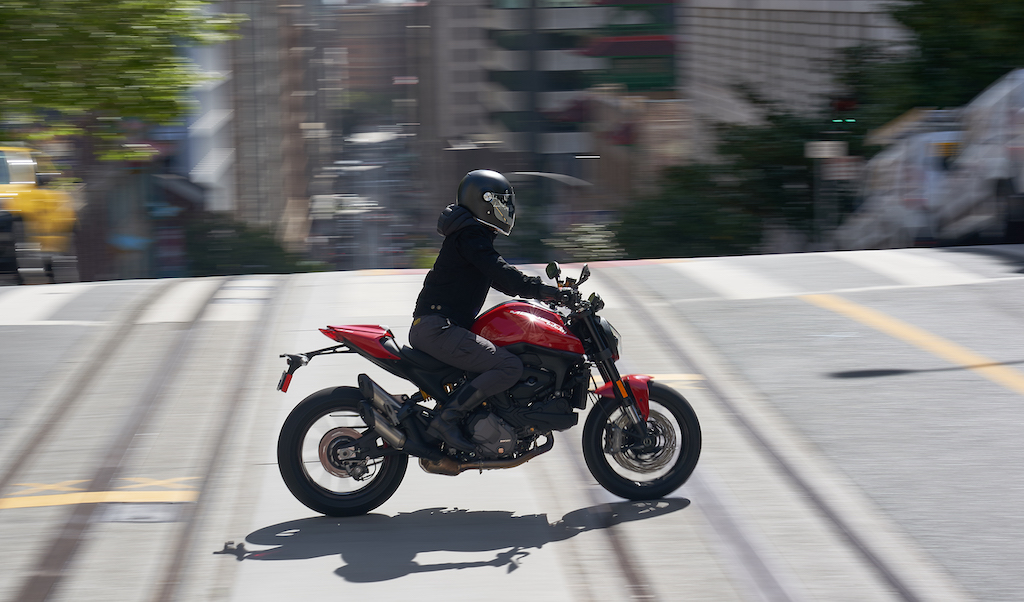 From the city, we rode down the breathtaking Pacific Coast Highway towards the famous California Redwoods. I played around with the settings, which wasn't necessarily needed, besides the grip warmers, which saved my fingers from nearly falling off.
At the Redwoods, I changed the settings to "sport" mode. This section of the ride was hands down my favorite part of the day. The weather was perfect with the sun shining through the trees. The impeccable handling of the bike. The brakes. The responsive and smooth engine response throughout the full RPM range when getting on the throttle. The new dash providing such great visibility with day and night view, and easy navigation through the settings.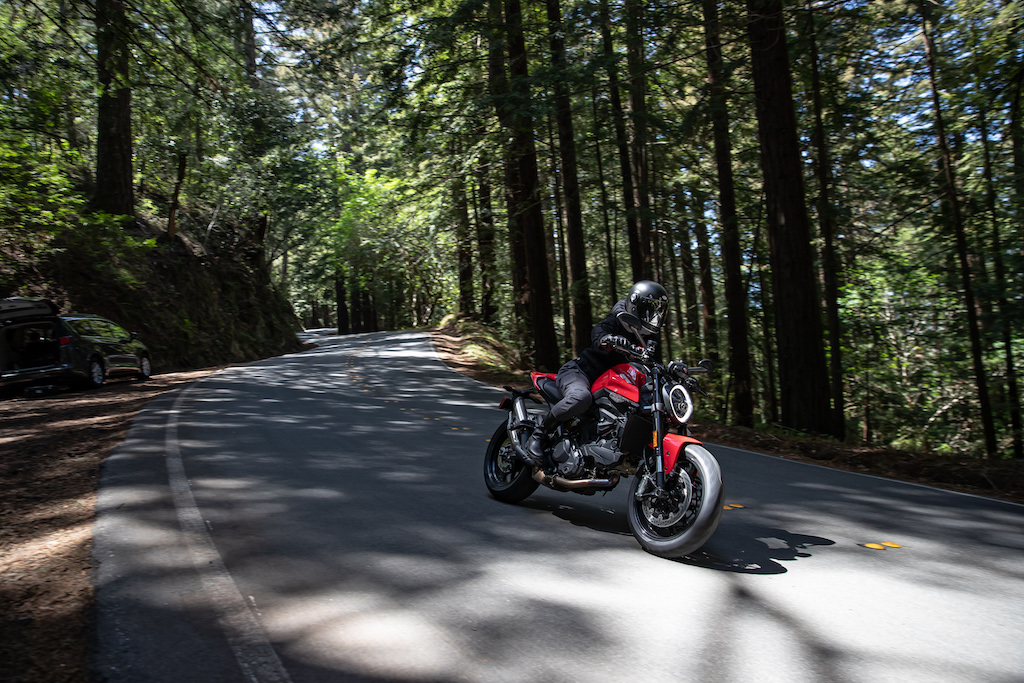 Ducati's new Monster is not just for women or the younger crowd. It's for anyone who wants a lightweight and fun motorcycle with power. It is a great choice for both new and vertically challenged riders, as well. The new Monster is narrow with a dry weight of 366 pounds. It is easier to put your feet on the ground. There is an option for a lower seat and other Ducati Performance accessories to customize the Monster to your liking.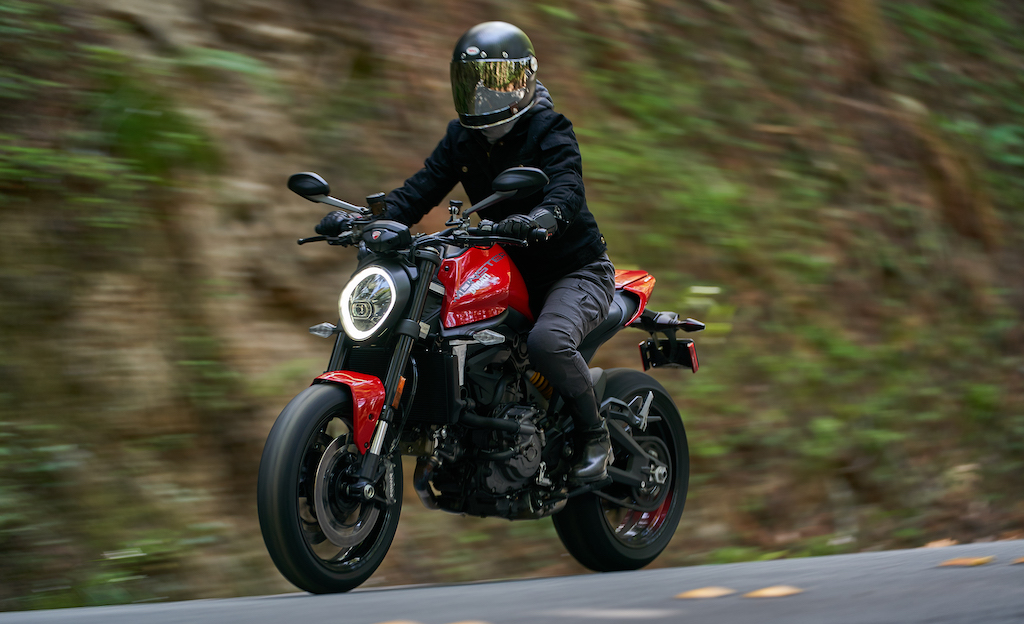 This ride experience has completely changed my perspective on the Monster. I love my 2009 Monster, but I always preferred my 2015 Scrambler. I am definitely considering adding the new Monster to my stable. I love that the body has a beefy, bold look, similar to the Streetfighter V4, along with the newly shaped headlight. The Streetfighter V4 has been on my "to buy" shortlist, but the new Ducati Monster surprised me and is now also on the "to buy" list. What a great addition the new Monster would be.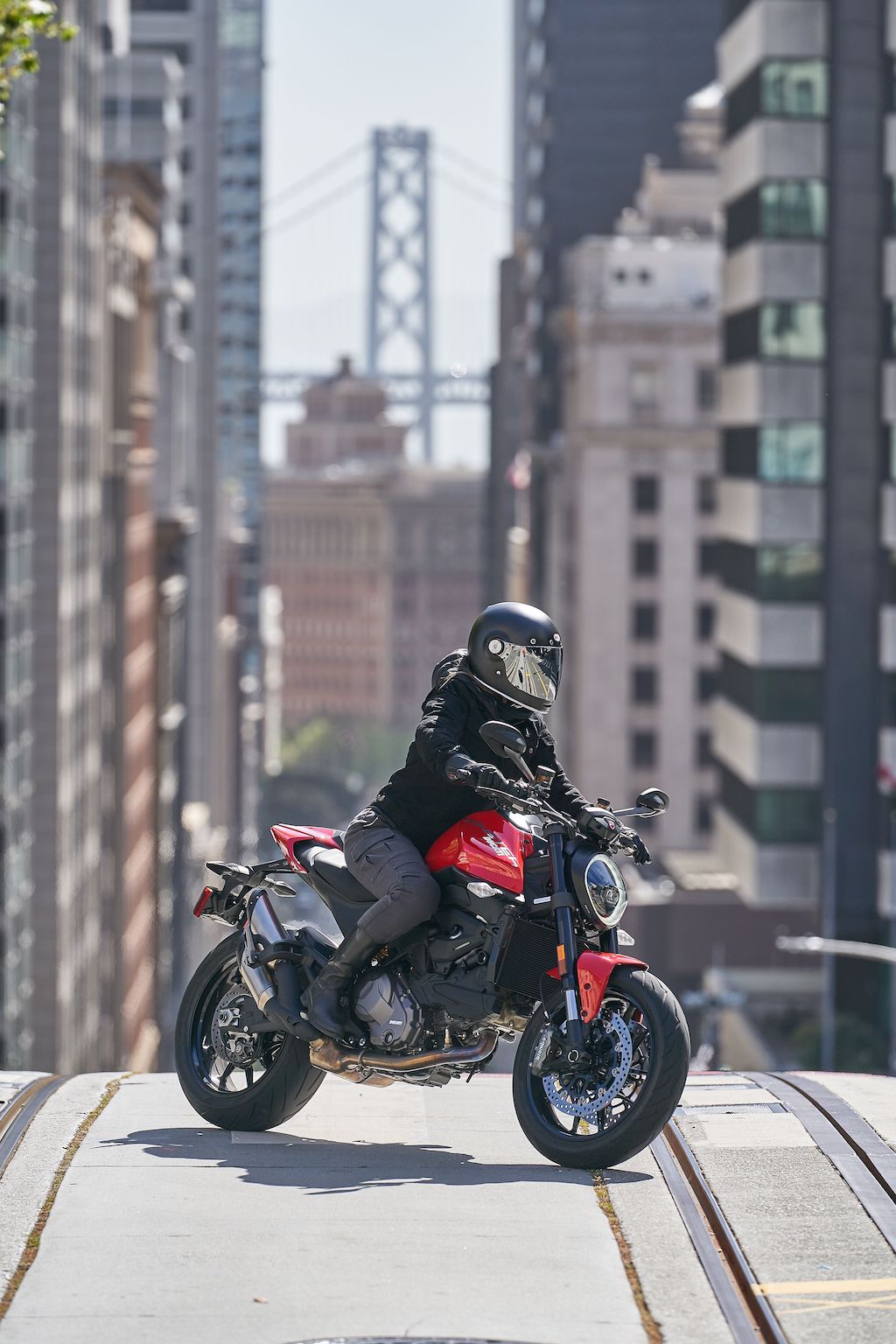 Images: Phlewid Films
---