BMW outperforms the competition in the middleweight naked bike segment with its well-built BMW F 900 R roadster.
After years of getting beat up on the showroom floor, BMW finally gets serious about the middleweight naked bike segment with the introduction of its BMW F 900 R (starting at $8,995). The German brand has its sights set clearly on the competition, engineering a well-rounded bike that is not only affordable, but easy to ride, and most importantly fun!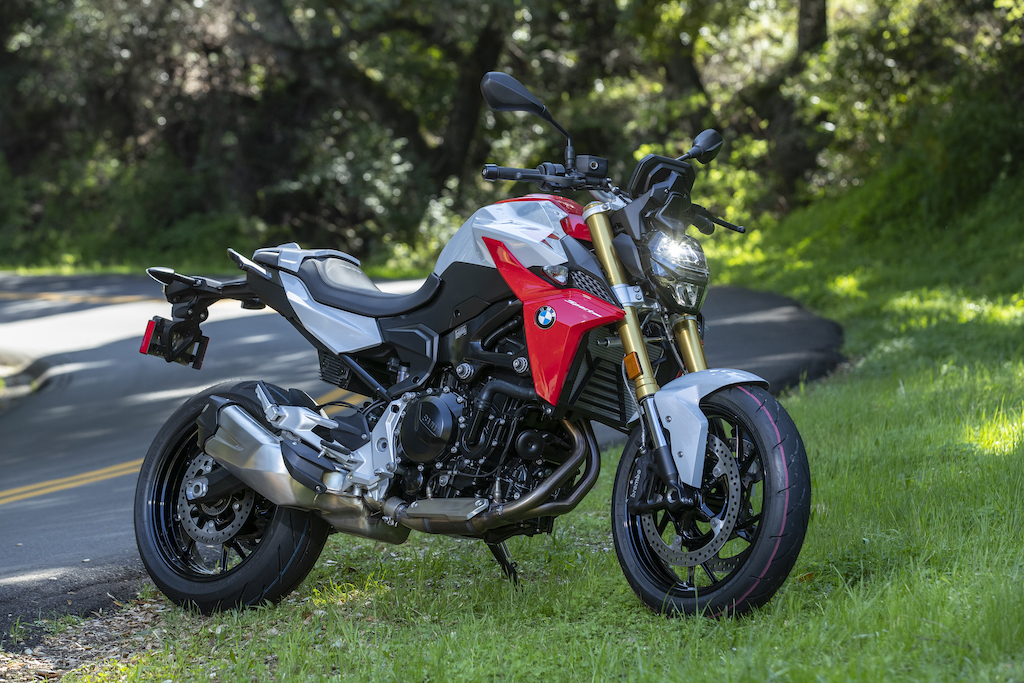 The F 900 R is powered by a larger displacement version of the ultra-compact parallel-twin that powers its F 850 GS adventure bike. Two mm larger alloy pistons boost engine capacity to 895cc. The cylinder head's flow geometry was updated as was fuel and ignition mapping. It also benefits from an uneven firing order that affords the rowdy power and sound characteristic of a v-twin. BMW says that its big-bore twin is good for 99 horsepower at the crank. And it feels every bit that fast.
Rev it high, or lug it at low rpm and the BMW mill happily complies, torquing away from stoplights with the type of vigor of a larger, liter-class sized bike. Smartly optimized gear ratios inside the six-speed transmission keep this twin spinning in its wide power zone. Plus the cable-action clutch offers just the right amount of resistance. This makes it not only easy to ride but fun, too – with it the powertrain making just the right level of roar and vibration. (On a related note, BMW offers its Gear Shift Assist Pro option, which allows for immediate, clutch-less up-and-down shifts.)
At speed, there is a degree of tingle through the controls but it's not enough to be off-putting. Instead, it adds a degree of refined character letting you know you're riding a bike. However, the view from the rearview mirrors can get clouded.
A beautiful 6.5-inch color TFT display keeps tabs on vitals and the screen is easy to read day or night. Instead of touchscreen functionality, riders rely on BMW's tried-and-true handlebar-mounted multi-function wheel. It's a slick setup but does require time to acclimate to its operation and menu navigation. Still, the electronics have a robust level of adjustment and the display can pair to smartphones via BMW's free RideConnected app. This allows turn-by-turn display navigation and access to other vehicle settings off the bike. Bold LED lighting helps you stand out on the road and the headlamp throws a deep swatch of illumination after dark. Cornering headlamp functionality can also be purchased for an upcharge.
In base configuration, the rider can choose between 'rain' and 'road' riding modes which controls engine response, ASC (automatic stability control) and ABS, however for a $350 upcharge BMW unlocks its more performance-minded 'Dynamic' and 'Dynamic pro' modes. These settings facilitate more intimate engine/throttle response with IMU-powered stability control and ABS programming. It also reduces engine brake effect.
With either Dynamic setting enabled, the middleweight Beemer can be ridden surprisingly hard through turns. Yet, thankfully the electronics mute ham-fisted control input netting a high level of control. Oddly enough, our test mule wasn't outfitted with heated grips, nor cruise control, however, both of those features can be added as an upcharge.
In spite of its 465-pound curb weight with its 3.4-gallon fuel tank topped off, the F 900 R surprises us with its maneuverability–especially around tighter stretches of pavement. Despite its fixed damping adjustment, the Showa-sourced fork is one of the finest we've sampled at this price point and the linkage-less shock offers a handy preload adjustment knob that affords easy ride height changes. Rebound damping is also offered.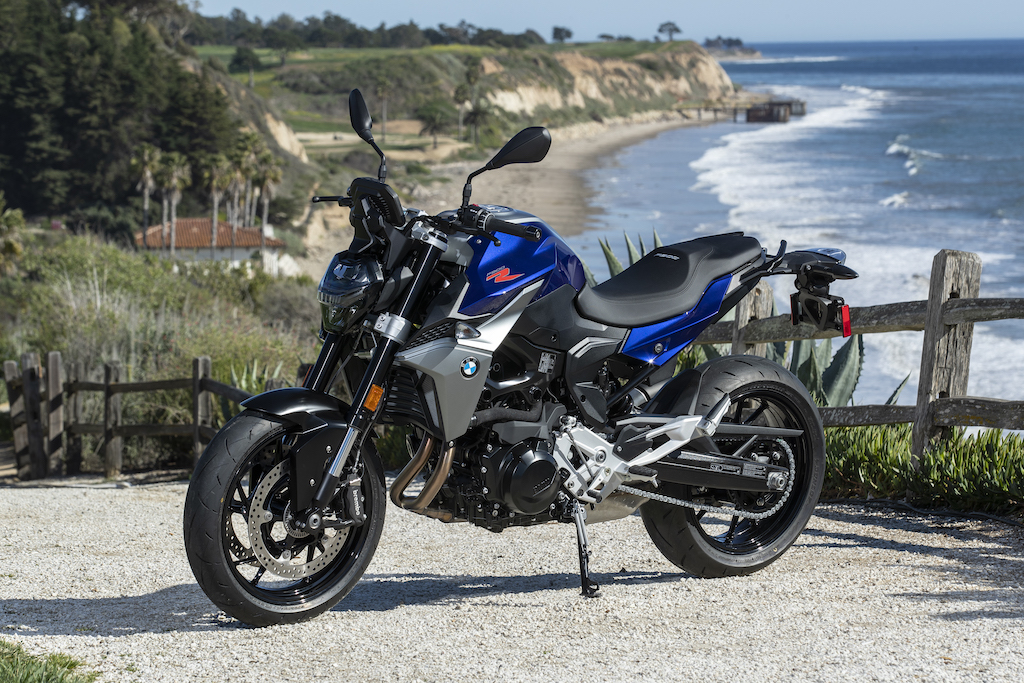 All of the control surfaces, including the levers, brake pedal, handlebar can be tweaked based on rider preference. BMW is also one of the few manufactures to offer a variety of OE seat options allowing riders to tweak height, and density based on their preference. A suspension lowering kit can also be purchased for an upcharge making this F bike even more attractive for smaller riders.
The suspension glides over chewed up surfaces yet provides the right amount of damping and road holding at speed. The OE-fitted Bridgestone Battlax S21 tires complement the chassis dynamic and serve up copious grip at lean.
Without question, the F 900 R is a substantial upgrade over its underperforming predecessor. Not only is it faster, better handling, and better looking, the F 900 R offers true BMW sport capability and function for under nine grand. Factor in its fine Berlin, Germany craftsmanship and two-year warranty, and you'd be hard-pressed to find a better middleweight naked bike than the 2020 F 900 R.
Images: Kevin Wing
---