Eager to build upon the success of its S 1000 XR, BMW builds a more compact, but equally sporty version in the BMW F 900 XR.
BMW invented the adventure-sport segment with its fabulous and upright S 1000 XR ($17,645). Now Motorrad wants to reach another group of riders with its more compact, but still peppy F 900 XR ($11,695). Positioned as a middleweight entry, the BMW F 900 XR is perfect for those that want to taste the thrill of upright sport riding in a friendlier package.
The 900 XR shares underpinnings with its naked roadster brother, the F 900 R. It is powered by a punched-out 895cc parallel-twin based off the power unit inside the F 850 adventure rig. BMW claims the engine is good for 99 horsepower at the crank, which is identical to the R version. The XR however includes a proprietary engine, ASC and ABS mapping engineered for its added weight and riding character.
Swing a leg over the XR and its noticeably taller than its more low slung R-spec brother. The XR gets a taller seat and longer travel suspension that elevates seat height by an inch. It's worth noting that Motorrad offers an assortment of OE seat height and density options. It also sells a suspension lowering kit to better accommodate height-challenged riders.
Adjustability is the name of the game with this BMW as every control surface, including lever and brake pedal, and handlebar position (in terms of roll) can be tweaked based on rider preference. There's also a plethora of electronic settings, but we will get to that in a minute…
The ergonomics package is relaxed, especially compared to the R-model. Specifically, the BMW F 900 XR uses a taller handlebar with a more rearward sweep. The position of the footpegs feels more relaxed, too and we appreciate having a front fairing and manual two-position adjustable windscreen.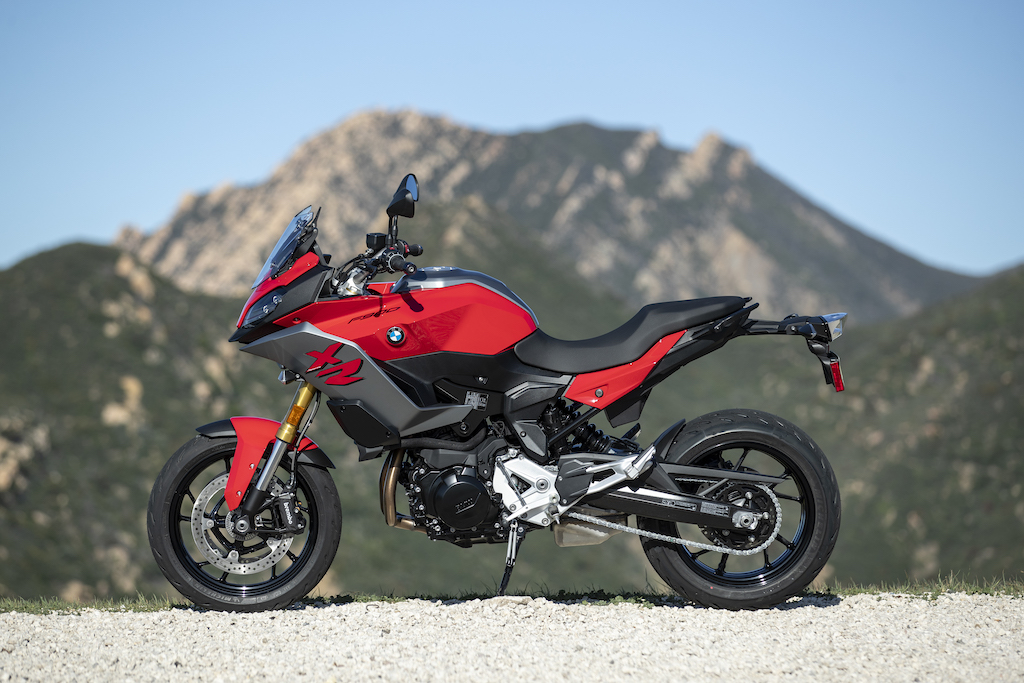 You can feel a degree of engine vibration through the controls, however, it's the good kind, letting you know that you're riding a fun-loving motorcycle. The vibration feels precisely tuned like the strings of a guitar. Credit the engine's uneven firing order designed to replicate the power pulses of a V-twin. The engine and exhaust note are equally pleasing, and if the engine was hidden with a lower fairing you'd be hard-pressed to know that it isn't a V-twin. Well done, BMW.
Twist the throttle and the XR's 895cc parallel-twin gets with the program regardless of rpm. Rev it high, or lug it low and this compact twin doles out a copious spread of torque making it easy to zip away from stoplights. A precise-feeling six-speed gearbox and well-weighted cable-actuated clutch make for a motorcycle that is not only fun but easy to operate, too. BMW's Gear Assist Pro option is available as an upcharge which allows for clutchless up and downshifts.
Lean the 483-pound XR into turns and you'll be surprised by its level of athleticism. Despite its above-average curb weight, it remains light on its feet and maneuvers around slow speed turns with the type of enthusiasm of smaller bikes. The suspension does a marvelous job of skating that fine line between everyday comfort and sport handling on twisty stretches of pavement.
Although the fork lacks adjustment, it offers near-perfect calibration for everyday use. The direct-mount shock adds a handy preload adjustment knob so riders can tweak height based on handling preference and/or vehicle load/weight. The rear suspension also offers rebound damping adjustment.
In the braking department, the XR benefits from well-tuned triple-disc hydraulic brakes that employ track-grade radial-mount front calipers and an oversized rear brake disc. The hardware is not only power but responsive and benefits from the security of always-on ABS so the threat of tire lock-up is virtually eliminated.
Oddly enough, our F 900 XR wasn't outfitted with cruise control, nor heated grips. However, it did include Motorrad's optional $350 Ride Modes Pro. Ride Modes Pro adds to the standard 'rain' and 'road' global settings by unlocking IMU-powered traction control/ABS and a more intimate engine/throttle response. Although we couldn't note much of a difference between the 'Dynamic' and 'Dynamic Pro', settings, both allow for hard-charging riding maneuvers with a less intrusive degree of electronic intervention at speed. Riders can also choose to manually disable traction control, however, ABS is fixed.
Keeping tabs on everything is a huge 6.5-inch color TFT display. The panel is one of the finest-looking screens used on a production motorcycle, regardless of price point. Rich in features, the display is manipulated via BMW's proprietary multi-function wheel located on the handlebar. Furthermore, riders can pair their smartphone to the bike via BMW's Bluetooth-enabled BMW Motorrad Connected free iOS app. This allows for turn-by-turn directions on the display. Riders can also monitor other vehicle settings including fuel level and maintenance chores.
The engine drinks from a 4.1-gallon fuel tank, but considering how thirsty the engine can be we wish Motorrad engineers would have fitted a larger capacity tank – especially considering how adept the XR is at touring. Soon BMW will also be offering lockable hard luggage which will further elevate its touring ability.
Like its naked brother, the BMW F 900 XR impresses with not only its versatility but its high-level of performance inside the middleweight class. However, its added touring prowess does come at a cost – with it priced $2,700 more than the F 900 R. Is it worth it? If long-distance riders are in your future, then absolutely. But if you're a rider who favors local, around-town rides, you'll save some serious coin with the R. Either way, you can't go wrong with these BMW 900s.
Images: Kevin Wing
---