---

---
A "Sport Production" machine, individually numbered, presented in Winter test livery.
The "SP" in the 2021 Panigale V4 SP is a return to the historical "Sport Production" concept. In this concept, one takes a production bike and gives it a dose of steroids, boosting its ability for the task at hand. The task, in this case, is track performance.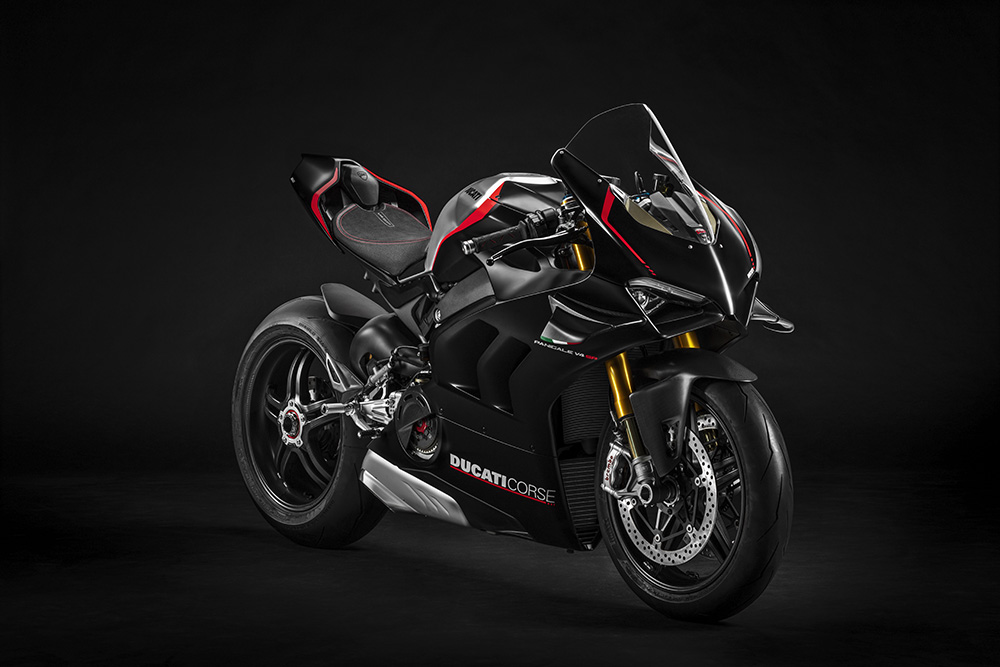 The mission for the 2021 Panigale V4 SP is track dominance. Inspired by and borrowing from the Superleggera V4, the V4 SP has quite the list of proper components: carbon rims, brake calipers and master cylinders, and a dry clutch. The V4 SP and the Superleggera V4 even share the same 520 pitch chain size.
The electronics package of the V4 SP is noteworthy. Included in the kit
is a flight of Ducati rider aids: traction control, slide control and wheelie control. The list also includes power launch, up and down quick shift, engine brake control and electronic suspension.
---
---
Take note of the V4 SP's 5 split-spoke carbon wheels. The lightweight rims minimize rolling inertia, producing more agility and make the bike more agreeable when changing direction.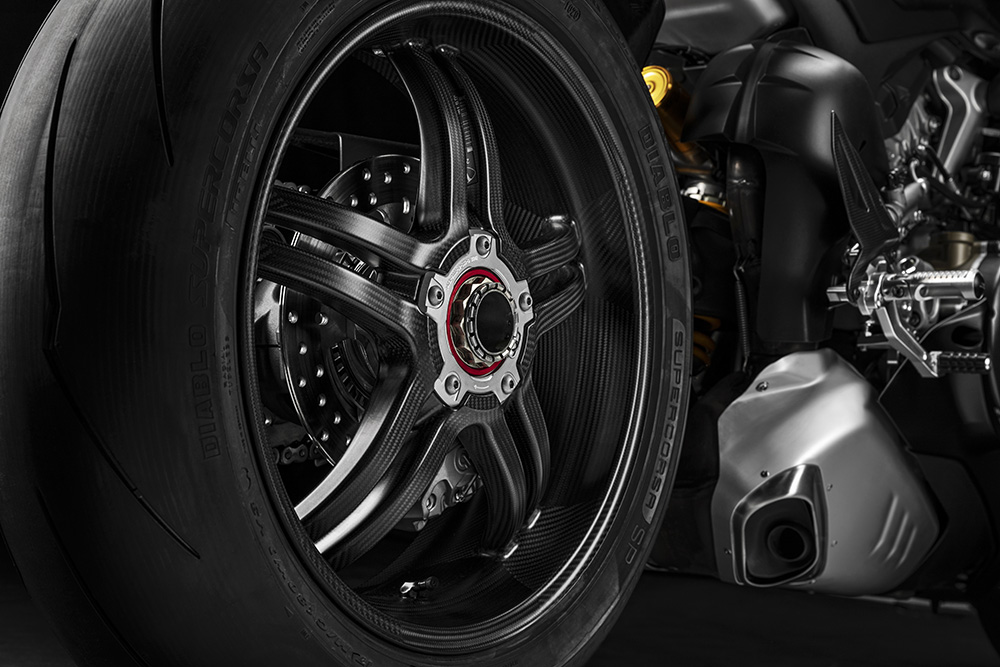 The 2021 Panigale V4 SP sports Rizoma fully adjustable rearsets for true rider foot placement adaptation. For on-circuit missions, the bike comes with a racing kit that includes aluminum caps for the removal of the mirrors and license plate holder and an open clutch cover. Additionally, the kit includes the Ducati Data Analyzer + with GPS module.
The stopping power of the V4 SP is courtesy of Brembo Stylema R front brake calipers, empowered by an adjustable Brembo MCS radial-pump.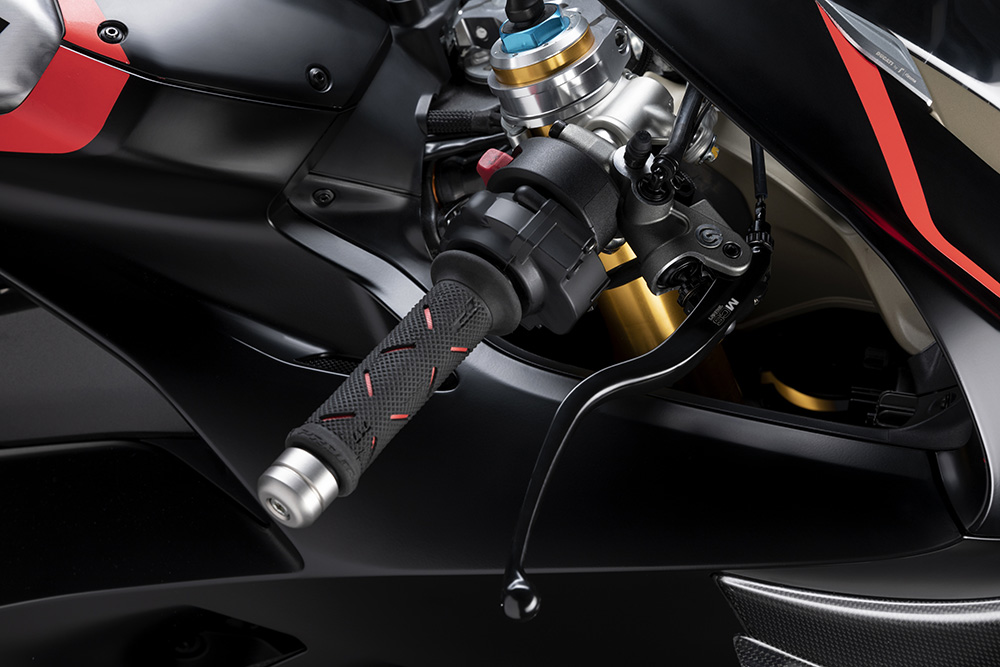 Engraved on the machined steering head, is where you'll find the individualized V4 SP production number. You will then discover, if not straight away, the very details of the visual aesthetics of the 2021 V4 SP.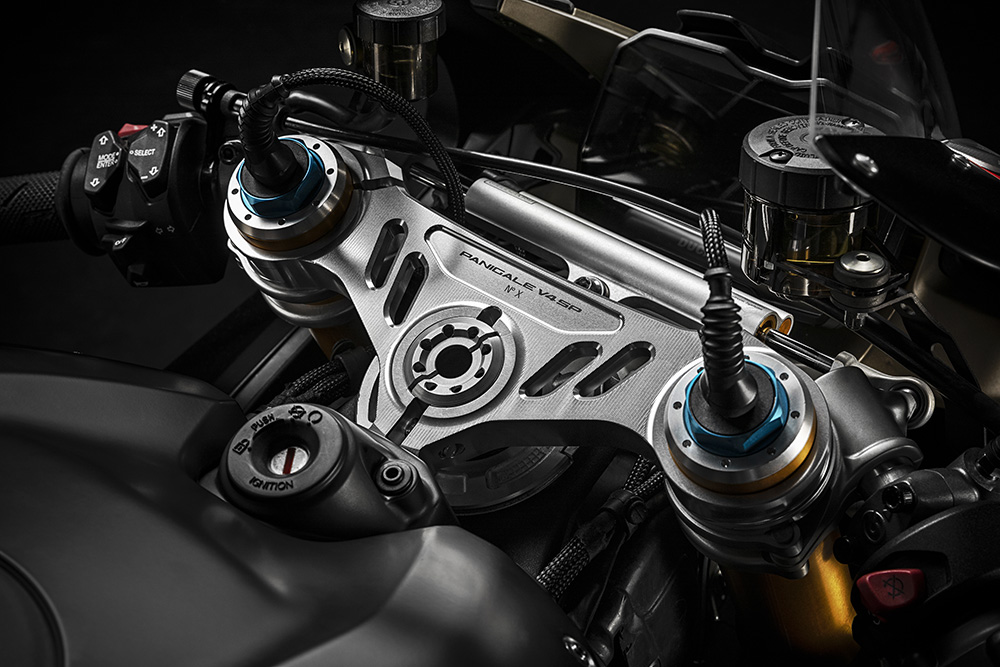 Its presentation is inspired by the livery used in the winter tests by the official MotoGP and Superbike teams: matt black fairings, fluorescent red details, carbon wings and mudguard, and the exposed aluminum fuel tank.
Ducati's 2021 Panigale V4 SP is retailed at $37,000 and is scheduled to. arrive at dealerships in March of 2021.
---