A grind here, a polish there, the 2023 Ducati Streetfighter V4 S just got that little bit sharper.
We live in an age never before seen in motorcycling. Modern motorcycles are capable of covering the earth beneath you at incredible velocity. Indeed, the fact these two-wheeled terrors are even legal is a marvel in itself. Never has that fact been more apparent to me than after a few laps of the Andalucía Circuit in southwest Spain on the 2023 Ducati Streetfighter V4 S. A motorcycle with north of 200 horsepower needs your utmost respect and attention, but take its clothes off and give it a high handlebar to turn it into the world's most revered naked bike… well, then you really need to pay attention.
The $27,595 MSRP 2023 Ducati Streetfighter V4 S is not a massive derivative of what first came out in 2020. A 4mm higher swingarm pivot helps the anti-squat behavior of the chassis under acceleration, and a new tank design aids the rider to hold themselves up a bit better under braking. But it produces a scarcely believable 208 horsepower and 90 lb-ft of torque — just as it did before — but weight is now down to a claimed 434 pounds with a tank of fuel, making for the spiciest meatball this side of Sicily.
Those monster power numbers belie an uncanny ability to play nice at low speeds just as well as it can punch on at high speeds. A revised quick shift system aids these newfound manners, but the real intrigue lies further in the ECU, with Ducati fitting two new power modes.
At one end is a new Wet mode which restricts power to 165 hp with a softer throttle response; the second is the new Full power mode, which is even more chunky than the previous top level of High mode.
These modes work in conjunction with the new torque reduction algorithm that, instead of working on gears 1-2, 3-4, and 5-6, works on each gear individually, with first getting the most torque reduction, second a little less, and so on.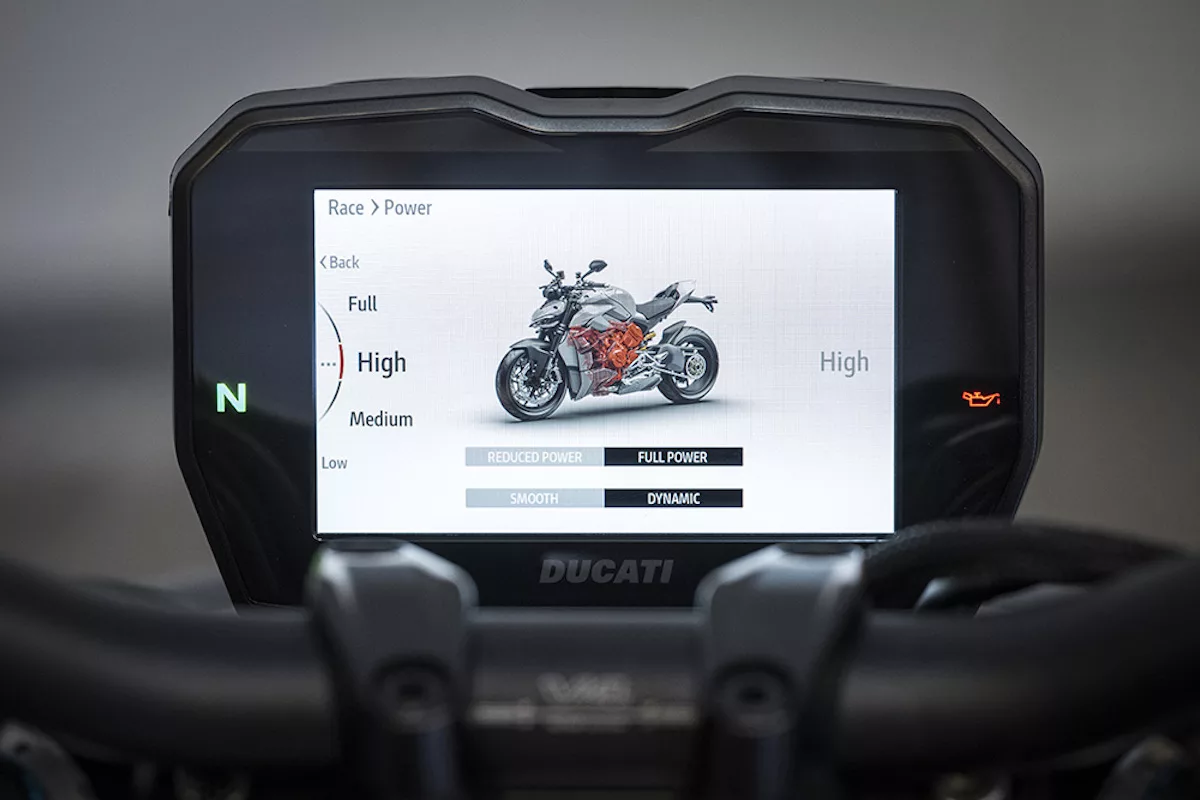 However, if you fancy yourself as a mini Pecco and leave your Streetfighter V4 S in Full power mode, you only have torque reduction in the first gear. From then on, you get the full send of the motor, and your ambition better not outweigh your talent.
Having not ridden the previous generation for a little over two years, it was hard for me to decipher any major difference in the torque delivery. All I can say is, especially in High power mode, the Streetfighter V4 S produces a subtle but almost never-ending wallop of torque that did not leave me wanting more.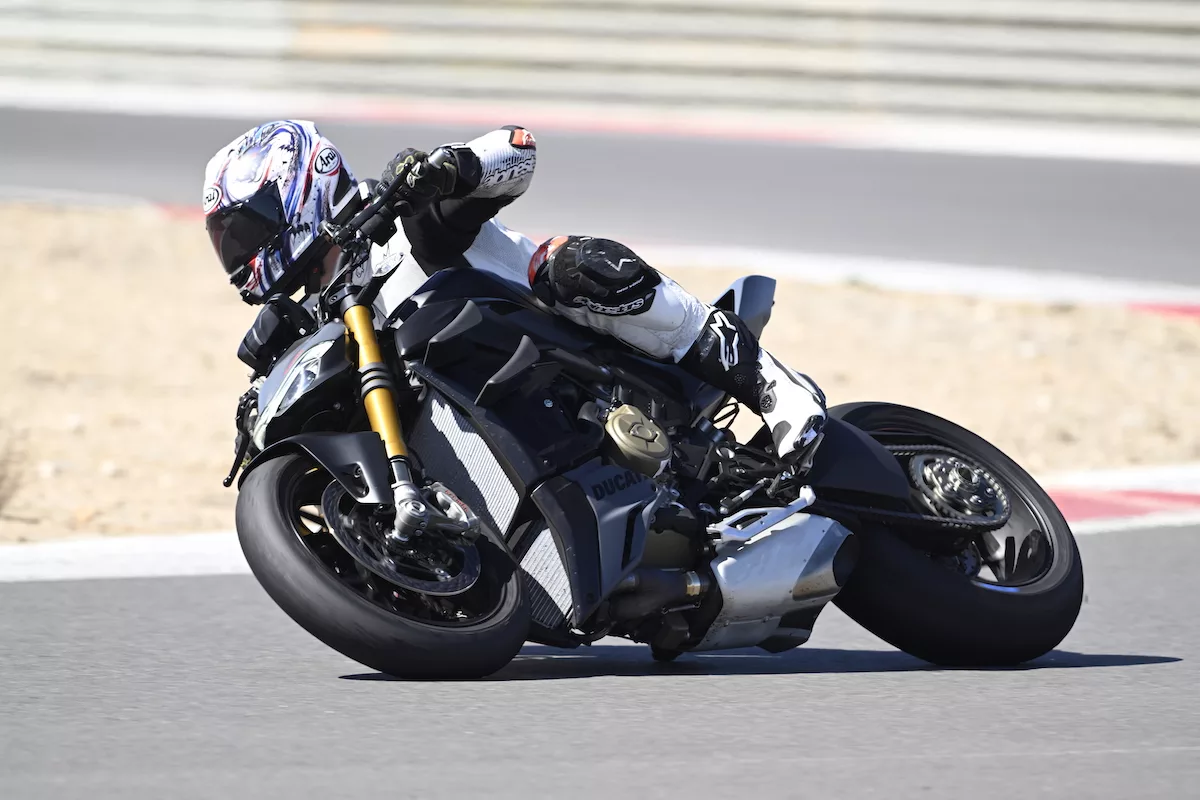 However, once I ventured into the Race mode on the new "Dovi Dash" with the gear position indicator smack in the middle and the various electronic parameters down the right side, things really started to happen. The Ohlins Smart EC2.0 event-based suspension gets stiffer, the throttle response gets livelier, the whole show that is the 2023 Ducati Streetfighter V4 S wakes right the F up, and before you know it, you're going faster than ever before.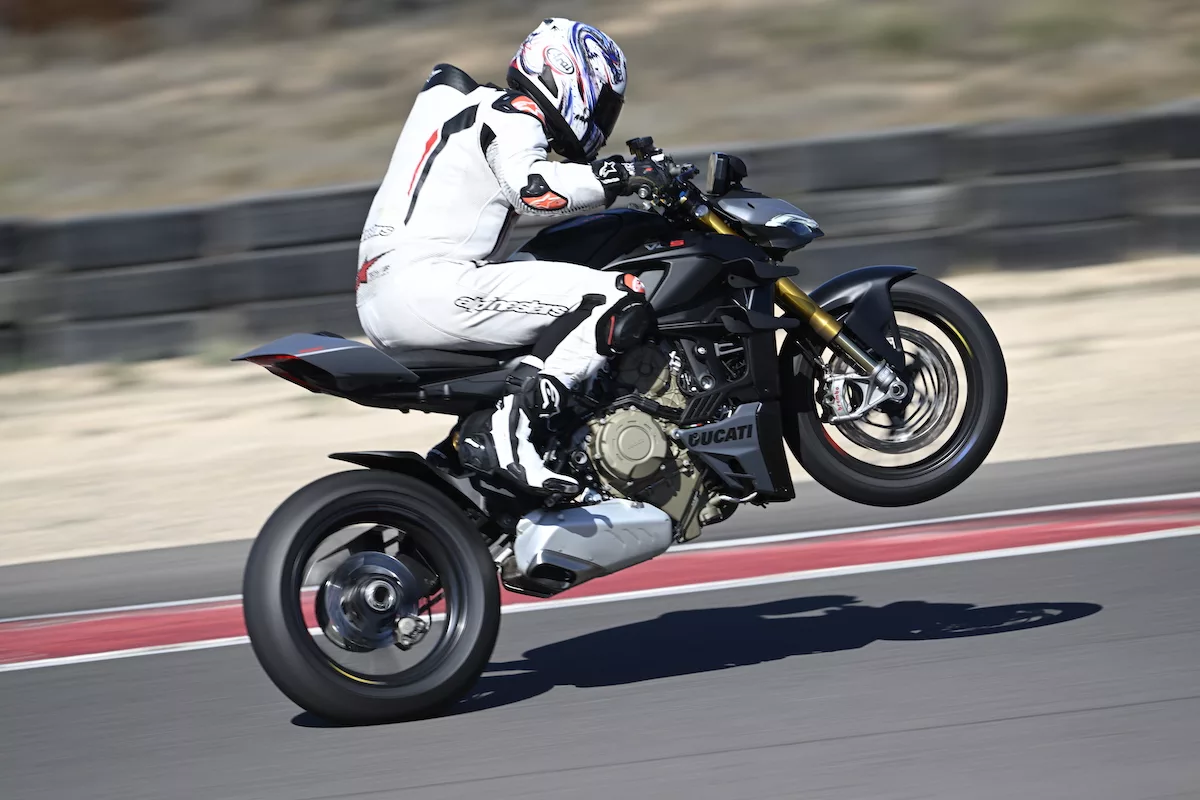 But, although the motor is about as mental as the cartoon character that inspired the Streetfighter's LED headlight in The Joker from Batman, the chassis is so intuitive, so easy to manage that it simply goes where you want while hardly ever getting its knickers in a twist unless you really mess up your coming corner.
Brembo's Stylema four-piston brake calipers are as they were before, and there's a delightfully deft feeling at the lever which is something only a high-end master cylinder can offer.
There's an almost infinite array of electronics and settings with the Streetfighter, which I won't go into here. After all, this is a naked Panigale, pure and simple. It has all the electronic bells and whistles the superbike has. That's because the superbike is a streetfighter and vice versa. Only the Streetfighter is infinitely more comfortable with a seat twice the thickness at 60 mm.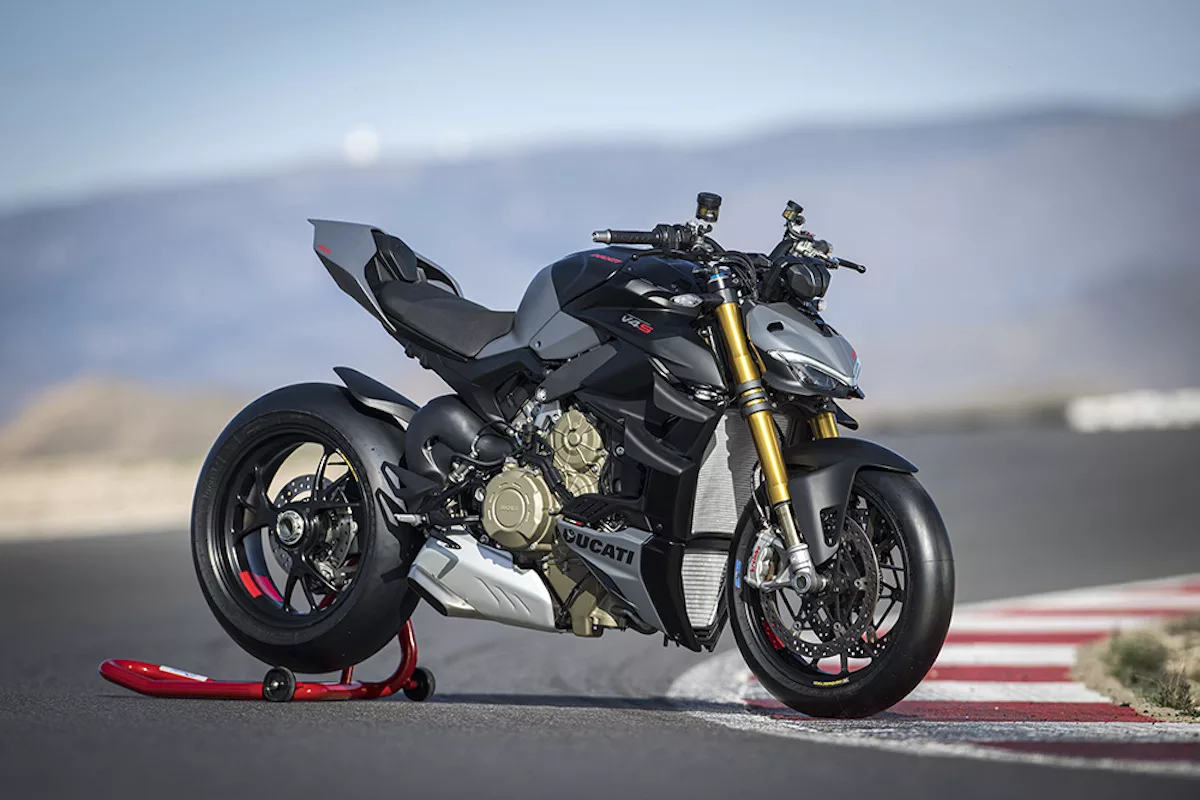 The Ducati Streetfighter V4 S is a truly immense motorcycle. It's a bike anyone can legitimately ride, but only a select few can really, really ride. I am not of that ilk, but, damn, is it good fun trying to be.
---