The 2004 125cc World Champion Andrea Dovizioso has announced that he will retire after the San Marino Grand Prix.
Over his career, Andrea Dovizioso has won 24 grand races, placed second in the championship three times and most notably, won the 125cc class championship in 2004.
Currently racing with the WithU Yamaha RNF MotoGP Team, Dovizioso has only secured a total of 10 points after 11 rounds in the 2022 season. A difficult year, to say the least. And with that, Andrea Dovizioso has announced that he will be hanging up his leathers at the completion of his home round, the San Marino GP at the Misano World Circuit Marco Simoncelli. 
WithU Yamaha RNF MotoGP Team test rider, Cal Crutchlow will step in for riding duties to close out the remaining six races of the 2022 season. 
---
"I want to start by saying that, of course, we are all sad that Andrea will be leaving the sport earlier than expected. He is a big name in MotoGP, and he will be missed in the paddock.
"We considered ourselves very lucky last year that he was available and willing to join our MotoGP programme when Franky switched to the Yamaha Factory Team thus creating the need for a replacement rider for the remainder of the 2021 season. Andrea's great expertise, experience, and methodical nature were of great interest to Yamaha and the RNF team and the project was fixed to include the full 2022 season.
"Unfortunately, Andrea has struggled to extract the maximum potential out of the M1 and thus the results have not been forthcoming, which has created understandable frustration for Andrea. Finally during the summer break, he confirmed to us his desire to retire before the end of the season.
"After mutual discussions it was deemed appropriate for Andrea to ride his final race in Misano at his home GP. Naturally, Yamaha will continue to give 'Dovi' their full support over the next three races. In the meantime, let's enjoy his last three GPs and celebrate in Misano the end of a spectacular career." – Lin Jarvis, Managing Director Yamaha Motor Racing.
---
"As we return to the paddock after a five week's break, we were looking forward to work on turning things around for Andrea especially after some positive findings in the last two races. Nevertheless, he has made his decision to retire and we respect that. Indeed, we are sad to see a great and experienced rider like Andrea leaving the championship and not ending the season with us.
"But we understand, he has been clear of his struggle to be comfortable with the bike and to suit his riding style to the way the bike needs to be ridden. Though we did not manage to reach the desired results together, we are still honoured and pleased to have a big name like Andrea in our team. We would like to thank Andrea for his support, expertise and contribution and we will continue to give him the full support for the remainder of the three races." – Razlan Razali, Founder and Team Principal WithU Yamaha RNF MotoGP Team.
"Of course, this announcement and early retirement from Andrea is not really what we wanted as a team but also understandable from Andrea's side as he clearly expected much more from his return than what he was able to do. We tried to stay behind him as much as possible in all areas all the way, but finally he decided himself to stop after the Misano GP and of course looking to complete his career.
"Anyway, we have to accept his decision because this is clearly something that a rider needs to do. We can say whatever we want, but we can only appreciate his honesty and also his decision. We will do anything to keep pushing and getting results for the team." – Wilco Zeelenberg, Team Manager WithU Yamaha RNF MotoGP Team. 
---
"I thank Lin for his words, I totally agree with them. In 2012, the experience with the Iwata manufacturer in MotoGP had been very positive for me and since then I have always thought that, sooner or later, I would have liked to have an official contract with Yamaha. This possibility presented itself, actually in a somewhat daring way, during 2021. I decided to give it a try because I strongly believed in this project and in the possibility of doing well.
"Unfortunately, in recent years the MotoGP has changed profoundly. The situation is very different since then: I have never felt comfortable with the bike, and I have not been able to make the most of its potential despite the precious and continuous help from the team and the whole of Yamaha. The results were negative, but beyond that, I still consider it a very important life experience. When there are so many difficulties, you need to have the ability to manage the situation and your emotions well.
"We did not reach the desired objectives, but the consultations with the Yamaha technicians and with those of my team have always been positive and constructive, both for them and for me. The relationship remained loyal and professionally interesting even in the most critical moments: it was not so obvious that that would happen.
"For all this and for their support, I thank Yamaha, my team and WithU, and the other sponsors involved in the project. It didn't go as we hoped, but it was right to try. My adventure will end in Misano, but the relationship with all the people involved in this challenge will remain intact forever. Thank you all." – Andrea Dovizioso.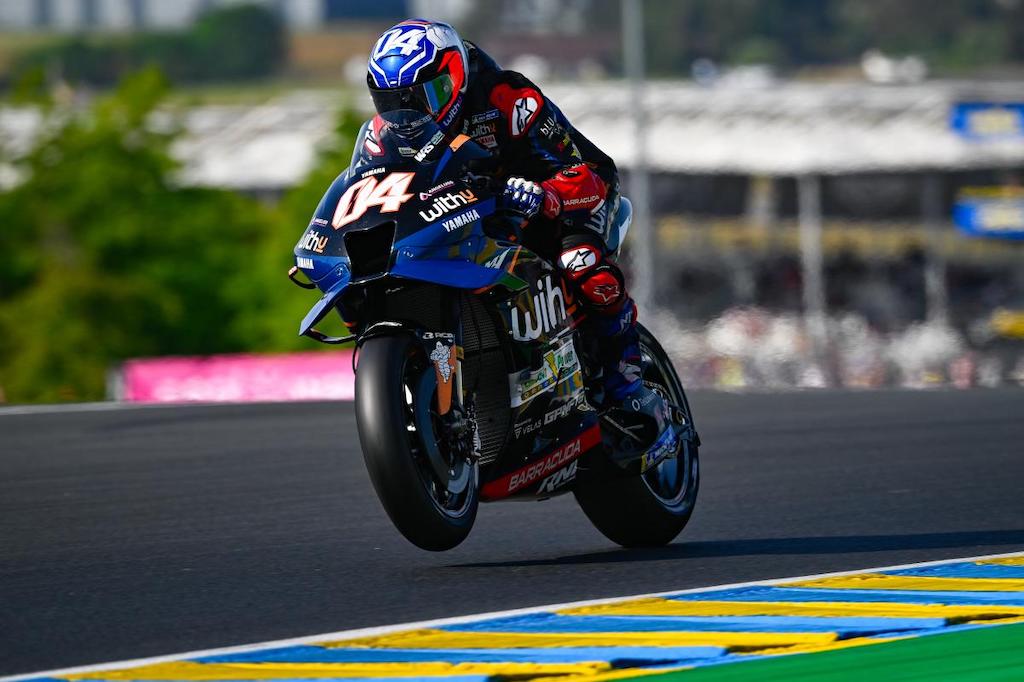 ---