What affected America's GP worse? COVID COTA or the potholes?
"You going to COTA?" were the first words outta the Boss' mouth.
"And a Good Morning to you", I said to myself as I listened. When "Tha' Man" talks, you listen. Less bitchin'. More riding… That's his motto, so I'm listening. No bitchin'. I replied, "I plan on it."
Hell! I'm a cowboy! I'm vaxxed. I have multiple masks. I wasn't missing this for anything in the world! Besides, nothing but nothing brings me joy like MotoGP! So yeah! I'm going!
The Boss replied, "I'll take care of your media credentials."
But I knew it was going to be different when I was put through a series of forms to fill out with all my information, just so I could enter the paddock. And understandably so. This ain't a truck stop! I'm going to be around The best athletes in the world! I also had to take a PCR Test, which meant the nose swab! I don't know how people on cocaine do it! I hate things up my nose but for America's GP? You damn right I did it! All this so I could enter the paddock.
After all the precautionary requirements checked… it was time! Nothing gets me excited like MotoGP weekend! Nothing! It means seeing friends you only see sometimes once a year and getting to see your sports heroes, up close.
Thursday – Usually this is the most chill day. Everybody is just gettling into town. Chill. What I noticed was the lack of people. On a Thursday, in years past, GP Geeks are there getting helmets signed, walking around, taking pictures, etc.
It wasn't empty but it was considerably lacking fans. One of the cooler elements for me was the enforcement of masks in the paddock area. If by chance you got caught slipping with your mask down, a COTA official would politely tell you to pull it up. It was never mean or aggressive and it was again refreshing to see them take it seriously.
I got my credentials, stayed at the track for a couple of hours then left to get some rest because, well, America's GP weekends are exhausting.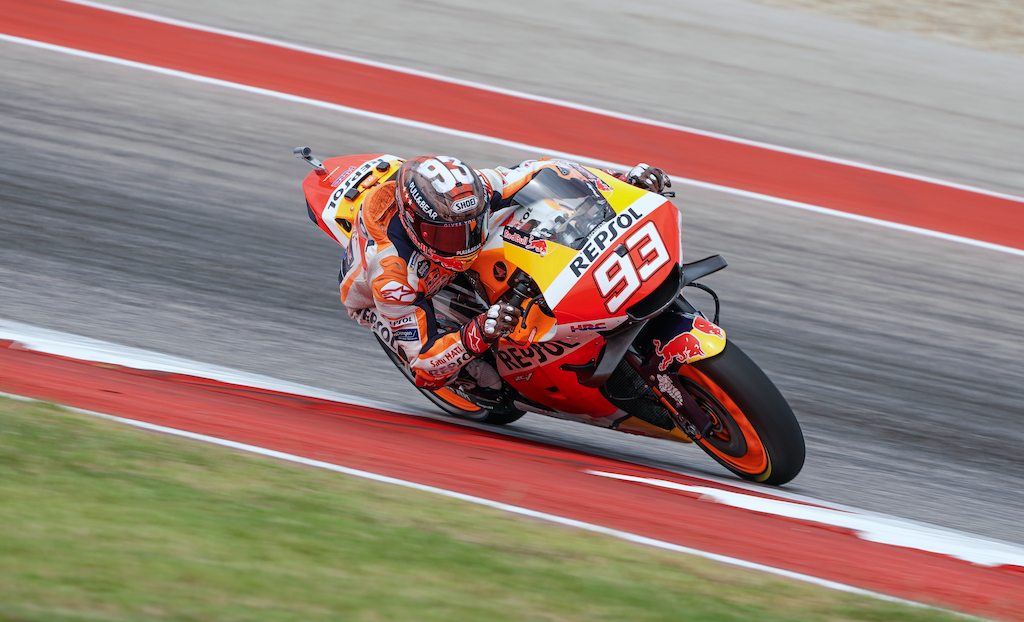 Austin at night? I got the feeling, the city wasn't as precautious as the track. Restaurants and hotels were on their best behavior but, for me, it was a bit sketchy. People in bars – no masks. It all seemed a bit sketchy. But what do I know?
Friday – Again, usually the crowds are a tad light on Friday. I mean who really wants to see practice! We talking about practice… Practice! Not the race… Not the race… We talking about practice. Well, this GP Freak right here that's who. And it was apparent it was a little light but where it really seemed light was the vending area. There was a considerable lack of vendors but on the positive side? There were no lines! I turned this lemon into lemonade by demo riding a scooter and a Suzuki Boulevard!
Saturday and Sunday – Generally speaking, it seemed back to normal and perhaps even more so and it was because of one person… Valentino Rossi. With Rossi announcing his retirement, fans have moved heaven and earth for one last chance to see the Doctor!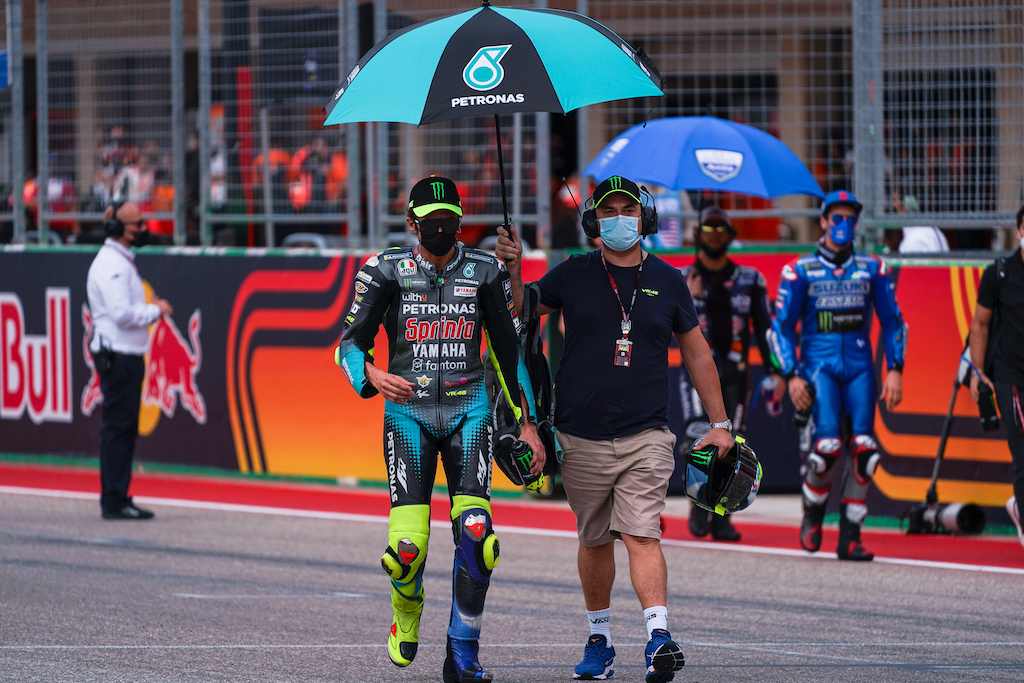 I'm not going to lie. It was beautiful to see neon yellow adorn the stands and grassy hillsides as it seemed everyone came to pay their respects to Vale! And it seemed during this COVID COTA this was the main target for the fans. And for riders, it was the bumps!
"It's a joke!"
"If they don't resurface the track we cannot come back!"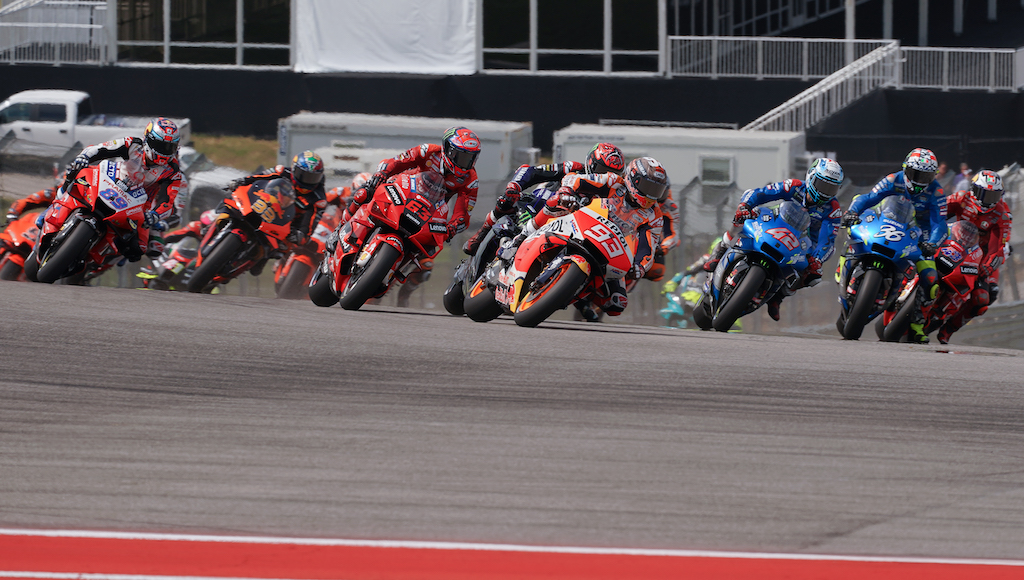 These were the words spoken by the riders about the track surface. It's always seemed funny to me that America, particularly Texas, can spend $50K for a high school football stadium, but can't seem to build a decent grand prix race track, Barber excluded! Barber is a great track but a lack of rrunoff means no GP.
At times I couldn't figure out if I was watching MotoGP or MXGP! That bad? Yeah, that bad. If you don't believe me, watch the video of Joan Mir's rear end skip like a school kid through the turns. I personally witnessed it as the riders approached turn one going up the hill! It looked like a stoppie was about to happen.
All that being said, the overall sentiment amongst everyone was that they were glad to see MotoGP back for America's GP. Riders. Fans. Workers. Sports played a crucial part in keeping sanity to most, especially to the world when it was locked down and to know that MotoGP was so close to not having a season? Well, you get the picture. Like the song says, "You don't know what you got until it's gone…" That was certainly the truth over America's GP weekend.
Never mind the cascades of sweat that poured out my pores every minute like a geyser under that hot as balls Texas Sun. Never mind the constant sense of feeling tired after walking no less than a marathon a day. MotoGP came back to the Stated and we were all grateful!
My apprehension was the lack of crowds. I wanted the MotoGP of the Americas to show up and pay tribute to Valentino because he damn well deserves it. I ache for my friends who couldn't come because of travel restrictions or just for their own fear. It was understandable. Seeing the respect paid to Valentino was enough for me. Yellow smoke bombs. Chants of "Vale," even after Marc Marquez dismantled the field in dominating style… This is what it was all about.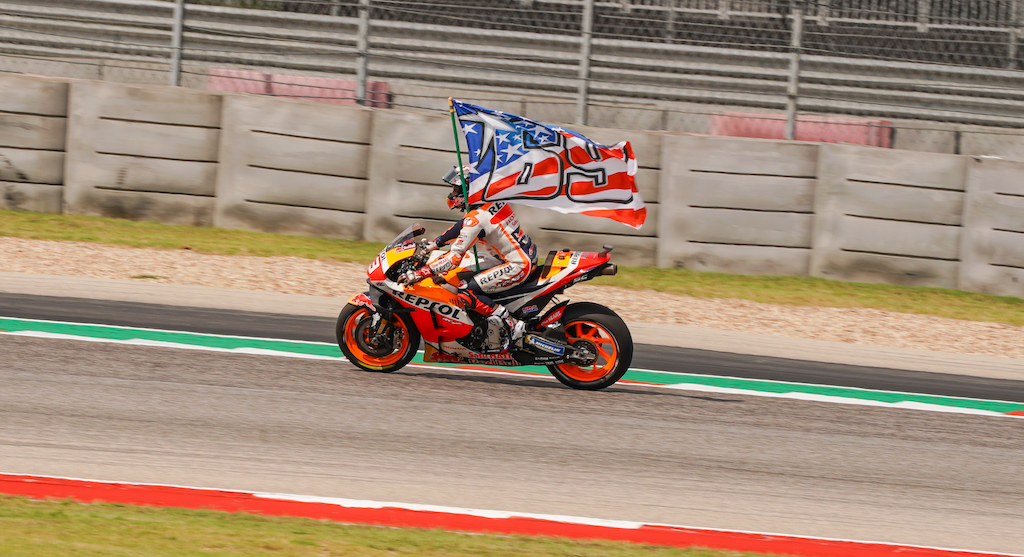 The grandstand full, the crowds cheering… What COVID? It made me smile. Only when I noticed the lack of media in the press conferences did it come crashing back to real life. What was once a room jam-packed with press and celebrities, was now literally reduced to three, sometimes four people. I was one of those lucky ones. Thanks, Boss.
I don't know if GP will return to Austin… Pretend it's a football stadium and Jerry Jones for some cash… I hope so. I hope the necessary repairs are made. I don't know if I'll go to Valencia to see Rossi ride his last laps.
I don't even know if we'll ever kick this damn virus out of our lives. What I do know is for the first weekend in October, MotoGP came back to America for the first time in thirty months. And I think I can speak on behalf of everyone involved when I say, thank you… We all needed that!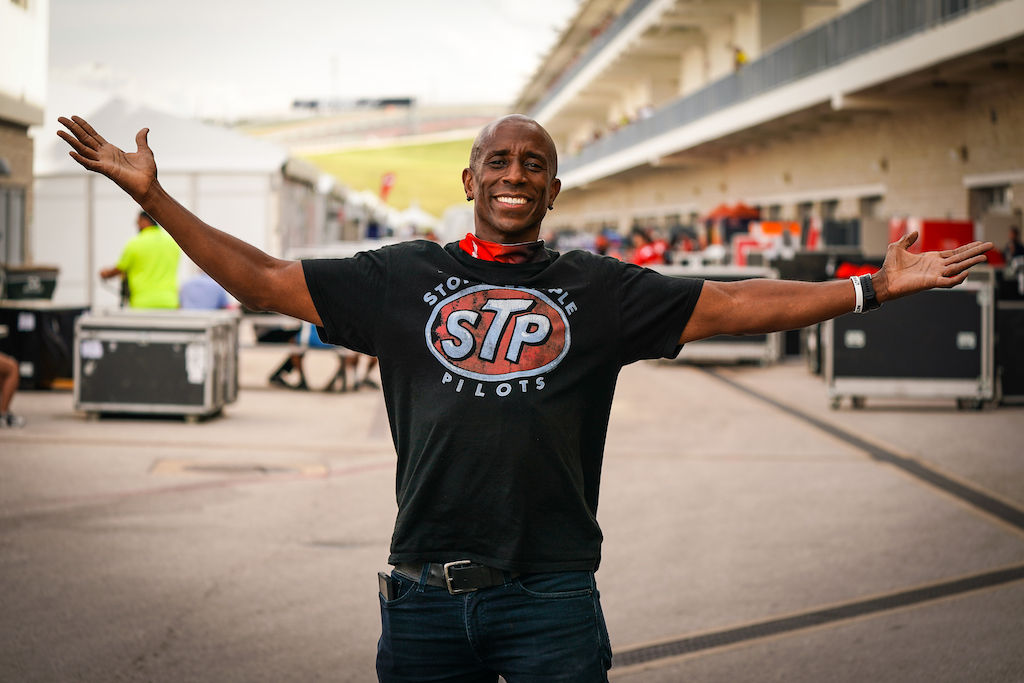 Images: Anthony Watt
---