---

---
By now, you've seen the Polaris Slingshot, officially classed as an "auto-cycle". The Slingshot combines the steering, shifting and speed of a sports car with the torque and open-air feel of a motorcycle to create a unique riding experience. Its racy look has piqued the interest of all riders, young and old. Slingshot has come into its own, since it's 2015 release, with a community of dedicated riders and enthusiasts. Simply put, it's the most fun you'll have on the street, in a side-by-side vehicle, starting at just under $20k. The 2021 Polaris Slingshot can be summed up in one word… refined.
Polaris now offers three new Slingshot Models, all featuring the ProStar powerplant, boasting a four-cylinder, 2.0 liter, 1997cc engine that offers two performance modes: Comfort and Slingshot. These riding modes are managed via the push of a button at the steering wheel.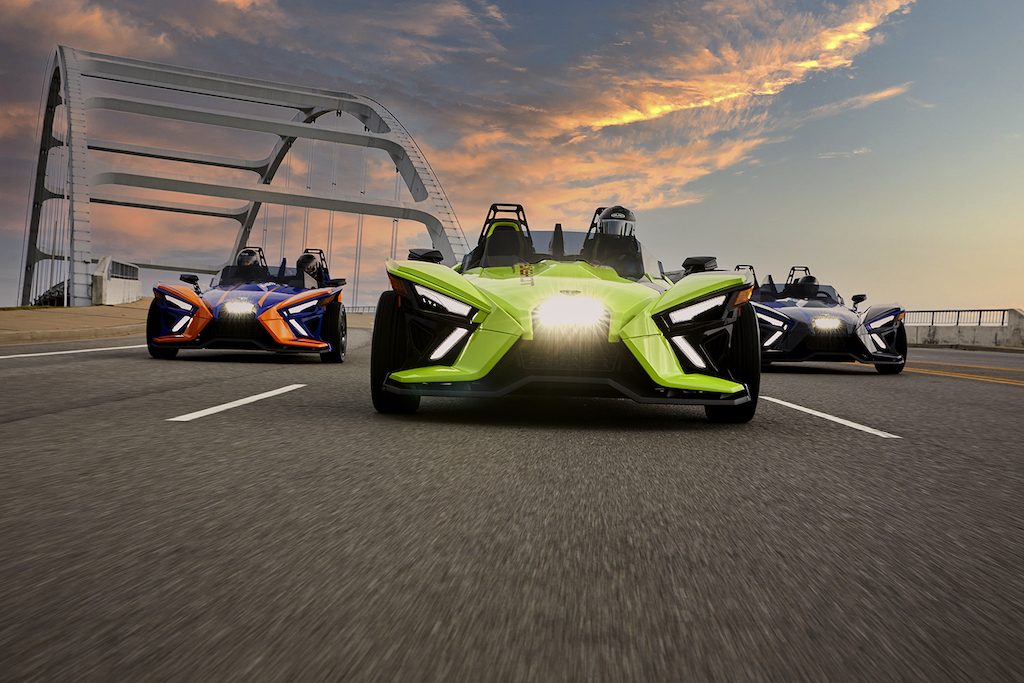 The entry-level S model returns for 2021, available in both manual ($19,999) and AutoDrive ($21, 699) offering the perfect canvas for drivers looking to create a ride that truly represents their personality and style. The 2021 Polaris Slingshot S now comes standard, with the basic Technology Package, including the Stage 1 Rockford Fosgate Audio System.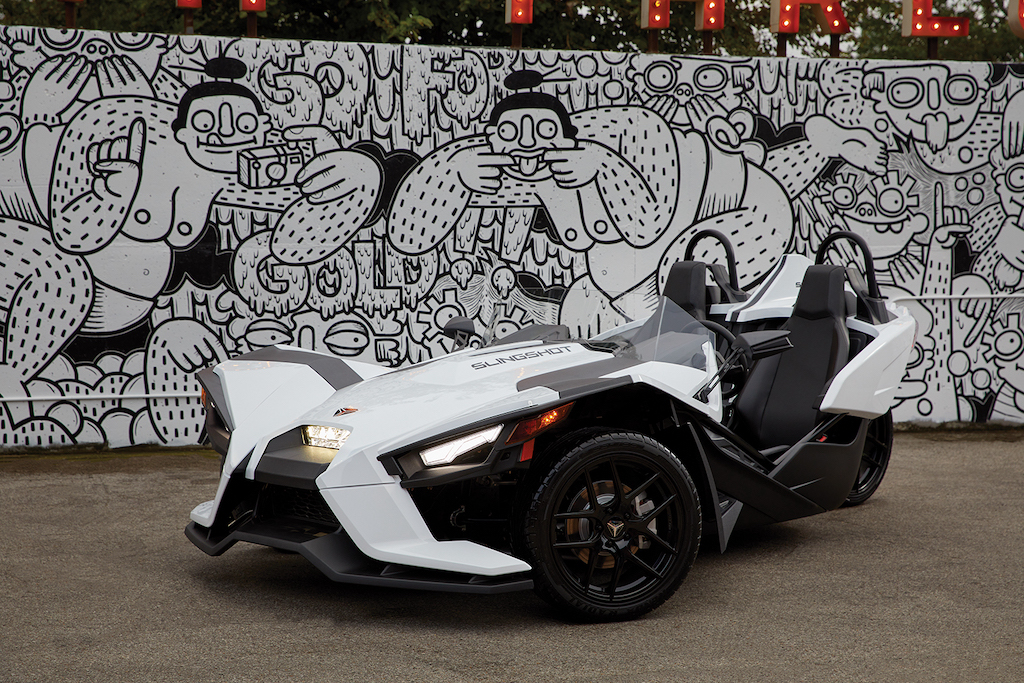 The SL model has a maximum output of 178hp at 8500rpm and 120 foot-pounds of torque at 5500rpm. The 2021 Polaris Slingshot R is built for the performance-minded driver. Available in manual or automatic, the engine output rises to 203hp at 8250rpm with 144 foot-pounds of torque at 6500rpm. New for 2021, Slingshot is introducing the R Limited Edition. At the top of the line, the R Limited Edition will stand out from the crowd with its limited-edition, asymmetrically designed Neon Fade paint, blacked-out badging, and lightweight aluminum matte black wheels. Available in a manual or AutoDrive transmission, the R Limited Edition includes paddle shifters with AutoDrive, new Rockford Fosgate audio system with redesigned speaker pods and Rockford tweeters in the dash, Ride Command with Apple CarPlay and turn-by-turn navigation, and vehicle hill hold.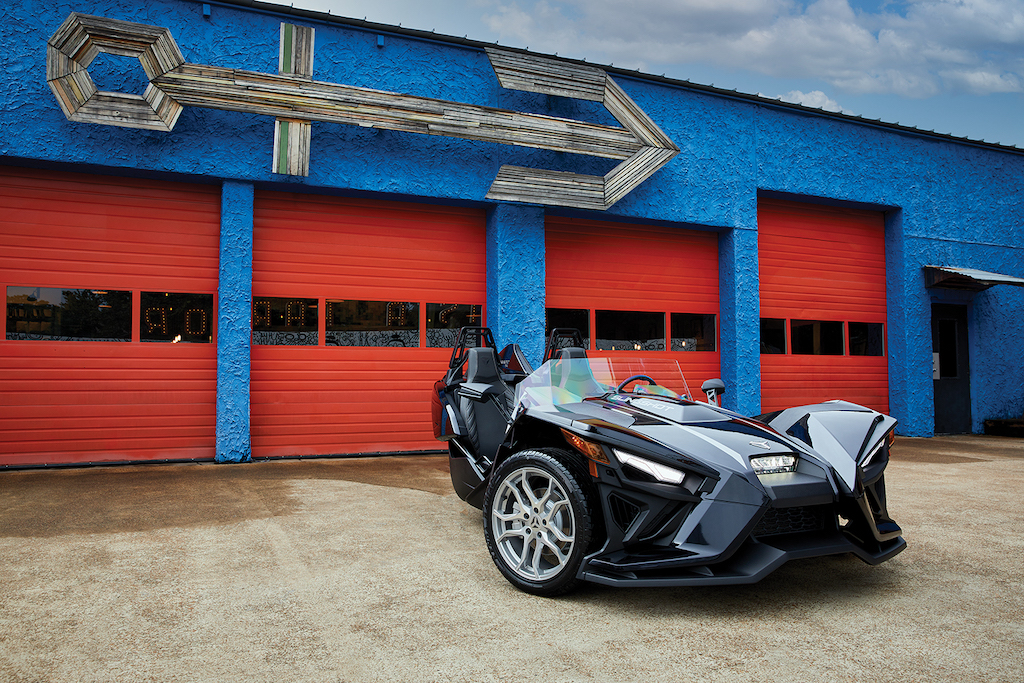 Polaris offers upgrades focused on the total driving experience, including Drive, Sound and Style. Last year, Polaris introduced their AutoDrive transmission, perfect for those who loved the futuristic look of the Slingshot, but wanted the automatic experience. As a Slingshot enthusiast, I wasn't a huge fan of their automatic version. It was a bit awkward, especially in first gear, and felt like it was shifting just a bit slower than I would in a manual. For the 2021 Polaris Slingshot, Polaris offers a complete retune of the AutoDrive. The shifting is much smoother, faster and more consistent than its predecessor. If you have the 2020 AutoDrive version, Polaris offers the 2021 AutoDrive Calibration upgrade.
---
---
My favorite feature for 2021 has to be the addition of steering wheel-mounted Paddle Shifters to the AutoDrive version. Imagine switching from a cruise on a beautiful scenic highway to taking turns in mountain canyons. Designed from high-quality composite material, the paddle shifters feel great, and perform seamlessly, offering the ability to shift on the fly. Riders can take control of the vehicle to enjoy the changing road conditions on demand. The steering-wheel-mounted paddle shifters come standard on 2021 R models with AutoDrive and are available as an upgrade for all 2020 and 2021 models with AutoDrive. The AutoDrive version also offers Hill Hold, a new technology design to improve slow-speed drivability and increases driver confidence on hills.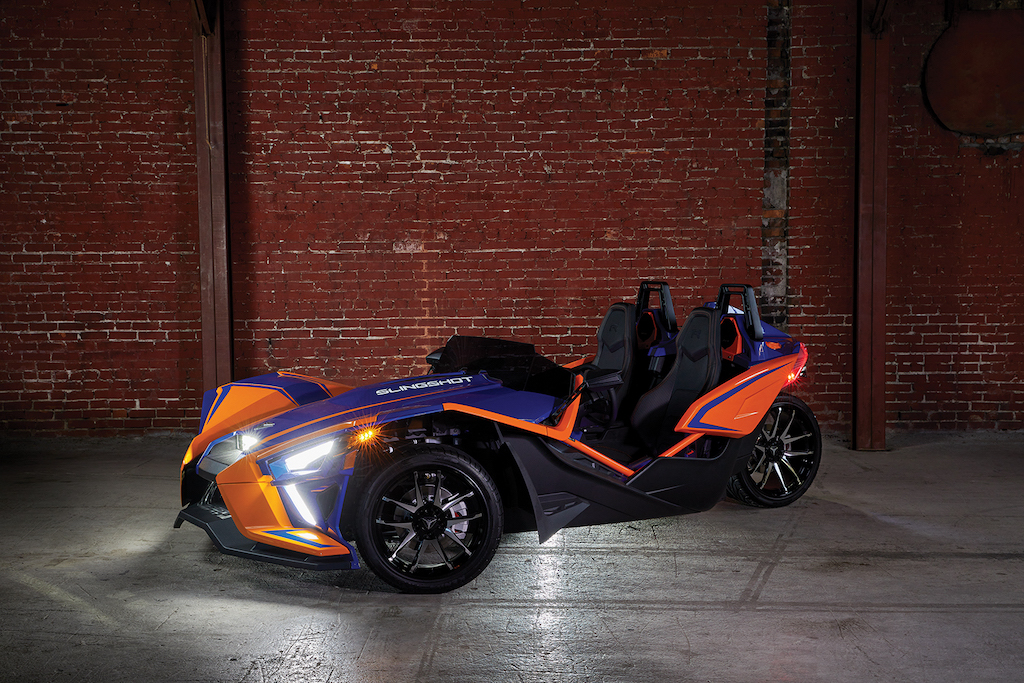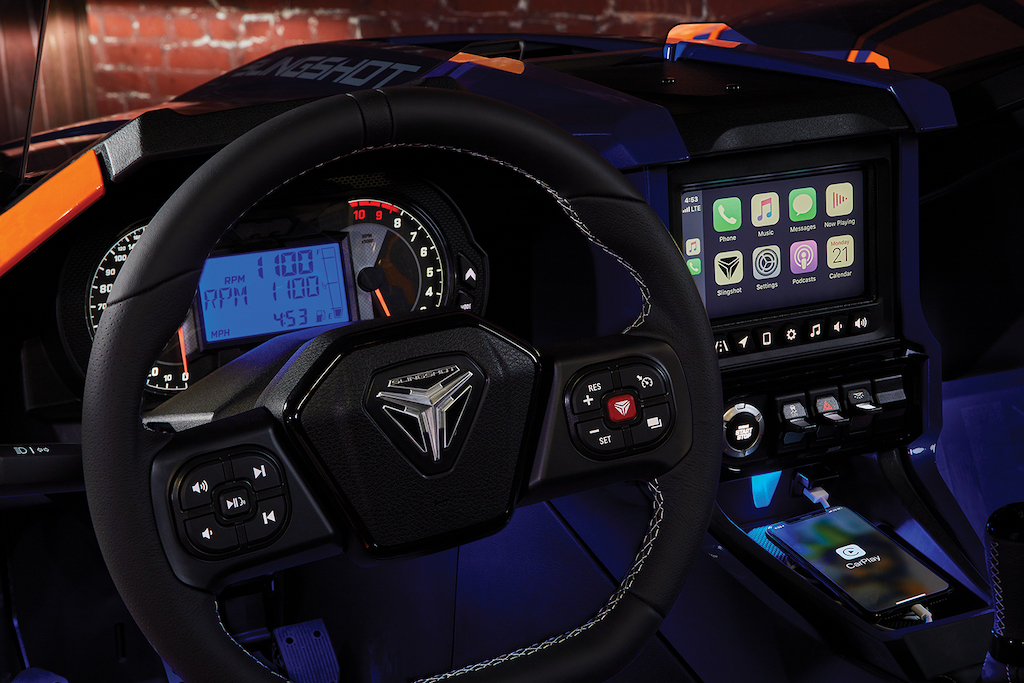 For those looking to take their 2021 Polaris Slingshot on the long haul, Polaris has expanded their accessories offering with two new packages. The new Excursion series includes a new storage bag collection, tall wind deflector, Slingshade, and heated and cooled seats. These new seats look great, and make the Slingshot a year-around recreational vehicle.
The Drive series adds the new paddle shifters, heated and cooled seats, and a new dead pedal to give AutoDrive drivers a convenient place to rest their left foot. Need more speed? S and SL drivers can add the tuning of the R model, providing 15% more power to their ride with the stage 1 tune.
Polaris has learned from the Slingshot riding community and answered the call for customization with new styling options. The Slingshot accessories line now adds 7 new color accents for up to 1000 different OEM color combinations of stock pieces. Just about every part of the 2021 Polaris Slingshot can be mixed and matched, offering the freedom of customization, with the assurance of Polaris quality and fit.
Light customization has become a huge part of Slingshot culture. In partnership with XKGlow, Slingshot now offers six LED lights and light pods in various locations. These options let you create your own custom light show. Using the Slingshot LED app, you can simultaneously set two different light zones to any color including color matching from your phone's camera. You pair the lights with their music to choreograph the lights while the music plays.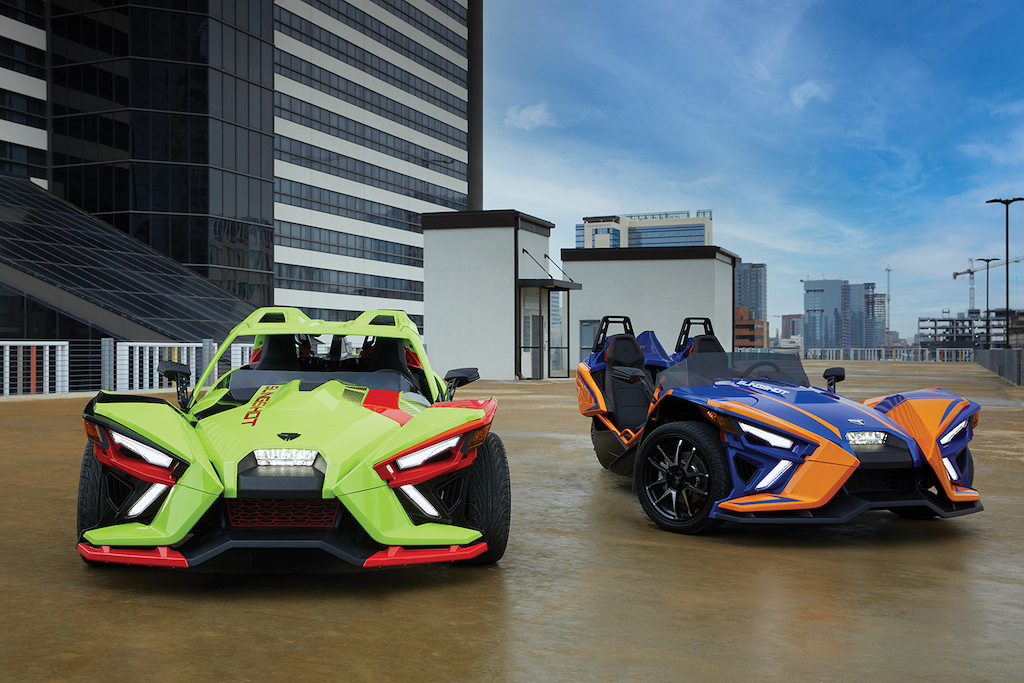 Music is everything when riding in a Slingshot, and Polaris steps up to improve the stock sound from the ground up with the new Rockford Fosgate audio system. The new system features 100 watts of power, redesigned speaker pods, Rockford Fosgate tweeters now built into the dash, and an expandable plug and play Rockford Fosgate amplifier. For clearer sound, add the optional Stage 3 roll hoop audio kit. The new Stage 3 kit offers rear 6.5 Rockford Fosgate speakers inside speaker pods behind the driver and passenger seats. iPhone users can rejoice, as Apple CarPlay now comes standard on the R and R Limited Edition and is available as an upgrade on the SL model. 2020 Slingshot owners can also update their Ride Command with Apple CarPlay.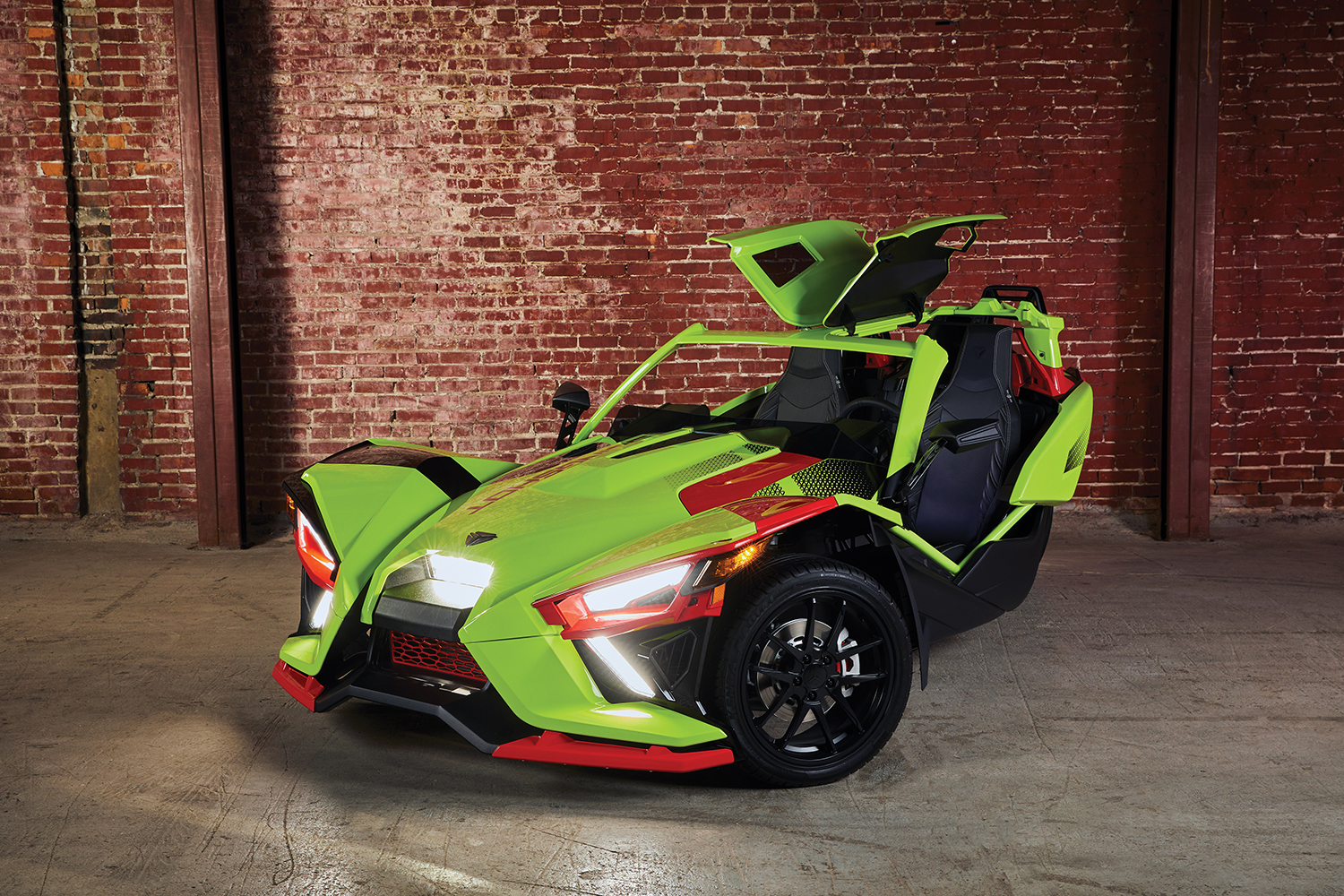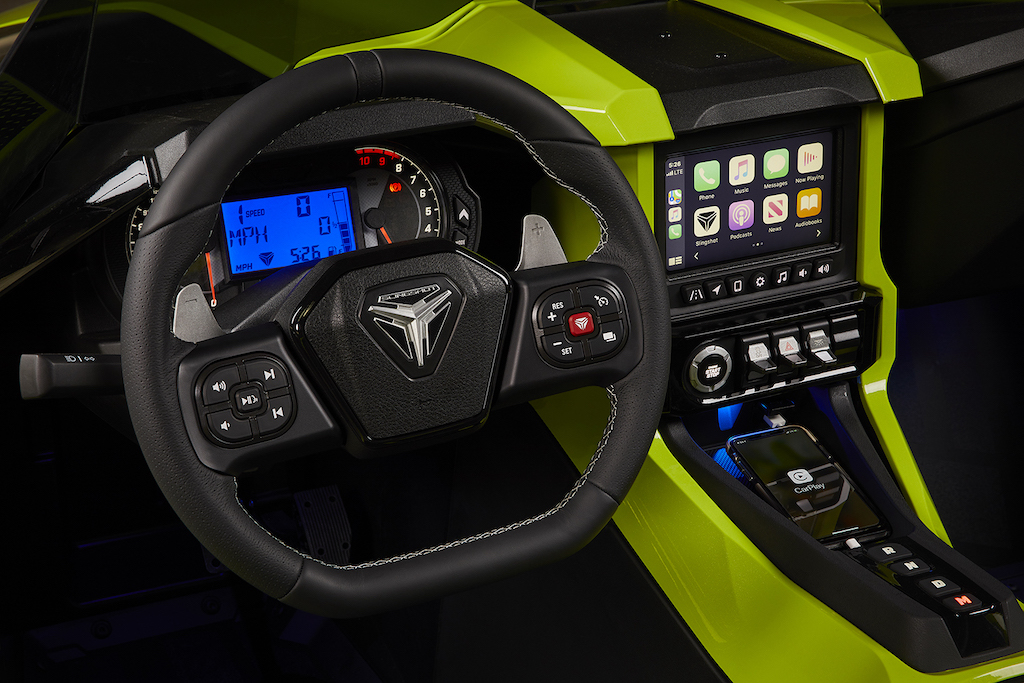 Polaris continues to create their own lane with their three-wheeled Slingshot. Last year's Slingshot brought new automatic drivers to the road. The 2021 Polaris Slingshot is now smoother and more complete. These upgrades work together to enhance the driver's experience from all angles. The result is a refined recreational vehicle, ready for all riders.
---