We're at Bahrain International Circuit. My left knee puck wears down on the pavement as I visualize my line at the corner exit. Twisting the throttle to its stop, the bike pulls progressively harder as it lifts from its lean and forces me back against the seat hump. The front wheel lifts but I place my faith in the bike's wheelie control. Blasting out of Bahrain's second-gear Turn 10, I row up the gears clutch-less with the throttle wide open before hitting the brakes hard to shave some speed for the upcoming left-hand sweeper. I then tip the bike and graze my knee puck again. It's pouring rain. But as it turned out, the rain provided the ideal setting in which to test the 2020 Ducati Panigale V4 S, which sees some important revisions.
Introduced in 2018, riders found the Panigale V4 was a handful when ridden hard. The changes are designed to make it less demanding to ride on a racetrack, but especially so for riders with less than MotoGP levels of skill. In other words, it should be easier to ride for you and I.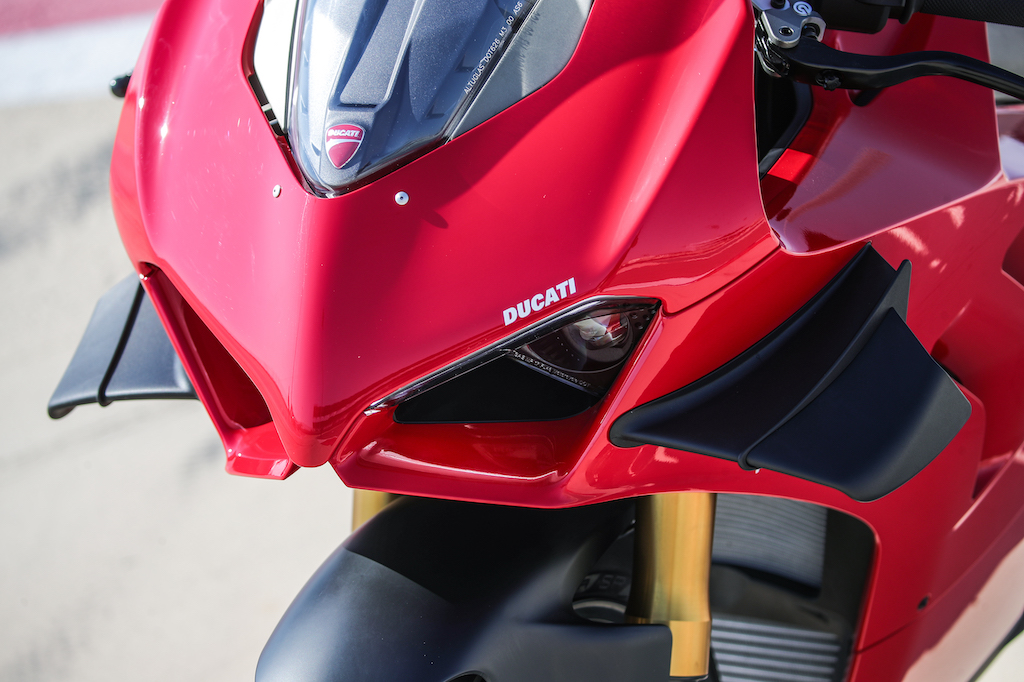 The first thing that catches your eye is the fairing aerofoils. First used in MotoGP and then on the Panigale V4 R last year, they can generate up to 82 pounds of downforce on the front wheel. Giving the front end a more planted feel at speed, and helping keep the front tire from lifting at corner exit. The fairing is also 1.2 inches wider at handlebar level, it's 3 inches wider at knee level. And the windscreen is 1.3 inches taller. Changes that smooth airflow around the rider when tucked in and improve high-speed stability.
A tweaked chassis makes handling less demanding. The frame is now the same as the on V4 R, but even lighter. It is 30 percent less rigid torsionally, which improves control at extreme lean angles, where the suspension is less effective. Spring rates are lower but preload has increased for more efficient use of suspension travel. Rear suspension geometry has been altered to reduce rear-end squat when getting hard on the gas, allowing the bike to keep a tighter line when exiting turns.
The 1,103 cc, 90-degree V-four is unchanged, still claiming 214 horsepower (226 with the accessory Akrapovic exhaust) and 92 lb.-ft. of torque. However, engine mapping has been revised, as well as the electronic intervention systems. Here's the list of the electronic assists:
Six-axis lean-sensing traction control; eight levels or off
Wheelie control; eight levels or off
Slide control; two levels or off
Electronic engine braking; three levels
Cornering ABS; three levels
Ride modes include Street, Sport, and Race, each one with its own preset parameters. Within each mode you can change settings for the traction and wheelie controls independently, the slide control, cornering ABS, and engine braking. The bike also has a quick-shifter, and three-level launch control. Making adjustments is intuitive using handlebar switches and the five-inch colour TFT display. You can also alter the suspension settings electronically on the Panigale V4 S.
Torque delivery has been softened through the midrange. But just like on real World Superbike machines, it now also varies depending on gear selection. Midrange torque is softest in first and second gears, gets a bit more forceful in third, and is most aggressive fourth to sixth. This makes exiting corners easier in lower gears without sacrificing power delivery at high speed. 
Traction control has been improved to intervene quicker, yet smoother when the rear tire lights up. Throttle mapping has been altered so that torque delivery is better managed when the wheel spins at part throttle. For example: If you're going fast enough that the rear tire loses grip mid-corner as you begin to open the throttle, torque will drop off as the engine picks up revs instead of doing the opposite. Traction control is there to help prevent disaster. And when all of these systems work simultaneously, the intervention is seamless and confidence inspiring.
The Panigale V4 S ($28,395) includes electronically adjustable Ohlins suspension with Smart EC 2.0 event-based mode. An Ohlins steering damper and Marchesini forged wheels in place of the manually adjustable suspension and cast wheels on the Panigale V4 ($21,995). To handle the rain, Ducati replaced the OEM Pirelli Diablo Supercorsa SP tires with World Superbike-spec Pirelli Diablo Rain tires. And since my gear bag went missing on my way here, my hosts provided the riding gear. 
My test bike was set up in Street mode but adjusted with a higher level of traction- and wheelie-control intervention. And slide control turned up. After a cautious sighting session, I picked up speed. Only to discover I could keep picking it up to a pace that would be considered fast. Even on dry pavement. I gradually applied harder throttle earlier at corner exit. Until it was regularly wide open with the bike still carrying a lot of lean angle.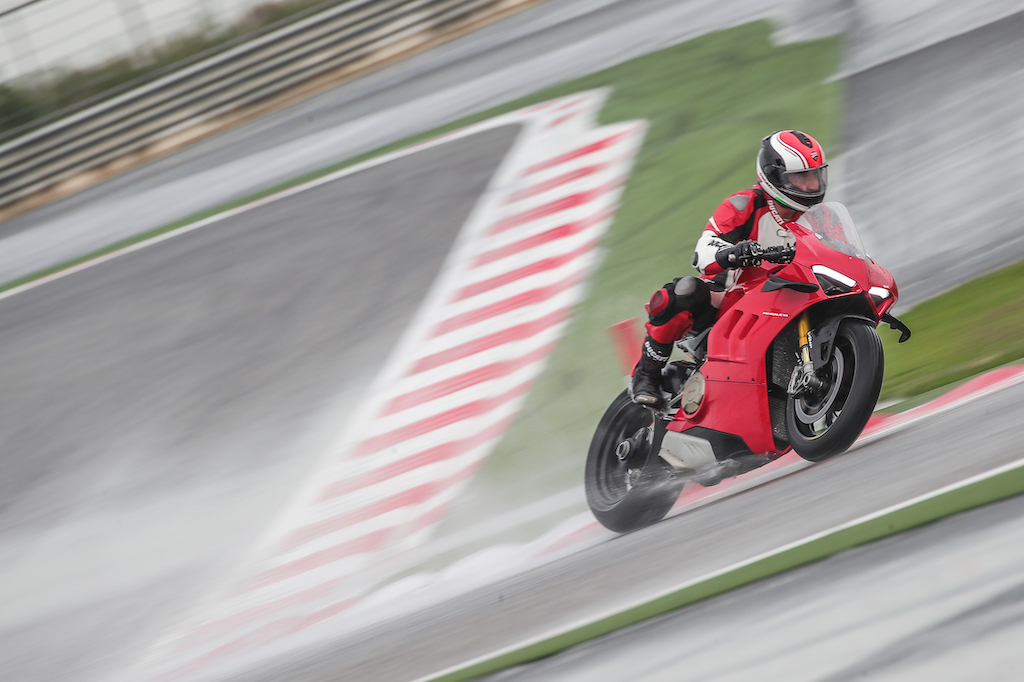 This emphasized how well the electronics have been tuned. Because I never got out of my comfort zone despite riding faster on wet pavement than I've ever ridden before. I charged into corners hard on the brakes and rolled on the throttle as hard as I would on dry pavement, with the electronics managing what was happening at the rear wheel. This made it easy to focus on my lines and braking points. Rather than on how the bike was reacting to my input.
Riding that hard in the rain would not have been possible if it weren't for the uncanny wet grip provided by those race-spec Pirellis. Years ago I used to race a Ducati 996 professionally. And I've ridden on wet racetracks before but had never attained knee-scrubbing lean angles with water spraying off the bike. The only time handling became sketchy was when the bike hydroplaned over water flowing across the track. The drawback is that the tires' soft carcass and tread introduced an occasional and significant straight-line weave at high speed.
Is the new Panigale V4 S easier to ride than the outgoing model?
Unfortunately, I can't answer that with certainty since I've only ridden it in the rain. I have tested World Superbike spec motorcycles before. And their prohibitively expensive electronics were in a different league in terms of control when compared to any street-oriented supersport I'd ridden. The Panigale V4's revised electronics are a big step closer to the trick stuff. They are astoundingly effective and allow a rider with less than professional-level skills to ride surprisingly hard on a wet track with relative ease and confidence. And this is a factor that should transfer well when riding at normal speeds on the road, wet or dry.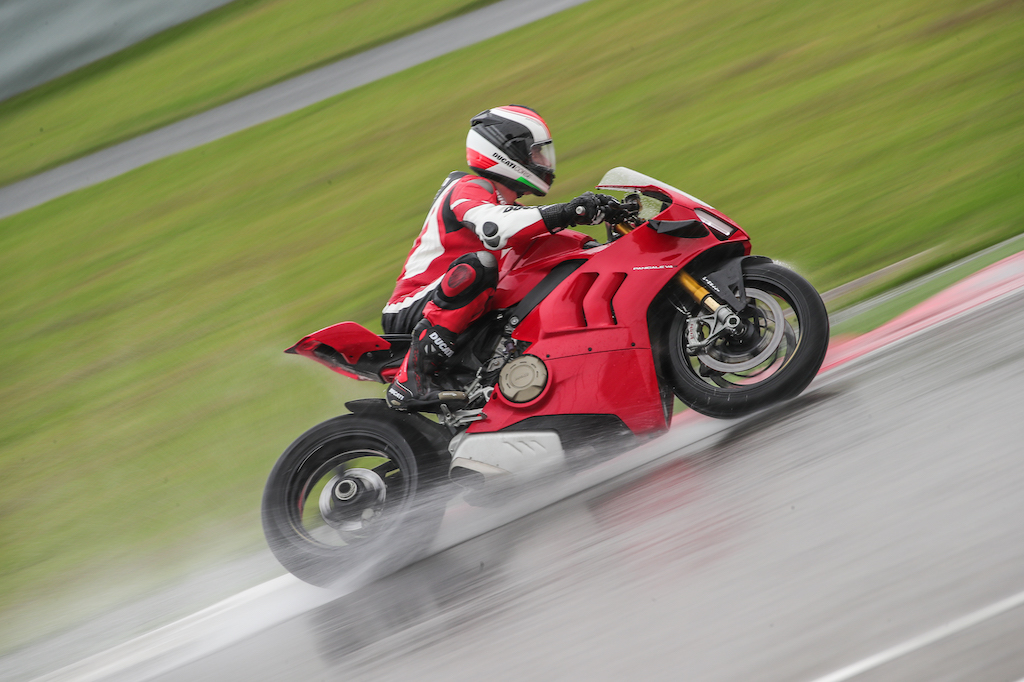 Photos by Milagro.
---